So England are still alive in this World Cup - just - and now have a quarter-final lifeline.
They've put us through the ringer every time they've played in this tournament and the tortuous, dramatic victory over the West Indies was no different.
At times it was a real comedy of errors with neither side looking as though they wanted to win the game, but England deserve credit for keeping their spirits up even when the cause (once again) looked lost.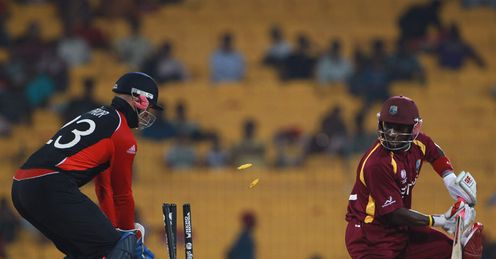 They delivered when it mattered and while it's far-fetched at this stage to think they can reach the final, the fact is they keep coming up against the ultimate challenge and surpassing it, so who knows how far they might go?
If results fall in their favour and they do qualify for the last eight, they've certainly got the spirit and will (if perhaps not the talent) to go on because they've shown they are capable of surpassing immense challenges.
You could see what this victory meant to those England players who weren't involved in the game - the likes of Paul Collingwood, James Anderson and Ajmal Shahzad; they were elated for their team-mates when England got across the line.
Bob Willis
Quotes of the week
LIVE ON SKY SPORTS
Bangladesh v South Africa
3.15am, Sat, Sky Sports HD1
How to
remote record
But if results go against them and they suffer an early exit, no-one can say it hasn't been memorable!
Leadership
The three forgotten men of the party - Luke Wright, James Tredwell and Chris Tremlett - appeared out of nowhere in Chennai and the first two made very important contributions indeed.
Tredwell was rightly named man-of-the-match but I wonder where England's total would have been without Wright's innings?
Neither player got an easy ride. Tredwell had to bowl in the first 10 overs after Tremlett and Tim Bresnan were despatched by Chris Gayle.
In fact, England had to use two spinners in the first powerplay - something which is almost unheard of these days - and it was a real feather in the cap for Andrew Strauss, who totally out-captained Darren Sammy.
He saved his masterstroke for the end of the game, though, when he had Ian Bell in at short leg and picked up the crucial wicket of Ramnaresh Sarwan; it was brilliant leadership.
Strengths
England started well enough - the top four batsmen all got into double figures - but once again they failed to go on to post a fifty between them.
Trott was by far the most impressive of the quartet and benefitted from adopting a more positive attitude at the crease.
When Kevin Pietersen went home injured, I said that Trott should have been promoted to open and here he showed why.
When he chooses to get on with it he's more than capable of playing an array of shots, even it has to be acknowledged that the West Indies bowled to his strengths.
Wright also showed a lot of character and now, with the benefit of hindsight, it's clear that he should have played a lot more than he did in Australia.
In essence he was just a spare part out on that tour, and it was surprising he wasn't used more than he was after the World Cup squad was finalised - particularly when England's players were falling like flies.
Wright is a talented cricketer - not an outstanding one - but he is part of this tight unit that Strauss talks about and that obviously means a lot to this England side.
You could see what this victory meant to those England players who weren't involved in the game - the likes of Paul Collingwood, James Anderson and Ajmal Shahzad; they were elated for their team-mates when England got across the line.
Decisions
What the West Indies were thinking when they left out Shivnarine Chanderpaul and opted to change their batting order, I really don't know.
At the halfway stage England looked at least 30 runs below par, if not more, but they managed to turn the screw and as wickets fell it was Sammy's side who had the lighter middle order.
I'm a huge critic of poor umpiring but both officials made some terrific decisions during the day, particularly Steve Davis and the third umpire Simon Taufel.
The latter was at his best when Jonathan Trott fell towards the rope after catching Andre Russell.
Trott initially claimed the catch but in 2011 you can't take the fielder's word for it and Taufel correctly examined the incident from every angle - something that takes a bit of doing when the world is waiting for your decision.
The process took a bit of time but he reached the right decision; as far as I'm concerned Trott's shirt touched the rope and Russell was rightly awarded a reprieve and six runs.
Incentive
At that stage England must have thought it wasn't going to be their day but they came through and now must wait to see if Bangladesh can displace them from the top four.
You'd think that South Africa would beat Bangladesh on Saturday - there is a huge gulf in class between the sides, after all, and one would hope that the Proteas will play their strongest side and go all out to win.
Although they have injury concerns over Imran Tahir and AB de Villiers, I'm sure they will do the right thing.
If South Africa do win in Mirpur, they'll finish top of the group and therefore play the weakest of the four teams from Group A in the quarter-finals. That has to be a great incentive.
Meanwhile, IF England finish third in Group B and Sri Lanka second in Group A, Strauss' side will make the trip to Colombo.
That won't be an easy task but Sri Lankan supporters put such enormous pressure on the home side that England can't be ruled out.
The thought of Graeme Swann going up against Muttiah Muralitharan certainly whets the appetite.
Comments (7)
Adrian Page says...
Why was Tremlett ever selected? Whilst he's a good bowler, given his 6ft8 or summit and bangs it in short what is his benefit on the slow, low bouncing sub continent pitches? he was always gonna get tonked in my opinion
Posted 22:25 18th March 2011
Ferdie Koukakis says...
Hi Bob I'm a South African. I don't care about the Kiwis. But I thought you might have been a bit harsh on the upmpire for not giving that catch. I have Sky Sports Hd4 and I recon it looked pretty much like the ball slid on the ground from that angle. "Benifit of the doubt?"
Posted 21:09 18th March 2011
Des Holman says...
hi Bob I am releived that Luke Wright finally gets the chance to play a full part in a game.Throughout the winter l thought he was there merely to carry the drinks out and to sub for the rest of the side.In other matches in which he has played, Luke has only lifted the blade,so it was refreshing to see the ball thrown to him,this could be done more often if another bowler is not performing or a different approach is needed to get the breakthrough the team desire. Anyway well done to the team this winter, and thanks to them also for providing the game of cricket with such nailbiting entertainment. Looking forward to the next England game in this thrilling world cup.
Posted 17:14 18th March 2011
Martin Hicks says...
Hi Bob - I agree with you that the selection was brave to bring in 3 (4 including Morgan) players short of match practice and 2 of them delivered. I agree with you that we need a new opener as Prior is a better player down the order and would struggle to get into most teams as an opener. The question is who should replace him? I am in favour of leaving our middle order axis of Trott, Bell and Morgan where they are rather than the disruption of moving them all up one. Bopara and Wright failed in 20 X 20 but were too frenetic and the longer form of the game could calm them down. Bopara is my choice as he will pierce the field by hitting over the top which Bell and Trott rarely do.
Posted 11:26 18th March 2011
David Mckeown says...
Bob, we've seen that you need two things to win consistently on the sub continent- wicket taking , strike pace bowlers who bowl full and straight and take the pitch out of the equation , and middle and lower order batsmen who can hit sixes and finish off an innings. Unfortunately we have neither. Our swathe of medium pacers who persist on bowling length like their at Headingly , and our insipid , nurdling batsmen ain't gonna cut it. We play such much cricket Bob- with the county treadmill are we going to produce a rapid thrilling bowler ever again ?
Posted 10:45 18th March 2011
Ali Karrar says...
hi isnt it time for england toget rid of these old guys blend in some young blood like asian sides do isnt time for england to just bring couple of youngster 18 or 19 year old this side looks tierd depends on 3 players to d0 .its time for prior to go paul collingwood , morgan should bat higher it takes time for him to kick off more time he can hurt sides steven davies should come back adil rashid also england will get hammard if they come up against the aus or sirilankan side it will be waiste if they dont compete
Posted 00:11 18th March 2011
Sean Webb says...
I totally agree about the umpires, they had a great game bbetween them. Glad to hear the ICC changed the umpires and got the 'form' umpires in for a massive game. However, with the trott catch or 6 incident, which was totally right in my opinion, wouldnt it have been clearer if there was proper normal rope and not those silly advertising triangles? I know the ICC has to get as much of the sponsors in as possible but a proper rope would have been smaller and possibly avioded a contentious moment.
Posted 22:00 17th March 2011