It will be quite a strange homecoming for Duncan Fletcher this week.
The former England supremo is one of the most highly-respected coaches of all time and must be congratulated on reaching 100 Tests this week at Lord's.
It is a fantastic milestone and he would love to celebrate by getting one over Andy Flower in the coming weeks.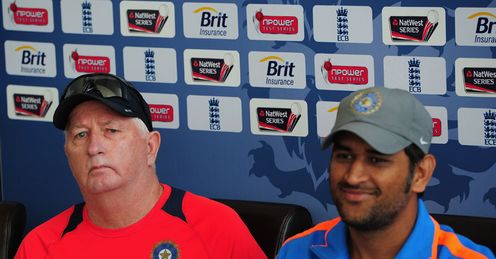 But his position within the tourists' camp is delicate and his relationship with English cricket is fragile, despite that historic Ashes victory of 2005.
Months after resigning as England coach in 2007, Fletcher wrote about his experiences and didn't pull many punches.
He put as many people's noses out of joint with that book as his modus operandi did when he was in charge.
Authority
Fletcher's style has always been that of a managing director and woe betide any member of the press, media or squad that doesn't fall into line; he likes to have ultimate authority and for a large part of his career with England he was lucky enough to have it.
The one thing the experiences of Gary Kirsten and Greg Chappell have taught us is that if you go into an Indian dressing room like a bull in a china shop and try to change things drastically then you will come unstuck pretty quickly.
Bob Willis
Quotes of the week
LIVE ON SKY SPORTS
England v India
First Test, Lord's
10am, Thu, Sky Sports HD1
Watch on the move with
Sky Go
How to
remote record
At times he took that too far; for example, the relationship between the counties and those players centrally contracted to England was far too restrictive during Fletcher's tenure.
There is no way in the world that Andrew Strauss would have been allowed to play a warm-up game for Somerset during Fletcher's time. Too often players were kept out of cricket when they should have been playing.
The situation we have now is far more sensible and Andy Flower has done a lot to rebuild some of the bridges that were broken down between England and the counties.
Flower also recognises that it is part of his job to deal with the media; the success of the England team is priority No 1 but he is far more willing to go out on a limb with the press than Fletcher ever was.
Say
It remains to be seen whether Fletcher will by-pass the media in this series and how great a say he will have in the running of the side.
The one thing the experiences of Gary Kirsten and Greg Chappell have taught us is that if you go into an Indian dressing room like a bull in a china shop and try to change things drastically then you will come unstuck pretty quickly.
Chappell's coaching career went into a downward spiral following his rift with Sourav Ganguly and Kirsten would readily admit that he was wrong to try and impose his way on the Indian players in the first six to nine months of his tenure.
He soon realised that the best way was to take a back seat and encourage the players from a distance; they came to respect him greatly and enjoyed his time as their coach.
Fletcher will have to learn to operate in that way - particularly as some high-profile names have been against him since the start - even if it doesn't come naturally to him.
Advice
So what is Fletcher's role?
While there are a few young players trying to integrate themselves into the Indian side, it's pretty clear that the old stagers - the likes of Sachin Tendulkar, Rahul Dravid and Mahendra Singh Dhoni - don't need coaching.
Perhaps Fletcher will take his lead from England batting coach Graham Gooch, who is on hand to offer advice to players when they need it.
Gooch doesn't try to teach the players how to bat but shows them how to play Test match innings.
His influence is clearly evident in the development of Strauss, Alastair Cook and Jonathan Trott in particular and the manner in which they try to bed in at the crease.
Fletcher, of course, knows some English players well - and what is required to play in English conditions too - but Strauss and Ian Bell are far more mature batsmen now than when he first knew them.
Time has moved on and England have too, under Flower. His coaching contest with Fletcher will be at the very crux of this series.
Comments (5)
Evan Townsend says...
George, do you not get bored of re-posting the same message consistently? We get it you're a Yorkshire fan who believes Shahzad and Rashid should be in the side and that you believe there are a favoured few within the England team. According to your post(s) you would like to see one of the best seam bowlers world cricket (Anderson) dropped, you'd like to see one of the most naturally gifted batsmen in the world (Pietersen) dropped, and in their place you would bring in two players completely unproven at test level. Shahzad is currently way down the pecking order behind Anderson, Broad, Tremlett, Bresnan, Finn and probably Onions too and Rashid has talent and probably should be our second spinner when we tour Sri Lanka and India but he certainly shouldn't be playing alongside Swann in England, unless ofcourse you believe we should drop the best spinner in world cricket aswell. As for Matt Prior, have you even bothered to watch test matches in the past 18 months, his improvement behind the stumps has been incredible and his batting is a key element to our current exceptional form.
Posted 18:23 21st July 2011
George Staples says...
I agree that India have become No.1 in the world, but not because of a flaw in the rating system. England would be no.1 if our selection system wasn't so badly flawed. Off form players are selected time after time by Flower, Strauss and Miller. Duncan Fletcher would not have put up with antics and petulance from Broad and Anderson, not would he have persisted with a very average keeper like Prior. He did not have a band of favoured players, hius selections were made from on form players. Fletcher would also have varied his pace attack and included Shazhad, with another spinner like Rashid to augment the attack. He would not have relied on donkey drops from Pieterson in a Test Match. Fletcher may well have a difficult stewardship with the Indian Cricketers, BUT he will get results. He does not offer excuses he says it as it is. Please note Messrs Flower, Strauss and Miller. George
Posted 13:57 20th July 2011
Jonny C says...
Surely, it doesn't matter who is in charge as everything in India is run by the management/press? The fact that no coach can go into the job and do things their way says a lot about what Indian cricket is; whilst it is the superpower in World Cricket, it is run from the top and is not influenced by the coaches/captain of the team. England have improved massively as a test team due to the structure and leadership of Andy Flower, as well as his back room staff. India have survieved as number test team due a flaw in the rating system and sheer talent. Can you really see them putting in the hard work coaching to improve bowling/batting/fielding when the likes of Tendulkar, Dhoni, Shewag and Zahir retire from the test arena?
Posted 10:01 20th July 2011
J Hayward says...
I think Fletcher's strong attitude is perfect for Indian cricket. With a team of stars and a nation of cricket mad followers they need a firm hand who doesn't give in to the media's demands.
Posted 00:48 20th July 2011
Maher J says...
Fletcher has been with Indian team for more than 6 weeks now. He has been referenced by Gary Kirsten. So he knows what to do and what not to. How does it matter if Fletcher does not have good relationship with ECB or UK media, who cares he is now india's coach.
Posted 18:09 19th July 2011