The victories at Lord's and Trent Bridge underline that England's seam attack is capable of dismissing any batsman on any surface.
James Anderson, Stuart Broad and Tim Bresnan - not forgetting Steven Finn - proved as much during the winter and now England's front three have re-enforced the point on home pitches that, for all the early-season moisture and rain we've had, were undeniably flat.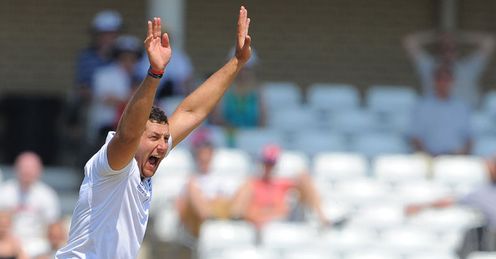 Their collective ability to swing the ball in orthodox and reverse fashion is deadly and means that they are able to take wickets even when the ball goes soft and has stopped swinging.
Now they've built up a head of steam, I sincerely hope that Anderson, Broad and Bresnan all play in the third Test against the West Indies at Edgbaston.
Forget all this talk about resting players. England should build on their strong start to the summer so that they hit South Africa as hard as possible. That will be the ultimate test for this team.
Insult
Needless to say, I'm totally against rotation in Test cricket.
I was extremely critical of Strauss in 2010 when he missed the tour of Bangladesh; Test cricket, by its very name, is the ultimate test of a player's skill. Everybody should be available for every game.
Bob Willis
Quotes of the week
LIVE ON SKY SPORTS
England v West Indies
Third Test
10.30am, Thu June 7, Sky Sports 1 HD
Watch on the move with
Sky Go
How to
remote record
The ECB (and, indeed, the ICC) persistently say they want to maintain the primacy of Test match cricket. If that's the case, why not rest players for one-day cricket instead?
Every Test player should want to play in every Test that he can. Moreover, bowlers have records they'd like to achieve just as batsmen do.
Andrew Strauss and Alastair Cook now have 21 and 19 centuries respectively and very soon will, no doubt, will be England's leaders in that particular field. So why shouldn't Anderson, Broad, Bresnan, Swann have every opportunity to get 400 Test wickets?
Moreover, it's an insult to your opposition if you don't play your strongest XI.
I was extremely critical of Strauss in 2010 when he missed the tour of Bangladesh; Test cricket, by its very name, is the ultimate test of a player's skill. Everybody should be available for every game.
Confidence
I'd have thought that all of the England bowlers would want to keep going for the remainder of the summer.
What happens, for example, if Finn comes in for the third Test and takes 12 wickets in the match? Is he then dropped for the South Africa Test? You may be a certain selection but the mind can play funny games on you and undermine your confidence.
Let's not forget, either, that these guys had almost seven weeks off between the end of the Colombo Test and the opening Test against the West Indies.
If England are genuinely concerned about how many overs their seamers are getting through, then perhaps they should consider dropping a batsman and playing another bowler to spread the workload?
Bowling coach David Saker clearly has struck up a great rapport with this group of players.
As Bresnan explained yesterday in an interview, the bowlers exchange ideas with Saker all the time - both before they go on the field and when they can during play.
His influence is clearly working and has helped to turn Anderson into a born bowling leader. Anderson was again the pick of England's attack for me at Trent Bridge; he bowled beautifully and was extremely unlucky not to pick up more wickets.
But in fairness each of the seamers did well, performing at least as well as they did at Lord's; it was just that the spoils got shared differently.
With due respect to the West Indies, it's all building up nicely to the series against South Africa. That will be a very stern challenge indeed.
But with six home Test wins in a row, I wouldn't be backing against England.
Comments (2)
Will Eden says...
Hi Bob I am beginning to despair at the standard of International cricket and all this talk of number 1 teams and great players that England supposedly have, i am afraid just gives me indigestion! It amazes me how the standard of bowling for most International teams is no better than county or state standard with the exception of 1 or 2! Some of the batting as well is just laughable. The great West Indies side oft the 80's and latterly the Aussies of the 90's would have decimated this England team and most of the others out there including South Africa. I have seen nothing to change my mind that there is no no 1 team out there and that South Africa's decent and quicker attack will expose England's batting line up. I think also they will lose in India because they wont have had any exposure to spin bowling of any quality. I think the overall outlook for Test cricket is very sad and England are over confident about how good they think they are, like before they went to the UAE in the winter. I think the price paid these days for a Test Match ticket, provides exceedingly mediocre standards, that delude people into thinking they are watching World Beaters!
Posted 23:45 29th May 2012
Marilyn Blakeley says...
Couldn't agree with Bob more!
Posted 18:41 29th May 2012