Wicketkeepers are often the forgotten men in cricket teams so I was delighted to see Matt Prior named as England's cricketer of the year.
Not only has Prior set an incredibly high standard for England to follow in the field, his runs have proved invaluable and I'm not alone in wanting him to bat at six rather than seven in the Test line-up because he is certainly good enough.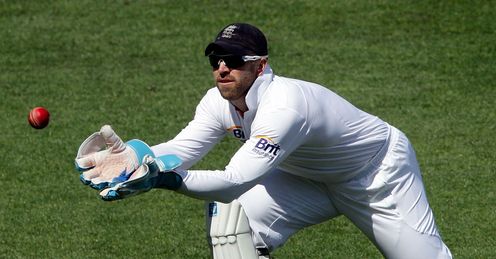 To my mind he is undisputedly the best wicketkeeper-batsman in world cricket, having taken over the mantle from MS Dhoni; Prior is a much better keeper than the India skipper and these days he is a more consistent batsman as well.
Admirably, Prior is totally unselfish - he is the perfect team man and all the work he has put into his game in recent years is paying off; his footwork behind the stumps is certainly much improved.
I remember calling him 'dire Prior' when he was shelling catches in Sri Lanka in 2008 but he's come a long way since then. After the skipper, his is probably the first name on the team sheet.
Bob Willis
Quotes of the week
ENGLAND v N ZEALAND
10am, Thu, Sky Sports 1 HD
I remember calling him 'dire Prior' when he was shelling catches in Sri Lanka in 2008 but he's come a long way since then and after the skipper, his is probably the first name on the team sheet.
Alastair Cook and James Anderson are both prolific performers and were rightfully in contention for the award. I hope very much that Anderson takes his 300th Test wicket in the first half-hour on Thursday and that Cook continues to fill his boots.
But for all-round consistency and performance, Prior shades both; he has been exemplary in everything that he has done.
If he has to block, he blocks; if the team needs him to give his wicket away he does; he is quite brilliant at getting the best out of the lower order, too, as events in Auckland showed only too well!
In short, he thoroughly deserves the award.
Sympathise
Continuity and consistency suggest that Tim Bresnan will perform the 12th man duties for England when the first Test against New Zealand gets underway on Thursday.
That said I've heard quite poor reports about how Steven Finn is bowling this season.
I haven't seen him 'in the flesh' but I'm told he is definitely off-colour and I think he should go back to his longer run up and get some momentum from that, regardless of whether or not he knocks the stumps over!
Finn ended up bowling as a medium-pacer in New Zealand and that, quite clearly, is not his role in the team. England need him to perform as a strike bowler with the new ball.
Weather permitting, England will see how out of form Finn is over the next few days and I suspect that he'll get the nod - particularly as the opening Test is on his home ground.
But I have my concerns because run-up problems have the potential to affect a bowler's confidence totally, undermining your whole performance.
I was dropped from the England side in 1980 and missed the final two Tests of that summer because I could hardly bowl a legal delivery. In fact, I 'dismissed' both Gordon Greenidge and Desmond Haynes off no-balls in the Oval Test match.
Measuring out your run up and running in sounds easy but it is more of a complicated science than that and I sympathise whole-heartedly with people who have run-up problems.
Fortunately Steven's isn't the 43 paces that mine was, but plenty can still go wrong between the mark and the delivery stride. I believe that shorter run ups put too much strain on quick bowlers with the noticeable exception of Richard Hadlee, who really thrived on that 'Sunday League' run up.
My view is that Steven should go back to his full-length run up and approach the crease a little bit wider. That can be difficult at Lord's bearing in mind the slope if you are bowling from the pavilion end and there then becomes a real danger that you run on the pitch.
Straying into that 'danger area' was another problem I had at HQ and I hope Finn can avoid the same difficulty and avoid any unwanted attention from the umpires.
Comments (6)
George Staples says...
I agree with most of what Bob says BUT Prior has improved but is not the consistent keeper he should be. His glovework is often shoddy and he does not decide whether to stay up or go back he seems to be reactive rather than proactive. His batting has improved (apart from in this Test match) but is not consistent enough. I don't agree that Dhoni has slipped down the world order, he is still a fine batsman in any form of cricket, he's a good captain and a very good consistent batsman. George
Posted 12:53 17th May 2013
Dave B says...
Best wicketkeeper batsman? I think AB would have something to say about that. As good a keeper, on a different planet as a batsman! Maybe conveniently, we dont class AB as a keeper batsman!
Posted 10:12 15th May 2013
Jody Killian says...
have you seen AB de Villiers lately he's more consistent with the bat in all forms of cricket and better with the golves...AB is simply a much better all round player than Matt Prior.
Posted 10:05 15th May 2013
Shaji Geevarghese says...
Agree with Bob that prior is good, but to say he is better than Dhoni is taking it a bit too far . Dhoni is a class apart when it comes to batting! The most dependable and exiting cricketer of our times!
Posted 07:21 15th May 2013
Jignesh Patel says...
i dont think so, ms dhoni is the best in the world by miles!
Posted 17:34 14th May 2013
Selwyn Van schalkwyk says...
Any consideration given to AB de Villiers?
Posted 17:29 14th May 2013