This is my first blog since March and things have been pretty quiet since I got back from the Test series in New Zealand.
The first thing to report is that I made my return to the crease last weekend with my hometown club Accrington, where I first started playing cricket.
The club had financial problems last year and it looked like they were going to go out of existence. They've sorted that out now, but interest has been declining and they said it would be great if I could play again.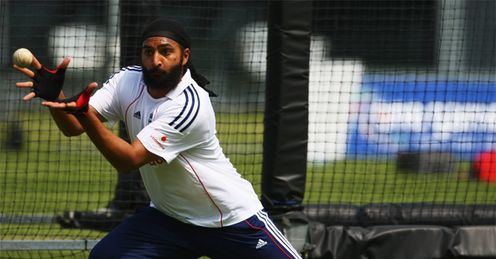 I went and practised with them so the selection panel could take a look at me and thankfully they gave me the nod.
I was quite pleased because this is no village outfit; it's tough cricket in the Lancashire League and you only get in if you're good enough. They're not going to let some old man play if he's not up to it.
I feel I played well and it was a good game even though we lost. I only got 15 runs (but it was a very good 15) and I took a catch to dismiss their professional player from Western Australia (and it was a very good catch too). My knees were a bit stiff afterwards, but other than that I very much enjoyed it.
I was surprised by the amount of banter.. I did quite fancy informing them that they would need to speak up a bit because I'm a bit deaf at my age!
David Lloyd
Quotes of the week
England v New Zealand
First Test, 15-19 May
Sky Sports 1 & HD1
Click
here
for live listings
Mind you, I was surprised by the amount of banter on the field. The opposition players were saying I was no good 20 years ago and I'm no good now (that's not a direct quote by the way, I've had to remove a few words in the interests of good taste).
I've never heard anything like it. I don't know where they've got it from because that sort of thing doesn't go on in first-class cricket.
I didn't think it was worth saying anything back, although I did quite fancy informing them that they would need to speak up a bit because I'm a bit deaf at my age!
Young guns
I've also been out and about watching a lot of cricket and I've noticed a pattern in the Friends Provident matches I've seen - it's the young players that are doing it.
I saw a 17-year-old Irish lad called Paul Stirling playing against Nottinghamshire who did very well. I also saw Chris Benham come in as a late replacement for John Crawley at Hampshire and he went on to win the game for them.
It seems there are a number of talented younger players coming through and giving energy to a team. They're not just there to get experience, they are there to win matches and that's a really good thing for the future of the game.
I haven't seen any of the IPL because I don't bother subscribing to the channel that it's on, but it seems to be quite an exciting development.
But the one thing that I can't get my head round is this: the IPL is sanctioned by the ICC, the governing body of world cricket. The ECB is a partner member of the ICC, so why can the IPL go to the ECB counties and sign their players?
They are all under the ICC umbrella and the IPL knows damn well that there are a number of players that have contracts with English counties. Why are they pinching players from one of their partners?
If anybody can e-mail in and explain to me how they can do that, I'd be very interested to hear your views.
Thinking of England
I'll be back in the commentary box this week for the first Test against New Zealand and I'm hoping to see a stylish 3-0 series win for England, weather permitting.
England managed to win the series over there despite playing horrendously in the first Test match and that fact - combined with Stephen Fleming's retirement, still no Shane Bond and home advantage - means England should win comfortably.
But the important thing is that they need to win in style. When England were flying during the Ashes win, we were scoring at between 3.5 and 4 per over.
That scoring rate really dropped in Sri Lanka and New Zealand last winter and they need to get back to playing with style and tempo to give the bowlers maximum time to take 20 wickets.
I went to Peter Moores' press conference on Wednesday and he said he's looking for a new identity for the team. For me that means scoring at a brisk rate and giving the bowlers a better chance, even if it rains.
What they must not do is assume they will beat New Zealand easily and just use this series as a warm-up for South Africa. That would be dangerous - we've got to win handsomely and get ourselves back into the number two position in the ICC table.
I've watched all of England's practice sessions since Monday and I'm expecting the team to go up a notch in terms of fielding.
Peter Moores quickly identified that we weren't good enough in that department and he's been working very hard to put that right. He's brought in a new fielding coach called Richard Halsall who really looks like he's doing the business.
He has introduced a number of innovative new fielding drills and the players looked exceptional in practice.
In fact I'd say this has been the best preparation I've seen from an England team. Let's hope they show it when it matters against New Zealand.
Do you agree with Bumble? Send us your thoughts by using the feedback form below and continue to e-mail him your questionshere
Bumble answers your questions
Dear David, I have just returned from Taunton after the four-day match between Somerset and Hampshire. It was the first county game I have watched and it was well worth the trip over from Belfast. I don't understand why more people don't go and watch it. What can be done to attract more people to county cricket? David Henry.
BUMBLE REPLIES: The short answer David is that you can't - because people are at work. I went to watch Lancashire v Durham which involved players like Stuart Law, Mohammad Yousuf, Andrew Flintoff, Steve Harmison and Paul Collingwood and it was a gorgeous day, but there was only about 400 people there. It's the same in Australia where you can just walk into a four-day game but there's still nobody there. There's nothing you can do to attract people because they're all at work.
Send your questions to Bumble by clicking here
Post to your View!
Be the first to post a comment on this story