The Ashes is getting closer by the day and I for one cannot wait. The England squad was announced this week and the main talking points were the exclusion of Steve Harmison and ex-captain Michael Vaughan. Well I think it's the right decision.
The agreement between the selectors and Vaughan was that he'd go back into county cricket and get back scoring runs, and whilst Yorkshire fans may be saying he's doing okay he hasn't managed to register any big scores. However I've seen him recently and I would say that there's a big score around the corner. The improving weather will certainly help batters.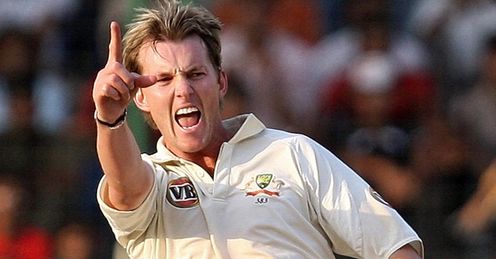 But I certainly wouldn't discount Steve Harmison because they've picked him in the Lions squad. If they were going to draw a line under him they wouldn't have picked him. I think that they're happy to let him continue playing at Durham, where he's getting plenty of wickets alongside Graham Onions, and at the moment I wouldn't write off either of those two.
In a spin
If Cardiff is going to spin, let it spin. There's been a load of talk about how we need to stop it spinning; leave it be! That's what pitches in Cardiff do. We get hot under the collar if there's a pitch in England that has a certain characteristic. Everywhere you go pitches have different characteristics - some are quick, some slow, some spin and so on.
The Aussies are always very quick to pinpoint English players, but they really should be looking at their own. They no longer have players like, Langer, Hayden, Gilchrist, McGrath and Warne, and they haven't got anything close to them either.
Bumble
Quotes of the week
THE ASHES
England v Australia10am, Wed July 8, Sky Sports 1&HD1
For that reason England need to play two spinners in the first test. Andrew Flintoff is going nicely so he'll be your third seamer and fifth bowler. Your other two would be Stuart Broad and James Anderson. There's your attack and in then waiting in the wings you have Ryan Sidebottom. He's the one bloke that nobody has been mentioning. He's alright again so we've got plenty of options. People are saying that England are better equipped than the Aussies when it comes to spinners, but I think they're better equipped, period.
The Aussies are always very quick to pinpoint English players. They were making comments this week about how shocked they were at Vaughan's exclusion and how Bopara is more concerned about his looks, but they really should be looking at their own. They have plenty on their own plate. They no longer have players like, Langer, Hayden, Gilchrist, McGrath and Warne, and they haven't got anything close to them either.
Wonder women
I thoroughly enjoyed the women's cricket on Sunday. If you get the chance go and watch this England side; they are brilliant. They face Australia in a Twenty20 international at Derby on Thursday; that promises to be a good game and I would definitely recommended heading down to see them in action. If you can't make it, then you can watch the action with us on Sky Sports.
Sunday's six-wicket victory over New Zealand means England are now double World Champions, having already been successful in the 50-over competition. There's a big gulf between the England team and the chasing pack; they're just not being challenged at the moment. Not that they'll be complaining.
Fast reference
I've been on the go non-stop this week. I just about caught my train out of Euston on Sunday night after the Women's Twenty20 final, was in Nottingham Monday, Worcester Wednesday, and am on the road for the rest of the week. It's pretty hectic, but at least the weather is ideal for cricket.
Speaking of Nottingham, I received a few emails regarding my Fast Show reference - 'buono estente Michael Vaughan' - during the Twenty20 game between Notts and Yorkshire. I'm not sure where that came from but we can use another line from the show to describe the weather this week: scorchio!
Bumble answers your questions...
Send your questions to Bumble by filling in the feedback form below. Or you can mail them in by e-mailing skysportsclub@bskyb.com
WATSON WORRIES
Hi David. I read that Australia are considering calling up a 17th player due to the injury concerns hanging over Shane Watson. Why do the Aussies persist with this guy? While his one-day stats are decent his test record is average at best. Alan Bridge
BUMBLE SAYS:Australia persist with him Alan because they have nothing else. They've already sent Symonds home. Watson's struggles to put back-to-back matches together and yet again had to sit out their match with Sussex. But to honest I don't think England will be too bothered about whether Watson plays or he doesn't.
PAKISTAN PRIDE
David. Although a hardened England fan I must say I was delighted to see Pakistan win the Twenty20 World Cup. I would never have put them down as potential winners following their defeat to England but they have proved me wrong. What did you think? Sam Thorley
BUMBLE SAYS: It was a terrific effort by Pakistan to win the Twenty20 World Cup. It was emotionally the right result. Younis Khan was outstanding and was very eloquent said at the end when saying that he'd done his bit and that this format was a younger man's game.
They've conducted themselves so well. I was in the same hotel as them and they were terrific. There's an Indian restaurant in Southall, and during the tournament they ferried food in for the players. I've never seen so much food going in. I'm not talking about a take away here; I'm talking about boxes full of food. The West Indian team were also staying in the hotel and they started ordering some as well. I met the owner and he was saying how he had to keep these lads in sustenance; well he done the trick as both reached the final!
Bumble's jukebox
Lots of you managed to identify last week's jukebox song, which was Going For The One By Yes. See if you can crack this week's.
"Yes, the last thing you said before ya hit the street / Gonna find me a janitor to sweep me off my feet / I said, 'That's all right, mamma, you, you do what you gotta do' / Well, I've tried to get closer, I'm still a million miles from you."
Send in your guesses below. Answers next week!
Comments (11)
Bruce Evison says...
You're Fast Show references are genius, the You Ain't Seen Me had my sides splitting. That should definitely be Daryl Harpers catch-phrase after his howler on the second day in the fourth test.... Keep 'em coming Bumble, you ain't seen me... roight!
Posted 20:55 17th January 2010
Christine Bazley says...
Hi Bumble When you think the authourities are mean about people waving flags. Have you ever paid £100 (almost) for a ticket and had a restrict view?
Posted 22:15 9th July 2009
Alan Mawson says...
Your discussion regarding the front or back foot rule for bowlers also raises another point. The back foot rule not only gives the umpire a better chance of catching the no-ball but also gives the batsmen a longer time to take advantage of the no-ball. This is something that you do not see these days.
Posted 15:07 8th July 2009
Neeraj Anand says...
I think this time around , the Ashes series will be quite evenly contested, however, the Aussies can be tipped as the slight favourites provided their strong batting line-up plays true to their potential. It will be vital for the Aussies in their pursuit of retaining the Ashes that the Aussies top order fire consistently and rack up the big scores to provide cover for their bowling department, which looks slightly thin as compared to their earlier teams. The form of captain Ponting, an attacking batsman along with southpaw Michael Hussey will be extremely vital especially since the departure of the dangerous Andrew Symonds from the middle-order. Deputy Michael Clarke really needs to stand up and be counted by being much more consistent with his returns. As far as the bowling is concerned, the Aussie pacers need to be at their best as they do not have quality options in spin. Brett Lee would be given the chance in the first test along with Stuart Clark, Mitchell Johnson and Peter Siddle. For England, one feels that their bowling is well equipped and are likely to include two spinners (Swann & Panesar) but its their batting which would hold the key to this series. Andrew Strauss captaincy too could prove to be vital on how he handles different situation in the series.
Posted 07:54 2nd July 2009
Mark Elliot says...
Bumble, sure the Aussies have lost some greats of the game, but having said the question you need to ask yourself is how many of the English players are good enough to get in the Aussie team. Flintoff, Pieterson and Cook. That's it. I'm also sick of hearing how weak our spin dept is. Of course it is minus Shane Warne, but by comparison with England, it's certainly no worse. Swann and Hauritz in fact are very similar cricketers.
Posted 14:38 27th June 2009
Mark Punter says...
Hi Bumble , yeah Aussies going through a stage of losing so many top name players BUT so are we , we England have lost or should i say DONT pick the likes of Vaughan, Hoggard, S.Jones, G.Jones, Harmison, Bell, for test matches anymore....... If we are to win the 'ashes' this summer we wil be relying on KP, Ravi , a fit Freddie & hopefully Jimmy i think will be the pick of the bowlers
Posted 10:03 26th June 2009
Hyrbie Clovis says...
i agree with bumble and the aussies are pushing englands button for me micheal vaughn should play his record with them is excellent .theyr'e messing with their heads simple as that . well said for it's working though nass would fit perfectly in this situation. thankyou
Posted 04:01 26th June 2009
Mikel Shearer says...
Shocking.... Watsons a class act! Fair enough his injuries seem to occur by even thinking about cricket... but the lads quality.... will win matches with his batting and give it time his bowling aswell!
Posted 16:32 25th June 2009
Les Wilson says...
Like Peter in Qatar, I am in the middle East and we do get excellent coverage of Cricket over here, especially good since it's Sky's coverage with Bumble and the Guys. Should be good with Warney as well. Anyway, to my point: I believe that we have nothing to fear this summer as long as our Big game players play their part. You don't want to put undue pressure on KP & Freddie but if they get in about them I think we'll turn them over. I expect Strauss to do well as the Captaincy seems to inspire his batting. Cook, Bopara, Collingwood and Prior can weigh in with big runs. Swann & Broad can Bat and may prove valuable in tight games. Our Bowlers are bowling smarter and should use the conditions better. On selection, I think every Englishman would love to see Harmy steaming in again like he did on day 1 in the 2005 series but it appears he's happy plodding on in County Cricket, (can the ECB not employ someone to upset him or wind him up before he goes out to Bowl)? Hopefully he'll get in about them for the Lions. Anyway, not long now. "Come On England"!
Posted 12:56 25th June 2009
Ryan James says...
Absolutely right Bumble! Australia might not like to admit it but they are nothing compared to the team England faced in 2007. Warne, McGrath, Gilchrist, Hayden, Langer all gone, Symonds looks like he won't be there, Brett Lee is not long back from a bad injury and the simple truth is the new players aren't going to fill those shoes over night. England have a great chance, but they have to take the inititave, too many times they been to worried about losing the game to actually go out and win it. I think if England can bowl half decent and Pietersen plays well with bit of support England can beat the Aussies.
Posted 12:10 25th June 2009
Ryan Bachoo says...
Hi Bumble ... Your jukebox song this week sounds like Bob Dylan's - Million Miles. Quick question, do you think the England batsmen will be consistent throughout this summer? I know you can't tell but my main concern ahead of the Ashes is those 400+ when batting first and trailing down large scores when batting second. The batting needs to keep England in the game. I you think the 2005 Ashes was good, when till you see this one, with both teams evenly matched. Cheers, Keep up the great job, you guys take it easy on Warney in the commentary box this summer. Absolutely great to have him on board.
Posted 03:14 25th June 2009