Sachin Tendulkar... well played sir.
A double century in a 50-over game is absolute genius and what's more, he still has an appetite and love for the game of cricket.
You've no concept of hero worship or adulation until you go to India and see their feelings for that man. You can pick any elite sportsman you like in England, be it David Beckham or Lewis Hamilton and it's nothing like being Sachin Tendulkar in India.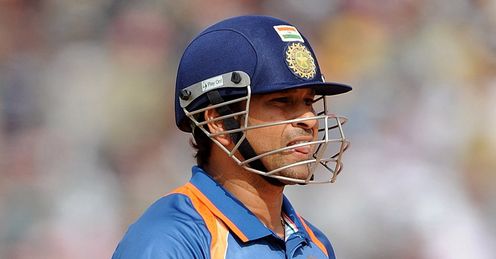 He gets mobbed everywhere he goes. He keeps breaking records and Virender Sehwag, MS Dhoni and Yuvraj Singh are right up there as well.
Over here people don't understand how fanatical the Indian people are about cricket and that's why the IPL gets such high viewing figures.
They wouldn't bat an eyelid if Beckham or Didier Drogba walked down the street, but if any of them saw Tendulkar it'd be pandemonium.
Hitting the heights
I must admit I missed Tendulkar's knock as I was enjoying a bit of R&R in Dubai before the one-dayers.
They wouldn't bat an eyelid if Beckham or Didier Drogba walked down the street, but if any of them saw Tendulkar it'd be pandemonium.
Bumble
Quotes of the week
We've been staying in the fabulous Grosvenor House Hotel (courtesy of ITC Travel in Chester) and we're near the top of what's a real skyscraper.
I've just been hanging out of the window to take some pictures across the city and I must admit I was crapping it. I'm terrible with heights... I just have an urge to jump off!
You'll be pleased to know I resisted.
We also played golf for three days at the Els, the Montgomerie and the Emirates. They're wonderful courses, but my game was absolutely diabolical. It's no fun when you're an eight handicap and you're playing to 18. It's time to shape up.
In other news, a good friend of mine has asked me if I can get 300 people interested in clubbing together to buy a racehorse. He wants to call it the Bumble Racing Club.
We could have some fun with it. I like a punt on the horses, but it's not really my specialist subject. Personally I prefer jumps, but I wonder if you'd get more fun of a flat racer.
I'd also like to point out I'd just own a share in it... they won't be asking me to sit on the bloody thing.
Dubai Detox
If anyone wants to give up drinking then this is the place to come.
At £9 for a bottle of beer or £50 for a bottle of wine (and that's the cheapest we've found) this is the perfect place for a detox.
I've been sitting down with half a pint of lager and just looking at it. It's too expensive to drink the stuff!
Lee leaves it behind
As for the cricket, I think England did well in the Twenty20's and imagine if you could put Andrew Flintoff in there? Then you'd have a proper team.
Maybe that's a bit romantic. There's a lot to consider with his fitness and whether or not the team has moved on, but in theory he could be the final link in a seriously good team.
Very similar to Flintoff, Brett Lee has finally called time on his Test career at 33-years-of-age after all his injury problems.
He's going to play other forms of cricket and let's be honest he just wants to earn a bob or two. He's looking after himself at the back end of his career and that's understandable.
This was a world-class cricketer and also a very good ambassador for the game. He still has a place in the one-day game, but it won't be the same.
Never again will we get that thrill of Brett Lee coming on with the second new ball of a Test match.
Bumble answers your questions...
Send your questions to Bumble by filling in the feedback form below. Or you can mail them in by e-mailing skysportsclub@bskyb.com
CHARACTER REFERENCE
Bumble, what are your views on the lack of proper "characters" nowadays in modern cricket? Harbhajan, Afridi and to a lesser extent Swann seem to be the only characters left, especially in the England team. Do you think they're all become robots? Sam G
BUMBLE SAYS: These days, with the advent of press and media officers, the players are told what they have to say in interviews. You end up with a robotic answering machine and that often cuts out the individuality and the real bloke doesn't shine through. The political correctness from the media side of things maybe stops you seeing the characters.
There doesn't seem to be the same amount of daftness or unpredictability as we've seen in some of the people you mention, but I've no doubt there are characters in the dressing room. I think Kevin Pietersen is a character - and a good one. He'll come in front of the camera and do his bit and he's a very good lad.
And of course Swanny is a character. He's a lovely lively lad and he can laugh at himself, which is always a great asset. I still think there are plenty of lads who have a lot of fun. And remember, you've got to be able to play as well. It's no use being a bit of a moonbeam if you're not very good at what you're doing!
Comments (14)
Samir Zariwala says...
At last an English man acknowledges the genius called Sachin Tendulkar!!!
Posted 17:34 2nd March 2010
Wayne Aaron says...
Bumble, you must go to the Barasti bar in Le Meridien Mina Seyahi. Probably the best priced beer along Jumeirah beach but still around £5 a pint. Much better than £9 for a bottle though!!!
Posted 11:10 2nd March 2010
Morag Macdougal says...
hello bumble - listened to you on sky yesterday and thought you were a wee slice of magic! i visited bangledesh in 1968 -what a place it was then!! had to laugh when the lights went oot on yerself and yer pal artherton at the end o the game - brilliant! keep up the good work Morag
Posted 05:04 1st March 2010
Bill Edmunds says...
Hi Bumble, Will your trip to the Himalayas be recorded on video? I'd love to see a full-length program on the trip.
Posted 16:14 28th February 2010
Arthur Trumpington says...
Bumble - I'm leading a small MCC touring party out here in Bangladesh, and couldn't help noticing you were also in our hotel dining room last evening. I didn't want to disturb you, as I noticed you were dining with two important guests (Jeremy Snape and George Clooney unless I'm much mistaken), but I did want to ask the name of your tailor: I thought your shirt was splendid. Gieves and Hawkes ? I favour a three button cuff myself, but the two button does have its advantages in the tropics I will allow. Yours Dr Arthur Trumpington, Warwick
Posted 03:42 27th February 2010
David Greenwood says...
PS, also a good one is the Springfield Arms ( t'springy) in downtown Coppull - me dad (Dave snr)can normally be found there helping them stop the bar fall over and the bookies acros the road going out of business :)
Posted 13:32 25th February 2010
David Greenwood says...
Bumble, wander across the road to the basement bar in the Habtoor Grand, the underground it's called and they do some reasonable(for dubai) deals, bucket o' bottles :) Keeps a Wigan expat in cold ones :) Failing that go into old dubai and the irish pub waxy's - full english(oirish) fry up, 5 pints full sunday roast (on fridays) 15 quid all in.
Posted 13:28 25th February 2010
Rak B says...
Bumble,,I feel u r the best commentator in d world today along with Tony Greig..U invoke great interest in d match which makes viewing live tv desirable & thrilling..hoping to see u in IPL tv coverage..India welcomes you sir!
Posted 09:10 25th February 2010
Arthur Trumpington says...
Bumble - On the racehorse front; don't do it. I have had a few over the years (my last one a moderately successful chaser called Dogmeat Express) and I can tell you they don't eat hay, they eat money. On to cricketing matters - I have to disagree vis-a-vis the IPL. I for one have no desire to watch this circus cricket - a view shared I am sure by many of us in the shires. It requires no tactical nous, there is no subtlety beyond a bit of biffo, and it is a retirement home for aged cricketers (Matthew Hayman, Shane Warne etc.). Test Match cricket is far superior in every respect, as I'm sure Sachin Tendulkar himself would agree. Yours, Athur Trumpington
Posted 08:30 25th February 2010
Priyam Goswami-choudhury says...
Very True, SirBumble, we Indians are fanatics. Just wanted to let you people know what happens here in India. I remember when India won the T-20 World Cup, not only we could not sleep all night because of the fireworks, also, on the eve of the match, the whole Indian team, at least their pictures, were literally worshiped...so much for cricket..
Posted 02:31 25th February 2010
Murph . says...
Bumble, in your next blog can we have an update on what went on at Daz the Scouse's 40th in Benidorm please??
Posted 19:22 24th February 2010
Jay Begani says...
Love your column Bumble!!! England not making room in their calendar for IPL appears to be a little snobbish to the world and non compliant. It seems even the players will left out. Personally would've loved to see Pietersen play. your views
Posted 19:21 24th February 2010
Swapnil Mishra says...
sachin tendulkar is the greatest batsman...salute to him!!
Posted 18:15 24th February 2010
Manjunath Bv says...
sir please come to watch IPL in india........... We want hear your comintry in the tournament.. you are such a louly man...... we loved you so much.............
Posted 17:39 24th February 2010