I've been shouting it out loud for a little while now, but England are looking very strong in all departments.
We've got wicket-keeper-batsmen coming out of our ears, the cupboard's not bare when it comes to batting, we've got loads of fast bowlers and a world-class spinner. We're doing okay.
It was a predictable victory against Bangladesh on an excellent Lord's pitch. They could play on that pitch for a fortnight and nothing much would happen.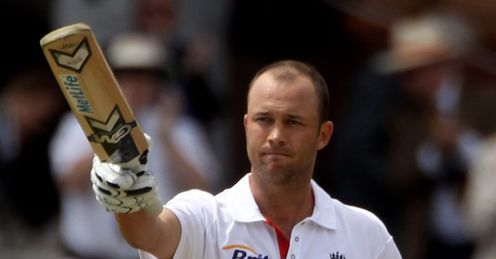 The proof in the pudding there is that Graeme Swann didn't take a wicket. It reminded me of the not-too-recent past when we'd go into a Lord's Test match with no spinner.
But Steven Finn was excellent and it's very exciting that a 21-year-old could be centre-stage.
Ryan Sidebottom replaces the injured Tim Bresnan at Old Trafford, even though I had a sneaky feeling they might call up Sajid Mahmood.
My producer warned me off making any comment. I was all ready to go: 'That's cheeky' and such. Mind-boggling, it was.
LIVE ON SKY SPORTS
England v Bangladesh
Second Test from Old Trafford
10.30am, Fri, Sky Sports HD1
Watch online with
Sky Player
How to
remote record
We lacked a little bit of penetration at Lord's and Mahmood has a bit of extra pace. It would have been a bit of a punt, but he has been scoring a few runs, which England like from their bowlers.
But Sidebottom has got the nod and maybe the selectors are looking for a left-arm over bowler with Australia in mind. They've got Mitchell Johnson and Doug Bollinger and that gives a little bit of something for Swann to bowl into.
Anyway, the bottom line is the selectors and Andy Flower fancy Sidebottom and I hope we get a quick, bouncy pitch for him at Old Trafford.
Failing to wrap up warm
The t20 season started on Tuesday and despite the freezing cold weather, it was nearly a full house. There was a great atmosphere despite the damp conditions.
It certainly wasn't the right weather for those young ladies with almost no clothes on. That was the spectacle of the night.
My producer warned me off making any comment. I was all ready to go: 'That's cheeky' and such. Mind-boggling, it was.
I ended up travelling home on the 5.23am train from Brighton. I had no choice. The wife said I had to put the bins out.
On Wednesday I'm off to Accrington to wish my grand-daughter a happy birthday and I'll be taking part in Regiment manoeuvres in the Hesketh in the evening.
Then it's off to Old Trafford for the second Test
In attendance...
We're expecting a few special guests to turn up for the Test match.
Early Doors fans should tune in on Friday because James Quinn (the bent policeman, Phil) and John Henshaw (landlord Ken) will be coming along. You might recognise John from the Post Office advert with Roger Moore.
Ed Blaney from my favourite band The Fall is coming on Sunday and there's a possibility that Mark E Smith will turn up as well. It would be nice if he did.
I'd love to have him in the commentary box... but with his reputation that might be a bit of risk.
Bumble answers your questions...
Send your questions to Bumble by filling in the feedback form below. Or you can mail them in by e-mailing skysportsclub@bskyb.com
HOW SLOW CAN YOU GO?
Regarding Trott's mannerisms it is a simple matter of the umpires ducking their responsibility to the bowlers and the audience. His batting is, mostly, admirable. I, for one do not pay to see the irritating, time-wasting, bi-polar behaviour. I pay to see cricket, not the psychological impediments and the coping strategy of one with an obsessive compulsive disorder. As a South African born England supporter, I say "get rid of him if the authorities can't (or won't) control him". But I first demand that they do something about it. Sincerely, Mervyn Rosenberg
BUMBLE SAYS: We were getting many e-mails into the Sky commentary box complaining about this very point. The time-wasting law is very clear. It states that when the bowler is at the end of his run-up, the batsman has to be ready. It's not a complicated rule and it needs to be adhered to.
Personally I would add another line to that law: "... and the bowler is within his rights to bowl". Then any team facing Jonathan Trott could bowl spin off three or four paces and not allow him to do all that. At the moment he's getting under the skin of the opposition and he's slowing the game down. I'm a champion of umpires, but I've not seen anybody hurrying him up and applying the laws. Put it this way, if the non-striking batsman wandered down the pitch to chat to his partner the umpire would soon bring him back. This is exactly the same.
Start the Car!
Finally, a reminder that my new book called Start the Car: The World According to Bumble - is now available in hardback, on CD and as a download.
I'm really pleased with it. I read it again the other day and even made myself chuckle.
If you've got a couple of minutes you can listen to an exclusive extract from the audiobook version.
People often ask me what the world would be like if I was Prime Minister - well, here's your chance to find out! You never know, I might be able to give this new coalition lot a few clues...
Feel free to give me your verdict on this week's extract and don't forget there are still five signed copies of my book up for grabs in skysports.com's competition - but this is the last week you can enter! Click here for details...
Comments (18)
Cyril Calvert says...
bumble how can you like that building the point? it is awful and if lanky are going to turn the wicket around god help the fielders trying to see the red ball. keep up the good work kid because i love comments. cyril
Posted 14:53 7th June 2010
Paul Gilbert says...
As usual the great debate about England's keeper lacks one crucial factor. That is comment from a good keeper (Knott, Russell, Taylor etc.) Batsmen and bowlers fail to spot technique problems of positioning, footwork, glove and body movement. If the keeper takes the catch its a "great piece of work" but if he doesn't its is usually a "difficult" chance whereas in reality poor technique has made a simple chance difficult. Prior really hasn't got a good enough technique and his batting was hardly tested against Bangladesh. Why is it thought a good batsmen can be coached to keep wicket but not the other way around?
Posted 11:33 7th June 2010
Josepop =iu says...
adical re-development of Old Trafford cricket ground, set to transform the historic venue into one of the country¿s premier sporting destinations. Our scheme is part of a 20ha regeneration strategy around the ground. The orientation of the wicket will change, for the first time in 150 years, from east/west to north/south to resolve sunlight issues which have affected players.Construction cost: £200M Completed: 2012
Posted 21:48 6th June 2010
Richard Williams says...
Hi Bumble. I've just heard David Gower suggesting Bangladesh's results are so poor they should not be a test nation. Between 1929 and 1974 New Zealand played 47 matches against England and won none. No suggestions they should not be a test nation, even when bowled out for 26 in 1955. Why this difference of approach?
Posted 15:06 6th June 2010
Robert Mccurrie says...
It just needs to happen before we go to Oz, Strauss and Trott have got to go
Posted 14:49 6th June 2010
Anit Bhattacharya says...
I am apalled @ the umpiring decisons which went against Bangladesh. In the 1st test the batsmen had to face England seamers inthe darkness they lost the test match. However during 1st day of the 2nd test England were allowed to leave because of bad weayher.In fact the light was much better than lords. ICC must look into this.
Posted 19:30 5th June 2010
Tom Overthrow says...
Hi Bumble When the orientation of the pitches at Old Trafford change next year, presumably the names given to the ends will be changed. Clearly it would be appropriate to call one the Pavilion end but what will the other end be called ? Regards Tom Overthrow ( Sidmouth Cricket Club.)
Posted 12:52 5th June 2010
Norman Beavers says...
Bumble, why do you think the England players are not wearing black armbands as a mark of respect to the victims of the tragedy in Bangladesh?
Posted 12:13 5th June 2010
Bob Goodbody says...
Hi Bumble, Why are the umpires not speaking to Shahadat about the loud shouting noise he makes when he delivers the ball. This must be very distracting for the batsmen.I imagine hearing the ball pitch is part of the batsman's timing routine and he is certainly drowning out that noise . I only hope that he doesn't start a fad for other quickies and we end up with grunters as in tennis !
Posted 11:35 5th June 2010
Stuart Robertson says...
I agree that Trott's so-called "pre-delivery routine" is irritating, time-wasting and should be outlawed. I have never understood why the batsmen's guards cannot be pre-determined by marking 3 white lines from the base of each stump to the batting crease. This would reduce the wasted time involved in every new batsman taking guard from the umpire, digging block-holes and scratching lines between the stumps and the batting crease.
Posted 17:15 4th June 2010
Chris Thorpe says...
bumble, whats going on with the outfield, is it the same greenstaff that do the wembley pitch? it looks awful! surely we can grow a green patch of grass
Posted 16:49 4th June 2010
Paul Cranswick says...
Bumble, I have been living in Malaysia a few years and dont get to see as much cricket as I would like, but I follow as much as I can and am a great buff for stats and form. Dont you agree that Bangladesh would have been a great opportunity to have a look at a few for the coming Pakistanis and the Ashes. James Harris and Steve Kirby seem in great nick and ought to have got a go with Chris Woakes or Shazad as the extra bowler. Why are we playing six batsmen against a team with such poor bowlers? The lads that went to the WIndies should have had to play a few county games to adjust to the different demands of the longer game. It would have been nice to see Lyth, Moen Ali, Hildreth or Taylor get a go and Stephen Davies over Prior.
Posted 16:36 4th June 2010
Graham Hurst says...
Hi Bumble, I was wondering if you knew what has happened to Alan Knott, I havent heard anything of him lately, do you know what he is doing these days.
Posted 15:13 4th June 2010
Luke Morrison says...
I can't believe the piece of rubbish (the point) cost 12 million. It's such a waste of space and looks horrific.
Posted 13:09 4th June 2010
Sam Goss says...
Bumble, where does happy little James Foster stand with the selectors? Last year he was our Twenty20 specialist keeper, before making way for the grooming of Davies (who got cast aside as soon as Kieswetter qualified, strange that), not to mention when Prior went down with the back spasm during the Ashes last year, Foster was the name mentioned to be called in. Does this leave James Foster out of it entirely? He is easily the best 'wicketkeeper' in the country.
Posted 22:08 3rd June 2010
Mark Kubik says...
Hi Bumble, I enjoyed watching Steven Finn in the last test as he performed extremely well. As a tall fast bowler myself it was great to see but do you think he can cope with the AShes down under and perform to his level consistantly?
Posted 20:48 3rd June 2010
Glenn Coleman says...
HI Bumble I must fully concur with the last writer. Trott is very irritating. I even find myself hoping he will get out. I can see the line for him from the comfort of my armchair so it beats me why he cannot. Test cricket is facing tough times, especially with the popualrity of T20 and we do not need to drive people from the sport with this nonsensical behaviour. Umpires have a duty to stop it. Have a word Bumble
Posted 14:55 3rd June 2010
Simon Weids says...
Hi Bumble, I have just bought my good friend William your book for his birthday! Are you doing any signings soon?? I am going to old trafford on Saturday an Autograph would be great
Posted 11:59 3rd June 2010