My Twitter page has been in meltdown all week.
Twitter is an excellent medium for people to express their views, but I've never had a response like I've had in the last few days. I've never known so many people upset about the same issue.
That issue is the ridiculous price of tickets for cricket matches.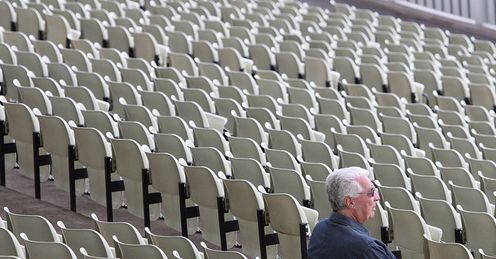 After the disappointing crowds for the neutral Test between Pakistan and Australia I raised the question and people have been Tweeting in their droves. It seems people are not prepared to pay the astronomical prices they are being charged.
Six days later and the problem became apparent again when I arrived at a deserted Edgbaston for the Twenty20 Cup quarter-final between Warwickshire and Hampshire. One chap told me it was £10 last year, but £25 this year. What's the difference?
People feel like they're being taken for a ride, especially when it comes to Twenty20.
Bumble
Quotes of the week
LIVE ON SKY SPORTS
England v Pakistan
First Test, day two
10am, Thu, Sky Sports HD1
Watch online with
Sky Player
How to
remote record
People feel like they're being taken for a ride, especially when it comes to Twenty20. With so many matches being played, people simply can't afford to attend them all in this economic climate, especially if they're taking kids along.
Also, once you're in the grounds you end up paying a premium for food and drink. I ended up talking about the price of hot dogs with a total stranger in the toilets at the County Ground on Tuesday (don't ask me why...) and we discussed that a pie at Lord's costs six quid! This bloke just wasn't having it.
I don't pay to get in to cricket matches. I'm just repeating the overwhelming concerns of the people I speak to. Perhaps the ECB and the counties should have a look at my Twitter page to see how the people feel about this.
Unhappy players
It's not just the fans, who are unhappy. I've been speaking to a couple of disgruntled players as well. They shall of course remain nameless.
These players had a couple of complaints about the Twenty20 season. First of all, the length of the boundaries have been ridiculous at some grounds. These guys are aspiring to be international cricketers, but international one-day cricket is not played on 55-yard boundaries!
The Twenty20 World Cup was played on 70-75 yard boundaries and the county players want to mirror that at domestic level. Both batsmen and bowlers want to see them extended because in some places they are far too short. There needs to be more uniformity.
Secondly, they're telling me that the amount of cricket that's being played is ludicrous. There's simply too many matches.
At Edgbaston, Neil Carter walked out to bat and our statistician said: "He'll be in good form; he got 100 in a Pro 40 match last night." Why are we asking our players to perform day after day?
Look at the example of Lancashire. They finished their Twenty20 quarter-final at 11.30pm on Tuesday and now face a three-hour coach journey to Hampshire to start a four-day game on Thursday. It's ludicrous.
Players need time to prepare and to get their bodies right to perform at the highest level and they can't do that when they've got a game every other day.
I've written about this issue on numerous occasions, but forget my opinions. These are the views of the players.
The fans aren't happy. The players aren't happy. Shouldn't someone be listening?
Bright young things
I'm now heading to Trent Bridge for the first Test, where Pakistan will be on a high after their win over Australia at Headingley.
I think that was as much down to Australia's weaknesses as much as Pakistan's strengths, but I do like the look of the young team that will take on England this week.
England will come up against a very good attack, although I think the hosts are slightly stronger in that department thanks to a superior spinner. I also feel England have a stronger batting line-up and I expect them to win this series 3-0 or 4-0 depending on the weather.
I say that with no disrespect to Pakistan at all. They have an exciting young side, but are simply coming up against a very good England team.
Somehow Pakistan have stumbled on the right formula; I like the two Akmals and I think captain Salman Butt is a good player. So even if they lose this series I just hope they stick with this team and try to introduce some stability to their cricket.
Every time Pakistan lose a match there seems to be a load of nonsense with players getting banned and some army general sticking his nose in for no apparent reason.
Let them get on with it and get rid of the old guys like Mohammad Yousuf and Younis Khan; leave them out of things and let the new breed take the country forward.
If they're looking for a model to follow, just look at England; Andy Flower and Andrew Strauss were not afriad to move forward and have demonstrated the importance of stability and continuity in a side.
Things won't turn around overnight and they'll lose some cricket matches along the way - but the future could be very bright if Pakistan stick with these promising players.
Chelmsford rocks!
As a music fan, I think I was in Chelmsford at the wrong time.
They've got the V Festival coming up with the brilliant Seasick Steve as well as Pixie Lott and the Pet Shop Boys (not exactly my cup of tea but they have written some good tunes in their time).
And then in October it's all about the wrinklies when Chelmsford plays host to Herman's Hermits, The Tremeloes and Union Gap (although I don't think Gary Puckett is involved any more).
They were packing them in at the County Ground and with all this great music coming to town, these are good times for the People's Republic of Chelmsford!
Comments (34)
George Hawes says...
Why not have the teams play a 20/20 match when the test matches end earlier than the 5 days. This way the fans won''t feel they are being ripped off ... The cricketers will still be getting their wages, and the followers will be getting value for money.. Tried to e.mail skysport with no avail.... Regards G.Hawes
Posted 13:55 21st August 2010
Ged Hanlon says...
I have to agree with Bumble wholeheartedly regarding the price of cricket in this country, what amazes me is as crowds are getting thinner the effort made to keep matches going especially in poor light is the retiscence to use lights. Watching the 3rd test today against Pakistan the players left the field nearly an hour before the scheduled end of play due to bad light, Surely all test grounds should have lights of sufficient brightness to continue a game and so keep the paying public happy. WAKE up TCCB before you lose all th spectators!!!!!!!
Posted 18:09 20th August 2010
Paul Jt says...
Dear Bumble, fully agree with you on the price and quantity of t20. Somebody should hold their hands up and admit that the new t20 and 40 competitions have gone wrong. The 40 should return to 2 divisions with promotion/relegation, 18 counties, 8 games each, played on Summer Bank Holiday and the last seven Sundays (except a few TV games) of the season. It should not be beyond the whit of man to design a t20 competition and schedule that is clear to supporters, accommodates the TV audience, provides players with appropriate travel and preparation time, and allows some England player participation. Three options to reduce the number of t20 games are: 8; half the existing group games, 10; return to 3 groups as 2009, or 12; 3 groups including Scotland, Ireland and Netherlands. An idea, that I¿d welcome opinion on, is extending the t20 quarters to best of 3 match series. It would be like the playoffs in some American sports. This could be a concession to those counties that cannot see the light from the flames as they overcook the golden goose!
Posted 10:37 5th August 2010
Kevin Harper says...
David You mensioned Owz that I used to have one along time ago, I was looking at cricket books & gifts on Amonzon and they it was two version of Owz That a luxery one at £14-99 and a plastic version costing £4-99 Kevin
Posted 20:31 3rd August 2010
Eddie Kelsey says...
Hi bumble,I think test match pricing is still pretty good value when compared to football I do think that maybe they could go for a joint cheaper price for two tickets though or maybe cheaper if you buy say three or four days I went to trent bride for two days and found it outstanding value all be it taking the other half doubles the price..I also saw australia vs pakastan at Lords for three days.......that was on my own as taking the other half would be way to expensive ...so maybe two for one deals if you do three or more days might work
Posted 08:45 3rd August 2010
Simon Higgins says...
Ticket prices are mad in this country. We always hear the support England received is "so appreciated" but every year prices get even more out of reach of the general public. With cricket now on Sky there is a risk that many people who cannot afford subscription TV cannot even go to an international game either..... I used to go to a few days of Test Cricket every year and even though I could raise the money to still do this I object to paying way over £75/day. Every time an Ashes series comes along the prices get jacked up even more!. Abroad I often pay peanuts for a 5 day ticket, cant even buy one in the UK. I know the grounds in some countries are no where near as good as the UK but at least offer a 5 days for the price of 3 offer.
Posted 08:06 3rd August 2010
David Willis says...
I don''t think they do play too many games. In the US professional athletes in Ice Hockey, which is much harder on the body than cricket, and Baseball play over 100 games in a season. These guys are professional athletes and should be able to handle the amount of games they play. at 17 I was playing 50 over games saturday and sunday, a two day minor county game and a 20 over game ever week, and still would net at least twice, and would have played more if there were more games for me to play! Cricketers have a very short season so 5 months with few days off is not something to complain about! Maybe some counties should rest bowlers from time to time. The only issue is price! If tickets were £5 for any county game then they would sell out, then they would have all the additional sales from food and drink to generate income, they would also get people coming to see cricket that may have no interest in the game prior to going! I would go with my girlfriend it it was £5 each, but i''m not going to pay £20 for her when the chances are she wont enjoy it that much! Test matches are ridiculous but sales seem to be ok so I wouldnt change that, its a shame though as working class people wont be able to go to a test, i know I wont!
Posted 16:06 2nd August 2010
Geoff Dodds says...
why was old trafford denied any test matches because of the state of the ground , when edgbaston gets a test when it looks like a building site
Posted 16:00 2nd August 2010
Paul Davis says...
Last week I was at the County ground for a pro40 match against Essex, it was a sunny sunday and the ground was not even 1/4 full!! Does a £16 ticket dissuade people? if it does how will knocking £5 off help? If I had booked online I could have got a BOGOF on Pro40 tickets (second for another game) so they were in effect £8 each. I think Cricket at county level is still reasonable (I have zero interest in 20/20 so I have no idea what that costs!) so perhaps it is the number of games, not just for paying fans but for the counties too. Northants appear to have decided Pro40 is not for them this year as we havent the biggest squad and can''t compete on 3 fronts.
Posted 09:56 2nd August 2010
Gary Bolton says...
England have one of the best lower orders in world cricket with 7,8,9, prior, swann and broad. Really encouraging to see the tail wag regularly, we are turning into a quality side.
Posted 09:49 2nd August 2010
Steven Gee says...
Hey Bumble, I have to agree about the prices - they are long beyond ''a joke'' now. And it''s not only are the 20/20 prices that are astronomical - test match tickets are too. I was listening to the commentary (of the 4th day of the test match) today and they were saying ''there''s still plenty tickets of tickets available''... £30 for adults and £12 for children. Are they serious? The game was only ever going to last a session or two at most and they are still charging high prices. As it turned out the game lasted 15mins short of 1 session. I pit those that spent £30 for just over 2 hours of cricket. Steven
Posted 23:36 1st August 2010
Michael Dunsmore says...
What is the justification for the use of "Night watchmen2 in cricket. Surely the batsman next in has the best ability to survive the closing overs of a days play. If night watchmen survive until the next day they are inclined to get in the way of the rhythm and flow of the batting specialist batsman they are playing with.
Posted 11:16 1st August 2010
Shani Hollis says...
yea its like most things the more popular it becomes the more money people try and make out of it sad but true !
Posted 20:44 31st July 2010
Andy Stevenson says...
Cricket tickets are not that expensive to watch when compared with rugby & football and all forms of the game last longer I think cricket gives value for money. There are plenty of offers on each season as well,thanks to Clydesdale Bank my wife & I entered Lords last Sunday for the price off 1 ticket. As for 20twenty at Yorkshire it cost us another £20 on our season ticket to get access to all the home games. People need to stop whinging & look for the offers.
Posted 16:48 30th July 2010
James Philpott says...
Why on earth do they just not use there challenges, when you 30 odd for 3 surley you JUST USE it. It seems to me England are the only team that know how to use referal system. Lets have it in all test cricket , it can only be great for the game. Any way 45/5 not going to complain to much, just want to see a contest. Common England!
Posted 14:44 30th July 2010
Steve Wright says...
just thought id get this slight change of subject in,having watched the pitiful display of our lower order again today.as ive mentioned on your blog many a time,get the first 6 batsmen out the last 5 will get 30 between them.who ever told the selectors their all rounders needs to go back to the drawing board.only the west indies collapse mor ethan we do.
Posted 12:50 30th July 2010
James Cowan says...
I can''t afford County matches Bumble so a Test is definately a bridge too far! The trouble with Cricket is it''s become trendy again, look at all the so called "celebrities" you see at Lords and the Oval whenever England play.
Posted 11:10 30th July 2010
Duncan Parker says...
How can we afford to pay to watch a game which is hell bent on destroying itself? Look at the match between Sri Lanka & India, after 3 days everyone knew that it would be a draw. And the players don''t help, the last 3 Indian batsmen scored 86 runs from 51 overs between them. And this is a sport that wants spectators? Has it ever been considered that a maximum number of overs in the first innings, say 130, would encourage teams to try to score quicker? No wonder the authorities don''t want test cricket on terrestial TV, the money from Sky pays all of the wages because the money isn''t available from the paying spectator. People can''t/won''t pay to see a 5 day game that is destined to be a draw. When we pay to watch something we expect to see a competition for our money, that is too rare in test cricket nowadays. I agree with other comments about KP, is he too precious to play outside the test arena? How many games did he play for Hampshire before eventually giving up his position?
Posted 09:45 30th July 2010
Albert Conroy says...
Can we have a debate about why Kevin Pietersen appears to be undroppable or are you scared of offending Strauss and Flower?
Posted 06:00 30th July 2010
Gaza Conway says...
Cannot belive the pricing, I have just brought a 5 day pass for the ashes test in Brisbane for $114 - roughly 65 quid. Bet you cannot attend a single day off a test for that - let alone an ashes test match
Posted 04:53 30th July 2010