Andrew Flintoff won't play for Lancashire this season and that's a big blow for the lad.
He's determined to have one last go at it and the sensible thing to do is wait until he's completely ready. He's come back early before and it hasn't worked.
People say he should call it a day, but I think he wants to have a do with his mates at Lancs for another couple of years. He's an honest lad and he wants another crack. There's nothing wrong with that.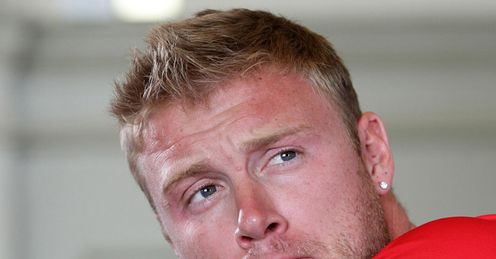 He's got other things that he wants to do - and I agree it's very unlikely he'll play for England again - but I think we'll see him playing for Lancs, both in one-day cricket and the County Championship.
It's a very frustrating time for him, but he's still a really top bloke. He's had a real setback this week, but still found time to give me a bat for my lad.
I genuinely believe that Jimmy Anderson would have bowled anybody out Trent Bridge, not just Pakistan's inexperienced group of players.
Bumble
Quotes of the week
LIVE ON SKY SPORTS
England v Pakistan
Second Test
10.30am, Fri, Sky Sports HD1
Watch online with
Sky Player
How to
remote record
Despite all his disappointments, he wanted to make sure that Graham got a bat. I really can't speak highly enough of him.
Pakistan panic
Pakistan weren't up to it in the first Test and as usual the people in charge have started to panic.
It wasn't long ago that Pakistan's young set of lads beat Australia in a Test match, but one defeat to England sees them calling Mohammad Yousuf out of retirement.
This is a bloke who had made a decision not to play for Pakistan any more and before the first Test match they'd decided they didn't want him.
Now, all of a sudden, they've changed their mind. It's topsy-turvy thinking.
Can he really walk straight off a plane and into a Test match? Where's he been playing cricket? What sort of condition is he in? All of these questions are up in the air and I doubt he'll be up to it.
I genuinely believe that Jimmy Anderson would have bowled anybody out Trent Bridge, not just Pakistan's inexperienced group of players. I think that's a really important point.
There are still three matches left in this series and there's no need for this chaos. Pakistan's bowlers showed they could get England's top batsman out and there is no need to bring back Yousuf. Why not move the experienced Shoaib Malik up from number six to number three instead?
One other point. You can be overturned by quality bowling and you can bat poorly, but your fielding should be constant. Pakistan's was terrible. They need to sort that out.
Security shambles
The fun police were out at Trent Bridge. You couldn't buy a cricket bat from the ground because it was seen as an "offensive weapon" and then security banned me from taking a can of Red Bull to the commentary box.
The world's going mad. You've got to laugh.
Cricket balls have also been banned from the commentary box after my impromptu coaching session with Shane Warne.
It's been so long since I played that I must have thought I was right handed.
I'm not.
My hopeless flipper nearly took someone's head off - and almost broke some very expensive equipment too. Executive producer Mr King took the ball off us and said we're not allowed to play any more.
(See Bumble's blunder below...)
A few cracking pubs in Nottingham for you: The Lincolnshire Poacher and The Peacock, both on the Mansfield Road.
And the modern pentath-naan (Peshawari, Keema, Garlic, Butter and Plain) went down well. I'm looking forward to the second innings down at Edgbaston. Executive producer King texted last night to say he was taking Mrs King out for a curry to prepare.!
Speaking of which, if you want to experience the modern pentath-naan and sit in the Sky Sports commentary box at The Oval, you can bid in a charity auction here: It seems we'll be saving something... the world perhaps?
And finally, I've bought a new house and the sewers are blocked. I don't think I need to say much more about that.
Enjoy the second Test.
Comments (5)
Imran Malik says...
Shoaib Malik is absolutely useless, no other team would pick him as a batsman and he himself has refused many times to bat up the order because his lack of technique and talent will be exposed. Its not a young team barring Umar Amin. Azhar Ali is officially 25 and the rest have been around for ages and done nothing. Kamran Akmal is a useless fat track bully T20 batsman and his batting style is very risky, who does he think he his Viv Richards. Sorry Bumble but a jet lagged, half asleep Moyo is better than these chumps any day. The PCB is destroying Pakistan cricket by their nepotism and its high time this was highlighted. Where are Younis Khan,Fawad Alam, Yasir Hameed, Taufeeq Umar -they are proper Test cricketers, if only the latter two weren''t messed around with and dropped all the time to make way for useless M Hafeez, Imran Farhat,Malik and co. Never bring K Akmal back he is tripe. And i think Safraz Ahmed''s first class batting average is much better than Zulqairnan Haider,maybe his uncle isn''t a general or a selector.
Posted 09:46 7th August 2010
Bruce Duffett says...
Hello Bumble, See anything Red has been banned from the commentry box. No one with Liverpool, Arsenal or Red Manc aligence allowed in the sky box and thats how it should be. Freddie was a reall pro and one that i hope will come back for country as well as county. He was a true role model for kids and gave EVERYTHING including his health for his country. He might of liked a relaxing pedalo in the dead of night with a few cans of Red stripe (red again always causes trouble) but not often do you go to the West Indies. So right again with Pakistan Selection, they should keep with their kids for the next 2 - 3 years to learn to play the mental side of cricket as they have talent they have just beaten the Aussies and easily. The Pakistan board always seems to panic when they lose and they end up bringing some old "has been "back when like England they should be blooding the kids (or South Africans or Irishman, but thats another story). Keep up with the pub watch and keep us all informed and also any good Music Festivals going on.
Posted 15:36 6th August 2010
Martin Hicks says...
Bumble - What we all want is a fit and healthy Freddie. If the prospect of playing again motivates him to achieve this then that is great. He can then decide what he wants to do. Is it only the red ball that''s banned in the box because you can show us whether it is easier to bowl the flipper with the white ball.
Posted 19:27 5th August 2010
Imran Jazeeb says...
Bumble,i have got to bet you freddie will come out in england shirts and he will prove everyone wrong.
Posted 15:06 5th August 2010
Paul Singh says...
Hi Bumble, I agree I don''t think Freddie will play for England again, but I want to make a suggestion to the cricket authorities. When I went to Lancs v Sussex on Tue, the 3rd umpire decision wasn''t shown on big screen, instead we got Clydesdale Bank, always thinking. How is that exciting? These decisions should be shown on big screen in all televised matches, domestic and international. How is a 3rd umpire decision controversial? Let the fans at the ground enjoy as well. The paying public shouldn''t be left in the dark. What do you think?
Posted 13:06 5th August 2010