It seems chaos is guaranteed when you get to Twenty20 Finals Day.
There was all sorts of drama as the final between Hampshire and Somerset went down to the final delivery - and Somerset could have avoided defeat if they'd known the rules of the game.
Daniel Christian had a runner for the final ball and that meant he had to stay in his ground. The fact he ran meant Somerset should quite legitimately have run him out. The rules are quite clear on that.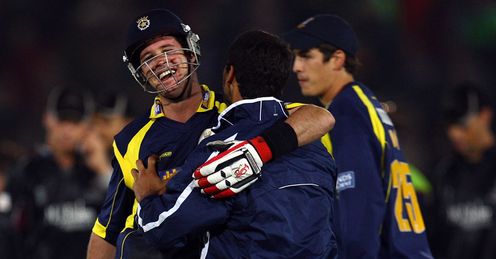 Everyone will have noticed that the Hampshire players ran onto the pitch and were sent off because the umpires were waiting for Somerset to run him out. They can't tell the fielding side what to do and after waiting for long enough, they awarded the game to Hampshire.
I've seen this happen years ago. Ole Mortensen of Derbyshire had a runner, but hit the ball and started running along with his runner and the non-striking batsman.
People tell me that it would have been a bad way to end finals day or argue that it was gamesmanship. Absolutely not, it's a straightforward law of the game.
Bumble
Quotes of the week
LIVE ON SKY SPORTS
England v Pakistan
Third Test
10.30am, Wed, Sky Sports HD1
Watch online with
Sky Player
How to
remote record
They took a leisurely single and Peter Willey, who was standing at gully, told the fielder with the ball to throw it to the keeper. The fielder was confused, but did as he was told. Willey told the keeper to take the bails off and said 'howzat'.
Mortensen was straightening his pads and was baffled when the umpire (I'm certain it was Merv Kitchen) gave him out. He protested in his broad Danish accent: "How can it be out? I'm in, he's in, he's in, we're all ******* in."
Kitchen simply pointed out that he should be in at the other end.
It doesn't surprise me that professional players don't know the rules; it's the same in football and rugby. However, this isn't an obscure rule; this is straightforward. It was drummed into me by the coaches and senior pros when I was a player.
People tell me that it would have been a bad way to end finals day or argue that it was gamesmanship. Absolutely not, it's a straightforward law of the game and is like any other dismissal, even if it's one you don't see often.
If you don't understand it, then understand this: the RUNNER does the RUNNING. It's not complicated, is it?
The late show
I didn't leave the Rose Bowl until 11.30pm after a very, very long day.
Personally I think that's too much. I'd prefer two semi-finals at home venues and a final at Lord's. I think that would be a better day out for the fans.
People were still trying to get away when I was leaving and I don't think that's any good for a family day out.
But the day started in amusing fashion with all the commentators arriving in the A-Team van.
It took us about eight takes to get it right. One time I banged my head on the roof of the van and another time I couldn't resist saying: 'I loved it when a naan comes together (I don't think Hussain, Atherton, Knight and Allott appreciated that).
Stars of the show were Jos Butler and Samit Patel. The 19-year-old Butler is a cracker and I know England want Patel if he can get himself in shape. He was as good as anybody on Saturday.
I'd also like to mention Kieron Pollard's horrific injury. He was hit in the eye by Dominic Cork and quite rightly our producer did not show it on television. I'd like to wish the lad all the very best in his recovery.
Cook's chance
We'll be at The Oval this week and I expect the score in the Test series to become 3-0 to England.
Pakistan should be a better side with Mohammad Yousuf, in the line-up, but will be weakened with Kamran Akmal back behind the stumps.
Meanwhile Alastair Cook has retained his place in the England side, but the lad waiting in the wings is Michael Carberry. He's a very fine player, a good fielder and he has played for England before. England won't lose anything if he plays.
Cook is still battling like mad with his technique and a bit like a bad golfer, there's too many moving parts. Both feet are moving, his head's moving, his body's moving and he's using his hands to try and get himself out of tricky situations
From Ponting to Tendulkar to Vaughan to Trescothick to Strauss, there's not a lot moving when the best batsmen are playing. Just stand still and watch the ball.
But I wouldn't put it past Cook to be top scorer in this game. Surrey is a good place to bat and if you can't score runs there, then you can't score anywhere.
He's played on two pretty average pitches recently. As an opening batsman facing the new ball on a fresh pitch, you'll get one with your name on it.
He has a great opportunity at The Oval and if he bats for an hour he should be over the worst.
Cheeky so and so
Finally, I've been getting abused on Twitter by some cheeky kid who has got a problem because I didn't sign his book on Finals Day.
I signed thousands of autographs on Finals Day and I wasn't rude to anybody, so I don't appreciate this geezer telling me otherwise.
He reckons he asked me at 10.45pm, but I had to be on air. It may only take a few seconds, but I can't afford to be even 20 seconds late into the commentary box. Do you want the whole world to wait while I sign your autograph book?
I'm always happy to sign anything for anybody - and I will do again at The Oval this week - but you have to understand that I'm there to work!
He wants an apology, but I've told him he isn't getting one. Turns out he's only 16... get yourself to bed!
In a previous age he'd have got a clip around the ear!
Comments (12)
Gerard Bromley says...
Glad to hear Bumble that you think that 20 20 is for families. I wish you could have been in the crowd with me, my wife; and several families of Somerset players at the final in the Rose Bowl. The whole of the final was spoilt by a load mouthed Hampshire fan who F''d and blinded through out. Even when asked to control himself in front of the kids! Totaly boorish and pathetic behavior, enflamed by over indulgence of beer, that didn''t belong at any public event! The day was to long and the amount of alcohol consumed far to much! Split the semi''s and final in to two days!
Posted 18:38 22nd August 2010
Steve Charleson says...
In a desperate situation, could a batter make a referal if he had been bowled out, on the off chance it was a no ball.
Posted 10:18 21st August 2010
Jim Bale says...
Hi David, I was at the Oval yesterday and was sorry I missed you at the book signing, however I did buy a signed copy later, we won two tickets for the roof terrace and had an excellent day out. It is a long time since I used to bowl to you in the yard at Accrington Tech. Best Regards, Jim
Posted 09:33 21st August 2010
Geoff Corrigan says...
Bumble, just been listening to the analysis between David, Nas and Beefy. They are quite right in that Cook has made a good score. Nas however is also right to ask is it enough ? I suspect the Australians will watch tapes over and over again ahead of the Ashes and will have a plan to bowl to Cook. Also, am I the only person (have to admit to being a Hampshire supporter) to think that the selectors are in a catch 22 situation re KP. I am sure they would like him to go back to county cricket and score some runs. Unfortunately no county wants him ! So the only team that wants him is England !.
Posted 17:58 20th August 2010
Grant B says...
For the love of cricket, why do the ICB and the top brass not want to listen to what we the supporters and spectators want instead of what they want? 1. We continuously lose time because of overcast conditions and time wastng on the field Trott/people walking on and off the field and general time wasting....Please can someone let me know why we cannot start the game earlier in the morning? It happens far too often that we finish early and still they dont change it? With the cosy of tickets these days we deserve full value for money. 2.On the subject of Trott why do the umpires not talk to him it is very frustrating watching him knowing how much time he watses? I so enjoy the game but this is really starting to make me wonder why? Thanks to the team for great commentary. Regards Grant
Posted 17:24 20th August 2010
Wendy Collins says...
Thankyou Bumble for making cricket fun to watch, as a lady O.A.P cricket can sometimes be boring but your comments and humour make the game more enjoyable. Your comments about wasting time I totally agree with you they should do what they do in football take them off until fit to return.
Posted 13:21 20th August 2010
Stuart Williams says...
agree cook should go back to his county before its to late.also morgan dropped a catch there was no sun and he was wearing designer sunglasses anyone out there explain this fashion statement are they being payed this fashion statement or is it excepted practice
Posted 17:43 19th August 2010
Craig Moore says...
Ref Mark Taylor comment agree with it 100% that boy is batting brilliant at the moment also keep your eye out for Tom Smith Lancashire going to be another brilliant all rounder
Posted 15:57 18th August 2010
Mark Taylor says...
Drop Cook, give Adam Lyth of Yorkshire a chance. He has been scoring mountains of runs this year. He has been doing it at a fair pace, he is young and he is a left-hander.
Posted 12:44 18th August 2010
Graham Ayrton says...
3rd test - eng. 49-4. camera shot showed andrew strauss joking with trott and anderson who were reading a magazine. is it a good sign that the england captain is so relaxed after such an abmismal start or a worrying sign with the ashes on the horizon?
Posted 12:34 18th August 2010
David Jones says...
Bumble I have to agree with you about the format of the 20/20 finals day. The whole format of the game was designed to be fast and furious but this season it seems to have gone on forever. The qualifying rounds took most of the season and having the semi''s and final on the same day is just too much. We were very close to the whole lot becoming a lottery because of the weather. On another point I was pleased to see that Hampshire stuck with the same team that has served them so well during the tournament and resisted drafting in England internationals and jet lagged foreign stars who contributed nothing. Well done Corkie and the lads.
Posted 10:26 18th August 2010
Gary Collins says...
Sorry Bumble, but I disagree that the Finals Day schedule is too much. We were there on Saturday and were also at Edgbaston the year before and think that the whole thing is fantastic entertainment & a brilliant advert for cricket. Watching 4 class teams battle it out, sandwiching the insane mascot race, in a great party atmosphere, is the highlight of our sporting year. We take 4 kids to the Finals Day, and I''m confident in saying that they will be big cricket fans for life, including tests. Keep Lord''s for tests & the "other" final & move the T20 Finals Day around the country spreading the word of the great game. Anyway, wouldn''t you have to smuggle the mascots into Lord''s - how on earth would you get Lanky through security!
Posted 22:18 17th August 2010