This series should have been 4-0 to England. Now there's every possibility it could finish 2-2.
The final Test at Lord's becomes a massive game with The Ashes in mind. They've just had a real reversal against Pakistan and now we'll find out what sort of character there is in the England camp.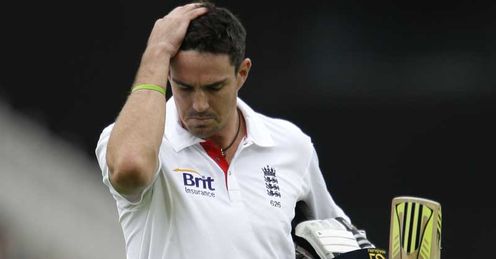 There are plenty of questions. Is this a together team? Who will put their hand up and score the hundreds that are required? We'll find out a lot about our Ashes chances over the next few days.
At The Oval we were back to vintage England; losing six wickets for around 40 runs, as they have done in every Test match against Pakistan so far. It's significant that the best player is the number seven; Matt Prior is the only one who's in any sort of touch.
From Ajmal Shahzad to Tim Bresnan to Ryan Sidebottom, we've seen bowlers come and go, but the batters stay in the team.
David Lloyd
Quotes of the week
LIVE ON SKY SPORTS
England v Pakistan
Fourth Test
10.30am, Thu, Sky Sports HD1
Watch online with
Sky Player
How to
remote record
From Ajmal Shahzad to Tim Bresnan to Ryan Sidebottom, we've seen bowlers come and go, but the batters stay in the team. There's a really good batter, Ian Bell, waiting to return when he's fit again and it's an old adage, but it seems you're always a better player when you're not in the team.
The guys that are playing aren't doing themselves any favours. Alastair Cook has taken the heat off himself with a beautiful century at The Oval and has now scored three centuries since Andrew Strauss last did so.
But Kevin Pietersen still can't get any runs, Jonathan Trott has ground to a halt, Paul Collingwood is averaging 23 for the series and Eoin Morgan has fallen away too.
Ian Bell should come back into the team for The Ashes, but I don't think there's a chance that anybody else will be given a go.
Michael Carberry has just scored six hundreds. He must be scratching his head and wondering what he's got to do to get into this team.
Pakistan on the ball
It appears Pakistan have picked the right team at last. They've still got a flimsy batting attack, but in the last Test match they limped to 300.
And they've once again shown that their Test match bowling attack is very good. Even though Wahab Riaz got five wickets at The Oval, I still think Umar Gul will walk straight back into the team when he's fit (possibly even at Lord's).
And of course the off-spinner Saeed Ajmal is causing problems because England's batsmen don't know which way it's going.
We've received an enormous number of e-mails about his action. Ajmal bowls a doosra, so people are asking why Graeme Swann doesn't bowl a doosra. Well it's because Swann's arm is straight.
To make it absolutely clear, you're allowed a 15-degree bend in your elbow - and the umpires can't call Ajmal, it has to be done by the ICC.
I assume he's within the 15-degree tolerance or else he wouldn't be bowling.
On the sauce
I'm declaring this a national sauce week.
I've received confirmation that my favourite hot sauce will be available in the commentary box at Lord's. It's called Ultra Death and it's lethal, as Nasser and Ramiz will tell you after their previous experiences with it.
I'd also recommend Lancashire Sauce, something which is very dear to my heart. Take a look at it here.
So join me by tucking into your favourite sauce while watching the cricket this week.
On the Accy
I'm going to miss Accrington's Carling Cup game against Newcastle United on Wednesday night because of the Test match. Very frustrating.
I reckon Stanley have got a chance. It sounds like Newcastle are bringing young lads, and I'm not sure that's the way to go on our pitch. If they're used to being pampered, they'll be in for a shock.
A cup run would be nice to put some money in the coffers, but if we come unstuck we can concentrate on the league. You've got to be realistic about these things and we could be in Europe in four years.
Questions, questions
Finally, we've had some fantastic e-mails from viewers this week.
1. What's the difference between a heavy roller and the light roller?
2. What's the difference between the red ball and the white ball?
3. What's the difference between day and night cricket?
I'm baffled. If anyone's got any answers, please let me know...
See Bumble behind the scenes in the Sky Sports commentary box in this week's Sky Sports News Plus
Comments (11)
Chris B says...
Ross A''s point about name changes....Yousuf Yohana converted from being a Christian to Islam a few years back, hence Mohammed Yousuf (5% of Pakistan is Christian and they''re usually at the bottom of the pile). The Ammer / Amir issue is probably due to transliteration of his name in Urdu script into English - if he''s found out about deliberately bowling no-balls, he may well want to change his name completely....
Posted 07:31 30th August 2010
Roy Ellyatt says...
Why are the commentators ignoring the elephant in the room? If Ajmal''s arm is within 15 degrees then I''m a chinaman. It''s impossible to bowl his deliveries with a straight (or nearly straight) arm
Posted 16:25 27th August 2010
Ross A says...
Why do the pakistan players seem to change their name during their careers. Yousef a good few years ago and Aamer - Amir a few weeks ago?
Posted 15:32 27th August 2010
Neil Davison says...
Why oh Why do fielders -even when standing next to the bowler- send the new ball thudding into the keepers gloves,sometimes even via the ground? Surely all efforts should be made to protect the ball in its early life!
Posted 09:39 27th August 2010
Alan Burridge says...
Nassers correct when he highlights Alistair Cook''s head falling over to the off which not only prevents him watching the ball throughout its flight but puts him off balance and not in control of his leg side shots.. Added to this on his ''straight'' shots he ''drops'' his head slightly which results in him not seeing the ball from the bowlers hand to the pitch of the ball. Both he, Strauss and Collingwood do not pick their bats up ''high'' which results in them ''pushing'' at the ball.and therefore open to being caught behind. The Pakistani bowlers are excellent however the former Yorkshire and England fast bowler Alec Coxon who was an excellent Coach stressed that batting becomes even more difficult if one does not stand correctly, pick the bat up high, keep balanced at all times, watch the ball from the bowlers hand and aim to play predominantly ''in the ''Vs'' with the added comment that'' the square shots take care of themselves''
Posted 15:47 26th August 2010
Rich Webster says...
Ajmal''s doosra is easy to read - just look out for a massive bend and straightening of the elbow.I don''t understand why the England batsmen can''t pick it.
Posted 13:18 26th August 2010
George Staples says...
Yes I agree Mr. Lloyd. The batters have a guaranteed place in the Test team. This is unfair on the in form county players. It is also very unfair that players like Bresnan. Rashid and Azhad are not given an opportunity. As long aas Flower, Miller and Strauss remain as selectors, players like Pieterson, Collingwood, Morgan and Trott will have places in the team and on the tour. The favoured few should be out. It is also worth noting that there will not be swing conditions in Australiaa, therefore Anderson and Broad will no doubt revert to their tantrums and indiscipline. What a mess we are in! George Staaples
Posted 11:45 26th August 2010
Kenny Griffiths says...
Hi Bumble,can you tell me why Kevin Pieterson is still in the England team when he hasn''t got a county.Any other player in his present form would be sent back to his county to get his form back but he can''t because he hasn''t got one.I''am not alone in thinking this,is it because he is under contact to England and so they have to pay him whether he plays or not.Some of my mates think it''s a case of the tail wagging the dog in the England set up..Thanks for taking time to read this.....
Posted 11:02 26th August 2010
Adeel Saya says...
Ajmal has already been under the ICC watch dog and has subsequently been cleared. His action is absolutely legal according to the ICC 15 degree law.
Posted 00:34 26th August 2010
Naveed Ali says...
Hi , To the sky team regarding saeed ajmals action, he has already been cleared so can we stop talking about the legality of the action. Also see below his profile page on cricinfo.com- Saeed Ajmal, an offspinner, received a call-up to the Pakistan squad for the Asia Cup at the age of 30 after an impressive domestic season with Khan Research Labs in 2007-08, during which he took 38 wickets in 12 first-class matches at an average of 29 apiece, and 12 wickets in nine list A games. He made an immediate impression with his subtle variations, unafraid to use the doosra. But his career took off with a series of ODI performances that bewildered Australia in Dubai and Abu Dhabi; he gave away few runs and his doosra was nigh-on unreadable. The ICC called him for his action, though it was cleared soon after. The pressure didn''t get to him and immediately after, he played a crucial role in Pakistan''s drive to the 2009 World Twenty20 title, regularly bottling up the middle overs with Shahid Afridi. He ended the joint second-highest wicket-taker in the tournament, with an exemplary economy rate as batsmen around the world struggled to pick a big turning doosra or even cope with his changes in flight, pace and angle. Consistent performances in the ODI version have quickly earned him a reputation for choking the runs in the middle overs with clever variations. Cricinfo Staff December 2009 Latest Articles Thanks, Naveed Ali
Posted 18:42 25th August 2010
Jimmy Won says...
Where do Dublin bay prawns come from? What time does the 10 o''clock train leave? What sort of meat goes into a pork pie? Privileged glimpses of the bleeding obvious...
Posted 16:46 25th August 2010