This week's blog comes direct from the Countdown studios as I prepare for my next appearance in Dictionary Corner.
They've given me a Club biscuit and a Kit-Kat for breakfast and my very own dressing room. I feel like Ken Barlow!
I'm pretty tired because I only got home from Cardiff at midnight. It's ridiculous that Twenty20 matches finish so late. I've said it many times, but this format was billed as a family day out - and it ain't a family day out if you get home past bedtime.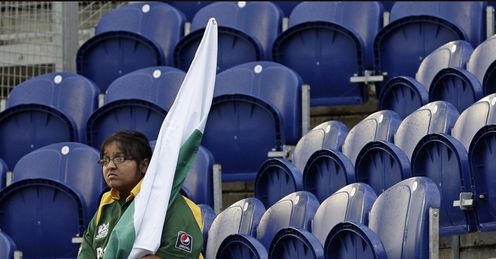 Hardly anybody tuned up to the SWALEC Stadium to see England thump Pakistan, and understandably so. People can't afford to pay £60 twice in two days.
I think there were 4,000 spectators inside the venue, which means 11,000 didn't turn up. It's quite clear, people are saying "no thanks".
Some of the folks I spoke to were saying: "Never again." One bloke described it as money down the drain. I can't see who wins from this situation.
It's naïve to talk about getting to the bottom of this problem and cutting corruption out of the game. You're dealing with organised criminals and I don't see what the ICC can do about that.
Bumble
Quotes of the week
LIVE ON SKY SPORTS
England v Pakistan
First one-day international
10am, Fri, Sky Sports HD1
Watch online with
Sky Player
How to
remote record
The lessons are these: don't hold two matches at the same venue and don't let them go on so late.
The worst ever
I'm sad to say it was the worst game of Twenty20 cricket I've ever seen.
Pakistan were horrendous and clearly have a lot on their minds. You can't send them home because you can't penalise the whole of Pakistan for the alleged misdemeanours of a few, but it's understandable that they're finding it hard.
I know how I would feel in their position. If, for example, there were allegations hanging over three or four Lancashire players when I was there and I wasn't involved, I would feel pretty cut up about it. They must just be hoping this isn't true.
It's so sad to see cricket dragged through the mire and personally I struggle to see any positives coming from this.
In my view, it's naïve to talk about getting to the bottom of this problem and cutting corruption out of the game. You're dealing with organised criminals and I don't see what the ICC can do about that.
However, what the ICC has done, and what they should be championed for, is educating the players.
The other day, Stuart Broad explained how the ICC and the ECB have drummed into him what he needs to do if he is approached by anybody dodgy. They've been given leaflets, they've been shown videos and every cricketer is the same.
As a young man he's a good yardstick and Broad is quite right when he says he has no sympathy for anybody who falls foul of the rules, even if they are as young as 18-years-old.
I wrote about this in last week's blog and I'm glad Broad has backed up those comments. The ICC do everything they can and every international cricketer knows where they stand.
Getting lippy
I must admit I've been so busy this week, I don't know if I'm coming or going.
I'm moving house, I'm doing Countdown and I'm doing the cricket. I made a cock-up on air, which I was a bit upset about, but it happens.
A few people wrote on last week's blog to ask if my 'Start the Car' tour would be coming to their town. I've only got a few free dates in October and November before I go away to Australia and India, but the plan is to do a few more next year. Maybe we'll come to a venue near you then.
I also enjoyed your suggestions about which cricketers could do with a bit of lippy after we discussed Umar Akmal's ridiculous green lip balm on air. Popular suggestions included Merv Hughes, Brian Close, Geoffrey Boycott and Ian Botham!
Anyway, I'd better go and join Jeff, Rachel and Susie on set. What a bunch of sweethearts.
Have a good week!
Comments (25)
Philip Beacock says...
Lets hope the ECB learn lessons from this. Too much T20 cricket, don''t overdo it. Doesnt make any sense staging 2 T20 matches at the same venue in 3 days! Anyone with an ounce of sense would have known you would struggle to sell tickets. People arent going to pay out twice
Posted 13:27 14th September 2010
Andrew Bowness says...
I may not be the cleverest of chaps, but if tickets were say £20 and 3 times as many spectators turned up, wouldn''t the gate reciepts be the same, but also 3 times more people would be spending their money in the ground on refreshements etc! thereby increasing the takings considerably. £60 pounds to get in isn''t exactly going to attract many people just to get in! Not rocket science is it!
Posted 10:09 13th September 2010
Michael Thompson says...
Agree with all the points raised so far, but would also add that scheduling this match on the same night as an England football qualifier wasn''t the brightest thing to do.
Posted 13:40 10th September 2010
Laieq Hashmi says...
The way T20 series were planned doesnt make any difference between ECB and miserable PCB with lack of thoughts bcoz Friday and sunday or saturday and sunday could b the best days instead of monday for more people to come and on monday there was england football match for euro compaign so how come it possible that people coming stadium spending 40 to 50 quids and on top of that pakistan is struggling on the field and off the field and another reason is two consecutive games were given to cardiff it should b some other city.
Posted 19:43 9th September 2010
Jim Hollyoake says...
The other nights game summed up everything that is wrong with the current cricket format. Theres too much of it!! My suggestions would be; get rid of the Champions Trophy, hold the World Twenty20 once every 4 years and England to play only 6 home tests (maybe 7 in an Ashes years), 10 home ODI internationals and 2 homeT20 matches each season. I know it''s a lot but I feel the international game needs it to reinvigorate it.
Posted 18:14 9th September 2010
Andy Cormack says...
The ECB are milking the cow too much, domestic T20 cricket lost its edge this year ( in my opinion ) there were too many games, which means too many meaningless games. There are now going to be all these one day games which quite frankly i don''t think anyone including the players are interested in. The cricketing summer should finish with the climax of the Test Series which should be the main event of the summer. The prices of Test, One Day and T20 games in England needs to be reviewed as does what is on offer (and the price) to punters once they enter the ground. The gentleman from SA hit the nail on the head 4 pounds now thats a day out.
Posted 12:42 9th September 2010
Jonathan Peters says...
I dunno if the cricketers or even the grounds remember this, but they are in the entertainment business. Cricket was make proffessional and the players get paid to entertain the public. And we pay money to be entertained. If they aren''t getting the number of people, either, its too expensive, or people are not getting entertained!! Sort it out!!!
Posted 12:32 9th September 2010
Andy Hood says...
I looked into going to this match but when I saw the price I decided to go to the CB40 semi this weekend instead at Taunton. A third of the price and there will be a much better atmosphere as we usually get a good crowd in. If this match was priced at around £20 I would have probably gone.
Posted 10:02 9th September 2010
Alan Clarke says...
It''s almost impossible to watch any sporting event now without the feeling that it isn''t all it may seem. Cricket, snooker, Racing...all subject to apparent dishonesty and pretence. Right, I''m off to watch the WWF - a REAL sport!
Posted 08:47 9th September 2010
Mark Johnston says...
I think this another situation that the ECB have got it wrong. Too much cricket played and too high prices charged for basically what is average cricket. Look at the prices for the Ashes tickets in Austrailia - about 25% of what they are here. It''s time for snobbish, arrogant and perceived middle class county members and chariman to realise without the money of the average working man their countys and national team will suffer. Reduce the costs accordingly i.e. A father & son ticket for £30 for all matches throughout the year regardless whether it''s county or National level, surely more people watching live is better for the future of the game!
Posted 08:10 9th September 2010
Peter Price says...
Do cricket officials realise there is a recession on. £40-£60 for 3hrs of cricket, no concessions, equals hundreds of empty seats. Doesn''t take a genius to work it out
Posted 22:06 8th September 2010
Chris Dennis says...
Another thing that shows cricket going down the football route is that they have allowed Somerset to have a substitute in their current championship game. Not a normal 12th man who carries the drinks and comes on to field if someone is injured or otherwise incapacitated. They have allowed Somerset to play a sub who can bat which is against the laws and spirit of cricket. I''m sure the Lancashire captain would not have agreed that Somerset could play 12 and his side 11 in such a vital championship match. This has come from an ECB directive I suspect in order for their one day player to gain extra batting practice. Why weren''t Lancashire permitted the same luxury to have a non-fielding substitute or indeed play Anderson just to bowl with another specialist batsman? This is the thin end of the wedge and an admittance from the ECB that their central contracts do not work for batsmen who also play one-dayers. England''s middle order played less first class games between them this summer than ever before and it showed due to them not being allowed back to play for their counties and get some time in the middle. What are we to expect now? Will England players be allowed to come in during a game just to have a bat and then not have to field? Will such subs become the norm to accommodate them - 11 v 12 is not a level playing field at the moment.
Posted 18:15 8th September 2010
Azhar Saeed says...
ya the game was not upto expectations but my suggestion to da players is that they shud enter da ground and forget everything and look to the their national flag and say that we are palying for that only then they can do anything good
Posted 18:09 8th September 2010
Darran Andrews says...
Evening mathes could work alongside being a family day out, as the evening matches would be all about being out with some mates have a few beers and a curry and watch a good bit of high paced sport, At £60 a ticket who can afford to go, I know I can''t. I often go and watch Sussex play twenty/20 and the turouts are normally good and the evening games always have a great atmosphere and that is at £20 in the height of summer when the weather is good!
Posted 16:57 8th September 2010
Chris Hall says...
Never, ever play an England game in Cardiff again. There would have been a hell of a lot more than 4,000 at Old Trafford. Serves the ECB right.
Posted 16:43 8th September 2010
Graham Bowen says...
well i have just got to say somthing posetive for once because all this negativity is depressing me.what an absolute delight it has been this year to whatch and listen to the fantasticteam of commentators presenters and of course the guest presenters,the comments the laughs i have had this year have been memorable,from Wanys comment about the keepers gloves being nan breads,to the chilly sauce that nearly choked nasser,i cannot wait for the ashes i hope it is going to be the same team bring it on
Posted 16:42 8th September 2010
Richard Reeves says...
This was a pointless match, why did we need two 20 20 contests against the same opposition? As for £60 a ticket, i can now understand why nobody turned up! Lets hope the odi contests are more entertaining.
Posted 16:19 8th September 2010
Mark Callaghan says...
I do feel for the Pakistan players, it must be tough to play in a positive way when the world thinks you are all cheats by association. For the record I think there will always be a minority of players who take the money on offer but the majority are honest and hardworking sportsmen. Charging £60 a ticket is bad enough but when the result is almost forgone before the toss it''s a real liberty! I would love to take my 11yr old cricket playing son to see an international game so he can see cricket played at it''s highest level but at that price it''s a non starter plus there are no tests at old Trafford worth watching but that''s a whole other debate!!
Posted 16:04 8th September 2010
Rob Kelly says...
I don''t know anyone who thinks paying £60 for a test match ticket or a 50 over ODI ticket is good value, let alone for a 20 over match. That''s absolutely scandalous, £20 should be the max surely??
Posted 15:59 8th September 2010
Sam Cloete says...
In South Africa the T20 games cost about 50 rand per person (about 4 quid). Always packed out and loads of kids there. Now that''s a proper family day out. The Friday night games are a real social occasion. 60 quid is just ridiculous!
Posted 15:23 8th September 2010