You may have heard me tip England to win the Ashes 5-0.
Well, there was a bit of a Glenn McGrath tongue-in-cheek element to those comments, but I do think England will win by two clear Tests. Quite simply England are a better team.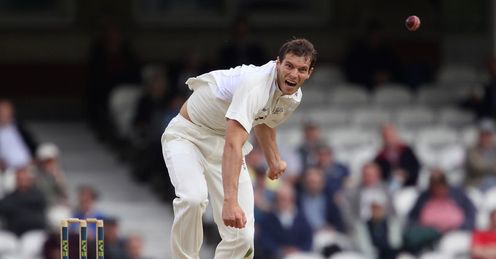 They will name their Ashes squad on Thursday I don't think the selectors will need a very long meeting when making their choices.
I might be one out, but this is what I think it will look like:
BATSMEN: Andrew Strauss, Alastair Cook, Jonathan Trott, Kevin Pietersen, Paul Collingwood, Ian Bell, Eoin Morgan
No surprises here. James Hildreth has been knocking on the door with seven centuries in Championship cricket and Geoff Miller has said that if players produce then they have every chance of getting in - well Hildreth has done that. There's no chance of him making the trip though because they're only going to take 16 players. The vulnerable player is Paul Collingwood, who has had a terrible summer. However, I can't see him failing to make the trip. There's no chance of Ravi Boapra or anybody else being included.
WICKET-KEEPERS: Matt Prior, Steven Davies
Craig Kieswetter has had a poor season, so I think it's fairly obvious that they'll go with Steven Davies as the back-up wicket-keeper to Matt Prior.
SPINNERS: Graeme Swann, James Tredwell
I think England will play with four bowlers and if anything happens to Swann then Tredwell will come into the side as the spinner. Adil Rashid or Monty Panesar are also in contention, but they're only going to pick one out of three. I think they'll go with Tredwell because he's the best like-for-like replacement for Swann. He bowls off-spin - so does Tredwell. We won't play two spinners in Australia, not once.
PACE: James Anderson, Steven Finn, Stuart Broad, Ajmal Shahzad, Chris Tremlett
Maybe Shahzad will miss out to Tim Bresnan, there's nothing much to choose between the two of them. Shahzad gets closer to the wickets than Bresnan, who is generally preferred in one-day cricket. Personally, I'd shade it towards Shahzad, but it will be one or the other. I think Tremlett is nailed on because what you need in Australia is bowlers who are very tall and get bounce. He's got everything and I know the selectors have been watching him. He's had a really good season, he's a far better bowler than he was and he's perfect for this tour. He fits the bill.
Do you agree with Bumble's choices? Tell us your squad in the comments box at the bottom of the page...
Butt out!
Cricket-wise, the series against Pakistan has been as good as you get in one-day cricket.
Unfortunately that has been soured by comments from the chairman of the Pakistan Cricket Board.
All I will say about Ijaz Butt is that he has been appointed by the government, not by the sport. As Malcolm Speed said a couple of months ago, he's a basket case. Michael Atherton said we should disregard what he says and carry on.
Butt has produced no evidence to back up his accusations about the England players and I don't think there would have been any merit in cancelling the tour just because this guy sounded off.
I'm disappointed that everybody has been tarring every Pakistan cricketer with the same brush. During the Test series, three players were exposed by the News of the World and those accused players went home while an investigation takes place.
You can't say the other Pakistan cricketers are exactly the same because they're clearly not, so I don't agree with the calls to ban them from international cricket.
They need a wrap on the knuckles to get the administration in order. They need carefully selected, straight appointments in charge, but the problems with the administration should be taken in isolation from the playing side.
Years ago, footballers were found to be throwing games in the First Division. The players were banned, but the clubs weren't.
My view is this: if anybody is proven to be a fixer in any way, just ban them and end their careers. Punish the individuals.
But don't punish Pakistan cricket as a whole.
Schedule
The Rose Bowl ODI marks the end of a very long season and I'll be very interested to see the 2011 schedule after it is thrashed out in the next fortnight by the ECB.
The day-night matches have been 'win the toss, win the game' and there have been too many Twenty20 matches. Plus if they're supposed to be a family day out, you can't be getting home at midnight.
Everybody wants to see a bit more thought put into the schedule for next year.
And speaking of schedules, the dates for my 'Start The Car' tour have been finalised. Click on the Norwell Lapley website for a full list of the dates and to find out how to book tickets.
Comments (17)
Sanya from England cricket blog (jimmymycrushie.me) says...
I like the squad. It''s the exact same squad that I had picked. Unfortunately England went for Timmy Bresnan and Monty. John Belcher, If someone would have given that comment in ''06, I''d have said I couldn''t agree more. If it was given in ''08, I''d say yeah, he needs to be more consistent but now - I couldn''t disagree more! James Anderson has improved a lot. And Jimmy being inconsistent is a thing of the past and even when he fails to take wickets, he doesn''t go for runs. He was extremely economical in the recently concluded one day series. In the winter tour of West Indies in ''09, it didn''t swing but he was still superb. Stats won''t tell you that though. He was great in Ashes ''09 too. Even though his record in Australia worries me, I still think it''s right to pick him, Test is his arena and he has been amazing in them and he is much more consistent now. Though obviously there is always room for improvement. Seems like you are stuck in the past.
Posted 00:55 5th October 2010
John Belcher says...
I don''t think James Anderson should go as he is not consistent enough any wickets he takes cost far to many runs, the Aussies will love his short bowling and will score heavily of him on their wickets.
Posted 14:53 23rd September 2010
Paul Huitson says...
No left arm seamer in the squad ?
Posted 14:39 23rd September 2010
George Staples says...
If your face fits you''re in.County form counts for nothing. Why pick Tremlett? he hasn''t played in higher cricket. Rashid is a sup[er alternative to Swann, but our FGriend Flower doesn''t like him. why Pieterson? He is yesterday''s man and there isn''t room for two ego driven players in one dressing room - the other is of course Trott. Too many favourites (cook, Collingwood and Bell) the same old faces. The Aussies are waiting. Geoprge Staples
Posted 14:24 23rd September 2010
Chris Carmody says...
Australia has a bevy of very good fast bowlers who are going to be difficult to face. England''s top order batsman simply have to be extremely disciplined and show plenty of grit and determination othewise the team will be whitewashed in the same manner as last time. England can not afford to have Pietersen batting like a cowboy neither can they afford for him to do anything other than treat each ball on it''s merits. I feel that in Pietersen, England have a batsman who can win a series or one who can lose one. In my view he has been a disappointment who has only occasionally lived up to the promise he has shown during and since his formative batting years.
Posted 14:24 23rd September 2010
Daniel Eskdale says...
We are all being abit OTT regarding how good we are. Remember some of our top order collapses this summer? The Aussies wont be so forgiving, the whole top 6 need start putting together big scores and partnerships, only good innings here and there wont be enough in the winter. if we can come back with the urn, whether it be a draw or win, will be a fantastic achievement
Posted 14:05 23rd September 2010
Daniel Simmons says...
I am quite worried by the shape of the team. I think England will play ''not to lose'' rather than play ''to win''. Which means 6 batsmen, a keeper and 4 bowlers. If the batsmen were all on form, then five bowlers might be an option, but as Cook, Collingwood and KP have been carried all summer in the tests then I can''t see England going with 5 batsmen. Additionally I think the bowling may lack penetration and variation in Australia. Those bowlers who prospered in English conditions will find things completely different away from home and hence the reason why I would be tempted to have 5 bowlers. Hope I''m wrong and that England emerge triumphant.
Posted 13:03 23rd September 2010
Hitesh Rawat says...
I would have loved to see Graham Onions..... i think he did good with South Africa and West Indies....... don''t know if he isn''t available cause of any injury of something...... but i don''t know..... i liked watching Graham onions and Graeme Swann bowling together...........
Posted 12:57 23rd September 2010
David Mckeown says...
''Bresnan should definitely get picked'' ... Is it April fools day? The guy is a straight up n down human bowling machine . How on earth does he even get in the one day squad? He never looks like getting a wicket and when he''s bowling every track looks a featherbed. Imagine him on Aussie tracks and shudder. Please selectors don''t do it. Shahzad yes Tremlett at a push if you take plenty of physios
Posted 12:40 23rd September 2010
Alan Fox says...
Woh! Slow down, England are far from the finished article. We are too fragile in the middle order & Cooke opening hasn''t exactly set the world on fire. The bowlers have performed well in English conditions that suit swing bowling. Let''s not forget the Aussies have a formidable pace attack & a strong batting side that are well suited to fast pacey tracks. I hope it''s not a whitewash for the Australians again as if we go in underprepared and lose badly in the first test it''s going to be one heck of a long hard winter.
Posted 11:03 23rd September 2010
Mik Seery says...
As much as i think there''s not much love lost between the two sides at the end of this series i have to agree and say the standard of cricket has been awesome! Some amazing individual performances; Morgans ton yesterday,Gulls death bowling,Aktar rolling the years back and Swann who i think is probably the best bowler in the world at the moment. As far as the Ashes goes i cant see there being any surprises,Our best 11 is no secret and i''ll think they have enough to do the job.Will be tight though. Would also like to say Ramiz has been all class this summer,And with all the nonsense surrounding his countrys side has delivered a sensible unbiased opinion on events.The PCB could do worse than get him involved in the set up,However i think he may be too sensible for that job. Anyway thanks for providing a great summer of entertainment as usual Bumble,Your work is much appreciated.Looking forward to Oz! mik
Posted 09:47 23rd September 2010
Levi Crisp says...
My 16 for the ashes would be: Strauss Cook Trott Pietersen Collingwood Bell Morgan Prior Davies Broad Swann Bresnan Tremlett Anderson Finn Paneasr The reasons I am just not sure whether Tredwell, Rashid and Shazhad have the potential to take wickets.
Posted 09:27 23rd September 2010
Bruce Duffett says...
Good Morning Bumble, Agree with your 16 for Aus other than the South African (which one ?).The dark haired one. Let him play in his own country and stay their.Plenty more bats can go just look at the averages.Also rather than treadwell a reall wild card with the young left armer from Hampshire will be good. Totally disagree with your comment about banning Pakistan. As you said in your article the head of PCB is appointed by the goverment (if its rotten at the top it just flows all the way down the chain) Pakistan should be banned from all forms of cricket internationally for 10 years. a) They can not play cricket at home because no visiting player can be safe b)TtHE ECB put them up this summer and look at the thanks you get No one not even after last nights game can ever trust any ball thats bowled or shot thats played or any misfield . Yes really sorry but in most cases when it is cheating or corruption Pakistans name is involved and yes i do feel for the players who are honest but enough is enough a total ban is the only answer. same if it was England or anyone. Hope to see you on your tour and as your into Music why not get special guests with you and sing.........That would be worth paying money for.
Posted 09:24 23rd September 2010
Chris Obee says...
No way should Tremlett be included, he bowled well enough but in Division 2. He''s injury prone and very inconsistent. Bresnan should definitely get picked but I''d take Shahzad as well and my 2nd spinner would be Rashid. My 16 would be : Strauss, Cook, Pieterson, Trott, Collingwood, Morgan and one of Bell, Hildreth and Carberry. In fact the way Cook bats at times he hardly inspires with confidence though I''m sure he''ll be selected. Prior, Davies: Almost certain to be the 2 wicketkeepers Swann, Rashid Finn, Broad, Anderson, Bresnan, Shahzad Whatever the squad I think England will win the series with Swann and Pieterson the key players I believe. Hopefully Pieterson will have his confidence back, if so I can see him being our highest run scorer. Good luck lads !
Posted 03:32 23rd September 2010
James Ward says...
chris tremlett, don''t make me laugh. ok, he may have had a decent season as bumble references to, but he''s playing in div2 which i have watched all year (sussex fan), and it''s a very long way from international cricket, even div1 cricket for that matter. i reckon bresnan and shahzad should go, instead of tremlett who IMO is a pretty unreliable performer if i remember correctly. and having watched monty''s progression this year at hove, he has done well but i think the selector''s are perfectly within their rights to leave him behind. another few years twirling away on the south coast (and div1 cricket next year) will give him the confidence and rhythm he needs to get back in the england team, no doubt. go monty go!
Posted 22:59 22nd September 2010
Craig Tompkinson says...
Yeh completely agree Bumble Start the Plane!!!
Posted 22:29 22nd September 2010
James Weaver says...
Personally, I think that Finn should be taken instead of Tremlett although i am unsure about his experience. Shazhad vs Bresnan is a hard one but i think bumble has made the right choice. I haven''t seen much of Steve Davies in county cricket but considering the season Kieswetter has had, I think Davies should go. I hope Davies has a good last ODI also! I am still unsure about Morgan in Test Cricket .... I think the selectors will have to take him just for his ability. I agree about Hildreth BUT I hope Pietersen gets himself together before the 1st test. SCORE: England WIN 2-1, COME ON!!!!!
Posted 16:25 22nd September 2010