I've been away on Mars for a few days, celebrating the end of the season.
I got back on Tuesday to discover Bert Millichip is the new leader of the Labour Party. He's done well since his days at The FA.
I see his brother Dan is there with him. A splendid combination, I'm sure you'll agree.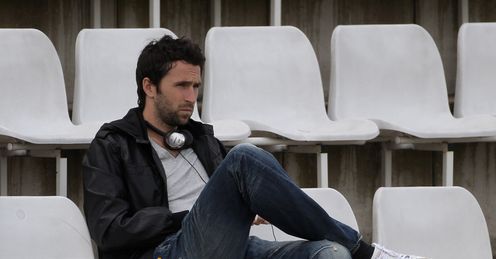 Anyway, I haven't been away on any sort of boot camp, but I think it's a good idea that the England players have.
It's always a good idea to go away somewhere warm to work on fitness and do a bit of team building at the same time. Keep on top of them. After all, this is what they do for a living and it doesn't hurt to remind them of that.
Keep on top of them. After all, this is what they do for a living and it doesn't hurt to remind them of that.
Bumble
Quotes of the week
Of course, you have to build in down time and there will be a chance for the players to spend time with their families before the Ashes.
Strangely, it's exactly the same as what we were doing back in the nineties. I remember taking the England team on a few boot camps to all sorts of places: Spain, Lanzarote, Portugal and Yorkshire.
It was bloody tough. We'd get them up at 7am and work them all day, doing triathlons and that sort of thing. We'd take the second team and the emerging players along as well.
Of course, back then everybody said it was ridiculous and they laughed at us. These days, it's innovative and forward thinking...
Nothing to choose
I got two names wrong when I predicted the Ashes squad last week, but it came down to a toss-up between some of the players.
There was nothing to choose between Tim Bresnan and Ajmal Shahzad and it was good to see Monty Panesar back in the side. James Tredwell is in the emerging players squad, so he'll be out there anyway.
It's as good a squad as we could get. The only absentee is Graham Onions, which is sad for him.
His injury seems to be taking an extremely long time to heal, but I know he's a real determined lad and he'll be itching to get back.
He's a quality bowler, but this injury will be throwing him back and it will take a while before his fitness and his strength is back.
I'd like to give him a mention and wish him a speedy recovery.
Assault course
Preparations are well under way for my theatre tour, which starts on October 26. Click here to see the dates.
And with no cricket to watch, I'll be keeping an eye on the football and the golf this weekend. Accrington Stanley have started the season well, although they seem to be the draw specialists at the moment.
And on Sunday I'll be joining the Brigadier and the Group Captain to watch the Ryder Cup. We start at 10am at the Penny Black for breakfast and Guinness and I get the feeling the day could end up like an assault course.
Lady Carr will be providing a saddle of beef, but it definitely won't be a refined affair. The Group Captain's in charge and he tends to hit you if you start slacking.
What could possibly go wrong?
Comments (5)
Pelham Balcombe says...
Am I the only one worried about Graeme Swann, and his participation in this Ashes series? If he gets found guilty of this drink driving charge, he could get a criminal record. And if that happens, Australian immigration could refuse him entry into the country. Has anyone at the ECB thought about that I wonder?
Posted 11:03 4th October 2010
Sanya from England cricket blog (jimmymycrushie.me) says...
The boot camp is a great idea though they should have got time with their families before the camp and team bonding would have been better 15 or so days before the Ashes, there are just a little less than 2 months now.
Posted 23:43 3rd October 2010
David Neale says...
Bumble , looking forward to seeing you at the Buxton Opera house this month. Agree with most of your collumn, I hope we don''t forget about Onions, he is quality and our best 1st change since simon Jones. The boot camps can work if short in duration, in both focussing the mind and body, but if you go overboard, the guys can get jaded and get tired of each other''s company. It must be the same in the Sky commentry box at the end of every tour??????
Posted 20:58 3rd October 2010
Geoff Single says...
I tend too agree with you bumble 5 Nil to England. Why should we worry , Australia''s not the team they were and this is the best england team in thirty years ,with so much back up in the squad and genuine match winners through out the team.Including the worlds best spinner, keeper ,captain,and i have''nt even mentioned the super bears trott and bell easy win happy days
Posted 12:10 30th September 2010
Bruce Duffett says...
It must be a hard life being involved in Cricket (certainly if your a pakastani who likes a bet). The ashes squad, i have my reservations about our South African friend who as i keep saying (and its my opinion ) should not be playing Internationally for England. What has ever Mr Carberry and Mr Adams done to upset the selectors both superb fielders and look at were Mr Adams finished in the County Averages in all competitions for his batting and do you know what he was born in England. If we really had "balls" we would have picked a spinner who can bat and field a bit. Sorry Monty if you have to be used it will be good line and Length but nothing else and i fear the worse (please Swanny dont get injured.) Still only my opinion and by the way will see you on your tour and Aldershot are the draw specialists not accrington (must be negative coaching from the respective managers) any way who are they. Have a good tour will be coming to one to give a good heckle and enjoy the Liffy Water.
Posted 11:43 30th September 2010