It's been a heavy social week - with a bit of 'Mick Jagger' and belly-fighting thrown in!
The Ryder Cup was unbelievable, wasn't it? Mine started properly on Sunday when six of us went to the 'Spoons.
It can be a bit rough in there and there was a bit of a scrap at 11.30am so we all moved onto the Brigadier's House for lunch on the proviso that Lady Carr served up a hotpot with Haywards red cabbage. It had to be Haywards or we weren't going!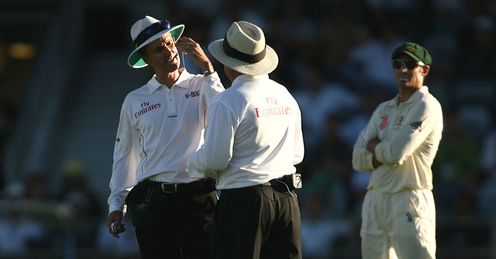 It was a cracking day for Europe and we all totally enjoyed it before heading our separate ways.
Great cause
I missed Monday's play (just as I missed Accy hitting a magnificent seven against Gillingham and one of the best Tests ever - India v Australia in Mohali) but it was all in a great cause.
Each year we put on a golf day in memory of a friend of ours called Dave Evans and raise money for a local child; this time we played at Bramall Park Golf Club, to help a little nine-year-old girl called Scarlet, who is not very well.
After that, it was a case of 'Tonight, Matthew, I'm going to be Mick Jagger!' The DJ (who was Joey Boswell out of 'Bread' - you know, the dopey one) put on 'Brown Sugar' and I did my bit too.
Bumble
Quotes of the week
LIVE ON SKY SPORTS
India v Australia
Second Test, day one
4.55am, Sat, Sky Sports HD3
We raised an enormous amount of money after that by being completely barking mad.
The Scouse Elvis brought the house down at the end of the night with his rendition of 'Suspicious Minds'. After that, it was a case of 'Tonight, Matthew, I'm going to be Mick Jagger!' The DJ (who was Joey Boswell out of 'Bread' - you know, the dopey one) put on 'Brown Sugar' and I did my bit too.
Apparently, there was talk of putting it on YouTube but I'll sue anyone who does!
The next day I had another round - this time with Ken Shuttleworth, Jack Simmons and David Hughes from my playing days.
Myself and David Hughes played together and got beaten 8&6. I was absolutely atrocious - I've never played that badly!
I went back to the Headscarf (aka the Hesketh) and as I walked in I was confronted by two bare-chested blokes, the Group Captain and 34 Regular, who were belly-fighting.
They started at different ends of the Tavern and ran each other; it's a case of last-man standing but these two are both good at it so after a bit of a breather they simply have another go!
Help
As far as the cricket goes, I'm still celebrating the end of the season but on a serious note - how good is the decision review system?
The Indian Board wouldn't have it for their current series against Australia because one or two of the players don't like it and we saw some real shocking decisions as a result.
My message to the BCCI? Get real because you need this system; it really helps the umpires.
Umpires have made mistakes since the day the game was invented but you can't blame them anymore because we've got the equipment to help them out. Now India just have to use it!
I'll say it again. It's time for India to get real.
Apart from that it's full steam ahead for my theatre tour, which starts in Leamington on October 26. Click here to see the dates. Hopefully see you there!
Comments (8)
Mohammad Ali says...
I don''''t remember any sympathy towards the Pakistan Team during the England vs Pakistan ODI series ,which saw some of the worse umpiring i can remember for a long time. Akmal lbw in the final ODI on such a thick edge was not only shocking but suspicious.I think if i start pointing out the number of decisions that went so horribly wrong (only against Pakistan suspiciously) , i would need a lot more space than given here. So bottom line is , If the subcontinent team is victim of bad umpiring then "tough luck mate it''''s part of the game" , but if the mighty Aussies or the English are on the receiving end then its a the fault of ICC for not using reviews. So either use Reviews in all formats or don''''t use at all.
Posted 10:35 9th October 2010
Subramani Aiyar says...
India had a nigtmarish baptism to the URDS in Sri Lanka. Out of 12 decisions that were considered in the URDS system, 11 went in Sri Lanka''''s favour and 1 in India''''s. The third umpire in al lthe 11 decisions that went against India, was Dharmasena, a well known Sri Lanka supporting man having played for them some years ago. The players were initially against this system for this reason but now they have probably realised that URDS is not the same elsewhere as it is in Sri Lanka. The BCCI being against it baffles me really. There were many umpiring errors in the Mohali match and most of them went against India. I wish the BCCI will realise that it is not wise to steer clear of the URDS.
Posted 17:32 8th October 2010
David Smith says...
@chitchat what the hell has football got to do with anything? technology has been used in cricket for years, your the one who needs to get real
Posted 18:26 7th October 2010
Chit Chat says...
Did Fifa start using goal line technology till now after the shocking decisions in world cup? Get your act running and then talk.
Posted 15:44 7th October 2010
Son of cj Smith says...
not heard about the belly fight between the clarke and bags. genius stuff.
Posted 20:23 6th October 2010
Anon Anonymous says...
Get real, this has nothing to do with the players and everything to do with the money. The broadcasters have refused to pay for the added technology required to implement the system, and hence the indian board has not implemented it. The players have no say in it, and it actually up to the board(s) to recognise now that given the high fees paid by the broadcasters for tv rights, the boards ought to be the ones footing the bill for the review system.
Posted 16:45 6th October 2010
Vasudev G. says...
I support the Umpire''s decision Review System but not in current form. Instead of players challenging the Umps decision, it should be the job of either field ump or the 3rd Ump who should step in. A player challenging the decision makes one feel he''s also challenging the umpire''s authority on the field. Ump should be the authority on the field.
Posted 16:44 6th October 2010
Freestyler Khan says...
hard to handle ''big beast of cricket'' while other countries are ''frightened of both their bark and bite''.
Posted 16:34 6th October 2010