I'm not used to life on tour. I just don't know how we're going to cope with all of the groupies.
We've completed two nights of the 'Start the Car' tour and we've about another 20 to go. I've only had one proposal of marriage so far, but it needs to be pointed out that I've done that previously.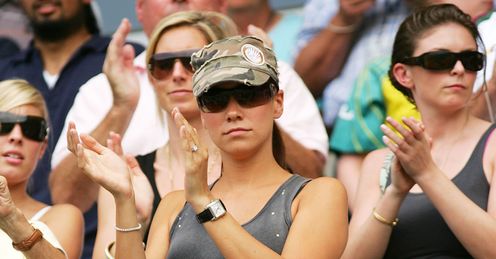 Peter Hayter, who's on stage with me every night, seems to be taking it all in his stride though. He is from the Mail on Sunday after all.
We've just left Crewe where the crowds have lined the streets to see us off. There's ticker-tape everywhere. I think we might have to send a decoy car into Richmond to distract the crowds as I arrive in a blacked-out car through a back exit.
You know how they used to announce 'Elvis has left the building' at the end of his concerts. Well for us, it's 'Bumble is in the curry house'.
Bumble
Quotes of the week
You know how they used to announce 'Elvis has left the building' at the end of his concerts. Well for us, it's 'Bumble is in the curry house'.
People seem to be enjoying the show. The first night was a lot of fun until about 10 minutes from the end when there was a blackout in the Leamington Spa area and we were plunged into darkness. Thanks National Grid!
Of course, the venue then had to be evacuated in case of fire, storm or tempest. I was eventually sent outside to tell the crowd to go home, but thankfully they were great about it.
After Richmond we're off to Buxton, which should be entertaining. The Brigadier and the Group Captain are coming to that show and their campaign sees them arrive at 2pm to enjoy the local watering holes before the show at 8pm. Security have been briefed.
It'll be a tin hat job for us, but I don't need to worry about them asking any awkward questions. They won't be able to speak by that time.
On Sunday we're off to the People's Republic of Chelmsford and then leafy Tunbridge Wells on Monday. Some of the shows have sold out, but you can get a full list of the dates here.
Family affair
There's no wives and girlfriends on my tour and there's been a lot of talk about Andy Flower "banning" the England team's WAGs until after the second Ashes Test.
I think some of the papers have got the story all wrong. The way I view it is that the families are allowed to go out after the second Test, which is the perfect way of doing things.
The players need to go out and bond as a team for a few weeks, but then you definitely need your family with you. They'll be there for Christmas and New Year and I think that's comforting for the players.
It's the way anybody would do it. So I think talk of a "WAGs ban" is the wrong way to look at the story. It's just that there's a date set for when they'll be arriving.
Rugby revelation
I went to my first ever rugby match on Saturday.
It was the Wilmslow Wolves against Broughton Park and it only cost a fiver to get in, which was great value. I'm not sure what league it was, but they had proper posts; they didn't put jackets down or anything like that.
They didn't really play rugby where I grew up, so I had no idea what was going on but we were stood on the touchline and it was ferocious.
You could hear the sound of the tackles going in. Two enormous blokes would lay each other out, then a lady would come on with a bucket and throw it over them. Then they'd get up and carry on... I think there's a moral there for footballers.
The Brigadier came with me as the match was only a mile from his house. It was a 3pm kick-off and a rugby match only lasts 80 minutes. For some reason he didn't get home until 10pm...
Rugby's definitely the way forward. It's the new garlic bread.
No Roo for Stanley
Finally, I'm not disappointed Accrington Stanley didn't sign Wayne Rooney, we've moved on to other transfer targets now.
I've heard there's a guy who plays for Madrid, who might be looking to move back to the North West in the January transfer window.
I think his name is Ronald.
Comments (6)
Mark Hingley says...
bumble you ROCK!!! all the best-mark...
Posted 23:55 3rd January 2011
Mark Ocallaghan says...
Bumble, I've just checked Official Scrabble Words and u can't have Xavier. I once got 'centimes' to score 189 in one go against. My ex-wife. As my mate quite rightly pointed out to me 'it will be a while before you get anymore French'
Posted 03:03 29th November 2010
Vanessa Smith says...
Thanks for a great night in TW,still laughing at the prank Flintoff and Harmison pulled on you! Hope the rest of the tour goes well,and look forward to the ashes coverage.
Posted 02:58 3rd November 2010
Andy Cullen says...
Bumble, brilliant show last night, thoroughly enjoyed it. Tell Hayter that we've come to watch you, not him. He's not funny really ;) Have fun in Aussie.
Posted 14:10 1st November 2010
Neil Pool says...
thanks for a great night last night in Richmond. Recommend it to anyone taht loves cricket and even my girlfriend who has no knowledge of cricket loved the show
Posted 09:00 29th October 2010
Ian Pilbeam says...
Bumble , I see you are due in Royal TW soon , well according to the posters in the facilities . You''''ve a lot to live up to we''''ve just had the Ukelele Orchestra of Great Britain on and theres an evening with Peter Allis as well for the older types , so dust off your anecdotes . Can''''t comment on the power supply , the council are planning to sell the venue so you might need to bring some 50ps.
Posted 20:37 28th October 2010