I continue to lead the life of a thespian. If only I knew which part of Thespia I came from...
I've been treading the boards across the country all week. I even had my picture taken alongside a picture of Sir Laurence Olivier at the Richmond Theatre.
In fact, there was a chez lounge in the theatre, which Larry (as I know him) had lounged on. I've been on it as well now, so I'm officially a luvvie.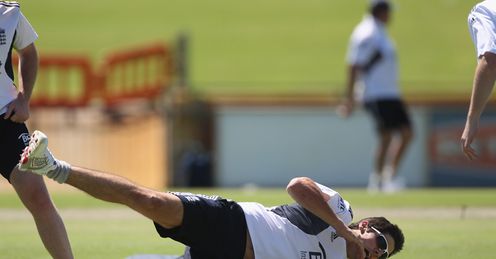 The theatre tour is going well. Like a football match it's a game of two halves - split into two lots of 45 minutes - and most of the dates are now sold out.
We managed to get the relevant papers and inoculations to visit the People's Republic of Chelmsford and escaped unscathed. Nasser didn't turn up, but that's no surprise. It wasn't free.
The cricket is likely to be substandard in the first couple of games and I'd be amazed if they produce anything special.
Bumble
Quotes of the week
LIVE ON SKY SPORTS
Australia v Sri Lanka
Second ODI
3am, Fri, Sky Sports 1
Third ODI
3am, Sun, Sky Sports 2
Watch online with
Sky Player
How to
remote record
We also had an interesting journey back from Buxton. Mrs Lloyd was in the back of the car (Minty was in the front) when a fracas broke out between The Brigadier and the Group Captain. It was all very fraught.
Also, Julian Clary seems to be following us around. Peter Hayter, who's on stage with me, is big pals with Julian. We get messages from him - but I couldn't possibly tell you what they say.
I must also mention that my fellow thespian James 'crime won't crack itself' Quinn from Early Doors will be on stage at the Joshua Brooks in Manchester from November 2-13.
He's starring in six short plays called 'JB Shorts' and I'll definitely get along. I don't know how I'll manage it in between my tour and the Ashes, but I'll get there somehow.
Itching to start
All of that hasn't left me much time to see much cricket, but I have been following all the England boys on Twitter.
You can tell they're really excited to be out there. They're now starting to get into some serious preparation and they'll be itching to play.
However, what I would say to England supporters reading this blog is this: don't read too much into the first two warm-up matches because the players will be severely jet-lagged.
My ideal way to travel to Australia would be to break the journey up and spend two or three days stopping over somewhere on the way. I've done that trip many times and when you do it all in one hit then it really affects you.
So the cricket is likely to be substandard in the first couple of games and I'd be amazed if they produce anything special.
They will be useful matches for the players to acclimatise, but they'll still think they're in the air. They need to find their feet this week.
Captaincy questions
As for the Aussies, don't read anything into this one-day series against Sri Lanka.
I don't think that will have any bearing on what happens against England. They're playing competitive cricket, which will help them, but little else.
As I've said many times, Australia are in for a reality check with no Warne and no McGrath. They'll be competitive, they'll be strong in their own patch but they're not the team that they were.
And I'm not convinced by the suggestions that Ricky Ponting will lose the captaincy if they lose the Ashes. Where's the alternative?
Whoever you bring in will still have to work with the same attack. Michael Atherton was a terrific captain, but sometimes he didn't have the attack to work with. That's what it comes down to
Do Australia have a better captain than Ponting? I doubt it.
Banger anger
The other day, I called into a place for lunch, enticed by the big sign outside proclaiming it to be "Sausage Week".
There were posters of pork and apple sausages, pork sausages, ginger and cider sausages, black pudding and all sorts of things.
I thought: "I'll have some of that" and asked the man behind the counter for three sausages.
"I'm sorry sir, we've run out of sausage."
So on the Tuesday of sausage week there was quite simply, not a sausage.
I had gammon instead.
Comments (5)
Andrew Rees says...
Having moved to Australia from The Welsh Valleys 3 years ago, I've been fortunate enough to see first hand the highs and lows of Australian Cricket. Throughout this period it's been clearly evident that they are not the dominant team they once were. However, it is only fairly recently that the the more prolific doubts have crept in. I agree that the recent One Dayers between Australia and Sri Lanka has no real bearing on what will happen come 25th November, but what it has served to do is really get the Australian Media and cricket watching public, doubting the ability of their team to compete. It would be foolish to write off this Australian Team, especially given the fact that they're playing in their own backyard, plus if what I'd witnessed at The Gabba on Sunday is anything to go by, England players can be assured of some very unfriendly and unrelenting banter from the Australian crowd on the boundary ropes. Since I was a child, it was always a dream of mine to witness an opening Test Match between England and Australia....in Australia with my dad. Finally, having reached the age of 42, I'll now achieve that feat and watch the entire 5 days at Brisbane with my son..... though I'm certain my father will be there in spirit, God rest his soul. History tells us that an Australian team isn't beatable for long....I have a sneaky suspicion that this may be England's best chance of an away series win since the heady days of '86. Come On England!!! It's not too often you'll hear a Welshman say that, but when it comes to Cricket, we all unite.
Posted 03:45 10th November 2010
Gareth Hodgkinson says...
I too agree that Ponting is the best choice as captain for Australia. But at the end of the day, it does not matter who is in their team, or who captains them. My main concern is who plays for England, and are they up to the task. At this moment, i would have to say that once again Cooke has not improved any. I for one would not pick him, either as vice captain nor opener. England need confident and capable batsmen to win this series, along with some top bowling!!
Posted 14:19 5th November 2010
Miriam Claxton says...
Just got back from the COLNE gig. Very enjoyable Bumble, 25 of us had to buy tickets to keep Browny out! He sends you his love by the way! Great night thanks enjoy the rest of the tour to all those exotic places.
Posted 23:43 4th November 2010
Martin Hicks says...
I agree that Ponting is Australia's best choice for captain as he is as tough as old boots. I remember the unsporting treatment he received over here and the way he handled it with humour. I am also sure that his wicket is the one they want. Anyone who thought 20 X 20 was the only cricket worth watching should have watched S Africa V Pakistan and Australia V Sri Lanka over 50 overs and Sehwag's test innings plus the prospect of Sachin's 50th hundred tomorrow or soon. What a wonderful prelude to the Ashes. Our last 2 Ashes series were blighted by selecting squads with fitness and injury problems. I hope that come the start of this series we have a fully fit squad to choose from.
Posted 20:48 4th November 2010
Nick Moore says...
Out of curiousity, had you been able to have a sausage, what would have been your prefered flavor of choice?
Posted 16:20 4th November 2010