I'll never forget the words spoken by Sachin Tendulkar shortly after the Mumbai bombings.
They came on a memorable day at Mohali when Tendulkar had scored a century against England to win a fabulous Test match. I was standing next to him as he did his post-match-interview and as someone who has spoken to the media thousands of times, he is often quite phlegmatic.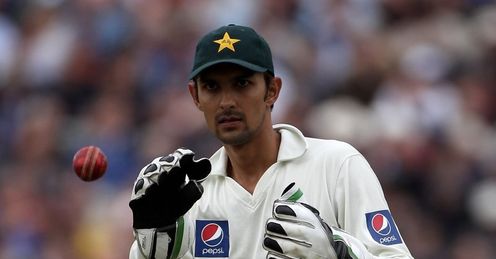 But on this occasion, so soon after those terrible atrocities, he looked right into the camera and said something very poignant: "We will not be beaten by these people."
Those are words I would like Zulqarnain Haider to apply to his situation.
The Pakistan wicket-keeper has made headlines this week by arriving in Britain to seek asylum, claiming he had received death threats for refusing to become involved in match-fixing.
Cook's a fighter, a real fighter. He has a great temperament and he'll work out ways to get runs.
Bumble
Quotes of the week
It is clearly a serious situation and it is obviously difficult to comment without a clear idea of what has happened, but it doesn't seem right that he has found it necessary to retire from international cricket over this.
I'm not saying you should sacrifice yourself, but surely you have to fight these people? I fully understand how difficult it is, but he should be confident that he will be protected.
I hope he gets good advice and I hope he tells everything not only to the police authorities, but also to the cricket authorities in order to get that protection.
I hope he carries on. We're all behind him.
Packing
It's now only two weeks until the start of the Ashes and I'll be heading out to Australia on November 20.
I've decided I have time to pack a few things on the morning before I fly out in the afternoon. Whatever I forget I can get on the other side.
I just hope the aeroplanes are working by then. Come on Qantas, sort it out! They haven't been in touch, so I assume it's going to be ok.
Personally, I thought England looked brilliant in their warm-up game against a crack Western Australia outfit.
People were Tweeting me to complain that a few players looked out of sorts. What do you expect? They've only just got off a plane. I thought it was a stunning performance.
A few people are concerned about Alastair Cook's form, but I'm not worrying about him just yet. He's got a bit more time to get things together.
If he can't, then England have got a decision to make. There isn't another recognised opener in the party and the talk is that Jonathan Trott would open. That's high risk in my view.
There's a good argument to say that if Cook isn't getting runs then Trott's the opener anyway and pushing Trott up the order would allow England to get both Ian Bell and Eoin Morgan in the side - something I think they would like to do.
But Cook's a fighter, a real fighter. He has a great temperament and he'll work out ways to get runs.
On the road
My week has been spent on the road as the Start the Car tour continues to make its way around the country.
This week we've been from Tunbridge Wells to Norwich to Derby to Worthing. If we do this again next year - and there's a good chance that we will - I think the logistics will need to be sorted out a bit better.
I wasn't too impressed with one Premier Inn. We got down to breakfast at 8.45am to be informed we were "cutting it fine" if we wanted something to eat. I though this was supposed to be a service industry?
But we've just left the Premier Inn in Derby and they were really efficient and friendly. They've redeemed themselves!
On Tuesday, I enjoyed a nostalgic visit to The Crown at Old Dalby. I used to go in there 3,000 years ago so imagine my surprise when I went in and found it was owned by an old pal of mine, Chris Holmes - who also owns another of my favourite haunts, the Lincolnshire Poacher.
I had a pint of Harvest Pale, the Supreme Champion beer of Britain. It was a fine blonde beer - and I do like blondes.
See you on the road!
Click here for a full list of Bumble's tour dates.
Comments (5)
S Mohan says...
Hi Bumble. The match you're referring you was played in Chennai (Madras). The Mohali test was the next in that series, KP ensured that England didn't lose the match. - Sudhanshu
Posted 13:00 13th November 2010
Nigel Long says...
Hi Bumble, Watched your show in worthing last night. Was very funny. I agreed with your point about about the Pakistan cricket team all being branded as cheats whilst touring in England this summer but now that Haider has made these allegations about being asked to match fix - do you think that teams will soon refuse to play against Pakistan? The team and PCB were already under scrutiny and now there are more allegations, surely every game they play the fans will not accept the result without scepticsm. Looking forward to the Ashes and especially any updates on 'Rugwatch' Start the car....
Posted 12:22 11th November 2010
Allan Dsilva says...
There is obviously a lot wrong in Pakistan cricket at the moment. The best way forward is to stop them from playing international cricket. Their side appears to have several players who seem to be pressured or willingly participating in wrongdoing. Therefore it is best that all cricket is suspended in Pakistan and with Pakistan so that the truth can be thoroughly investigated. What is the point of having the opposition come off after a win or a loss thinking whether they really played to potential. While it is great to back a young player, there is too much grey that the media and the cricket authorities have to answer.
Posted 20:06 10th November 2010
Aamir Riaz says...
BUMBLE....1st of all i would like to say david Lloyd is a great man aswell as commentator! secondly i totaly agree with david about haider...we are all behind you never the less saying that he should not have retired,you cannot be beaten by these people...one thing i dont understand is why he isnt contacting the pcb or atleast letting them the situation.....
Posted 17:06 10th November 2010
Muhammad Khan says...
Hi It is very encouraging for you to comment on ZH's premature exit and flight to the UK ,Yes we must all support him in whateverway we can so the truth comes out but my gut feeling is the Pakistani cricketers at any stage will be involved in this .
Posted 14:36 10th November 2010