After the first Test, it's clear that Australia have all the problems.
Their attack simply isn't up to scratch. In my opinion, England's back-up bowlers Chris Tremlett, Tim Bresnan, Ajmal Shahzad and Monty Panesar would all get into their team.
Look at the statistics. Australia's spin bowler takes wickets at 48, Ben Hilfenhaus has been taking his wickets at 60's, Mitchell Johnson has looked totally out of sorts and won't play in Adelaide and Peter Siddle looked by far the best bowler, coming back into the side after injury.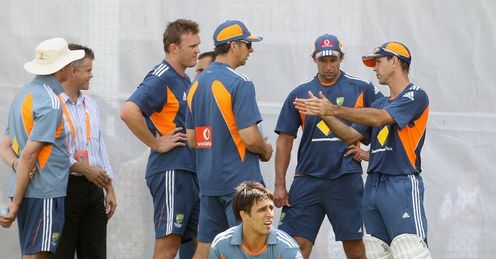 The batting takes care of itself and the wicket-keeper is very good, but they haven't got Glenn McGrath, they haven't got Shane Warne, they haven't got Jason Gillespie, they haven't got Brett Lee and they haven't got Damien Fleming. That's a hell of a lot of talent to replace.
Johnson won't play in Adelaide and they could also spring a surprise by leaving out Hilfenhaus, bringing in Ryan Harris - who has a chronic knee problem - and Doug Bollinger in their places.
I have grandchildren following me and I don't want them logging on to Granddad's site and seeing some of the awful comments that people have been posting. I don't want to be associated with that.
David Lloyd
Quotes of the week
SECOND ASHES TEST
Australia v England
11pm, Thu, Sky Sports HD1
Follow the Ashes
wherever you are
- on Sky Sports HD1, Sky Player, Sky Mobile and skysports.com
And while they will be as aggressive as they usually are, they will give England balls to hit.
England are not without problems themselves. It was pretty poor to only score 260 in the first innings and I felt at the time that was 200 below par.
In the second innings they played what I would call Test match cricket. They had clear minds and the top three looked a million dollars. Alastair Cook played perfectly with Jonathan Trott, but Andrew Strauss was the pick of the bunch. He looked in really good touch.
Ian Bell impressed me in the first innings as well, but with this Australian attack we're not going to see much more of him!
Over to Adelaide
We're now in Adelaide, another place I love to visit. I'm still sleeping off a bit of jet lag, but am starting to settle in to the tour now.
The weather is comfortable. I've been here when it's been stinking hot, but there's a bit of cloud and a nice breeze at the moment. They're saying it should get warmer at the weekend.
Everyone is saying it's a placid pitch, but there have been eight results in the last 10 years here. The new groundsman says he's left a bit more grass on it to get more pace, so neither team should be complacent and expect another draw. And if you win the toss, bat first.
The Adelaide Oval is one of the great cricket grounds. It's right next to the river and they've redeveloped the place without losing any of its charm. It's steeped in tradition and history.
The commentary box is much better here too. The one in Brisbane was tiny, but I think this is one of the old changing rooms, so should be a lot more comfortable.
We should get a good crowd as well. We were asking why there was so many empty seats on day five in Brisbane and we got one email that said: 'unlike the English economy, we're booming'. He reckoned they were too busy working to go to the cricket.
The England supporters are not out in the same numbers as previous tours either. I think that's down to the economic situation. It's just so expensive out here.
Let's review
Ricky Ponting has been getting a bit hot under the collar about the referral system after he thought he'd caught Cook on day five
In my playing days the batsman would ask the fielder if it he'd caught it and if he said 'yes' then you'd walk off - but those days have gone. They all wait for the umpire's decision now.
Remember, Ponting nicked one down the leg side off James Anderson in the first innings and stood there waiting for the umpire. He knew he'd hit it, so what was he waiting for? He was hoping the umpire would make a mistake. If he was saying 'I've caught that' in one instance, shouldn't he be saying 'I've nicked that' in the other?
I played in a different era when it definitely wasn't like that. If you nicked one, you walked off, but that has never been the Australian way.
In a five-day Test match there's always going to be couple of grey areas when it comes to decisions and that was the case in Brisbane, but I'm still a fan of the review system.
The problem is that the teams are gambling too much on 50-50 decisions. They're using it on lbw calls when the ball might have been going a bit wide or might have been clipping the bails.
That's not what it's supposed to be about. The DRS is supposed to remove the howlers - and umpires don't make too many of those. There's a strong argument to only have one review per team, per innings, rather than two. Then you can eliminate the absolute howlers and the captains aren't gambling on close calls.
Let's get back to basics. It doesn't matter what the player, the captain or the TV commentator thinks... the only opinion that matters should be the umpire's.
Too many Twits on Twitter
As many of you will know, I have decided to leave Twitter because there's too much bad language on there.
I have grandchildren following me and I don't want them logging on to Granddad's site and seeing some of the awful comments that people have been posting. I don't want to be associated with that.
I'm no angel and I can swear with the best of them, but there's no place for it in print, especially when there are children involved. Twitter is not an adult site, it's a day-to-day portal for communication and there are droves of young people using it.
I'd like to make the point to Mr Twitter and encourage him to stop the bad language, either by barring people or preventing them from putting the bad words up in the first place.
Some of the comments are totally unacceptable and it needs to be stopped at source. That point needs to be made. If they introduce a complete bar on foul and abusive language then I would consider going back, but for now that's it.
I've met lots of interesting people through Twitter and I've had a terrific time using it in the last couple of years, but you've got to have standards.
Those standards simply aren't apparent on the site.
BEEFY'S BETS: Find out more about Beefy's charity Ashes bets by clicking here!
Comments (36)
Kathleen Hart says...
Bumble, please come back to Twitter? TV Twoogling just isn't the same without you... It's like being a teacher and giving the whole class a detention because of one twidiot misbehaving.
Posted 13:55 27th February 2011
Paul Robinson says...
I couldn't agree more with Bumble there is no place for bad language on Twitter, I did enjoy his comments during this Ashes Tour on Sky Sports they were excellent, particularly the quote from "Early Doors" about Tommy, when Nasser was sat all alone at the back of the stand at the MCG - glad to see somebody other than what seems like a small group of individuals, like a brilliant Northern comedy.
Posted 15:39 7th January 2011
Alan Wright says...
10/10 - and typical of David that he sticks to his principals. I will miss the comments and the humour and the genuine niceness of the bloke - but he is spot on. The onus is on those who run Twitter to deal with this. Good luck in all you do David, a real gentleman.
Posted 15:32 7th January 2011
Simon White says...
I'm with Sir Ian.....the game of cricket must be played in a certain way with a certain spirit of sportsmanship. So far in this test I'm so disappointed in the way the Australia have conducted themselves. 'No catches' , not applauding Alistair Cook when he was out and walking to the pavilon....etc Not the Austalia that I have admired over the years.There's only been one team in this 'ashes season'....thankfully. I'll be glad when it's over to get some proper sleep. thanks Sky, Sky commentary team.....job well done!.
Posted 23:51 5th January 2011
Graeme Ellisson says...
Bell was out! If one looks at the repay I think you will find the ball scraped the bat at Bell's side as he pulled forward. The scrape was so slight that he probably didn't feel it but he clearly heard it - or something. As the bat comes into view if you wait for the whole bat to see a heat spot then it would have faded out of sight. If you stop the replay just as the bat starts to come into view then I think one will see a very slight heat trace. I have replayed this on a 42" HD picture as that may make a difference. Any one else seen the same??
Posted 22:28 5th January 2011
Dave Halstead says...
Hey Bumble I hav'nt been on twitter long and I just sussed out how to use it properly. I am sad to see you are no longer available to tweet but I certainly understand why and respect ypur decision. If your ever near the OLD TOLL BAR on Accrington road pop into the vault and I'll buy you a pint.
Posted 01:57 28th December 2010
Oliver Cottam says...
I agree with your stance on Twitter. I doubt a full ban will ever happen, but maybe people shoud be able to set up their own account so that no foul language can be used on it. Always enjoy your commentary!
Posted 18:42 26th December 2010
Vic Anderson says...
Start the Jag......Never thought you would be a quitter Bumble, giving in to mindless idiots has given them a victory. I will miss the humour now you have sentenced me to a twittering christmas with Aggers.
Posted 07:45 23rd December 2010
Chris Holmes says...
don`t go Bumble.start the car.
Posted 10:36 13th December 2010
Varun Malavalli says...
Mr.Lloyd, you are a wonderful commentator. You are one of my favourites. I've enjoyed your tweets as much as the commentary and blogs. As one of the readers suggested, there is a way to sort out foul language. Hope you are just on a short break and not moving away from Twittter for good. I respect you immensely for maintaining a funny disposition, yet being serious. It's very difficult to practise. I request you not to desert your followers. Btw England can afford to be over-confident at their own peril. Carry on the momentum lads. Cheers
Posted 15:31 12th December 2010
Garry Keyworth says...
Sorry about the twitter, you can delete these people from your account and block and report them for swearing. Please come back soon we miss you.
Posted 21:24 9th December 2010
Amer Mogul says...
Ah Bumble, I cannot say I blame you. I too have swore far too much on twitter (a big twit @ twitter I have been, lol), and have been a bad lad. I am now trying to reform as I recover from my health problems and get back into the good sporting lad that I am!! anyways, its great to hear Bumble, Beefy, Nasser and Sir Ian together as always down under, and am loving the ashes series so far. Come on England, we can win this thing, without the cussing!! lol Good luck lads, dawn annder, lol ;)
Posted 01:02 9th December 2010
Dave Plant says...
Sorry to hear your leaving Twitter bumble enjoyed your company good luck and hope the boys win by 5
Posted 19:49 8th December 2010
Paul Smith says...
Never use face book or twitter. Prefer to use the old fashioned route of meeting people in the pub. However, though whatever form of communication you use the world will be a poorer place without your views. A true gentleman. Keep up the good work!
Posted 18:51 7th December 2010
Jean Mann says...
Am I the only English Fanatical Aussie Supporter. Australia will come back from this setback, they will not lay down and die, don't know what all the Fuss is about in England, it's only because they don't know how to win at Sport, so when they do win its like they've won the earth, there are still another 3 Tests to go, I do not support England at any Sport only my Aussies.
Posted 12:38 7th December 2010
Tim Blake says...
Am I the only one to think Marcus North was extremely unlucky to be given out on DRS? If his pad hadn't been there it wouldn't have hit the middle stump; it would have hit the middle of his bat. I understand you can be given out lbw if the ball hits pad first but if the contact with the pad does not significantly deviate the ball which then hits the bat anyway, how can that be out?
Posted 00:52 7th December 2010
Richard Tinson says...
If England win in Adelaide will it be like freeing a Log Jam? In the first test they (australia) were all pumped up, this usually fades, I've seen it in so many sporting competitions where the pedigree team comes through to win in the end having weathered the initial storm which in England's case was the first innings of the first test.
Posted 18:16 5th December 2010
Ken Attwood says...
Hi Bumble, I have admired you and your comments for a long time BUT today you have reached new ground for me. I have long been asking the same question about Facebook and it's users. Why can't people express themselves without using foul language. I was walking through Cambridge the other day and three girls in front of me were turning out more abusive language than a gang of navies would use. I was so shocked and amazed that I had to ask them which university had taught them that. So I am glad you have had the stomach to raise the issue. Oh and the crickets not bad, is it?
Posted 08:10 5th December 2010
Gez Morrall says...
loved to twitter watchin the cricket with Bumble. cant believe we have let the fouled mouth animals win. twitter should announce appropriate language usage, or been banned. a campaign is needed
Posted 07:38 4th December 2010
Peter Summerfield says...
Evening David So sorry to read the reports and your decision to leave Twitter. A great shame but I totally understand your decision and respect you for it. Thanks for all the pleasure you have given in the time I have been following you. Thanks also for the book signing at the Lowry 2 weeks ago - read and thoroughly enjoyed. Hope the rest of the tour goes well for you and maybe we'll meet up on our BMW's in the spring when you are back in the UK. Kind regards Peter
Posted 06:49 4th December 2010