I said before the series started that England would win 3-1 - and it looks like I'm going to be bang on for a change.
England have thoroughly deserved to retain the Ashes and as a far better team, it's thoroughly unsurprising that they've done so. They're fitter, stronger, have greater ability and are an all round classier act than Australia.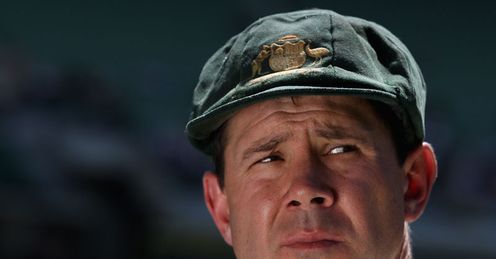 Andy Flower was right to give the credit to the players who have gone out and done the job. The preparation, practice and performance has been spot on, but the simple fact of the matter is that England's players are better than Australia's. England were bowled out for 513 in Melbourne and Peter Siddle got 6-75. What does that tell you about the rest of them?
Ricky Ponting is by far the best player and the best captain they have. The reality is that the people around him are not good enough and nobody could do a better job with that bowling attack.
Bumble
Quotes of the week
FIFTH ASHES TEST
Australia v England
10.30pm, Sun, Sky Sports HD1
Follow the Ashes
wherever you are
- on Sky Sports HD1, Sky Player, Sky Mobile and skysports.com
They're struggling to come to terms with it over here. The former Somerset captain Peter Roebuck writes a brilliant newspaper column and he pointed out that Australia are where England were about 15 years ago.
When you look at the individual players, the team collective and the structure of the game it seems that things need a total revamp. They need to address everything from the surfaces they play on to the role of State cricket - just as we did when all the big TV money came in.
Following the fifth match at Sydney, Australia will not play any more Test cricket for eight months, so hopefully in that time they can find a pattern that gives them a better structure and a better path to representing the country.
Change
One change I don't think needs to be made is to the captaincy.
Ricky Ponting is by far the best player and the best captain they have. The reality is that the people around him are not good enough and nobody could do a better job with that bowling attack.
From what he's saying he wants to carry on. He takes great pride in the job that he does for Australia and I think he could be instrumental in implementing the changes I discussed above.
He remains a good player and he will rediscover his form, I've no doubt about that. It's a shame that his finger injury will prevent him from getting out of his slump at Sydney.
The only blemish with him is his constant haranguing of umpires, an issue that really gets me bristling.
It's sad that there isn't more of a deterrent to stop the sort of scenes we saw in Melbourne. Fining him 40% of his match fee is equivalent to putting three points on your driving licence - it's not really going to stop you doing it again.
It's time to apply match bans for those offences, but if you go through the history of ICC disciplinary hearings we see the same old story time after time.
If you're a nobody, they nail you. If you're high profile, you get your wrist slapped. That needs to change.
Pitching up
The pitches out here in Australia have been absolutely brilliant. They've offered something for the bowlers, but the batters have been able to score hundreds and double hundreds as well.
I like the fact Graeme Swann has had to work for his wickets and I'm sure that he would have come to the fore even more if the last three games had gone to a fifth day.
We've seen pace and bounce and the public have responded to that. That's something that has to be done to make Test cricket interesting. We don't want to see these flat "chief executive" pitches that we get on the sub continent which offer nothing more than a five-day batting exhibition.
That lesson needs to be learned and England also need to learn how to make home advantage count because every other country does it.
When it comes to the home Tests against India and Sri Lanka next summer, all that the England team will be asking for is pitches with pace and bounce. If they get that then there's no reason why they can't go on to even greater things.
Melbourne moments
The MCG may hold 100,000 people, but the Sky Sports commentators were still working in a broom cupboard. We're in the biggest cricket ground in the world and we're all cramped together like sardines! That's just the way it goes sometimes.
However, it is a thrilling stadium and I think it will take several years before the England players are able to fully grasp what they've achieved.
However, they were not the only ones to enjoy a special moment at the MCG on Wednesday.
After the crowds had all gone home, the Sky Sports team stayed behind to record some extra programmes. Some of the guys have their families with them and they came along to join us when it had all died down.
We were treated to a lovely sight as Nasser Hussain's two young boys, Jacob and Joel, went out onto the field with Michael Atherton's young son Josh. They picked some wickets and played cricket for ages and ages.
Three little lads playing on their own at the MCG. What a fantastic moment!
Happy New Year!
Comments (22)
Paul Nayler says...
Bumble , do you think there is a resemlance in Tremletts action to the Great Glen Mc Graths, I feel the rythym in the run up is very similar and the line and length is very close to the great man.
Posted 01:12 4th January 2011
Melvyn Platt says...
I am very annoyed at batsman who try to play the sweep shot and usually get out to it.I seem to remember a test match years ago when at least four batsmen were out trying to play that shot.Coaches should tell them to forget it.If the ball is outside or on off stump and short then drive into the covers.The young lad batting at 3 for the aussies could have made a lot of runs before he played the sweep.I blame Dennis Compton.
Posted 06:41 3rd January 2011
David Rattray says...
wat u think of KP,s comments is he claiming too much credit r has his arguements some credence or has his ego taken over again sometimes he talks when he should be listening
Posted 21:24 2nd January 2011
Ian Watson says...
Bumble Agree with your comments - I think Shane Watson is an asset who will develop rather than a liability. My question is there were so many team borderline talented Aussies just a few years ago who surely aren't all over the hill, whats happened to them all? Hauritz, Bracken, Tait, Kreycza, White, Clark, Jacques, Hodge Some decent players there, Clark , Bracken and Tait especially.
Posted 20:51 2nd January 2011
Keith Walmsley says...
Just starting a night shift and cant wait for the test to begin time for history for this brilliant england team, they are that good in the words of a football crowd" its just like watching Australia" I am now 50 years old and still bear the scars of messers ! lillie and thompson blowing england away sat in my shorts with me dad hoping for a win ! Day 3 at melbourne was fantastic,i hope the England management keep investing in the team/and the infrastructure,You get what you pay for! retain Andy flower at all costs. With regards to ricky ponting i feel a little sorry for him,he is only as good as the team and i in no way condone his arguments with the umpire (yellow card / red by by) but its just his burning desire to beat the old enemy ! who wants to be the man who captained the aussies to 3 ashes defeats, Once again well done england and keep the boot on the chin rattlers throats!
Posted 20:01 2nd January 2011
Abhijit Guha says...
to bumble, you english are really over the moon with 2 tests victory over australia. remember they are behing you in icc rankings and presently their team is probably the poorest since 1985. and what are u talking about making bouncy and pacy pitches in england next summer? it will help england against srilanka, but against india? see what they did to sa in durban... remember in england in 2007.. we won 1-0.. we beat u convingly in india in 2008.. so please see the reality and then speak .... and another thing.. if you take the averages of indian batsman in sa/eng/aus and compare it with yours in these 3 places, you will still see their averages is higher than yours.. so we will request you to make the most bouncy and lively pitch ever in engalnd next summer.. then see the result...
Posted 05:20 2nd January 2011
Scott Bannan says...
I think that australia have finally reached the rebuilding stage. Most countries have already reached this stage. The hangover of losing so many great players like glen mcgath and shane warne has finally hit home. Their players are not world class anymore but merely average. If they are not careful the situation will get worse when their only world class players retire as well which is not too far away (ponting and hussey). All in all I think that australias domination of world cricket is over, and that's something they will have to come to terms with. I am proud to say south africa had a hand in winning the ashes, strauss.. Trott.. Pieterson. Perhaps the "england" team is not as strong as you think.
Posted 04:47 2nd January 2011
Dean Burback says...
Arrogance has a nasty habit of coming back and biting you in the b.tt and your comment about India reeks of arrogance, Krishna Venkat! SA folded like an cheap suit in Durban but on the other quicker and bouncer track in the first test at Centurion, you seemed to have quickly forgotten what happened to India there. Oh, so much for their batting line up in that test then!
Posted 17:51 1st January 2011
Andrew Kenneally says...
Barry Thomas says... 'Watson is a liability, move him down the order.' After Hussey, Watson has been Australia's best batsman, maybe along with Haddin, He may not be ideal but Australia have plenty bigger problems than him. Also I think his opening partnership with Katich has actually thus far a better average than the famed Langer Hayden one.
Posted 12:57 1st January 2011
Sai Santhosh says...
Bumble,last time when india toured england they won a match in nottingham and went on to win the series...eng were bundled out for 198 on a green top and india went on to make 483,so green top is not a problem for india..it suits their bowlers... and you can take perth and durban wins also as an example.....
Posted 07:39 1st January 2011
Robert Clifford says...
get rid of smith, he cant choose whether hes a batsmen that can bowl, or a spinner that can bat. and to be honest hes not that good a either. it thats the type of player the aussies are looking for they should of stuck with north, we proved in england hes a better bowler than smith, and normally a better batter. for the captiency i think ponting should go, under his reign the sussies have lost three ashes. hes a wolrd cals player, but a pub standard captain. i think hussey should captain the fith test, as clarke is not well liked as captain.
Posted 00:50 1st January 2011
Peter Mernagh says...
How is Watson a liability? he is averaging over fifty and along with Mike Hussey he is holding the Aussies together
Posted 21:20 31st December 2010
Keith Wilson says...
They should drop Ponting....and then we can hammer the Aussies and scar them mentally.If they are talking about getting rid of Ponting let them do it,Im sick and tired of watching Australia hammer us over the years so let them get rid and hopefully they will be even worse.
Posted 21:01 31st December 2010
Kaustubh Verma says...
Bumble......What did England do at Perth..and what did India do at Durban...??? Pace and bounce is more troublesome for most English players as well...Check your facts before writing articles!
Posted 20:58 31st December 2010
David Neale says...
Bumble, firstly happy new year, and secondly I agree with your article. I hope we don't follow the 1986 boys and lose to a shambles in the last test. Just like 1986 the score in the history books doesn't bare any correlation to our dominence. Make it 3-1 lads please to both ensure i win my bet with the neg fairies at work and also to reflect the hard work and preparation the team have shown. On Punter, the guy's an absolute legend in my book, the best Aussie batsman since Border and whilst I think Tendulkar has been the best bat of the last 20 years, Punter is right there behind him. I've just read Gilchrist's book and he makes reference to ponting being a natural leader and astute in the game. I beg to differ on his captaincy , whilst I think he is the best puller of a cricket ball I have seen (Robin Smith is no.2), he has guts by the bucket load and he's a great sportsman. The media never give him the credit for his humility. If he recognises he's been beaten by a better team he never makes excuses. Notice how many time this series at the end of a day's play he's gone over to the batsman and shook their hand. I commend him for sticking with Aussie cricket when he could have gone out on a high with all the big guns. He needs to do what Nasser did and play as a batsmen for the next 2 years and then call it a day. Ricky Ponting the batsmen still has a lot to offer, Ricky Ponting the captain should end at Melbourne.
Posted 20:04 31st December 2010
Richard Swales says...
Hi Bumble.. i think Ponting should still be in the team, but what about giving the captaincy to Hussey, he's a good bloke for an Aussie and not a bad cricketer. India, Sri Lanka and Bangledesh need to look at the piches out in Aussie instead of preparering plat batter friendly piches.
Posted 18:17 31st December 2010
Bryan Little says...
What a wonderful achievement by Strauss and his team. After what happened at the WACA the turnabout at the MCG gave me,and I am sure millions of other fans, a tremendous thrill. I have only been able to tune in to the written over updates but even that has been exciting - reminding me of when I was a boy listening on the radio to commentary that came in waves and was very indistinct. Sydney usually produces a result - it wont be easy for our lads but we shall be willing them on. It would be a bit special if Collingwood comes good.
Posted 16:54 31st December 2010
Barry Thomas says...
Watson is a liability, move him down the order.
Posted 12:53 31st December 2010
John Mc donagh says...
Good call Bumble,Clarke has hidden behind Ponting for years, lets see how he performs with responsibility?? Being a Yorkshireman it was to see Bresnan given his chance. If England keep it down to earth and work hard the NO 1 spot is a reality. Roll on Sydney for 3-1 it wont be easy the Aussie's will be hurting.
Posted 11:10 31st December 2010
Tim Starbuck says...
I agree they should not drop ponting, i am still in shock that david hussey never got mentioned for selection, a class batsmen with experience who will have faced most of our attack while playing a pivotal role for Notts, surely he would have been a better pick than the very raw smith, also Hughes has a massive technique issue and surely they would have been better moving up mike hussey to open and look at ferguson or the new guy thats been called up to replace ponting, a team of, m hussey, watson, ponting, haddin, clarke, hussey, ferguson and then 4 bowlers would look alot more solid batting lineup, either way our boys have done us proud and flower will keep them going for more
Posted 21:22 30th December 2010