People have always said that when you get to the World Cup that you're better off starting slowly... well England are definitely fitting the bill right now!
Once again people are saying we're muddled and we're arriving at a World Cup not knowing our best team. However, the characters involved are strong ones and we can't make any judgments until we see if they do anything in the competition.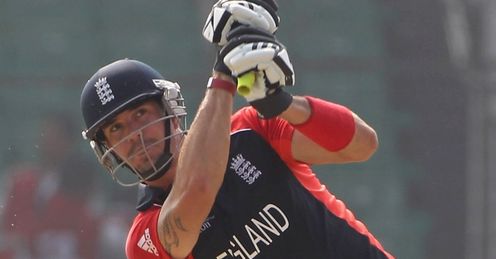 But the fact Canada got within 16 runs of them shows they're not firing on all cylinders at the moment. With the way England are playing, their opening game against the Netherlands will be anything but a formality.
They've had second thoughts and then third thoughts about who is going to open the batting. Initially they wanted Steven Davies, then they wanted Matt Prior and now they say the job is going to Kevin Pietersen.
I've warmed to the argument put forward by Graeme Swann, who said that if you don't put these teams in then it is not a 'world' event.
Bumble
Quotes of the week
Personally, I think it's a good place for him to bat. Why not get your best player in, get him used to the conditions and potentially let him bat for 50 overs? We've seen it work with Sachin Tendulkar for India and a lot of people I have spoken to feel that would be an ideal position for Pietersen in one-day cricket.
I've no problem with him in that role, although I'd like to know why they didn't try him out before now. In seven one-day internationals against Australia, that's a position he didn't occupy.
However, if I was in charge of the England team, I'd put Jonathan Trott in there. I'll quote his one-day stats for Warwickshire once again: he has batted 36 times as an opener for his county in this sort of competition and can boast 12 fifties and three centuries.
Looking at those numbers, it's hard to see why the selectors are reluctant to go down that route. A number of people have said they would like to see Ian Bell open, but he doesn't do that job for his county, so Trott seems to be the more sensible choice.
But I've got no problem with Pietersen. He's the best player. Get him in.
Minnows: yes or no?
On Sunday I shall set off from Manchester to Heathrow to Bombay to Nagpur. I should arrive just in time for England's opening game, which you can see on Sky Sports on Tuesday morning.
I've never been too sure about why we need to involve countries like the Netherlands in this competition. The first four weeks of the World Cup just seems like a strung-out exercise in getting rid of the smaller teams.
However, I've started to change my mind after a debate with a couple of actor friends in a Manchester pub earlier this week (the actors in question were James Quinn and John Henshaw, who you'll hopefully remember from the fabulous TV show Early Doors).
They're both big football fans and pointed out that many years ago at the soccer World Cup you'd only get one African team and one Asian team. Nowadays, you get many more of their teams involved and they provide good, attractive footballers.
They're becoming a real force in world football and there's a strong argument that cricket should go the same way.
I've also warmed to the argument put forward by Graeme Swann, who said that if you don't put these teams in then it is not a 'world' event. That's a good shout.
Maybe we could come up with a different format whereby it's not so strung out, but the TV deals, which were signed years ago, make it hard to change the structure of the competition.
Maybe it is good to see the minnows? Let me know what you think and enjoy the World Cup. It might take some time...
Comments (10)
Carl Warren says...
Bumble..yes keep the smaller countries in and instead of reducing the teams for the next world cup as planned why not increase it to 16..Then seed the teams into four groups of four. Play two matches a day.a day game and a d/n game. In theory the top 8 nations should go through to the next stage.which could be either a straight knock out or two groups of four leading to a semi -final and final...That would allow the smaller countires a chance to play the the top teams and even give a third seeded team like Netherlands,Ireland or Bangladesh a chance to cause an upset and qualify for the second stage. And playing two games a day up to the the semi-final and allowing for rest days the tournement could actually be reduced to 30days.
Posted 15:00 22nd February 2011
Ross Murray says...
Minnows playing in a World Cup is not a problem, but qualifying from a group should be hard. The point of minnows playing is not whether they can win, but do strong teams have the mental strength to avoid losing to one, and (almost) ruining their chances of qualifying. 8 teams qualifying for quarter-finals is too many, and I thought the "Super 6" was perfect.
Posted 13:53 22nd February 2011
Ian Watson says...
Bumble - The comparisons with the cricket and football world cups are ok but the football one does last 2 years from qualification, however it ends with 32 teams at the finals, Cricket starts with 12. I think 4 groups of 3 countries leading to two qualifiers per group for the quarter finals would give (12+8+4+2+1) 27 games probably similarly spaced over a month which sounds about right. (6 weeks is too much even for the most ardent cricket fans). Trott to open for me. Although we've seen totals over 300 then the aim has to be to find the best way to 300+. If you pick a squad with test batsman then you have to allow them to play proper test shots through the field, you don't have to go up and over in the first 10 overs if you are a class enough batsman. Would have preferred a side more based on the 20/20 winning side though if I'm honest - take a risk, see what happens.
Posted 16:45 21st February 2011
Andy Smith says...
George - are you seriously questioning the ability of Flower and Strauss to run / lead the team! are you forgetting that we have just recorded our first Ashes victory in Australia for over 20 years, that after we won the last T20 world cup at a canter!?!?! Not something you achieve with poor management. The reason they don't rotate when a player is out of form is to gain stability. Forgive me if I'm wrong, but isn't that the same formula that resulted us in winning the T20 world cup!? I also think you are being a little harsh on Bell, who during the winter has arguably (along with Trott and Cook) looked like England's best player. I am optimistic about England's chances of not just doing well in this world cup, but actually winning it! On the subject of minnows in the WC, in my opinion they provide much of the excitement - we shouldn't forget about Kenya's heroics in 2003 and Ireland's in 2007. Everyone loves a good upset story. Although I must admit, the results from the weekend were a little embarassing, but you will always get a few thrashings when professional athletes take on amateurs - is it any different to the FA cup in that sense??
Posted 11:39 21st February 2011
Chris Jones says...
Pietersen or Trott either one will do a job for England but I agree why not try things before the World Cup? Bit late to experiment. As for the minnows I have no problem with them earning the right to play but the organisers have to get the competition down to 4 weeks. Why are we only seeing 1 game per day? There should be 1 game per day from each group that way it would be possible to compress the tournamemnt. The minnows will struggle as the competition is against them as they play so few games against the "big 10" and have limited opportuities to learn. Why not compell each of the big 10 to play at least 1 second tier country once a year in a 3 game series it provides them with practice and allows the "bigger " teams to blood/watch marginal players. Although the schedule is tight at the moment surely every country has an obligation to spread the game
Posted 05:54 21st February 2011
George Staples says...
Yes Bumble, most points are relevan, by using the law of averages, Pieterson, Prior, Bell and Collingwood will eventually score good runs, BUT whilst keeping them in the team and they don't score runs, is unfair and poor selection. There are others in the squad who deserve a chance. When will Flower and Strauss revert to selection on form not simply keep them in the team. I fear the worst. We will progress against the minnows, those mentioned above will score runs and their positions will again be preserved. What a way to run a team!!! George Staples
Posted 11:41 20th February 2011
Justin Jefferies says...
i agree in how drawn out the start can be but all you have to do is look at football, there arent many, if any easy games in the 1st round group stage now, also the uefa champions league is going the same way as these lower level teams and their countries gain vital experience and cash to develop, attract better players investors ets. it can only help the game. also a radical idea of maybe putting the lower ranked teams in their own group/s and the best will get into the latter stages and maybe, due to pride and occasion, cause some upsets.
Posted 08:54 20th February 2011
Ian Wilkinson says...
You have to have the smaller countries playing in order to grow the sport in those places. Granterd the format needs to be rejigged, there must be some leeway between the TV companies and the ICC to arrange for the schedule to be examined.
Posted 08:47 20th February 2011
Bill Maclean says...
Hi Bumble, Regartding the opener position.....England seem to be messing about and unsure even at this late stage, which does not say much for the forward planning. Everything should have been finalised and settled by now....see India and South Africa. Minnows and format I think both aspects pose a problem but unfortunately money is the root. With the fanatical support for ANY cricket in the subcontinent and the cotrola that India now has, they will stretch it out as far as they can. Quality is not a factor, it is all about quantity. The current format is also not as exciting as before as it makes it easier for the Big Boys to go through . The upsets will not mean as much as in the previous format.
Posted 22:34 19th February 2011
Adam Williamson says...
bumble you say you would have trott opening the batting but my argument is, why on earth does alistair cook not get a look in? Over the last few years england have thrown players in to the test team that have excelled in one dayers that do not have great first class records. why does this not work the other way around? Not only is cook in the form of his life right now but when playing for essex he has a fantastic record in the pro40. i agree he may not score lightning quick but if he was to bat 50 overs and score say 100 - 120 i would suggest england would have a very competetive total on the board!!!
Posted 19:53 19th February 2011