England have been at it again... there's never a dull moment when this lot are in town.
They somehow got past the West Indies and you've got to admire the fighting spirit and character of the team. There's been no flannel from Andrew Strauss either; he knows they're not playing like they should, but they're in there and they're scrapping away.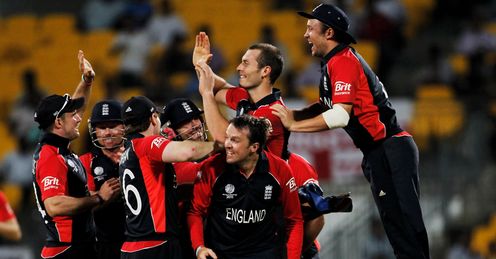 In a do-or-die situation we had to be flexible, and like Lord Lucan and Shergar, we found two missing men in Luke Wright and James Tredwell. I thought the scorer might have to shout out: 'bowler's name?' like they do in league cricket because we've seen so little of them lately.
But in comes Tredwell, having not played for two months, and he ends up as man of the match. Every England fan will appreciate a performance like that and it shows we've got to pick players for the conditions - and out here, more often than not, you need spin.
Like Lord Lucan and Shergar, we found two missing men in Luke Wright and James Tredwell. I thought the scorer might have to shout out: 'bowler's name?' like they do in league cricket because we've seen so little of them lately.
Bumble
Quotes of the week
LIVE ON SKY SPORTS
Bangladesh v South Africa
3.15am, Sat, Sky Sports HD1
How to
remote record
I have to applaud Andrew Strauss' captaincy. When was the last time you saw England bowl two off-spinners in the first 10 overs of a one-day international? He did exactly what was required.
In fact, we could easily have played another spin bowler. Chris Tremlett is a magnificent bowler, but he went round the park, just as James Anderson had, so there was an argument for playing Paul Collingwood or Michael Yardy.
You could then open with Luke Wright, although that doesn't 'Luke Wright' does it? The typical English attitude is that you need two opening bowlers, but why can't we be more flexible?
Wright gets a lot of sarcastic comments at times. 'What's the point of Luke Wright?' they say. 'What does he do?' Well, this lad is a thoroughly good pro who just wants a chance and he played brilliantly, before he got out with a daft shot. He's got a role to play, but we've been too reluctant to let him into the team.
Graeme Smith says South Africa are 15 and all of them are ready to play on any given day. We seem to have only just arrived at that situation.
Getting caught short
Having been the England coach myself, it's nice when you get results but the one thing you look at above all else is performance. Sometime you come up against better teams and you lose, so you look at how your players performed.
I'd be quite doubtful about a number of individual performances in the West Indies team, both in terms of quality and effort, but you can't say that about England. They're full on, they're as fit as anything and even if they come up short they give you everything.
Can they win the World Cup? People like MS Dhoni and Kumar Sangakkara are saying anybody can win this, but as far as I'm concerned there isn't a chance for England.
I've thoroughly enjoyed watching them play and I wouldn't put it past them to scrap their way to the final, but realistically we are one of the outsiders.
South Africa are looking strong, Australia are looking businesslike, Sri Lanka are still right up there and everyone over here is still talking about Pakistan. You just don't know what's coming next with them!
As for the West Indies, people talk about their grand plans and their flexible batting order and we were certainly surprised when Devon Thomas was sent in ahead of Ramnaresh Sarwan against England.
When we asked Darren Sammy about it afterwards he explained it with a chuckle: 'I had to send him in because the other chap was on the toilet'.
I give up...
How clean is your commentary box?
If anyone ever tells me that the life of an international cricket commentator is a glamorous one, they might get a smack on the nose.
I did the Ireland v South Africa game at Eden Gardens, the venue that was knocked back by the ICC at the start of the tournament, and I can tell you it was an absolute disgrace. A filthy, horrible, disgusting mess.
The other commentary boxes out here have been world class, but I've never, ever been in a box as dirty as that one. There was muck and debris everywhere and I'm not surprised they refused to use it earlier in the tournament.
Eden Gardens is one of the great venues, but it has really let the rest of them down. Very disappointing.
Furthermore, I'm writing this blog on my birthday and I'm facing the very real prospect of spending it homeless. They're trying to kick me out of my Chennai hotel room.
Apparently they're full for the next two nights because of meeting being held by a company called the IPL, whatever that is (Indonesian Premier League? Invisible Panty Line?)
They've told me to clear off, but I'm barricading myself in because I've literally got nowhere to go. I don't know where my next game is going to be!
And by the way, if you're wondering how old I am, The Beatles wrote a song about it. "When I get older, losing my hair, many years from now..."
See you next week!
Comments (9)
Ajantha Mendis says...
Luke wright to open the batting, Adil Rashid in the squad, hes a class spinner and he can bat a bit aswell. Sorted.
Posted 09:17 21st March 2011
Martin Brown says...
FAO Bruce Duffett..... why exactly is it shame Eoin Morgan is Irish??....he plays for England doesnt he??....
Posted 17:30 20th March 2011
Kaustubh Verma says...
Bumble....whats up with you and the IPL?? IPL has a lot of brand managers...but you seem to be the only brand destroyer!!
Posted 12:11 20th March 2011
Aart Jansen says...
Have a good one Bumble!!!!! I am a Dutch cricket fan and can't do without your fantastic commentary and even better one liners on Sky !! Wish you British lot good luck, but it will be South Africa's World cup this time. an't wait for the quarter finals to get started!
Posted 20:50 18th March 2011
David Mann says...
Bumble I feel better now! I am captain of a local cricket club and last year we lost a game because our best batsman was on the toilet just like Sarwan! In a reduced overs game of 33 overs we were 100 for no wicket off 23 when a wicket falls. Our best player is busy else where so our number 4 took his place and proceeded to faff around for 5 overs before getting out leaving our best player and big hitter with 5 overs batting. We only made 160 and lost by 4 wickets! I have no doubts that a relaxing trip to kasi cost us a win! Who would have thought Hadleigh CC and the West Indies have toilet troubles in common! And before my team mates add the obvious comment....yes my captaincy is normally toilet!
Posted 19:42 18th March 2011
Adam Diggle says...
I think having wright opening might not be a bad idea, he likes to hit the ball hard and often gets out batting later on in the innings being caught out in the deep, pop him at the top then if he plays a daft shot (which, even though he played a good knock in this game, he often does) he'll get away with it, he could provide a good kickstart to the innings. For me prior is just too limited with the array of attacking shots he has to open the batting. England won this one yes but I still think changes are needed, I hope they are made because that batting line up still just isn't right.
Posted 18:05 18th March 2011
Edward Matley says...
Happy birthday Bumble! Hope you can find a decent pint to celebrate with.
Posted 17:31 18th March 2011
Robert Sutton says...
My partner and I are confused as to why other spin bowlers have been included in England's Squad. When we have a perfectly able Spin Bowler in Monty Panasar.He was all the rage some time back but seems to have been dropped like a Hot Potato.These selectors have no idea.We Think it is shameful the way he's been treated.Get him back we say,what do you think?
Posted 17:25 18th March 2011
Bruce Duffett says...
Hello Bumble, It is a hard life is it not for commentators..... You want to go round some of the scoring Boxes in this country even in leafy Hampshire and see how hard it is. Luke Wright and Ravi Bopara are Musts for the English team. Collingwood great stalwart but time to give up. Yardy with his darts no thanks. Proven on these wickets dibbly dobbly bowling is the way to go nothing with pace, Yardy is not the man didn;t think treadwell was either but he has had a go. Wright as an opener I agree or Morgan (shame he;s Irish really). England cannot be written off and nothing would give me greater pleasure than 20/20 champions One day Champions ,Ashes holders.Would make Ned Kelly and his mob in the southern hemisphere sit up and beg (Lovely to watch the Aussies Squirm).
Posted 17:12 18th March 2011