I'm now holed up in Colombo waiting for England's quarter-final against Sri Lanka.
I was booked on a 3am flight from Mumbai and because I didn't have a return ticket they wouldn't let me board until I signed a solemn declaration that I wouldn't try to live in Sri Lanka. I can assure you I have no such intention.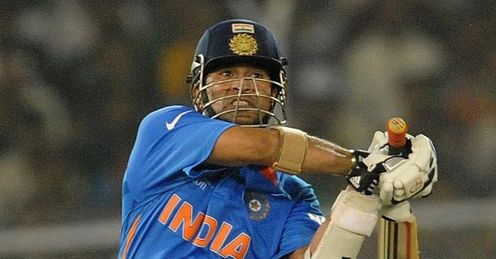 I've been here for a few days and to be honest I've been twiddling my thumbs for a lot of the time. I've been trying to watch the cricket as best as I can, but I can't describe what the TV is like over here. You're bombarded by adverts the whole time and you need to thread the cricket match from in between them all!
There's loads of channels, but I haven't been able to find a lot of the things I wanted to watch. We've been able to see some of the English football, but I missed the Ireland v England Six Nations match and I saw none of Cheltenham, which is always a cracking event.
We get lots and lots of shows with blokes sitting around and pontificating about cricket for hours and hours. Before a game starts you can tune in on any channel to see a load of talking heads discussing it. It's basically like a non-stop radio show on TV.
Bumble
Quotes of the week
LIVE ON SKY SPORTS
Sri Lanka v England
8.30am, Sat, Sky Sports HD2
How to
remote record
Instead we get lots and lots of shows with blokes sitting around and pontificating about cricket for hours and hours. Before a game starts you can tune in on any channel to see a load of talking heads discussing it. It's basically like a non-stop radio show on TV.
Cricket rules over here. That's just how it is.
Sub-continent showdown
The fever pitch is growing now that India are playing Pakistan in the semi-finals.
It should be a very good contest and the stats suggest we're going to see the excellence of Pakistan's bowlers against the excellence of India's batsmen. Looking at the figures, Sachin Tendulkar, Yuvraj Singh and Virender Sehwag have way over 300 runs each, while only one Pakistan player has more than 200 and that's Umar Akmal.
On the other hand, three Pakistan bowlers - Shahid Afridi, Umar Gul and Mohammad Hafeez - have economy rates of less than four and the first two are among the top four wicket-takers in the World Cup. Contrast that to India's Harbhajan Singh, who goes for more than 4.5 and Munaf Patel, who is up at 5.8.
I'm really looking forward to that battle and I fancy Pakistan because of their guile with the ball. However, I have doubts they can get enough runs and they really need Younis Khan and Misbah-ul-Haq, as two senior experienced players, to perform with the bat.
Whatever happens, it has been an absolute pleasure to watch Tendulkar bat, as he is simply head and shoulders above anything else. He seems unfazed by everything, but all of India is aware that they are now coming up against the best attack at the World Cup.
The script seems to be written that he'll score his hundredth hundred in one of these matches. It would be fitting for him to get it in a World Cup Final, but they need to get past Pakistan first.
Ponting's feeling Down Under
Another great player, Ricky Ponting, played fabulously to get his century against India, but he simply didn't get any response from the rest of the team.
This is a lad who has captained Shane Warne, Glenn McGrath and Jason Gillespie so it was sad to see him in the field looking around at the almighty dross that was being thrown down. He doesn't give his emotions away, but it's clear this is a very different lot to what he's had in the past.
Having got the advantage of batting first, 300 was always the score required; the Australian attack was always going to struggle against the Indian batters.
I actually think India would have chased down 300 even they'd needed to. They had another gear to step into.
Umpires on fire
I went for dinner with some of the English journalists the other evening and I was heartened to hear them speaking very positively about the umpires.
I think they've been a resounding success at this World Cup and DRS has been a step forward too. Because of the committee I sit on I am privy to the stats and they show overwhelmingly that they are getting more decisions right.
The system is a no-brainer. Some people might have gripes with individual decisions and specific mistakes, but when you look at the hundreds of correct calls that have been made overall it has worked fabulously well.
And remember, the umpires have not had fabulous equipment to work with out here either. For me, the umpires have been outstanding on the field, especially because the players will try to get away with what they can.
I won't say they're quite happy to cheat, I'll leave that for other people to decide...
'Bach to the future
I'm staying in the same hotel as the England players and they're looking fresh and relaxed before the Sri Lanka game. Both sides have had a week off and they're raring to go.
It was sad to see Michael Yardy go home. He's obviously ill and in that situation the sensible thing to do is to send him back to England.
However, Jade Dernbach has arrived and that's a good move. It appears there's been a bowl-out in the nets with just him and James Anderson facing Andrew Strauss. They're saying there's a chance the new lad could play.
I'm a big believer that all 15 players should believe they're going to play in every match. We saw how wonderfully well Luke Wright and James Tredwell played when they were called upon for example.
Sri Lanka are the raging favourites here and England have been playing down their chances. They have nothing to lose, but they must play better against spin and need to get back to playing 'no fear' cricket. From what I've seen they haven't done that yet at the World Cup, but a quarter-final is the perfect time to start.
This is a two-horse race with one horse as a raging favourite. However, I never write off England. They're fit, they're strong, they have a good leader and a never-say-die attitude. That can make up for a lot.
Mistaken identity
The other day, Atherton and I went for afternoon tea at a very nice place near the coast called the Galle Face Hotel.
We negotiated crossing the road (which only took us about 15 minutes) and then a fellow came over to ask if he could have his photo taken with us.
"Please, please can I have a photo? I want to show my friends I met Michael Atherton and Alec Stewart..."
I was quite flattered (I usually get 'Richie Benaud'), but I don't think Alec will be too pleased when he reads this.
I didn't bother explaining to the poor chap. It's easier that way.
Comments (7)
Fahad Ashraf says...
Well, Pakistan is in the Semis now. It's a great news for all the Pakistani nation. I strongly believe that the Indian team has two strong positive area which are off-course Batting and then the fielding. On the contrary, Indian bowling is quite weaker. On the other hand, Pakistan is totally unpredictable in almost all areas. In general, Pakistanis have a good bowling attack but poor batting and fielding as well. Again, i shall say that it all depends on Pakistani cricket team whether they want to perform well in all areas of the game or they just want to spoil and waste this golden opportunity. Any way, we all Pakistani, wherever we are, pray for the success of our Pakistani team.
Posted 16:25 28th March 2011
Ifthikar Sheriff says...
Come on Bumble - stop quibbing about the non stop talk shows prior to a game of cricket in Sri Lanka - you should have realised the cricket is a form/way of life - so talking gets the balls to the boundaries and wins matches for Sri Lanka - although we do have the players to turn up and score the match winning centuries and also to get those all important wickets that win matches. Go for it SL in the semis and let's bring the Worl Cup back again to the "Pearl of the Indian Ocean".
Posted 18:01 26th March 2011
Susan Wells says...
Why are we bowling a spinner, when Sri Lanka has the best spinner in the world? Surely Murali has taught them how to hit every angle?
Posted 14:41 26th March 2011
Arif R says...
I would just like to say india vs england for the final,
Posted 09:22 26th March 2011
Sai Fiction says...
Mouthwatering showpiece I do feel if India bat 1st n get 300 then it bode wel as pressure wil b on pakistan! Luck wil play a huge part on day.
Posted 21:58 25th March 2011
Abhijit Samanta says...
you describing "india" as a weak bowling unit.....hey i think you missed out a name in world cricket right now that is Zaheer Khan,didn't you? he is the best bowler in terms of wicket taking and shear pressure building to the opponent at any stage in both form of the game...took 17 wickets so far which is second best to afridi and believe me he will finish top wicket takers after playing the THE FINAL in mumbai cause they will beat Pakistan in semis like every world cup game they won against them.......its a fact.
Posted 21:47 25th March 2011
Pete Smith says...
I would have thought more one of the bedser twins or a don bradman?
Posted 13:19 25th March 2011