There's a few things worth noting about Old Trafford last Saturday.
Firstly, the ground was full. There were 19,300 people in. It had been sold out for weeks and there was a terrific atmosphere.
It's a great relief that the development of the ground will start in September and we will soon have a world-class venue. There'll be a lot of upheaval in the meantime, but it will be worth it. The North West area needs international cricket.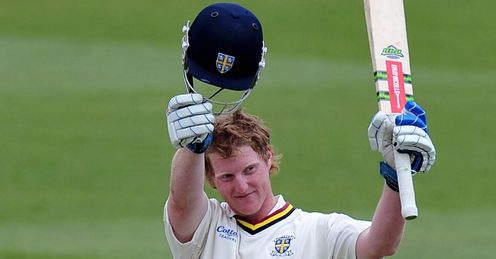 But I was less impressed with the so-called security at the ground. It was a total nonsense.
The broadcasters were told they could not go through up the pavilion steps and through the pavilion doors. Apparently that is a "sanitised area" for the players.
We have been playing cricket there for more than 100 years and this has never been an issue before, but on this particular date in July 2011 it all changed. The players' dressing rooms haven't moved. The broadcasters still need to go about their work. Why the fuss?
I look forward to them closing the pavilion at Lord's next week. The players have to go through the Long Room and I assume that will also be a "sanitised area". Are they going to ask the members to find somewhere else to sit?
Bumble
Quotes of the week
LIVE ON SKY SPORTS
England v India
First Test from Lord's
Starts 10am, Thu July 21
Watch on the move with
Sky Go
How to
remote record
Broadcasters are there to publicise and enhance the game, but they were treated like second-class citizens. I can't stand it when blokes come in and try to make a name for themselves when they know zilch about the game of cricket. Broadcasters pay a lot of money to keep this game going and to keep people like Mr Security in a job.
There's a bloke with a grand title in charge of security and I'd like him to give me a call to talk about Old Trafford. I'd like to talk to him about "sanitised areas"... this isn't a warzone pal!
I look forward to them closing the pavilion at Lord's next week. The players have to go through the Long Room and I assume that will also be a "sanitised area". Are they going to ask the members to find somewhere else to sit?
Security is out of hand at Old Trafford. There's thousands of these people in ill-fitting suits telling people what they can and can't do. That doesn't make it an enjoyable experience for people.
We just want to watch a game of cricket.
Room for improvement
The Test series against India starts next week and England will be full of confidence. They're Ashes winners and they've just beaten Sri Lanka, but they can't afford to rest on their laurels.
There's always areas to improve and what England ideally need is a batter at number six, who can also be used as a fifth bowler. They'd love to find a new Ian Botham or an Andrew Flintoff and there's an opportunity for a young player to force his way in.
I'd suggest that Andrew Strauss, Alastair Cook and Jonathan Trott are fairly safe, but if somebody comes along who can bat as well as Kevin Pietersen, Ian Bell or Eoin Morgan - and can bowl quickly as well - then those players might be vulnerable.
There's nobody good enough to do that just yet, but one name that comes to mind is Ben Stokes. If he can become as good a batsman as those three then I think he'll get in the team. He's not far away either. This might be a bit presumptuous but I'd say that perhaps in a season-and-a-bit he might get on a tour.
England would like the option of a fifth bowler - but he's got to be good enough to get in as a batsman.
Take your pick
That's for the future. At the moment, we know that England's line-up is pretty much settled. The only position up for grabs is the third seamer to play alongside James Anderson and Chris Tremlett.
There's a choice to be made between Stuart Broad, Tim Bresnan and Steven Finn and each candidate has outstanding qualities.
Bresnan is rock-solid; he'll bowl all day, he'll pitch the ball up and he also gives you a different dimension with the bat.
Broad is aggressive, tall and has a great action. The only thing stopping him getting more wickets is the fact he's not bowling the right length. He's got everything else - height, bounce and pace - but he needs to be more consistent with his length. He is also a strong batsman.
As for Finn, he does bowl the length and is probably the most solid wicket-taking bowler of the three. I wouldn't be surprised if he plays, even though the other two show good stamina and more with the bat.
Who would I choose? Pass. I wouldn't worry if any of them played.
Totally wrong
I can't wait to see India's players, but I'm not a fan of their board's stance on DRS. They've got it totally wrong.
The system will be in place in this series, but they are refusing to allow the use any element of Hawk Eye, which could result in some ludicrous scenarios.
Here's an example for you. A batsman is given out lbw but decides to review on the basis that he thinks he got an inside edge. Hot spot, stump mic and super slo-mo - which can all be used in this series - show that he hasn't hit it and the decision is upheld.
But then the broadcasters use Hawk Eye to show that the ball pitched six inches outside leg stump. The world will be able to see that he should not have been out, but the umpires are not allowed to see that.
Imagine if that batsman is Sachin Tendulkar. DRS could have saved him, but they didn't want to use that system.
This is not a decision that's been driven by the broadcasters; this is the decision of the BCCI.
Sorry India, you've got this totally wrong.
Text commentary
I was watching the Twenty20 game on TV on Tuesday night and Nasser and Athers were talking about the best player never to play for England.
It's got to be Don Shepherd, who played for Glamorgan in the fifties, sixties and seventies. He took thousands of wickets, but never played international cricket.
I texted them to tell them as much and they seemed surprised that I was watching. Well I can tell you that Mrs Lloyd never lets us miss the cricket in our household.
They suggested on air that I might be in the pub. All I'll say is that I was spending some time with Mr Timothy Taylor of Yorkshire and Mr Daniel Thwaites of Blackburn.
Those are two very good friends of mine.
Top Taylor
I'd like to mention Claire Taylor, one of the best players that England has ever had, who has announced her retirement from international cricket after a terrific career.
I'm pleased that Sky Sports does its bit to promote the women's game and I always really enjoy covering their matches. They're a good set of lads, if you know what I mean, and it'd be nice for them to get more coverage.
I know Claire and I hope she stays in the game and continues to contribute in some way.
Night's not right
Finally, I've been asked to turn the lights on for the first time at Old Trafford on Wednesday evening.
I'm very pleased to do it and I'd like to thank them for asking me, but I must admit I don't understand why they're playing Twenty20 cricket at night time.
It goes against everything that we proposed about this format back in 2003. Twenty20 cricket was supposed to be for families - but you can't take your children to a game that finishes at 10.30pm.
All decent folk should be in bed at that time of day!
Comments (11)
Indian Crab says...
We will crush Islanders. More pain is comming for England like last series.
Posted 08:34 17th July 2011
Ian Sands says...
why not just use hawkeye to judge the issue of bouncing in line, but not use the predicitve part? The use of DRS has reduced over the top appeals and delebierate pressuring of the umpires because the players look really stupid if they don't then challenge the decision!
Posted 16:42 16th July 2011
Mat Richards says...
Englands batting line up is solid, with Prior batting at 7 the question has to be regualry asked do we need 6 batsman as Prior is more than capable of batting @ 6 especially as Bresnnan @7, Rashid @8 and Swann @9 For me i would love to see England go back to a 5 man bowling attack as that is generally the best way to go and i would be tempted to pick a 2nd spinner that can bat as the 5th bowling option for me that should be Rashid as with more and more of the pitches in England & worldwide becoming slower and flatter spin is playing a more important role in matches especially spinner that are wicket takers just look at people like Swann I know England rarely used there 5th bowler but thats because Collingwood really wasnt an wicket taken option
Posted 19:39 13th July 2011
Mat Richards says...
England will cruise to a an easy win as long as England dont produce corropate slow flat wickets as per usual, its about time test ground in this country took a leaf out of the Rose Bowls book and produced a pitch with pace & bounce as with these pitches we have the best bowling attack in world cricket and India will struggle with it
Posted 19:27 13th July 2011
Rob P says...
Spot on as always - "start the car"
Posted 19:23 13th July 2011
Elliott Thompson says...
Great blog again bumble. I totally agree about the DRS situation with india. Maybe they have got to number because they refuse the DRS. Indian cricket is all about sponsors and branding, you only have to look at the IPL for that. As for there attack i dont think Sreesanth has the power in him to take english wickets. I do not rate him as a bowler at all. But Zaheer and Ishant will do well i am sure of that. England to win the series though.
Posted 16:45 13th July 2011
Lynn Radford says...
You talk about the best players that never played for England - what about those that did, performed well and then disappeared, presumably because they came from an unfashionable team or their faces didn't fit. I'm thinking Robert Keys, Monty Panesar and others of the same ilk. I was particularly incensed the last summer Monty was part of the England squad - he was a glorified drinks carrier for the rest of the team and then was slated for not getting wickets! I never realised you could get wickets carrying drinks! The England selectors should face up to the fact there is still a lot of prejudice and snobbery in the national game.
Posted 16:40 13th July 2011
Steve Wright says...
Followinf recent games involving the England cricket team, it is conceivable, I suppose, that the "sanitised area" was a health and safety requirement to prevent spectators and the press alike being exposed to the risk of falling glass. Though sadly it does seem as though cricket is following football and employing the kind of self important security staff for whom spectator enjoyment is an unnecessary intrusion into their high visibility world. I'd like to have seen Sir Ian's response!
Posted 15:45 13th July 2011
Kaustubh Verma says...
Put the Drs aside bumble, we all know India is wrong and we all know you don't agree. England may be confident and settled but India will do well this series. Firstly, they travel well to England as it's not as alien a place to them as Aus or SA. Secondly, they get huge support in England wherever they go. Last but not the least, this team will be hard to put under pressure. The pressure on the same team in the WC was maddening. This will not be the same. Mark my words, if Zaheer, Ishant and Sree are fit India will be tough to beat. All three of them are as good as anyone else on their day. Sad that Sehwag is not there for the first test. However, Gambhir at 2, Rahul at 3, Sach at 4, VVS at 5 and Yuvi and dhoni at 6 and 7 is ...well..u say!
Posted 15:13 13th July 2011
Paul Marrow says...
the security for the England odi was over the top.normally enterance to the pavilion is easy during a lancs home game.players should be more accessable especially for juniors who have paid a tenner for a signature cricket bat, so they can get the players autographs as a souvenir. Only to come away with a blank blade. Good luck bumble with the switch on tonight. Blackpool illuminations will be next. Good luck lancs tonight.
Posted 14:57 13th July 2011
Harsh T says...
Dear, Bumble, with all respect, please tell me how hard is to find out if ball has pitched outside of leg stump just from Slo-mo-camera? If you think it's hard, then that person should quit cricket. Telling people India has got 'totally' wrong is wrong itself. Let me give another 'interesting' example. If Hawkeye shows that ball is JUST clipping the stump or top of bails then commentators go, it's a fair call, because it may not have touched dislodge the bails. Why do you say that? Are you saying that because bails would still stay on even if ball clips the stump? No, you say that because hawkeye is not full proof, there is no guarantee that it wouldn't have miss the stump. AND now you are saying India has got it wrong saying no to Hawkeye, which is basically like whole another umpire's perspective. I BEG you, please talking about DRS when you commentate when match is on, please inform whole sky team. WE ALL KNOW the ISSUE. please talk about players and game. It is very boring. Thanks.
Posted 14:40 13th July 2011