Andy Flower has been absolutely fantastic in his brutally honest assessment of England's performance in India: not good enough.
There have been no platitudes from him and, having been smacked 5-0, he's said he'll be looking at all aspects of their performance from selection to technique to preparation. He's even going to look at himself.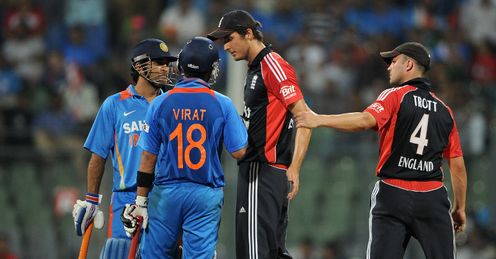 Having been up close and personal to the team, I'd agree they simply haven't been good enough against this opposition in these conditions.
In terms of technique, it doesn't appear that we're able to manoeuvre the ball in the field, open our wrists and play for ones and twos. When you can't find the boundary either then there's not a lot going for us.
There's a place for getting stuck in and acting like real men, but in this series we've seen boorish, childish handbags and disrespect for the officials. I think some of those lads, on both teams, need to grow a bit.
Bumble
Quotes of the week
LIVE ON SKY SPORTS
India v England
t20 International
1.30pm, Sat, Sky Sports HD1
Watch on the move with
Sky Go
How to
remote record
It's all to do with how we teach the game in England. We teach a stiff-wrist game, whereas in India the game is played with supple wrists. When wristy players come to England and face pace and bounce their technique doesn't work, as we saw in the summer, but equally our approach doesn't work on the subcontinent.
When you watch an Indian player, they are very naturally wristy and there is a lot of work going on with that part of the body. That applies to the bowlers from the subcontinent as well - just look at Murali and his revolving wrists!
That's something we are unable to do. The MCC coaching manual will talk a stiff-wrist game for both batting and bowling and perhaps we need to go back and look at individual techniques.
Mushtaq Ahmed is there as a spin-bowling coach and maybe we need to bring in an Asian batting coach to work with the players and educate them. You need players who can play in any given situation, such as Sachin Tendulkar, Rahul Dravid or Javed Miandad - one of the best I've ever seen.
You can't point to a lack of effort or a lack of fitness; the issues are technical and England are not the only team that find it hard to come here. There's lots to learn and lots to ponder.
Grow up, lads
Arguments have been raging in the commentary box about the behaviour of both teams.
I'm involved with the umpires and I know they, like the match referees and the ICC, have a concern over how to deal with this.
I'm all for banter, which is an integral part of the game whether it's serious or jocular, but it mustn't be vindictive. Michael Atherton and Allan Donald gave us an epic passage of cricket at Trent Bridge in 1998 as two warriors battled it out - that was good, serious banter - and Andrew Flintoff was always good for the jocular stuff: "Mind the windows Tino."
There's a place for getting stuck in and acting like real men, but in this series we've seen boorish, childish handbags and disrespect for the officials. I think some of those lads, on both teams, need to grow up a bit.
I don't think I need to go into specifics. Everyone has seen some of England's antics, but India were very poor in their treatment of Samit Patel when he was walking out to bat. People didn't see that because we were on adverts at the time, but it was very cowardly. Unfortunately, the cameras can't show everything.
We saw visuals of Steven Finn shouting someone off and also of Tim Bresnan snatching his hat, but I'd like to see the umpires and the match referees be stronger. I know Bresnan is a really nice chap, but he only incurred a fine of 7.5 per cent of his match fee, which is nothing.
Personally, I'd prefer to see red and yellow cards. The first yellow card would put the player on notice of a charge and a second in the series would see you definitely on a charge. If your on-field antics warrant a red card then you're charged straight away.
The beauty of the cards system is that they're visible to the crowd and you're not waiting for days to see what might or might not happen.
Totally fan-atical
People at home might find it difficult to understand just how fanatical the spectators are over here. You cannot describe it.
The nearest thing I can compare it to is an individual's support of his football team, but even the most dyed-in-the-wool supporter of Millwall or Cardiff or whoever are nothing compared to these blokes. They're waving flags and dancing in the streets for hours after cricket matches, bringing all of the traffic to a standstill. I look at it in absolute amazement.
The Indian players are all mega superstars; they're on all of the adverts and they're earning fabulous amounts of money. I'm sure the England players are totally bemused by it all.
I see it when I go on Twitter too. I get some unbelievable abuse about a game of cricket. Thankfully I've mastered the art of blocking when people get out of hand: cheerio, go and bother somebody else!
Sadly I still haven't worked out how to put pictures up. I'd like to put up snaps from the commentary box and from the cities I visit, but I haven't got a clue how to do it. Someone needs to give me a tutorial.
Save our Stanley
It's time for an SOS: Save our Stanley.
You can now invest in shares in Accrington Stanley. Just imagine coming home each day and seeing your shares issue certificate on the wall. What could be better?
I keep saying that we need to find a rich Arab with an airline and 12 oil wells, who wants to throw a bit of money Accrington's way. We could spend a bit of money for him.
But for now we need people to buy some shares. See the Stanley website for details and help out a good homely club; or to be more accurate, a "skint" good homely club!
I've brought my Stanley home shirt with me (I haven't seen many others out here) and I had a photo taken of me wearing it next to the hotel doorman in all his Indian finery. I've emailed that to our local newspaper.
Speaking of Lancashire, the Stone Roses are back together, so I've been listening to some of their back catalogue in my hotel room. I've also been playing some Happy Mondays, some Black Grape, New York Dolls and the Urban Voodoo Machine.
I'd like to go and see the Stone Roses next summer if I can get a ticket. If not I'll have to go and see the other group that's doing the rounds, the Clone Roses!
Then there was four...
We're down to four commentators for the t20 match at the weekend. Ian Botham has left us; he doesn't do Twenty20.
England are number one in the world in that form of the game, but if you're expecting a victory don't hold your breath!
See you next week.
Comments (8)
David Neale says...
Bumble, a busy article mate, only you could go from ill discipline to Accrington stanley in a couple of paragraphs. You're bang on with the discipline front, but us cricketers will never stoop to the level of footballers, so any dissent is headline news. You make a great point on the Asian batting coach, which is an interesting angle. If this angle is pursued then they should have input at U15 level, so that when they embark on a full tour, conditions and technique should both be familiar. That said if we show the necessary application , history shows English players can perform on the sub continent. Its rare you get players that can perform in all conditions. Sir Geoffrey, Goochy , Lord Gower ,Graham Thorpe and Marcus Trescothick are English players i can think of who were as comfortable against pace and the turning ball. Lord Gower's team in 1984 were the last English team to prosper there, and the top batsmen were Fowler, Gatting and Gower. I can't think of 3 more differing techniques. If the guys want inspiration , they only have to look at Flower himself. He averaged over 50 at a time when history will show Test cricket was at its strongest, when avery test playing nation had one or 2 world class bowlers, all that while his native country was imploding. Ps when are you coming back to Buxton Opera house???
Posted 22:17 29th October 2011
Mathew Leonard says...
The little bit confrontation between players should be allowed but it should be in a limit. Unnecessary bashing by the players is not good also.
Posted 09:22 28th October 2011
Kaustubh Verma says...
Just as the whitewash in Englands encouraged the selectors to pick a young team and move forward, I think this result will also be a boon in disguise for the ECB. I will stick my neck out and say that just like India (when they were no.1 in Tests) were not believed to be the real deal by the Proteas and Englishmen, people here in India will have to see a lot more from the current england side before we regard them as true world champions. I know this was an ODI series but England havent won a test series in India for the last 26 years now.
Posted 08:38 27th October 2011
Great India says...
You have very rightly pointed out what indians did with samit patel, but they where forced to do this only after seeing all the rubbish from the english bowler who where crying to get a wicket but not getting all series & same goes for the english batsmen. india was loosing all along the english summer but did you see them indulging them with english players. indian players are always known not to give it back to the opponents, but they cant tolerate more from this english team. Good to see india giving it back.
Posted 05:17 27th October 2011
Craig Bainbridge says...
Good blog bumble, fair evaluation of what's gone wrong on this tour.pleased to see Andy Flower going to review everything, looked to me that some players think because India got annihalated over here, that it was going to be a walk in the park. also think some players are just not cut out for it,and that without Broad, KP, Morgan we have nothing. As for A.S.your having a laugh.
Posted 21:00 26th October 2011
Deep D says...
Nice to see a generally unbiased viewpoint. Totally agree with the fact that in view of the techniques of players in diff countries - they just find it tough abroad. The greats who just adapt to any surface like Tendulkar, Kallis or Ponting are few and far between. And we simply don't have a "team" chock-full of such greats like AUS of WI teams of yore. It also shows the same ineptitude in bowlers. ( which is why someone like Finn, or Jadeja - who performed well in both countries, should be preserved). Player behaviors have been disappointing, back in the day - white-line syndrome would never spill over to the bar-stool after the day. A little note though, in all fairness, ENG did start it .. which is not to say the end justifies the means. It's all good to show your arrogance, as long as your talent and performances back it up - and you know not to cross the line. Everyone ain't Imran Khan or Glenn McGrath. Regarding your twitter pic upload query - you need to create an account with http://twitpic.com/ ( the most popular) , or http://yfrog.com/ ( the simplest) - since Twitter doesn't allow more than one profile pic as upload these third party services link you inside your twitter profile.
Posted 20:27 26th October 2011
Tom Dowan says...
Acrington Stanley - who are they? Love the blog bumble - If you want a twitter ttutorial then I'd happily oblige, as a massive cricket fan perhaps we could trade off a twitter tutorial for a day in the commentary box with the team next season? (not sure if I could get my wheelchair up there, but where theres a will, I'm sure there'd be a way) After going to Edgbaston over the summer holidays (was fun while it lasted!) I think it is really incredible how hungry the Indians have been and just how lackluster England have been. I'm definatly missing Eoin Morgans anchoringly flamboyant innings in the middle order, I must say I'd never had Finn down to be our star man on sub-continent dust tracks but he's really impressed! Hope to see you in the commy box at somepoint (hoping tp go into sports journalism so a religious reader of your blog!)
Posted 17:17 26th October 2011
William Goodger says...
This is a good evaluation of the problem, well done David. Why do they call you Bumble, a good nickname for the other commentators would be,Fumble(in ones pocket for soil or maybe money, grumble for Michael Holding,Beefy,nuf said,Nick cos he did a lot of that, and finally Womble for Shane.
Posted 16:34 26th October 2011