So we got two days off... I didn't see that coming!
I thought Pakistan were excellent in the first Test. You often don't know what you're going to get with them, but the results under this captain, Misbah-ul-Haq, have been very strong. His record in 13 matches features seven wins and they're a form team.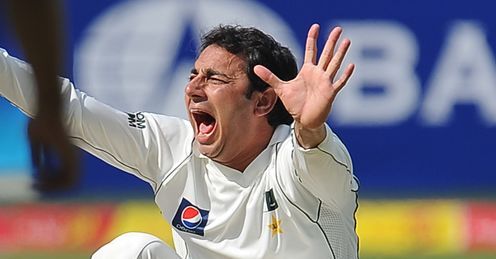 They played with a lot of method and remained calm throughout the game. Pakistan have been a bit scattered over the years, but that wasn't the case in this match.
The bowlers, in particular Saeed Ajmal as the spin bowler and Umar Gul as the quick bowling leader, were exceptional. I also felt the young wicketkeeper - another flying Akmal - is much better than the previous one. Overall they played very impressive cricket.
England need to devise a method to get the leg out of the way, but they're being puzzled by which way the ball is going. It also seems they were surprised by the pace with which he bowls and they will need to look at that.
Bumble
Quotes of the week
LIVE ON SKY SPORTS
Pakistan v England
5.30am, Wed, Sky Sports HD1
I had reservations about their batting before the first Test, but they were fine. The captain gets a bit of criticism, but he grinds it out. He's a management consultant by trade and he's getting the best out of his team.
They've gone for tried and tested cricketers - they're not a young team - and they played solid cricket.
Hands up
England were very poor in that game and they've held their hands up and said as much.
I heard Jonathan Trott say they weren't looking to give any special treatment to Ajmal, but they'll have to now. Many of them were playing back and it may be that you have to play forward to him.
The other aspect they need to be aware of is DRS. If you get your pad in line you will be out because he bowls straight wicket to wicket. He's similar to Graeme Swann, who has got an enormous number of wickets through DRS from hitting on the front foot.
England need to devise a method to get the leg out of the way, but they're being puzzled by which way the ball is going. It also seems they were surprised by the pace with which he bowls and they will need to look at that.
They will have been practising with that Merlyn machine set as Ajmal, but I wonder if that has been set too slow? They need to practise against quicker spin bowling before the second Test.
I know there has been some talk about Ajmal's action, but there's no point. He's playing in international cricket and has been cleared to do so until the authorities say otherwise.
The only observation I will make is that there's far worse than that action playing in international cricket right now.
Must do better
England must now show their mettle and give a much better performance in the second and third Test matches - and they're fully capable of doing so.
I've been bombarded with people on Twitter criticising them as the number one Test team. Get a life! They've lost a game of cricket! I'm too long in the tooth for things like that and I really couldn't care less. Go and talk to somebody who's interested.
I'm out here to watch some good cricket, but England's performance - as they know - was not good enough, and I now expect a response.
Will there be any changes? All I'll say is that the coaches took Monty Panesar out into the middle on the last day. There was no Steven Finn nor Graham Onions, it was just him - so tactically they may be thinking about two spinners with two seamers.
You could supplement that with a bit of Jonathan Trott - and they might think about playing Ravi Bopara because he can bowl that wicket-to-wicket stuff. That would mean Eoin Morgan making way because he's the lad at number six, where Bopara would slot in.
I don't think you can single out any individual players after the first match. The bottom line is that as a collective batting unit (apart from arguably the number seven, Matt Prior, who played very well) didn't show up.
All at sea
The early finish gave me a day off on Friday and I spent the day on a great big boat with some friends.
This wasn't a yacht. I didn't spend the day pulling sails or tacking (or whatever it's called), I sat there with a gin and tonic and we had a lovely time.
It's never appealed to me before. Whenever Beefy's in Australia he always gets a boat, but I've never gone on one (I've reasoned that there's about 3,000 boats in Sydney Harbour and they never go anywhere), but we went out to sea and I really enjoyed it.
Then on Saturday I teamed up with Nasser to play a game of golf against Beefy and Mike Selvey of The Guardian. It was another thoroughly enjoyable day.
We played The Montgomerie here in Dubai, which is run by a friend of ours called Ed. They gave us courtesy of the course and the hospitality was second to none. It was wonderful.
The other three played well, but I was shocking and we lost 3&1. I plan to turn things around when we play Michael Vaughan and Beefy on Sunday although Nasser - being Nasser - is trying to offload me as his partner. Sorry pal, I'll be there!
It has to be said that Dubai is a very expensive place. A pint of Guinness is a minimum of eight quid! Why don't they drop it to three quid and then you'd drink three in an hour and spend nine quid?
Instead nobody buys anything and the tactic is to buy one pint and look at it for an hour. Once you've looked at it for an hour you can have a drink... but not before.
'Stone me
I leave you with a joke that has been described by some of my co-commentators as the worst joke in history.
It's been used on Sky Sports, on Sky Sports News, on Sky News and on Twitter, so I might as well share it again here on the blog.
They don't like the Flintstones in Dubai... but Abu Dhabi do!
Comments (15)
Jan Bray says...
No excuses. England knew that they would face a great deal of spin and should have practised dealing with it. In my view Eoin Morgan shouldn't be the singled out. Ravi Bopara would not add much to the team. My choice would be to drop Pieterson long term as he's failed to deliver for several matches now so not a sudden loss of form, and he's too slow as a fielder. He should be sent back to his county side to regain his touch and we should bring in good, eager young players such as Hildreth and Borthwick as well as using Onions.
Posted 15:15 29th January 2012
Neil Purcell says...
Can't believe all the experts did not see the ball bounce before the so-called catch of Strauss. He was given not out because the ball bounced before it went into the fielder's hand. Simple and stop making such a big deal about it. The ball clearly bounced therefore it's not out. Get over it and move on. Billy Bowden does not need any lense cleaner, he saw what I saw. Good call, Billy!
Posted 10:58 28th January 2012
John Buxton says...
Hi Why atfter every ball bowled from the Pakistan spin bowlers do we have to put up with a shout scream or whatever, it must be a put off for our Batsmen it should be stopped. It is getting as bad as tennis. John BUxton
Posted 10:32 28th January 2012
Sue Garbett says...
Watching England v Pakistan, thinking of switching over and watching Sharapova in the Australian Open Womens final as she may be less noisy and less irritating than the Pakistan wicket keeper. Why does he have to be so vocal on practically every ball bowled.
Posted 10:04 28th January 2012
Nick George says...
Firstly could you please please ask the Pakistan commentator to stop his constant comments and let us concentrate on the match. All my friends now have to turn off the sound when he is commentating and it ruins the viewing. Second can you please inform me why some of the Pakistan fast bowlers are not warned for running on the pitch after their delivery after Broad seems to be picked up by the umpires? Is there a law against having fielders so near the batsmen that they cast a shadow across the pitch. Finally was Ajmal overstepping the line when he got Pieterson out? Thanks
Posted 10:53 27th January 2012
Chris Bailey says...
Would the DRS have picked up that Hafeez had bowled a no ball when Cook gave that half chance earlier to forward short leg? The no-ball review is side-on - does it check down the wicket as a routine?
Posted 10:12 26th January 2012
David Littlejohn says...
Hi Bumble It really annoys me when test cricket is dying on its feet that the authorities schedule two cracking test matches (pakistan v england and aussies v india ) at the same time then we have weeks with no cricket to watch at all !! Doesnt make sense. P.S still think my idea of making the non facing batsman look out for no bowls when d.r.s. is used as even if the guy is castled you would win on appeal if his partner has been watching .
Posted 19:02 25th January 2012
Bruce Duffett says...
Quite agree Bumble, Was lucky to be at the first test (whats worse purchased tickets for all 5 days before hand) and England were poor with the bat. Why no Monty ? that aside the bowlers played well. You are right no one to knock but I still do not understand our South African friend, again very poor in the bat, while warming up did not seem intrested at all Still only my opinion, spot on with beer prices, do not justify any prices at all food included.Taxis cheap though, had to be to get out to the ground as well as waiting an hour and a half each night to get back to Dubai. (should have gone to Sri Lanka) that aside Pakistan were excellent and were up for the game and enjoyed 3 days of cricket with a bit of sun.England section, god was it cold all day long. See you soon .
Posted 08:08 25th January 2012
Mohammed Sadiq says...
Please David, tell Mr Willis, not to be jealous of Pakistan,s success over England. Not to look for negatives towards Pakistan cricket team.
Posted 18:35 24th January 2012
Les Wilson says...
Bumble, you're obviously drinking in the wrong places at 8 quid a pint mate. Try the Red Lion or the Jebel Ali club where its only 4 quid...
Posted 16:30 23rd January 2012
Ali Khan says...
hi bumble you are a legend mate its disappointing that suddenly last year no one question ajaml action in county cricket or wors cc now its a problem i think bit of sour grapes icc clear ajmal thats then end stop going in media and put preasure on icc so a player gets susspendid its unfair its a art bowling a dosra if a ausuie eng india bowler did it i dont think there will be to much said and how about this england team is not completely english zim coach couple of saffer take them away from england what will the team do
Posted 12:42 23rd January 2012
Bumble Your a legend says...
Bumble your a legend
Posted 12:09 22nd January 2012
Abid Ali says...
David I really like you. You always give comments that are free of biased. Good work. It will be good cricket in gulf. I hope that there will be no controversy.
Posted 05:22 22nd January 2012
The brigadier The brigadier says...
david get it down your neck because for every 1 you have there i can have 3 here!!!
Posted 21:34 21st January 2012
Sudhir Giri says...
Well written article sir. Is it a joke or bane that the #1 test team looses badly outside the home pitches ? Felt(still feeling) the same way when Eng tormented India during this summer. Does being #1 always puts pressure on the team's performances ?
Posted 20:35 21st January 2012