I've really warmed to the Olympics.
I wasn't really switched on at the beginning and I missed the Opening Ceremony but the whole thing has definitely grown on me.
The biking, in particular, has been excellent while Athers said that the women's weight-lifting was absolutely brilliant!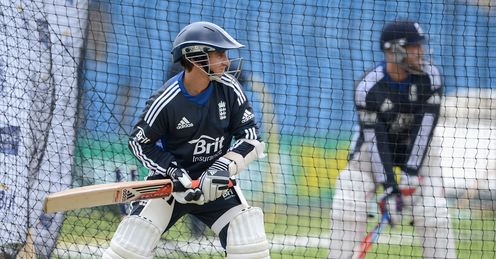 I've also enjoyed the swimming, canoeing and show-jumping; the venues are world-class and it's obvious that a lot of thought has gone into the whole thing.
However, the 'empty seat situation' rumbles on. I just can't wait to see who has got tickets for the 100m final...
The 'cheaper' seats and the parts of the cycling route where you don't need a ticket to watch - areas that are truly for the people - seem very well populated.
England are certainly capable of coming out of this series very well - and they've got two more Tests to prove it - but they've got to show a lot more mettle with the bat.
Bumble
Quotes of the week
LIVE ON SKY SPORTS
England v South Africa
10.30am, Thu, Sky Sports 1 HD
Watch on the move with
Sky Go
How to
remote record
It's a mystery how they can explain away so many empty great seats. However they do it they've got to fill them...
Intelligent
As of Tuesday lunchtime there were a few tickets remaining for the first two days of this week's second Test.
I've made a few trips to Leeds recently and I'm looking forward to going back.
It's a good pitch at Headingley - forget the idea that it's going to seam all over the place; it's a good pitch and it will seam at the end.
By picking James Taylor in place of Ravi Bopara, England have all but bypassed Jonny Bairstow who can consider himself unlucky.
I've only seen Taylor in one-day cricket and while he's played very well in that, this is a Test match.
I wish him well - he speaks very well and looks an intelligent kid - and I just hope that anyone who has been talking him up has seen him perform in four-day cricket.
Please don't judge someone's Test potential on what you see in a Twenty20 of 40-over match.
The selectors clearly like what they see but they've done it before with Stokes, Patel, Morgan, Bopara, Bairstow and now it's Taylor's turn. Number six is becoming a problem position for England.
Mettle
Much of the spotlight has been on England's failure to take 20 wickets at the Oval.
Well, hang on a minute.
The batters should have got 500 on the board first up, especially from 271-3, because the South African response was 637-2!
Rather than point the finger and say 'the bowlers can't do this, can't do that', the batters should have made use of a great pitch and the Test should have ended in a stalemate.
England are certainly capable of coming out of this series very well - and they've got two more Tests to prove it - but they've got to show a lot more mettle with the bat.
Like 'Fred' Boycott says, you've got to dig in at Headingley.
These are two excellent teams. One steam-rollered the other at the Oval, so you'd expect a quality team to bounce back pretty quickly.
The first innings will be crucial for both sides as South Africa look to continue their excellent form. They played brilliantly in the first Test - there's no other way of putting it - but they have a potential problem with the stand-in wicketkeeper AB de Villiers.
If England get into a decent situation and they depend on a crucial catch, I'm not convinced de Villiers will take it. The bottom line is he's a brilliant batsman but he's not a frontline keeper.
Over the course of a series, keeping wicket will take it out of him.
Difficult
I was at Old Trafford last night to cover a CB40 game between Lancashire and Gloucestershire.
The groundstaff hadn't been able to prepare the pitch as they would like, which was understandable because of all of the recent bad weather.
There were some good performances, notably from Gloucester's Ian Cockbain and Lancashire's Karl Brown and Paul Horton.
Those three players showed that you've got to stay in to work out how a pitch is going to play. There's no use having a slog and getting out.
You've got to find out how to deal with the pace - or the lack of it - and the variable bounce; you can only do that in the middle.
Some of the other batters struggled like mad, while I was alarmed at the standard of spin bowling, particularly from Gloucester.
That's an observation rather than a criticism and to balance it I'd say that they were young spinners who will realise that they could have done a lot better on what was a big spinning pitch that was 100 per cent in their favour.
But there was very little control or consistency on show. They were just turning round, running in and bowling, turning around, running in and bowling rather than stopping to think about what they were going to do.
They didn't control their emotions and thought strategies and I'd expect them to learn from that and improve for next time.
I know that the art of spin bowling is difficult. John Emburey, who is a good pal, said he didn't know anything about spin bowling until he was 27 and he'd been playing for England for three years...
Thrilled
Finally, I'm pleased to report that the bearded dragon lizard found in my garden is back with its owners.
They'd lost it for six weeks so they were thrilled to get it back.
It went to the vets, then the RSPCA and then onto Crocodile Joe - a chap who rescues distressed reptiles - who managed to get it back to its owners.
So it all turned out well in the end...
Comments (2)
Matt . says...
Bumble, harsh and incorrect to suggest Taylor has been called up based on his one-day ability. The guy averages a shade under 50 in first class cricket with 13 centuries. For the Lions, he averages over 60 in the four day format, regularly captaining the side of the past year showing the faith that management have in his ability. He made a ton for them earlier this season and his 70-odd against Sri Lanka last year was considered to be a better knock than Morgan's 193 due to the conditions. He also has several double tons to his name so understands about building long innings and making "daddy hundreds". So as to your point - anybody who has followed him in the four day stuff will know he is a fine young player who hopefully has a long Test career ahead of him.
Posted 21:25 31st July 2012
Yesno Wait says...
I've a feeling James Taylor will work out fine. He's got a bucket load of wickets in the four day game and with a bit of luck he'll come into the game with plenty of runs already on the board. The pressure won't be on in this his first test, he'll play in the next one and hopefully keep his spot for India. That will certainly be a test.
Posted 20:31 31st July 2012