So I've had a couple of days at home and now it's back to London for another salvo.
I've been up to my local golf club for a couple of rounds and the blokes were all staggered: "What flight did you get back on?"
They didn't seem to believe me that we were doing the commentary from Sky Studios in West London: "The game's in India," they told me.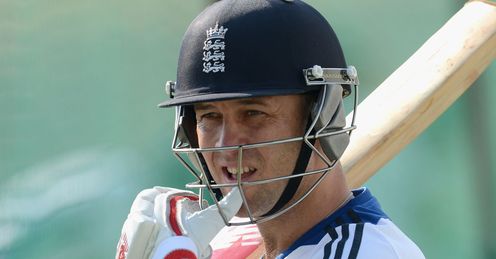 I couldn't be bothered to explain.
Like I said at the beginning of this series, we're determined to make this as seamless as possible for the viewers, so I hope that's been the case. There's no getting away from it, there's nothing like being at the venue but things have been fine so far (the blokes at the golf club haven't noticed anyway...)
I've been up to my local golf club for a couple of rounds and the blokes were all staggered: 'What flight did you get back on?'
Bumble
Quotes of the week
I must admit I've found the timing demanding. I quickly figured out that 3 o'clock in the morning is not my time of day!
It's been very peculiar waking up in the middle of the night and finishing at midday. I've figured out that the best thing to do is to go to sleep as soon as I get back to the hotel after the close of play, then get up for a bit of dinner, and then go back to sleep again.
But there's no doubt that it was odd to have a 5.30am fry-up in the studio, only to get the train back at 10am in time for yet another fry-up because it was still breakfast time at the hotel.
And I must remember to set my alarm for 2.30 in the MORNING this week after a rude awakening last Friday...
Pushing on
I'm looking forward to a better performance from England in the second Test.
I would like to see the team freshened up. Alastair Cook has played well, but he's been trying to drag the team along and I'm concerned that the top three are all playing at the same pace.
Cook, Nick Compton and Jonathan Trott can tend to be a bit static and you need some impetus; somebody to push things on a bit. Kevin Pietersen is potentially the man to do that at number three as the team's most explosive batsman.
Trott has been short of runs - he didn't really fire in the Emirates or in India - and one option would be to give him a rest.
The other option is to open with Trott and leave out Compton because that would retain some experience and allow Pietersen to perform at number three.
By bringing in Jonny Bairstow and Eoin Morgan we could freshen things up down the order and I would expect to see Monty Panesar come into the side to share the spin bowling duties with Graeme Swann. I would use two seamers in short, sharp bursts to provide the firepower.
The team is one down in the series, but the key to winning in Mumbai will be to win the toss, then bat - and bat well.
In the runs
Finally a word on the Australia-South Africa series.
I've been staggered at the way the Australians have piled the runs on. David Warner scored a century and the ever-dependable Michael Clarke and Michael Hussey have been right in form. We've seen nothing yet from Ricky Ponting, so he needs to be careful.
They've exposed South Africa's attack. If you get rid of Morne Morkel and Dale Steyn then there's nothing else. Vernon Philander is not playing and they really seem to miss him. It looks as though it's a two-man attack.
But fair play to Australia for piling the runs on yet again, particularly Clarke who has just scored his fourth double hundred of the year.
It's fairly ominous for England ahead of next summer. We need to find a Clarke or a Pujara to hit those big double hundreds in the England team.
See you bright and early on Friday!
Join Bumble and the rest of the Sky Sports team for the second Test, which starts at 3.30am, Friday, Sky Sports 1 HD
Comments (3)
Joe Newman says...
Bumble, can you please explain to me the thinking behind picking Broad for this test match. Broad has always been a fast bowler who gets wickets by being aggressive and due to his height being able to get steep bounce off a good length. The trouble is he`s no longer a fast bowler, he`s lost at least 10mph of pace. He`s like a heavyweight boxer who has lost the ability to punch.
Posted 11:22 23rd November 2012
Stuart Turner says...
Aren't India cheating by using a worn pitch for the second test? With 15 spinners in their side, it's a bit like using loaded dice. Surely there are standards set for test match pitches??
Posted 09:38 23rd November 2012
Steve Beckhurst says...
Surely, Bumble, we already have our Clark/Pujara in Alastair Cook. I think the time might be approaching when a change at the top will be needed. Andy Flower has done a fantastic job in getting England to No1 in the world. But since that, it has been a slippery slope....Little things like lax fielding, dropped catches, rash shots, inconsistent bowling seem to be creeping into the England performances now where as when Flower first took the reigns these lack lustre performances were not tollarated. Have things become just a bit to cosy between the management and the senior players?? As Ian Botham says...it seems almost impossible to get dropped from the team...
Posted 20:28 22nd November 2012