I love Prizefighter and I loved Martin Rogan's story in winning the first one, but I have got to say this is a step too far for him.
Barry Hearn's idea is great; it's an excellent domestic tournament, but the emphasis is on domestic there.
The guys involved mainly tend to be of the same level and when we do get one with British, European and Commonwealth title experience in there, they usually prove too good - as we saw with Tony Oakey.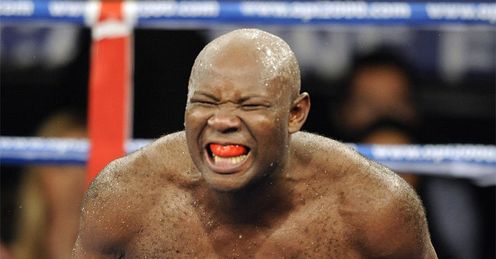 And that is where Matt Skelton is at. He is big, rough and tough and although he is relatively knew to the sport, he is experienced. He has that martial arts background as well.
He has also been in with some big names. He might have lost to Ruslan Chagaev for the world title but he has been in with Britain's best heavyweights as well.
Gifted
He might not be the most technically gifted fighter but he is a big lump and he will wear you down.
If he is going to have any success - and I just can't see it - Rogan needs to get inside and when he is in there, work like Hell.
Johnny Nelson
Quotes of the week
SKELTON v ROGAN
Commonwealth heavyweight title

DEGALE v TCHILAIA
4 Rnds Middleweight
GAVIN v KADARIA
4 Rnds Light-Welterweight
SAUNDERS v MOLNAR
4 Rnds Light-Welterweight
Live on Sky Sports
10.00pm, Sat, Sky Sports 1
Sadly for Rogan, I think he is made for him. From what I've seen the man from Belfast would prefer to have a scrap, but that is playing right into Skelton's hands.
I don't see him boxing him and the last thing he wants to do is change his style, and that suits the champion down to the ground, every day of the week.
If he is going to have any success - and I just can't see it - Rogan needs to get inside and when he is in there, work like hell.
Vulnerable
He cannot hope to get there and tie Skelton up, because he just isn't big enough. He needs to try to subdue the shots he throws and maybe grab on the outside, but he has to be busy. And then he has to get out.
He might be crude, but he's not bad close-up. If Rogan stays in range and isn't making Matt think and try different things, he will be vulnerable, particularly to the uppercut, which is a shot I can see doing plenty of damage.
Sheer physical advantage alone points to Skelton, and unless something untoward happens, I can't see there being a new Commonwealth champion, I'm afraid.
Sadly though, this will probable be as good as it gets for Matt. He's had his crack at a world title and he came up short, and I just can't see him getting back there.
It's no secret I am not exactly his biggest fan, but you have to admire him because he is rough, he is tough and if you let him, he will beat you up. I think he'll break Rogan inside eight rounds.
Comments (3)
Steve Stafford says...
I agree Skelton will pick him off and break him down late in to the fight. Skelton won't probably get any nearer to another World title shot as the Klitschko's hold 3 belts between them and he as already lost to the WBA Champion Chageav who as face the Champion recess Nikoli Valuev by June this year. Matt can still make good money defending his Euro belt and get some good fights bringing through the next crop of fighters such as Fury, Chisora and Price when they get to that level in 2 or 3 years.
Posted 21:26 26th February 2009
K Lam says...
Skelton is a terrible boxer, an it is a shame that he is currently Britain's best. aside from Haye. We have kept hearing for the last few years that the world heavyweight division is one of the weakest and is an ideal time for Danny William,Audley Harrison,Matt Skelton to become a heavyweight champion.....several years later not one of Britain's heavyweights has made even a small dent into the "weak" world scene.......and let's face it Skelton only got his title shot coutesy of Warren selling the fight to Chaegaev who was coming back from illness and was reluctant to fight any boxer that posed him any real threat. Based on merit alone Skelton wouldn't have gotten a title shot, and let's face it his performance against an under par Chagaev didn't exactly excite anyone in the wider boxing world seeing Skelton for the very first time. They must be bemused as anyone that the country who recently produced Lennox Lewis and to a lesser extent Bruno before him could only manage to produce Matt Skelton to represent Britains best boxer on the world scene.......What a joke! As for the Skelton Vs Rogan fight.......who really cares since neither is going to make any impression on the world scene. Rogan believes he could become a world champion.......give me a break!
Posted 18:03 26th February 2009
Dave P says...
I'm hoping Rogan will out work him on the inside, I've had enough of watching lazy British heavyweights pawing out a jab and throwing the occasional weak power shot just to keep the ref off their back. We seem to show no desire, power, guts or the want for the spoils and glory then we put jokes like Harrison on pedastools. When will we find someone who accually wants to fight and not stop fighting as hard as they can in the face of adversity and make the nation proud?
Posted 16:43 26th February 2009