Retirement is the only option left open to Ricky Hatton.
He has achieved everything he wanted except becoming pound-for-pound number one in the world and he has failed twice at that - the second time miserably.
That is going to have a huge affect on Ricky, it is going to make a huge difference to his determination and his reasoning.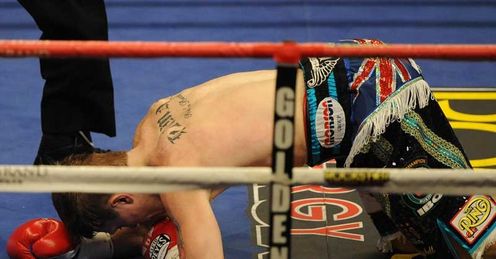 That hunger cannot be there any longer and that will tell when he has to get in shape. He doesn't mind putting on the weight of course, but is another thing taking it off when you have lost that one thing that kept you going.
Floyd Mayweather Jr is now back, Manny Pacquiao is the number one and Ricky now knows he doesn't have the beating of either.
Even sat here in the UK watching the preparations you could see they were all wrong. Not only did they overlook Pacquiao's strengths, they didn't even get Ricky right. The one thing in the gym that gives your sharpness is padwork, yet there was Mayweather Snr working orthodox pads.
Johnny Nelson
Quotes of the week
HATTON-PACQUIAO
Full fight replay
10.00pm, Friday, Sky Sports 1
Of course he does not want to go out on a performance like that, but what fighter does? And what other choice does he have? Who is there left for him to fight?
People are talking about one last swansong back here in England, but the only fighter out there he could possibly go in with is Junior Witter - and he's fighting for a world title in July so that is not going to happen.
It is time to call it a day. Ricky pretty much said before the weekend that he would do so if he lost. He has so many other interests outside the ring that he can hang up the gloves, look back proudly on what he has achieved and console himself with the fact that his only two defeats have come against the very best.
Powerful
I always thought Pacquiao would be too quick and too powerful for him, but I didn't think I would be proved right inside two rounds. But it wasn't hard to see what went wrong.
I don't think Ricky was reckless. It was just nervousness. And it is not the first time we have seen a fighter do just what he did. Remember Steve Robinson against Prince Naseem Hamed. Steve made the same mistake thinking he was too big and too strong and had to win the fight.
The first time he got hit by Naz, it shocked him, stunned him completely - and that is just what happened with Ricky. People will say 'why didn't he back off after the first knockdown?' - but he couldn't. He was supposed to be the bigger man, the stronger man, the gameplan was to bully Pacquiao.
So as soon as he got hit, he couldn't deal with it. It wasn't supposed to be that way and you could see the look of bewilderment on his face. That is why he charged back in, desperate to prove what he thought he could prove and stick to the gameplan.
That gameplan though was flawed. It is one thing working on your own sharpness, your own game, but the one thing you cannot afford to do is ignore the guy in the other corner. Hatton's team, to my mind, showed a complete lack of respect for Pacquiao's speed and power.
Hustler
I have never been a fan of Floyd Mayweather Snr, so sadly it didn't come as a real surprise. In my opinion he's a hustler and a charlatan and it's all about him. Turning up late for training, claiming himself to be the best in the business. He even turned up late for the fight!
Even sat here in the UK watching the preparations you could see they were all wrong. Not only did they overlook Pacquiao's strengths, they didn't even get Ricky right. The one thing in the gym that gives your sharpness is padwork, yet there was Mayweather Snr working orthodox pads.
It sounds so obvious that it can be missed, but that is the first place you start preparing for a southpaw. You need more than left-handed sparring partners. You need to concentrate on your footwork, you need to distribute your weight properly and Hatton clearly hadn't done any of that. Watch the fight again on Friday night and you will see Hatton's early jabs flying to Manny's left-hand side.
The gameplan seemed all about Hatton's power and in doing that they took away his speed. When you lose speed - and Pacquiao was always going to be quicker - you struggle. And when you struggle you panic, start to jump in - and end up in trouble.
Watch Pacquaio's padwork again and you will see what we saw in the ring. That roll out to the right and the left hook; we saw him doing it time and time again and surprise, surprise, it was a left that finished the job off. He had done his homework, he had prepared properly.
Genius
It helps that Freddie Roach is an absolute genius. He knew Ricky would make the mistake in thinking he could bully Pacquiao, he knew he would leave himself open trying to do just that and he knew he had the fighter to follow the plan to perfection. Freddie Roach did not overlook what the other guy was bringing to the table.
Take nothing away from Pacquiao, though Anybody that knows me knows I love Floyd Mayweather Jr to bits; I think he is the best fighter I have seen for a long, long time. But I will say this now: Manny Pacquiao will beat him.
When Floyd boxed Ricky he had to ride the storm for two or three rounds before he could control the fight and calm Ricky down - compare that to Pacman the other night. He was sharper, faster, stronger, from the first bell. And although he only needed two rounds, we know he can keep that up for eight, nine, 10 rounds.
Mayweather has never fought for three minutes of every round, but look at the Oscar De La Hoya performance - against who Mayweather also struggled late on - and we know Manny can. He will knock Mayweather out, I will say that now. If Mayweather doesn't get himself disqualified that is the only outcome I can see if these two meet.
Hopefully by then, Ricky Hatton will have his feet up and be watching it as an ex-fighter, who took on the very best but sadly for him, came up short.
Is Johnny right? Does Pacquiao beat Mayweather? Let us know your views by filling in the feedback form below...
Comments (23)
Martin Johnson says...
mayweather is no ricky hatton hes a thinking fighter who all his boxing life has hit and not got hit he will out think the pac man by standing off him and striking like a cobra he would be happy with a convincing points win and that what i believe he will get from that fight
Posted 20:20 10th May 2009
C Man says...
Hatton will leave behind a brilliant career where he made the best of what he had, fighting the best around his weightclass. Hatton Mayweather was a classic, i don't care who won. I think Hatton was always going to fight one way and you need to be able to think and adapt at the top level. He is a great boxer to watch and it will be sad to see him go now he has nothing else to achieve. A few million in the bank is not a bad consolation for two superfight losses! On the potential Mayweather Pac-Man fight, the De La Hoya Mayweather fight was close and Freddie will want to beat Mayweather more than ever after falling short that time. I think Freddie has the best chance of beating Mayweather now with Manny. Let's not underestimate Mayweather's defensive ability though and Mayweather senior is right, boxing is about hitting and not getting hit. I expect Mayweather to beat Manny on points.
Posted 10:16 9th May 2009
Chris Foster says...
Firstly, Hatton IS one of the best boxers to come out of the UK, he took on the best three figthers of his era and approximate weightclasses in Tszyu, Mayweather and Pacquiao - he beat Tszyu but just couldnt get close to the other two. To say Pacquiao will KO Mayweather though is a comment of the highest stupidity. Mayweather has one of the best defences in world boxing, he wont get hit like Hatton did, plus he is so precise with his own punches, that Manny will need to be able to take a punch. Mayweather is the master, he may not have won all his fights in the style that he'd like, but he has the ability to do what is needed to get the win. Pacquiao will not beat Mayweather, full stop.
Posted 01:00 9th May 2009
Gari Jones says...
So wrong Trainer, wrong tatics, wrong frame of mind and Hatton was reckless, listening to all these it seems Hatton was doomed for failure against Pacquiao as soon as the fight was made. Three questions need to be asked and they need to be answered. 1. Should Ricky Hatton retire after that incredible loss? 2. Who will Hatton choose as a trainer now that Mayweather looks likely to be ousted from the job? 3. What opponent is thier for Hatton to realistically challenge? 4. What wieght is correct fo hatton now? 5. What personal changes does he need to do to himself? My answers and I'm sure many of you have different answers and questions of your own. 1. 50/50 on this yes he should retire theirs not really much more out thier for him, and No he's only 30 remember he clearly was'nt the Hatton we know that night. 2. My choice for Hatton would be Freddi Roach at the Wild Card gym he can make Hatton a more technically gifted fighter and improve on his defensive game but who knows. 3. depends what weight he chooses thiers talk of Witter or Khan might be a good challenge for him, but might be a good idea for him to go in at 147 pounds Mosley, Cotto etc 4. Is he still able to cut it top level at 140 pounds or can he step up to 147 he has shed as much as 15 - 20 pounds before he cut wieght at 140 that does affect your stamina and sap your strength 147 might be easier to cut to. 5. Realise he cant keep drinking and eating the wrong foods, maintaining your health and fitness is what he should do.
Posted 00:46 9th May 2009
Trev P says...
All this is nonsense about Pacquaio being a Warrior because he's beat Hatton and De La Hoya in his last 2 fights...don't forget Floyd Mayweather in 2007 did exactly the same and also back then Hatton and De La Hoya were in better shape than they are now. Hatton was unbeaten and De La Hoya gave Mayweather a scare, but did they beat him? NO and why didn't they beat him, because he's to clever and adapts to fight different styles, Manny is a great fighter but he beat Hatton 15 months after Mayweather and it's because of Mayweather that Hatton's style was exposed. So forget all this nonsense, Manny is not on Mayweathers level.
Posted 16:08 6th May 2009
Harry T says...
i think it be presumptuous to say say that Pacquiao would knock out Mayweather based on Saturday night. Yes, he has the power to and even the skills to, but mayweather has the defence to be able to cope with it. And the thing that sets Mayweather apart from any other fighter is his defence and his in ring ability to adapt and change. You're talking about a fighter who outclassed a fast, powerful, unorthodox southpaw in Zab Judah and was never really in trouble. although manny is rightly top of the pile in the pound-for-pound list, Mayweather is an all together different class of fighter. It'll be a close fight that i would seeing going all the way - Mayweather is too ring smart to make the same mistake Hatton did and it being Mayweather, he will be more than ready for pacquiao once he gets past Marquez.
Posted 14:28 6th May 2009
Andrew Davies says...
Ive always said I dont believe anyone can beat Floyd Mayweather over 12 rounds but Manny Pacquaio has sure put a strong case forward for me to change my mind. Would be a superb fight!!!
Posted 14:11 6th May 2009
Tim Jackson says...
My first thoughts that Ricky would and should retire, I still think he should but now i am not so sure he will. I could see one last fight against Junior Witter, especially if Witter does become World Champion in July. I think Witter would jump at the chance to fight Hatton towards the end of this year. Hatton clearly does not like Witter and it could be the only way to one last look at a hungry Ricky Hatton. As for Mayweather jr v Pacquiao, its a very close call for me. I would be tempted to go Mayweather on points but f Manny catches him with a shot like he caught Hatton then its good night.
Posted 11:51 6th May 2009
Jed Morgan says...
Yes manny destroyed ricky, but floyd is in a class of his owm. Mayweather is to hot to handle and in my eyes is one of the best boxer ever and manny going to relise that
Posted 04:16 6th May 2009
Adrian Ross says...
spot on article. it really summed it all up. Ricky has egnited british boxing, fabulous entertainment, going to really miss him. The hitman fights are such a blast I get really exicited for weeks prior to it. But wow wasnt pac man amazing. I think he can beat anybody in the 140/147 division. I would love to see him beat up FM jnr. Well done Ricky we still love ya
Posted 02:39 6th May 2009
Jonathan Jackson says...
I don't think manny will knock mayweather out, mayweather is a different class. You will eat those words johnny
Posted 00:23 6th May 2009
John Gomez says...
problem with pacman v mayweather fight is it's gonna be boring because mayweather's just gonna run around the ring dancing runnin,hopping like ali style.he doesnt like to get it on afraid of messing up his face.but te pacman should be a handful for him.and eventually knock him out .
Posted 23:14 5th May 2009
Chris James says...
I was gutted seeing him go down like that and angry, but he cant go out on that performance. He still tried his heart out in the second round after the knockdowns and went for broke. He is still a better fighter than the alphabet champions by a mile and would have the beating of Witter on any given day. Have one more fight back home preferably against Witter for the WBC Title (assuming Witter wins) then call it a day. Which would be a sell out without doubt. He will always be a legend for the support and heart he has given. Thanks Ricky
Posted 23:06 5th May 2009
Michael L says...
I think Floyd Jr will just edge it, he's not gullible enough to go in there and try and intimidate and bully Pacquiao which is the mistake both De La Hoya and Hatton made. Marquez showed Pacquiao is beatable, Mayweather will keep his patience and outclass him
Posted 22:24 5th May 2009
John Rees says...
The knives are out for Ricky hatton agen! suggestions he didnt deserve his placein that ring on saturday night! U dont win 6 world title's by not beating any1 good! and u certainly dont get into the top 10 Pound 4 Pound fighters in the world, in the most prestigeous boxing magazine that is recognised by having world titles attached to it, if u havent beaten any1 good! Tsyzu- Great win, Malignaggi- emphatic win, Castillo, who went the distance with mayweather knocked out inside 4 rounds, Juan Urango,who is fighting 4 another world title in 3 weeks- won 10 out of 12 rounds! and then lost to the very best 2 fighters of our generation, where is the shame in that!! Muhammed Ali lost 5 professional fights, people nowadays call a fighter average if he loses 1!! he's 1 ov britains greatest champions ever! I could only wish to have the heart of Ricky Hatton and i hope he gives us a goodbye fight here in the UK! What a true credit he is to boxing, to sport and a true role model!
Posted 19:15 5th May 2009
Niall Woods says...
That was an awful performance. It could not have been easier for Manny. Why did he keep charging in, especially after the first round. The 2nd round was good, he matched Manny and got some good shots in and backed him up. Why then stand in the middle of the ring with your hands down, both hands were waist height when the knockout punch came through. Ricky needs a good few months or a year off to get his head right mentally and maybe get back into proper training and serious sparring and get some proper educated opinions on whether he has a chance at challenging for the p4p again. We have seen him box very well before, Malinaggi, Tsyzu, Oliveira, Pep. The KO power punch against Castillo (a very tough fighter never KO'd before, only tko'd) Why cant he be thought to use these skills? He looked sharp in the 24/7 shows. He was fast and on his toes bouncing in and out and had good hand speed at jabs. Manny had no choice but to throw haymakers after hatton turned it into a brawl from the first bell. He was hardly going to let himself be pushed into the ropes and risk taking body shots from hatton which would have been devastating to him. He even said this after the fight about hattons left hook. But the way he was throwing it in the fight was totally amateur and not like a champion. His mindset must not have been right, obviously something happened in sparring / training that possibly resulted in the plan of charging in. I just cant help feeling that a proper trained ricky who doesnt commit first and stays behind his jab with patience could have made this into a much better fight. People were talking about hatton loosing steam later on and loosing the fight this way, he wasnt even out of breath after the malinaggi fight. Because he boxed and relaxed himself. Boxing needs Hatton, and he needs some proper guidance. He is only 30 and has plenty left in the tank. Mayweather is back at age 32, Mosley is amazing right now at 37..
Posted 16:22 5th May 2009
Conor Mcenoy says...
I dont think Ricky should retire at all, hes still only 30, and is still a world champion in my eyes, hes a genuine title challenger at 140 pounds, in his 2 defeats he has been beaten by argubly the best 2 fighters ever in pacquiao and mayweather jr. so theres no shame in that. why can he not carry on and win a few more world titles against lesser fighters but fighters that are world champions and that ricky is well capable of beating. all this talk of retirement is nonsense that hes made his money hes gave the fans what they wanted, if he wants to fight he will fight. i'm sure hes hurt deep down after the defeat at the weekend, but what makes you a better fighter is how you respod to it and how you come back from it, look at de la hoya he was beaten 6 times but still came back to win world titles against possibly lesser fighters than who he was beaten by, so theres every possibility that ricky can come back and challenge for another world title of some sort. i hope he does i love watching ricky fight, hes a real peoples champ and a truly nice guy. i hope to see him back in the ring in the future.
Posted 15:02 5th May 2009
Steve Doubles says...
Its very interesting to read that a few of the pundits are saying that ricky's coach is the main reason why he lost.....does that mean that if ricky had the right training and guidance, would he had then beat pacman??? if so who is the right coach for him, it can't be roach as he is in pacman's corner, then who is??? i would love to see the Hitman come back and redeem himself....he will always be a legend, but he will not want to retire like that!!!!
Posted 14:26 5th May 2009
Stephen Maher says...
I can t remmember ever seeing ricky look so bad . He really looked like he had never fought before walking forward with head held high no guard at all .Does the big stage cause ricky to be disracted ?? all the lights and camera's ect you would think he never heard of pacman the way he fought . I am shocked at how easy it was for pacman but then its not hard to tee off on somone with no defence who is charging forward in straight lines i have enjoyed all ricky's fights and im a big fan but i dont think he could go on after that display he just was not in the fight (sadly)
Posted 14:01 5th May 2009
Kashif Sheikh says...
I partially agree with Jonny's comments - I'm no boxing connoisseur but the Hatton camp were making the right noises before the fight, several pundits even fancied Hatton for the win. Mayweather Snr is a show man but I don't think he's as bad a trainer as is made out here. Hatton went all in for a brawl with no defence, he had no movement, no jab, no guard; and these were the things that Hatton had apparently acquired. With regards to Mayweather Jnr getting beat by pacman, I'm not too sure about that either. I think it'll be a closely fought. Mayweather is an intelligent boxer who hits but doesn't get hit, Pacquiao will inevitably hurt him but to what extent? - It will definitely be an intriguing and could go either way.
Posted 13:50 5th May 2009