The simple fact that Audley Harrison has been holed up in Big Bear training for this fight tells me he will come out all guns blazing.
You'll have seen the shots on Ringside and Sky Sports News and it clearly a spectacular place.
But believe me, it won't have been fun. But the simple fact that Audley was there shows me he means business. These camps do not come cheap, so if he didn't think he could beat David Haye, why would he spend all that money, so much of his purse, on his preparation?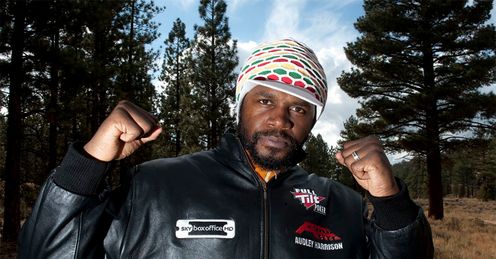 David Haye of course, is staying in London and you have to say that works for him. But when I saw him mocking Audley and his axe, I cannot help but think of Naseem Hamed.
When Naz boxed Marco Antonio Barrera he stayed in Bob Hope's house. He had the pool table, the swimming pool, all the trappings.
I remember he was making his own documentary for the biggest fight of his life and he looked up to the mountains, where Barrera was training and turned back to the camera and said, smiling: "He's up there training and I'm down here."
Up in Big Bear, there will have been nothing for Audley Harrison. It will have been be horrible. He has taken himself off into the wilderness and believe me that camp will have been boring, monotonous. It will have been Groundhog Day every day.
Johnny Nelson
Quotes of the week
He was mocking Barrera for where he had put himself. But all the while the Mexican was training hard and preparing properly - and we all know what happened when the fight arrived.
Now I am not saying for a minute David is anywhere near where Naz was, but the simple fact is in London, those distractions are there on his doorstep. Whether or not he takes advantage of them - and I don't think he will - doesn't matter. They exist.
Up in Big Bear, there will have been nothing for Harrison. It will have been horrible. He has taken himself off into the wilderness and believe me that camp will have been boring, monotonous.
It will have been Groundhog Day every day: get up, jog, come back, train, come back, eat, come back, sleep, come back. Day after day after day. But all will have thought about is David Haye.
It doesn't mean he will win this fight because of it, it just means he has given himself the best possible chance. He should be fit and focussed when he comes back to England this week - and I hope for his sake, he hasn't wasted his money.
I hope he has been working harder than ever before because this is his big chance. And I hope he has been making the most it because so often in the past he has flattered to deceive. On more than one occasion.
The fact that you're in Big Bear suggests you should not be cutting corners. If I was Audley's trainer I would have had him sparring hard. And I would have had three sparring partners and used them all in the same round - a minute each.
That means Audley will have had to work hard for three minutes of every round. Because he's so tall and lanky it's easy for him to labour for a bit, backpedal for a while in each session, and in the past that has been his mistake. If he wants to beat David Haye - and he keeps telling us he can - he might well have to box like he's never boxed before.
I hope he has worked like a Trojan up in those hills, not only because of the money he's invested, but because so many times in the past he's said one thing and ended up doing the opposite.
Comments (2)
Matt Onlee says...
Audley is probably more serious in his preparation for this fight than any other since he started as a boxer, so he should as this is his one shot at the dream a heavyweight craves. He has given himself every chance and as heavyweight boxing goes, he has a puncher''''s chance. I have follow david''''s career since his early pro days and knew he was a great talent. When he was beaten by Thomson I was shocked as i thought haye would blow his away being an old 40 years old. But tremenous credit to thomson to come out on top. For this fight.....once haye catch audley with some hurtful shots, audley will be scare and will start to run. Heard david will weight at 15st 8lbs for the fight, this is so called the perfect weight to be fighting big audley. David will have too much speed, movement, power and skills for audley. David will win early, inside 3 rds by stoppage.
Posted 21:55 28th October 2010
Blacker Iron says...
Audley has been dissapointing in the past, however I was impressed with the way he won his last fight. That fight showed me that he was now ready to put up or shut up. It''''s difficult to fight through to the 12th round of a fight, especially if you''''ve been beaten and dominated all through, but to still have the believe and energy to go ahead and produce a shot like that says a lot about his capacity to keep his believe alive in the midst of adversity. As mentally fragile as he may seem sometimes, he has the equal measure in self believe and resiliense. Playing out the fight in my mind, I think David wins by knockout especially if he lands a big shot on Audley''''s chin, however Audley is a counter puncher, and tends to wait for mistakes. I beleive that Audley will put up a better performance than many expect, and if David doesnt win early, it will be Audley by knockout in the later rounds. Minus David Hayes big shot and his ability to run (as against Valuev), he does not have better boxing skills than Audley, his big shots have hidden this fact up till now. He keeps his hands down and relies on speed to get away from punches. Monte Barret put him down, and he was hurt, even though it was ruled a no knockdown. Something tells me that Audley will shock David and the world with a devastating knockout
Posted 15:30 27th October 2010