Tuesday marks the 70th birthday of Muhammad Ali, one of the most venerated sportsmen of all time.
Ali claimed the world heavyweight championship on three occasions, winning legions of fans for his bouts with George Foreman and the late "Smokin" Joe Frazier.
But his story outside of the ropes is even more dramatic; his boxing licence was revoked for four years after he opposed the Vietnam War, while his charisma and anti-racism beliefs have seen him become a social icon.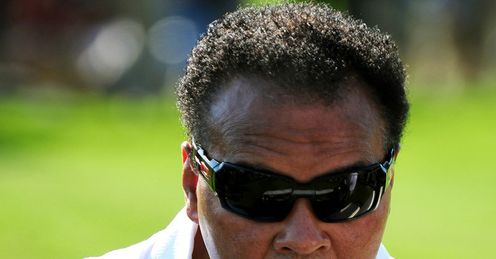 Sky Sports boxing pundit Johnny Nelson gives his thoughts on the man born as Cassius Clay and known as The Greatest...
Muhammad Ali changed professional sport.
He made it a TV business, he made it show business and he captured the imagination of people who weren't even interested in it.
You can question whether Ali was the best technical fighter in the world, but a mixture of personality, talent and bravery have made him probably the most iconic sportsman to ever set foot on the planet.
You can question whether Ali was the best technical fighter in the world, but a mixture of personality, talent and bravery have made him probably the most iconic sportsman to ever set foot on the planet.
Johnny Nelson
Quotes of the week
The main part of Ali's charm is his humanity; he's great but he's relatable.
He speaks his mind, made the most out of his natural talent and proved that anything was possible if you put your mind to it. He has influenced people from all walks of life.
We revere actors who play people like Muhammad Ali and singers who sing about people like Muhammad Ali, but we are truly able to understand Muhammad Ali; that's what makes him a hero.
Fascinating
I can remember Colin Hart, a seasoned boxing journalist, telling me when you wanted an interview with Ali, you'd just turn up at his house.
He'd pull you in and say: 'Come in and have a bit of breakfast'. He'd then gather the reporters around and tell them all these fascinating personal stories. He was a showman you could get close to.
Now if you want to speak to a sportsman, you've got to go through his agent, and his agent's agent, and then someone else so you can get in the gym, and then sometimes the boxer doesn't turn up at all.
It wasn't like that with Ali; he was a master of self-promotion but he also knew that he had to endorse the sport as well as himself. Through natural, rather than academic intelligence, and plenty of arrogance, he was able to generate so much interest in boxing.
Demigod
Ali's much-publicised battle with Parkinson's syndrome is tragic but also reaffirms he is one of us and just as susceptible to illness. A demigod on one hand, a man on the other.
If he had all his faculties intact, this man's options would have been limitless. I'm not sure he would have run for congress or anything like that, as he wouldn't be able to say all the things he wanted, but whatever he would have done, he would have done it with his infamous gusto.
You may agree or disagree with some of the things he believed in but you cannot deny the impact he made and continues to make.
He has touched everybody. Whether that be in the ring - widely regarded as the greatest boxer of all time, won the world heavyweight title three times, involved in some epic fights - or out of it - suffering for his beliefs, making a stand and challenging people's views.
He laid foundations for every other sporting icon out there today and if you asked them who their favourite sportsman was, their biggest inspiration and their biggest influence, the vast majority of them would have the name Muhammad Ali in in the mix.
Quite simply, the man was a game changer.
Comments (10)
Shakir Hussain says...
The Greatest Boxer to ever live! A Legend inside the ring and an even bigger Legend outside the ring. Always stood up for what he believed in no matter what. Put his Beliefs before Money and Fame. Happy BirthDay to Muhammad Ali and Me :-D!
Posted 00:01 18th January 2012
Nick Berry says...
A modern day Icon. He wiil go down in history with the likes of Ghandi, Mother Teresa, Nelson Mandella etc - people who made a difference!
Posted 22:40 17th January 2012
Nev Nev says...
hello johnny,i believe that ali at his best was so damn clinical.as to say he was the best ever thats always going to be debated.( i think!) my opinion is he is the greatest man ever to box, he raised eyebrows, was not afraid to question authority,changed opinions. thats what the greatest among us do.
Posted 17:50 17th January 2012
Steven Mollon says...
There is only one thing to say about this man an its legend!
Posted 15:26 17th January 2012
Arron Roberts says...
Pure legend of the sport of boxing and sport in general. take pleasure of having this amazing talent on our planet.
Posted 13:59 17th January 2012
Wesley Ekwueme says...
Could not have summed the man better. Fully deserves all the allocolades he gets and he was and in my opinion always will be The Greatest
Posted 13:14 17th January 2012
Scott Robbins says...
Alot of people misunderstand the definition of the word 'the greatest'. During the peak of his career he was the most famous face on the planet, only Mike Tyson probably achieved such a feat from the Boxing world. He made a massive impact outside the ring for positive and negative reasons, which made him such a iconic figure. My only disappointment of Ali was his treatment of the late, great Smokin Joe Frazier, which he has since apologised for. But for me, as a gifted and unique athelete, successful achievements during a highly-competitive Heavyweight era, the engaging personality outside the ring and creating political controversy, just added to the good, bad and ugly side of what made him the most intriguing and fascinating sportsperson of the 20th century.
Posted 12:23 17th January 2012
Brent Vine says...
My Grandad was a professional boxer in the 30's and 40's named Harry `Jumbo` Vine. I recall he never had much time for boxers of later years because he thought alot of them were only in it for the money. When Ali came on the telivision grandad would sit and watch his fights and would call Ali was the greatest fighter of all time.
Posted 10:05 17th January 2012
Robert Meader says...
Muhammad was The Greatest and will always be The greatest. I think people should look what he did outside the ring as well as in it. He helped so many people, he lifted you to new heights. I was fortunate to meet him in 1993, shook his hand outside Henry Coopers Gym and later on had my book 'The Greatest' signed. The man is incredible.
Posted 07:39 17th January 2012
Farook Ali says...
Simply the Greatest boxer and human being on the planet.I love Muhammad Ali more than any other famous person in any field. Muhammad Ali had skills he had courage and he believed in what he thought was righteous. Stood up to racist Americans in the 60's as well as the Government of the USA for his belief. All those who knocked him for fighting in Vietnam our now saying only if we had listened to Muhammad Ali. (GOAT) Greatest of All Time.
Posted 02:29 17th January 2012