I'm totally embarrassed by Dereck Chisora and David Haye and the damage they've done to boxing's reputation.
I watched the mindless scenes in shock and disbelief so what must the casual observer be thinking?
Boxing has worked hard to shake off its hooligan image and earn a good rap. Then his happens and boxing is on the front and back pages for all the wrong reasons. It's unbelievable.
Volatile
I'm still struggling to understand how this was allowed to happen.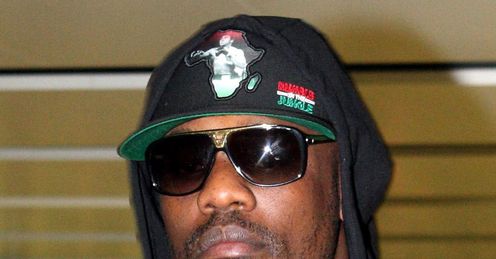 I'm not defending David or Dereck one bit but these are two young guys and they are fighters - that's what they do. You can't just blame them. If you put two roosters together there's going to be a cockfight.
Yes, they confronted each other in a volatile situation but nobody did anything. You've got to look at the people around them as well.
Dereck needs to be controlled. He needs to know that if this is how he's going to act, there's going to be consequences.
Johnny Nelson
Quotes of the week
The press conference was a promoter's dream up to that point. Dereck was sat there on the stage and all seemed well.
David may have been heckling from the back but why didn't anybody stop Dereck from getting up, taking his coat off, walking down and confronting David with a couple of his entourage?
The footage clearly shows Dereck walking around the promoters, then walking around security. Nobody stopped him.
I'm leaning towards blaming Dereck for the whole thing regardless of who threw the first punch. What would you do if you were confronted by three burly fellas who look like they want a scrap?
Consequences
Both men now have to face the consequences of their actions.
David is not a licence holder so the British Boxing Board of Control can do nothing until he applies for a licence. The only people who can deal with David Haye are the police.
It's different for Dereck, though. The BBBofC have to do their investigation first; they have to talk to the police, talk to witnesses and then they can make their decision.
But they need to do something so that he suffers the consequences of his actions.
Dereck knuckles have been rapped on a couple of occasions before. You can say it's a bit childish, one or two of the things that he says, but how far is too far?
Embarrassing
It's so stupid because I was surprised by how well Dereck did against Vitali Klitschko.
I didn't think he'd do so well - I didn't think he'd last the distance but he showed heart, he showed grit, he showed determination.
My personal opinion was that he was an idiot for slapping Vitali in the face before that. Why would you do that?
He needs to be controlled. He needs to know that if this is how he's going to act, there's going to be consequences - not a fine but ban him, suspend him, and threaten to take his licence off him. Whatever it takes.
It was embarrassing for the sport and it's a pity that it's gone that way.
Comments (29)
Mark Kofi says...
Great points Johnny. I'm sure the Polzei in Munich want an explanation from David as to why he felt the need to use a camera tripod to smash 2 people (including his own trainer) over the head - allegedly. And why after being involved in such an altercation he chose to flee the country at the earliest opportunity. People will clamour for life bans but that will be going too far. Did the football association ban or even sanction Lee Hughes or Marlon King for their convictions? Surely as a member of the FA they expect behaviour of a higher standard than leaving the scene of an accident or attacking numerous women? The punch up involved no boxing officials (refs or judges) or members of the public (directly). Just because it took place on the back of a sanctioned fight does this mean the BBBofC should impose a heavy sanction? The Klitschko¿s come out of this looking good however their whole reign and the role of their promoter Boente has seen the stature of the heavyweight division go down the tubes in my opinion. I don¿t expect the brother¿s to fight each other but at least more credible opponents. Sadly David Haye is still their main credible opponent however Vitali's performance last Saturday will convince Boente that Haye will get no where near his man. The great Joe Frazier must be spinning.
Posted 18:49 21st February 2012
Stu Littewood says...
although i think chisora acted foolishly and like a child to blame him is wrong. This was his moment of glory, no one expected him to box as well as he did, most pundits tipped a late round knock out. i can understand why he acted so angry towards him, haye did what david haye always does and tried to hijack the press to further publicise a fight between him and klitchko.. he had no right to be there and he has further damaged the publics memory of him. He will now be remmembered for his poor last fight and his actions at the press confrance and not for unifying the cruiser weight division
Posted 14:29 21st February 2012
Mark Hickin says...
I totally agree with johnny why wasn't Dereck stopped before he got off the stage where was the security most the blame should be put on the promoter's for letting it get out of hand in the first place they are the ones who should be getting fined, it was going to kick off when they faced each other you could just see it happening vitalis manager is a disgrace he is the reason why the haye fight isnt happening against vitali, they both want the fight but he doesnt Adam Booth hit the nail on the head hes a embarrassment to the sport.
Posted 09:34 21st February 2012
Michael Watkins says...
chisora is a pathetic thug and should be banned from boxing, i would love haye to fight him and beat him bad in the ring, and i aso think frank warren played a big part in winding up both haye and chisora so he much to blame as well, why did anybody stopped chisora walking toward haye, it was so obvious what was gonna happen, it hard to say who was glassed, because at some point of the incident both haye and chisora held a bottle, both should face huge punishments as haye should'nt have been there and chisora should'nt have walk from stage towards haye, but to be honest chisora have behaved like a pathetic 10 year old, what was the slap all about, so disrespectful, he doesn't deserve to box again, that my opinion, can't wait to see what police and british boxing board will do to both haye and chisora
Posted 21:07 20th February 2012
Robbie Silvers says...
My view on that question is that i don't think anybody expected it to go as far as it did. It's no secret that Chisora is one of the most unpredictable and volitile fighters around. But in the past we've had guys like Mike Tyson, James Toney and Ricardo Mayorga who were barking mad at the best of times. In hindsight, Chisora should've just sat there and exchanged trash-talk with Haye, instead of walking thirty yards for a in-your-face confrontation. It was like watching a episode of Jerry Springer. Haye comes out of this badly as well, he might claim using self-defence, but his actions have all but killed-off any chance of facing Vitali, so he might as well just retire full stop, what a way to be remembered. And what a time for Chisora to do this, he put in a sterling performance against Vitali, in what might've been a losing effort, but didn't take a step back and made the WBC Champ work every minute of every round. But the bottom line is that if DelBoy hasn't got the temperament to control himself, then he doesn't deserve to have a career like Heavyweight Boxing, which could potentially earn him alot of money, just as he's established himself on the World stage. Both guys have completely destroyed their legacies and damaged the reputation of British Boxing.
Posted 16:39 20th February 2012
Steve Clarke says...
they should both be banned it was embarrassing to watch and to see vitali sstand there laughing at the two pathetic children made it worse davud haye had his shot and blew it and instead of admitting defeat gracefully he spun some story of a broken toe! at least dereck went into the ring for a fight. vitali is champion for a reason
Posted 16:37 20th February 2012
Mark Stanford says...
Finally someone in the boxing community has provided a balanced judgement on this event. I am personally disappointed with the number of analysts and ex pros that have come out and condemned two of their own. We cannot continue to criticise the the heavyweight division for being boring and then scream foul play when a boxer deliberately tries to manufacture interest in the sport. Are Del-boys actions justified? No, they are not. However, fans, journalists and ex pros have been begging for someone re-light the fire of the Heavyweight division. Clearly there are better methods of achieving this, but I think its wrong to assume that Chisroa and Haye's actions were totally of their own fruition. Anyone who has watched the footage more than once needs to ask themselves why they are so interested in this incident. Is it because of disgust, or is it because this is now part of modern day boxing where everything is has become theatrical and driven by pay per view and media coverage? Like it or not, an Haye vs Chisora match up would be a sell out and the build up would bring more attention to the sport than either of the Klitschkos have done for any fight so far.
Posted 16:31 20th February 2012
Jon Parr says...
The comments suggesting that the only people that could deal with David Haye are the police I would have to disagree with. This would imply that the BBBofC are exempt from the law. I would understand if they were stood on a canvas surrounded by ropes because that would be boxing. What happened was at a press conference, in a public environment. Therefore this is a matter for the police and only the police. It is not the responsibility of the surrounding individuals to control a situation like that. It is up to the people involved to control theirselves. As you rightly said, these guys are fighters, would you step in between them?? Does a member of the armed services resolve a dispute by shooting the other person? I enjoy boxing and truly believe it to be a at the height of physical competition. But the stigma attached to this sport is that it is filled with underground corruption and mindless violence. David and Derek have done little to improve that over this weekend.
Posted 16:29 20th February 2012
James Plummer says...
Derack Chisora- life ban for sure David Haye- Charge for assualt What Chisora Done- 1) slapping vitali after weigh-in 2) spitting at vladimer 3) squaring up to both brothers after the fight 4) at the conference not only brawling but also saying ' want to shoot you david' ROLE MODEL? What Haye Done- 1) standing up for himself
Posted 15:59 20th February 2012
Dan Sheridan says...
regardless of what people might think if they do get in the ring, that press conference brawl would have increased the popularity of the fight and we could see an extra 100% boost in the views for the fight. Would I have paid to see them 2 fight a week ago? no but I might now.
Posted 15:10 20th February 2012
Aaron Blakeman says...
Really intelligent article from an intelligent fighter, glad Johnny is on the Sky Sports team! I feel a certain promoter was stirring the issue as he wanted to get a top domestic clash and make lots of money off the back of that. He should of atleast attempted to stop Dereck from squaring up to Haye. Haye is a self publicist but he doesn't get involved in brawls, Chisora on the other hand causes problems like this time and time again. He may of not thrown the first punch but with his record Haye must of known it was only a matter of time before he did, so he got the first shot off. Keep up the good work Johnny, always intelligent and insightful.
Posted 14:54 20th February 2012
Cerny Petr says...
It's imperative that the BBBC takes strong action. I don't agree with Johnny - Haye and Chisora are 31 and 28 years of age, not 21 and 18. Haye's even been around long enough to retire. They're highly paid and highly managed and are responsible for their actions. Neither Chisora's decision to step off the stage or Haye's to smash him over the head with a bottle and wield a tripod are acceptable. As professional sportsmen at the height of their sport, they are watched by millions, some of whom will be children. Boxing relies too much on bad blood to sell fights, very few of which actually live up to the hype. That's maybe why no one intervened. It's a pantomime that got out of hand. Lessons have to be learned and punishments now handed out which reflect the extent to which these two have let down the sport, the federation and themselves
Posted 14:51 20th February 2012
Dave Barlow says...
I totally agree with you Johnny. They both acted immaturely and are a disgrace to boxing as a union and therefore must face up to the rightful consequences
Posted 14:51 20th February 2012
Marc Arrowsmith says...
"What would you do if you were confronted by three burly fellas who look like they want a scrap?" Well, I certainly wouldn't throw the first punch! Chisora is an idiot, Haye is worse. Ban them both for life!!
Posted 14:49 20th February 2012
Mark M says...
You just need to look at the smirk on Frank Warrens face as Chisora gets out of his chair to confront Haye to know he is already thinking of the pound signs. Still doesnt detract from the fact that they are both an utter disgrace to England.
Posted 14:28 20th February 2012
Aaron Payne says...
I agree with Johnny with why wasn't Chisora stopped there was his promoter Frank Warren probably with his own people, the Klitchskos entourage and minders but not just that the event security! But he was allowed to get up and walk over to him with his entourage when Haye was just with Adam Booth. Also I said it yesterday when everyone was saying Haye is an idiot and needs to be banned, I would of done exactly the same thing as David did especially after Chisora said he was going to give him a slap not just at the press conference but other occassions. Fact is this would never of happend if Chisora wasn't such a volatile person and went looking for confrontation, personally I dont like him he done well against Vitali which was a massive surprise but he has no class. He seems to be a Tyson wannabe which he has got the mouth but nothing to back it up with. But I think he should be fined or suspended as he also Slapped vitali and spat water all ove Wladimer, also he threatened to shoot Haye which to me is disgusting and cowardly he should of just said ok you got away now but we'll see what happens in the ring. But there is no way both should be banned for life because Lewis and Tyson had a fight while being interviewed and at a press conference and if i remember rightly nothing actually happend to either of them. Boxers should settle their differences on the ring but what do you expect to happen when someone is allowed to confront another person after they have said what they are going to do to them on more than one occassion, but also confronting them with other people.
Posted 14:22 20th February 2012
Liam Tee says...
I think Chisora has done pretty well, He's made the Heavyweight division much more interesting now. Showed hes a fighter and shows hes no push over. David haye wont jump in the ring with him we all know that hes after the payday only.
Posted 14:15 20th February 2012
Dave C says...
I'm no great fan of either of these guys but i think everyone should lay off Haye on this occasion. Chisora has repeatedly proved himself to be unpredictable; he has bitten, slapped, spat at and insulted almost everyone he has ever fought. You dont take off your coat to confront someone verbally- all the signs were there that David Haye was going to be yet another victim of Chisoras antics/assaults. David was perfectly within his right to protect himself from attack by Chisora. He clearly DID NOT glass Chisora either, he had a bottle clenched in his fist, which he had been holding right through the verbal altercation with Chisora and Boente, and from the pictures i have seen Chisora was not glassed. Hayes antics may not be to everyones taste but then neither was Ali's. The difference between these guys and Chisora is that they are intelligent guys who know how to sell fights without having to physically assault their opponents.
Posted 14:06 20th February 2012
Tim M. says...
"I'm still struggling to understand how this was allowed to happen." Nobody expected them to act like that. That's why. Plain simple! I am sure next time there won't be anything like that because the security has learned it's lesson. Not every fighter is civilized. When you have two role models like the Klitshkos you really can be caught sleeping. When was the last time something like this happened during a Klitshko fight? Never! Who would expect someone to hit the other with a bottle and the other shouting that he will shoot him physically(as if there is another way...maybe on an FPS video game)? Please do not try to blame others for this. At least we saw their true picture! They are fighters and they are both British. There is no excuse. "He needs to be controlled" No he needs to be sent home. He is 28 years old. He is not 16-17 years old. Nothing can repair him. He is psychologically ill. He beats his girlfriend, his slaps opponents, he kisses opponents, he sprays water from his mouth to other opponents, he threatens to shoot people, his mouth is full of dirt...what else? Every sport including boxing has a responsibility towards all people that are watching. Chisora is a disgrace to boxing and humanity in general. Would you want your children to watch people like Chisora on TV? Would winning make his behaviour acceptable? In the eyes of a child most probably it would and nobody wants this. I don't and I am sure healthy people don't either. Haye is not much better either even if he is more mentally stable than Chisora.
Posted 14:03 20th February 2012
Tj Tj says...
Why didn't anyone intervene and stop two very large aggressive professional boxers? Your quite right, that little old lady, sitting & knitting in the third row, should have jumped in, and gave them both a damn good thrashing for their misbehavior. Never heard the saying, ¿Fools rush in where angels fear to tread¿???
Posted 13:48 20th February 2012