As the underdog, Danny Garcia should certainly not be underestimated.
Garcia beat Erik Morales fair and square in March to claim the title and he has earned it. But I don't look at him as a world champion - although that is what his title is - I see him more as a contender. He is unbeaten - but he is beatable.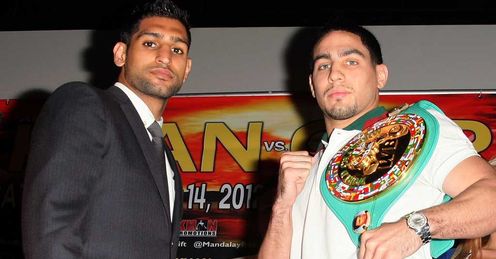 If you look at the fight, Morales was not out-boxed by Garcia, he was out-fought. Father time catches up on us all and Morales was just too slow as Garcia's superior speed told. Morales got picked off and Garcia was too strong for him.
Weaknesses
Garcia has a number of weaknesses that Khan can exploit. The main one is that his guard is too wide and too open, leaving him susceptible to the straight jab through the middle.
I expect a convincing performance from Khan and if he does it right then Garcia will make him look good.
Johnny Nelson
Quotes of the week
LIVE ON SKY SPORTS
Danny Garcia v Amir Khan
WBC Light-Welterweight Title
2am, Sat (Sun), Sky Sports 1 HD
I do think he is tailor made for Khan, as long as Khan goes in with the right attitude. You wouldn't look at him and see a world champion that will be there for a long time. He looks very beatable. Guys lose their title in the first or second defence because it is not their time. This is not his time.
If Garcia is to have a chance he needs to crowd Khan and con him into a fight. I think his Dad, and trainer Angel Garcia, is doing a great job of that in bad mouthing Khan in the lead up to the fight and making Khan angry.
That is the best chance he has, by goading Khan into standing there and trying to have a fight.
He can do what Carson Jones almost did with Kell Brook over the weekend and wear him down, take the shots, and put the pressure on Khan. But if he tries to box Khan, he doesn't have a chance.
I think he is strong and young but he is coming up against another strong young fighter in Khan. I think Khan is too fast and too busy. I think square on he can be hit too easily.
Attitude
I am concerned about Khan's attitude. I have seen Khan and he is very fit, very focused and he is a very good boxer. But it is the attitude worries me. He has to respect the man in front of him. If he doesn't, he is going to go in there disrespecting him and therefore not boxing to the best of his ability.
I was watching a few things last night with Khan getting involved in a tear up with one of his sparring partners. This is not the time for that kind of stuff. This is the time for learning and practising your boxing skills.
I went through the same thing when I was sparring with Henry Maske and we ended up standing in the middle of the gym trading jabs, trying to slip each other's jab and whacking the hell out of each other.
After about four or five encounters I realised what I was doing and I just jabbed right hand and cross and put him down. He realised the silly mistake he was making, it is about learning. That is what Khan needs to remember, he needs to use what he is good at because that is what has got him here.
Khan will stop Garcia in six or seven rounds. I expect a convincing performance from Khan. If Khan does it right then Garcia will make him look good.
Comments (1)
Hamzah Akhtar says...
Johnny is spot on with regards to Khan's attitude. Whilst watching 'Amir Khan - Behind the ropes' on Sky Sports last night, Amir was getting too wild with his sparring, letting himself get hit with heavy blows. He needs to box sensibly, use his speed to get in with the combinations and then get out. If he tries to have slug match, he leaves himself vulnerable and is not using his best assets.
Posted 11:22 12th July 2012