David Price is nowhere near the finished article but the way he dispatched Audley Harrison was very encouraging.
The Liverpudlian knocked out Harrison in 82 seconds so we didn't get to see too much, but what we did see was strength, intelligence and confidence. Every step he made and every shot he threw was well thought about; it was a very clinical performance.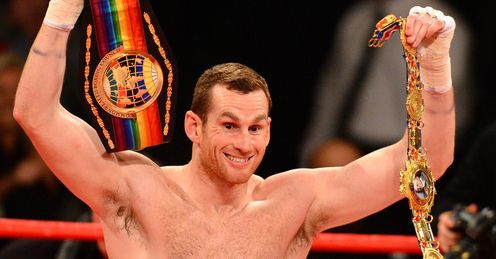 And the punch that rocked Audley, a fully-fledged right-hand off the back foot, was a legitimate bang shot and one that would have hurt anyone else in the world; no-one can withstand blows like that.
David is very humble, though, and knows he still has a lot to work on and he will get the chance to develop further when he puts his British and Commonwealth Heavyweight titles on the line against the veteran Matt Skelton in December.
Harrison is an Olympic gold medallist so for him to become a bum who people just knock over for fun is sad.
Johnny Nelson
Quotes of the week
Skelton is always a dangerous opponent because of his style of fighting; he is tough, grinds you down, mauls you and makes you work when you don't want to.
However, I would expect Price, with his height and reach, to make an easy-ish defence of his belts against the Bedfordshire man.
The fight we all want to see Price have, though, is against Tyson Fury. David is very tidy, very clean, and very orthodox - but Fury isn't, in both what he says and what he does. However, he is very confident and very successful.
Price and Fury would both believe that that they could dominate the other and with the way the war of words is heating up, this bout looks like it would be extremely tasty.
Unfortunate
Audley, meanwhile, will get a lot of criticism for his quick-fire loss to Price but, on this occasion, I think he should be cut some slack. I know for a fact that Audley trained hard for this fight and was just unfortunate to run into someone who came out of the blocks so fast.
Harrison didn't jump on the floor, he didn't try and hold, he didn't try and run, he was just caught by a deadly shot from a 17-and-a-half stone man; there is not disgrace in that, that's boxing. This bout was far more about Price's talent than any of Audley's inadequacies and we should remember that and give the winner credit.
Audley is a great talker and when he appeared on Ringside to look ahead to the Price fight, he made you believe that he had a chance. He is a name and scalp and I still think he will get fight makers interested and convince them he is worth a gamble.
However, I think it is definitely time for him to retire. This guy was an Olympic gold medallist for Britain so for him to become a bum who people just knock over for fun is sad and not right; it's degrading.
Comments (4)
Matt Seymour says...
I will reserve judgement on Price until he fights someone who actually hits back. A fight with Skelton should give us a better idea of what he's about. After originally thinking that Kell Brook looked like a potential world champion, I'm not so sure after his last fight. Had Jones possessed real knockout power, Brook would have been stopped. Sure he proved he has a heart, but let's face it, Jones was a very limited opponent and he had Kell in a whole world of trouble.
Posted 14:58 16th October 2012
Nick Berry says...
I do not agree Price should fight Fury. Fury is a level below Price. Fury had the chance to fight Price but chose to fight for the Irish Title against Rogan. I also do not agree with the Skelton fight. Does Skelton take the career of Price any further! Price has got 12 months at best to fight the Klitchkos before they disappear into retirement. Price should now be fighting some of the Klitchko opponents and to see if he can do a better job on them that either Vitali of Vladamir managed. This will get him a crack at the Klitchkos. Frank Maloney needs to step up to the plate and move Price along now, not in years.
Posted 13:14 16th October 2012
Michael Brown says...
i have to disagree with johnny audley needs to retire before he embarrasses himself further he is becoming a joke in the sport and he will get seriously hurt one day if he doesnt
Posted 12:20 16th October 2012
Gareth S says...
Good article, glad someone has got a balanced view of the Price fight. Really looking forward to seeing Kell Brook fight this weekend. big fan of the slick style he brings to a fight. He is the real deal, Hope he gets the title and then aims at Khan. That is the fight the country really wants. Really dont want Khan to end up like Audley Harrison though; an ex medallist who cant compete at the very top. He is definately world level, but I dont think he is elite. not yet anyway. AT this point I think it would be similar to Khan vs Garcia. Kells timing would beat Khans speed. and Kells no slouch either!
Posted 19:22 15th October 2012