So David Haye and Tyson Fury have pulled out of their proposed fights?
There has always been talk of those two getting it on and I have to say now that it is more on than off!
It was Fury who started talking about getting it on months ago but Haye dismissed it and said that he was going to go a different route to make sure he got another crack at a Klitschko.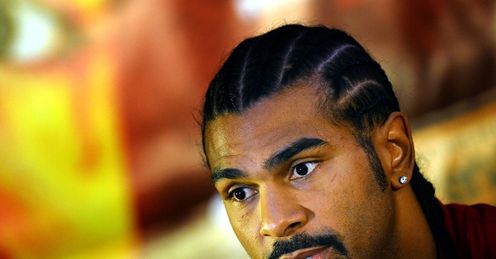 That left Fury and Mick Hennessy no option but to make some noise and I am sure Haye is now thinking, 'I need to take that young buck out'.
There is, as we all know, massive interest in this as well; domestically, it will be huge, it puts heavyweights back in the spotlight, and unless there is a world title thrown into his lap, what else can Haye do to create such a buzz?
Fury is just what the British heavyweight scene needs; someone who is not afraid of controversy and someone who people love or loathe.
Johnny Nelson
Quotes of the week
Even if he was sticking to the plan of moving up the rankings to get a shot at the Klitschkos, he would have to work his way up and wait for the right fights to come along.
And given that there are not really any big names in the top 10 or in America, you can see why David might change tact.
As a heavyweight, every single fight is dangerous because one punch can change you and your career and David knows that so he has to stay active and sharp, not sit around counting down the months before the Klitschkos are available.
Reputation
Haye know the risks Fury brings to the table but given what else he brings to the table, I can see why this fight looks on the cards - and we are all waiting to see.
David has been there, seen it, and done it when it comes to the top level, but he still wants to be the main man when it comes to making headlines and putting bums on seats.
David has a reputation and now Fury is starting to get one and this fight could be put on anywhere in the country - Manchester, London, you name it - and it would sell it out.
Fury also brings to the table just what the British heavyweight scene needs; someone who is not afraid of controversy, someone who people love or loathe and dare I say it, someone who is not rock solid.
But don't think this will be an easy win for Haye; Fury is a fighting man and even when things are going wrong and he is getting caught, he hits back and you can tell in his face that he enjoys it.
I have actually sparred Fury - I am probably about the same size as Haye, maybe a bit shorter - and he is very hard to hit and pin down because he is so big.
I suppose in his last fight against Steve Cunningham, Fury was pinned down but when you are trying to close the gap and move into range against a bigger opponent, you leave yourself open - and Fury can certainly punch.
Range
I like everything about Fury; he is a conversation-maker and there is always a bit of drama during and after his fights - and the last man to bring that sort of spotlight onto the heavyweight division was, yes you've guessed it, Haye.
I think David needed a break from the ring but knows that when you are out of the game for six months to a year, people quickly forget who you are - and you realise what got you into the game in the first place.
Haye is still young, still fresh and can still make serious money and you could see, when he was in our studio for Froch-Kessler II, that he had that bug back.
Nigel Benn sold anything to do with boxing when he called it quits but David never shut his gym down when he announced his retirement and has now fallen back in love with boxing.
And a fight with Fury is definitely more on than off!
Comments (22)
John Ryan says...
Johnny mentions that Haye may have to go down the Fury route because there are no big names in the top 10 or America. Even though I would prefer to keep our fighters apart, Fury is ranked in the top 5 in the majority of the sanctioning bodies. So this would be a meaningful fight for Haye to take to maintain his top 3 ranking & secure a title shot. Would prefer to see Haye make his Heavyweight debut in America against Stiverne, Povetkin, Wilder or the like.
Posted 00:13 7th June 2013
Ahzaaz Khan says...
david haye is nothing apart from talk
Posted 14:07 6th June 2013
Garry Cathcart says...
david haye will lad the hayemaker and knock fury out in 3 rounds and it will shut him up cause fury is all mouth
Posted 20:33 5th June 2013
Grant Barker says...
Fury isn't in the Hayemakers league! He should not be anywhere near a fight with David Haye, but it would be nice to see the big mess get taught a lesson! Tyson Fury is not a big puncher, he's just awkward with his height, but Haye would handle that. Valuev was the biggest heavyweight boxer ever, and Haye beat him, Audley Harrison is 6ft 7 and Haye knocked him out. I'd predict the fight to go a similar way to the Haye/Chisora fight last July, Haye to win by knockout between the 4th and 7th round. Fury would not go further than that
Posted 17:07 5th June 2013
Mickey Droy says...
Haye to beat Fury inside 5. klitchko forget it!
Posted 13:55 5th June 2013
Jamie Taylor says...
I would pay to see David Haye knock Tyson Fury out!!
Posted 11:54 5th June 2013
David Cronin says...
This would be a very interesting clash of styles but at the end of it neither man will give an inch to the other. Fury will try and keep him at range with his jab, but the fighter in him will rear its head and will ultimately mean him stand and try and trade with Haye. Patience will be the key for Haye to keep calm while he finds the opening, and Fury as we know will give him it, and not to be fooled by Fury switching stances while he beat up Rogan as south paw Haye won't fall for that and ultimately win by stoppage in 9...although Fury is a warrior and wont be him making the decision. Winner should fight winner of the price thompson fight...and the loser fight the loser.
Posted 11:26 5th June 2013
Joe Luxton says...
These two fighters are worlds apart, I cannot see anything other than an early stoppage for David Haye. Tyson Fury has neither the power, speed or stamina to keep up with Haye. You only have to look at how much Fury struggled in his last fight against a natural Cruiser Weight, who in my opinion would have gone on to take the win if it wasn't for Fury physically leaning on him for the entire fight, not to mention the controversial stoppage as well. Haye doesn't really need this fight at all, he came out of retirement solely for another shot at one of the Klitchko's and he should stay the course. That has to be where his priorities lie: winning a World Title.
Posted 11:12 5th June 2013
Paul Bevan says...
Even though Fury has a massive height and reach advantage if he tries to keep Haye on the end of his jab and box from range I think he'll lose. The key for Fury to beat Haye is to shorten his punches and fight up close like he did in the later rounds against Cunninham. Haye struggled against Chisora for the first few rounds because he applied constant pressure and didn't allow Haye to move in and out of range. I don't think Haye is particular good at fighting up close and when his opponents tie him up and push him around he seems to tire very quickly. I think if Fury uses his natural size by bullying Haye on the inside he could stop him, if he stays on the jab and tries to pick Haye off I think he will lose. Fury doesn't have the speed of movement of Wladimir Klitschko so I think he will need to turn it into an upclose dog fight and sap Haye's will. Most of Haye's power is from range, up close I don't think he can hurt Fury.
Posted 10:36 5th June 2013
Barry Forrest says...
dunno if it gets to 7 rounds fight tips in favour of fury early ko for hay first 3 rounds and we wont have to listen to fury sing!
Posted 09:52 5th June 2013
Scott Mckinnon says...
Fury won't last 3 rounds against the quality Haye will bring. Every time a quality shot is thrown at Fury it lands and leaves him wobbled and these from guys no where near as polished as Haye.
Posted 09:27 5th June 2013
Dave Clegg says...
Although I quite like Fury 'cos of his character(even though he is full of it) I think Haye would beat him under 7 rounds,he's in a different class-my opinion!
Posted 09:12 5th June 2013
Ed Osbourne says...
Fury is not hard to hit. He's too big and clumsy, low guard and he grabs and holds a lot. He struggled against an unfit Chisora, fought Johnson who took the fight at 3 weeks notice. Cunningham was 3 stone lighter than Fury. When he gets in with Haye the only thing Fury will be hitting is the canvas. Haye will
Posted 23:43 4th June 2013
Zola Oprah says...
Fury will never want to take this fight on because he doesnt have the boxing skill to deal with Haye
Posted 20:30 4th June 2013
Graham Pearman says...
I don't see this fight going 3 rounds. Haye will pulverise him.
Posted 20:10 4th June 2013
Joe Bloggs says...
I would love to see this fight just for the banter lol and the words that will be exchanged haha. Haye should win by KO, but Fury can put up a fight. Should be good if it happens.
Posted 19:41 4th June 2013
David Smith says...
Haye is a great fighter, but can see Fury causing a big ko upset here, first five rounds for me!
Posted 18:31 4th June 2013
Bob Builder says...
Tyson Fury is a fighting man!
Posted 17:24 4th June 2013
Dean Goulding says...
Haye has absolutely no reason to fight Fury. Fury has beaten nobody and he almost got beaten by an average cruiserweight. Haye would knock him into next week. It'd be as big of a joke as Haye v Harrison (or anyone v Harrison)
Posted 17:23 4th June 2013
Jon Trethewey says...
This fight has to be made now as neither has the option of a klitschko right now. Both are characters and both are box office so will be a huge fight probably at a football stadium. Haye though is a different class than fury and will knock him out convincingly leaving the klitchko brothers no option but to give him another shot!!!
Posted 17:13 4th June 2013