It is too easy to criticise Adrien Broner but the best you can say about Saturday night is that he's got another win under his belt.
I think we were all waiting with anticipation to see how he would do against an experienced world title winner and a friend of everyone, Paulie Malignaggi.
Well Broner has now won world titles in three different weight divisions and despite Paulie's claims of the scoring issues - and some will agree - we are still all wondering just how good The Problem can be and exactly what the problem was.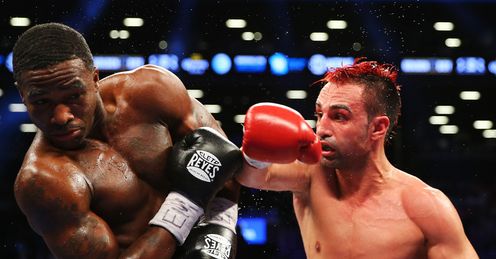 The first thing that leapt out was Malignaggi's performance because that was much better than most people expected he was capable of, including me. That was probably the best we have seen from him for a long, long time.
Add to that the fact that Broner had jumped up two weight classes to face him, then you can see why it was not as good as we wanted. His power just wasn't there at welterweight and that in turn is always going to take something away from a fighter, so it is not hard to see why he was nowhere near his best.
Floyd Mayweather was at ringside watching on Saturday night and no doubt he has been giving him a helping hand. But when he calls it a day, only one fighter can take over the mantle and that is Adrien Broner. And there is only one person who can prevent that happening... The Problem.
Johnny Nelson
Quotes of the week
But whatever you think of him and what he says and does outside the ring, he came away with the win and that is all that will really matter.
I don't think Broner will stick around in the welterweight division and will probably drop back one and see what's around there. He wanted to win a world title at a third different weight and, with all due respect to Paulie, this was probably the best chance he had of completing the hat-trick.
Trouble
And even if some people were left disappointed in that display, Broner was never really in trouble all night. Malignaggi might not have been either in the end but he will have believed there was going to be some dark times because of what Broner might bring with him.
At this level you have to talk your way into these positions and that is exactly what he did and that's why people believe in him and that is why the onus was on him.
He got the win but not the one he told us all he would get. It was probably a wake-up call for Broner and that is no bad thing. If you want to throw the compliments around then they have to go to Malignaggi but Broner did a job. No, it wasn't as easy as we expected, but he got the win.
When we have seen him in his 'home' division, at super-featherweight, we have seen him finish people of very well. And, we were all sitting there waiting for that to happen against Malignaggi. And it never came.I think perhaps he under-estimated Paulie and thought that as soon he as he turned it on he would be able to shut him out. But he realised and Malignaggi's speed made things very awkward, because not only was he in and out, he landed plenty of punches.
Arrogance
They weren't powerful shots but it left Broner trying to block shots and then try and land counters as well. We never really saw him dominate, or even try and dominate the fight because he couldn't.
The one thing that might have helped him do that was the jab, which we barely saw. When a fighter respects the opponent the jab is the key because it can slowly get them into the fight and then set them up to let off the combinations and that is something Broner couldn't get going. I think he just under-estimated the step up in weight and above all, Paulie Malignaggi.
If there had been a bit of fear, even a bit of respect there, we would've seen a better performance and we would have seen him use that jab and that boxing ability and his movement. Instead all we saw was him going for the KO throwing those big right leads and not using anything we know he can do.
When you are moving up two weight divisions to face the world champion, why do you think you don't' even need the jab? Normally you find out the hard way but just to prove the point about Broner's attitude, he thought this was going to be a lot easier.
I think it all boils down to arrogance and he thought it was a done-deal. He is only 23 though and he will be learning from each fight and I think even though he got that win, he is sitting there now kicking himself because he knows he could've done better.
Some will put it down to him jumping up to welterweight, others will put it down to Paulie boxing out of his skin but he came through it. He didn't box at his best but the one person who can be blamed for that is Adrien Broner. And his arrogance.
Prevent
But, I still think America is on his side... at the moment. If you don't follow boxing and hear the occasional thing he's said in a press conference then you don't like him but if you are a boxing fan in America, I think you want Adrien Broner to come through and be a superstar. All the unpleasant things he does and says mean he really does need to put on a show to catapult himself into the nation's imagination.
America needs another star and, in all honesty, he is the only one you can see making that giant step up, after Floyd Mayweather - who is a massive influence on him and seems to be preparing him to fill that void.
Floyd is in his ear all the time and Broner will admit that. People are always criticising him for trying to look and box like Mayweather and if you saw that rolling shoulder defence, then you will see what I mean.
But they are friends and they do socialise and Money has set the trend for a lot of modern-day fighters so Broner is no different, but is very fortunate in that respect.
Mayweather was at ringside watching on Saturday night and no doubt he has been giving him a helping hand. But when he calls it a day, only one fighter can take over the mantle and that is Adrien Broner. And there is only one person who can prevent that happening... The Problem.
Comments (10)
Stephen Kelly says...
I can understand why people find Broner's attitude a big turn-off but it's boxers like him that have that have that arrogance and attitude that get boxing noticed by mainstream sports fans. Like him or loath him, he is a hell of a showman and contraversal and that, combined with his talent, is what will get him noticed and turn him into a big superstar (providing he keeps winning). Andre Ward is a bigger talent and a far better boxer but he just isn't as exciting - either in personalty or fighting style.
Posted 14:41 4th July 2013
Eoin Redahan says...
Nice article, Johnny. However, Andre Ward is the closest boxer in skillset to Mayweather. Broner is easy to tag, and is nowhere near as well-schooled in the art of hitting-and-not-getting-hit. It's a pity he is so injury prone and has pretty much cleaned out the supermiddleweight division (and obliterated Dawson at catchweight).
Posted 12:06 28th June 2013
Ian Jones says...
I thought the manner in which broner carried himself was deplorable. The comments he made in the ring during the post fight interview with Showtime were something id of been ashemed of had i personally known him and its something boxing authorities need to curtail. His attitude stinks and that is not something to Boxing world needs, its already full of ego-maniac's and big-headed idiots, it has to stop and professionalism needs to be found from these people.
Posted 16:24 25th June 2013
Suleman Surti says...
I totally agree johnny, he is a fabulous boxer yet his arrogance is making spectators undermine his boxing talent. he needs to fight a big puncher, maybe go down to lightweight again and fight ricky burns. He needs to win more convincingly to prove to people what he really is made of
Posted 14:25 25th June 2013
Marcus Cook says...
Totally agree with Johnny on his statement regarding the arrogance and its the same with mayweather the self believe over rules the sportsman inside and ends up in lack of respect for Opponents. Dont get we wrong the mouth sells and puts bums on seats and the money coming in I would like to see both put on the seat of their pants just to experience the humble. Malignaggi lets be honest for someone in such good shape and lets be true with a ceratin attribute & skill for boxing but his lack of any power at all is what suprises me and do not think I have ever seen such a world class boxer that has gained the success he has with the amount he carries. Broner / Mayweather fingers crossed someone beats them soon.
Posted 12:56 25th June 2013
David C says...
Was not impressed by Broner at all and actually scored it as a draw myself. For me everyone knows Paulie is not a puncher, but more heart and determination. No disrespect to either, Rees or Paulie, but neither posses power that could trouble him. Let him fight Khan or Brook, I'm sure both can make 140lbs without it becoming to much of a problem, i mean Khan has yet to fight at 147, and for a fight like Broner, i'm sure Kell can drop the extra 7lbs, that would be interesting!!! But Mayweather he's not and you'd struggle to see how he could be as good as him, singing to the ring wont do it.
Posted 09:39 25th June 2013
Chris Towell says...
Johnny love the show I think your article somes up Adrien broner perfectly. He is the next big thing to mayweather, at 23 with time on side let's hope he can fulfil his potential and give us boxing fans great fights and showman ship.
Posted 23:00 24th June 2013
James Bowden says...
Broner has the potential to surpass what mayweather has done in boxing, the only thing stopping Broner is Broner himself. The truth is Broner just isn't as good as he thinks he is, thats not to say he isn't world class but a lot of work still needs to be done to be top of the P4P rankings. I just hope for Boxing's sake that he does reach his full potential
Posted 22:59 24th June 2013
Ozzy Wakefield says...
Broner will never be a great, he's been very lucky that he can boil himself down to low enough weights to fight genuinely smaller guys. Broner has been found out and won't be unbeaten for too much longer as he has a big red target on his back. His real career starts from now, I can't wait till Maidana or Matthysse get a hold of him.
Posted 22:08 24th June 2013
Andy Barley says...
I agree that his arrogance will stop him being a great johnny, but not just that, disrespectful, un-sportsman like and a very poor caricature all round. On the boxing side of things i think his stamina needs to improve. Defensively he is nowhere what floyd was when that age, and against a good puncher at welter and even light welter (garcia, matthyse, peterson, madina) he will get worn down by decent shots
Posted 21:08 24th June 2013