David Price's second successive loss to Tony Thompson was more than a defeat. It was an absolute disaster.
It wasn't just about the American winning again. Last time it was about a big shot that caught him, but this was more about how and why the Liverpool lad lost it like he did.
Not only did Price have Thompson down in the second round so we were all left wondering why he took his foot of the gas. We also want to know exactly what is going on with his trainers and Lennox Lewis.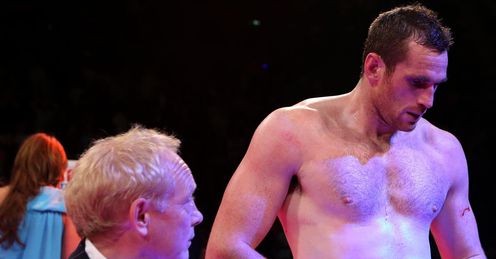 Yet we can't say that Price couldn't take a punch because he was caught umpteen times and Thompson could not put him down this time. We couldn't blame it on him being chinny, we couldn't really blame anything about his ability.
It was and it still is confusing. When you see his promoter Frank Maloney unable to explain it or give any excuses, you know things aren't right.
David Price needs to sort out what is going on with his training, he needs to make sure he is committed to the cause but above all, he needs to have that edge. And only one man can sort that out: David Price. If he can't then he has to walk away...
Johnny Nelson
Quotes of the week
So where does he go now? Before, Tony Thompson came into his life he was looking at world titles, mixing it with the Klitschkos, yet all of a sudden now he is back to square one and the domestic scene.
Gamble
He needs a fight to get him back to winning ways and then he can win the belt, maybe go into the European scene quite quickly, but that all depends on what is going on inside his head.
In hindsight, taking Thompson was a gamble to start with, but had he had won that, his confidence would've shot through the roof and let him mix in that world level all of a sudden.
That is not going to happen now, but who is going to take the lead? We had Lewis on Ringside a couple of weeks ago and we were chatting about what part he plays with Price. Well back then he said he wanted the fighter for the whole duration, for him to go away into camp.
Now I know David doesn't like to do that and in the end Lennox only had three weeks with him. And what could he really teach a young guy in that short space of time?
Plus, if Price really wants to get to the top, he has to sacrifice certain things. Going away on training camp, away from home, is the first thing he has to do.
Don't get me wrong, Lennox is not his trainer and is not "a trainer". He is there to offer advice and pass things on but even on Saturday night with him hovering around in the background, it looked confusing.
Lennox did tell us about Price being "too nice", though - and that was there for us all to see.
As Lennox said, when you put an opponent down you want to knock his head off - and make sure it stays off. But some people knock someone's head off, pick it up, put it back and say sorry. Well, I think we can see which one Price is.
He could point the finger at someone else, but I hope he realises he needs to change - if he wants to come back and get it right.
Nous
In his defence Price still lacks in experience as well. Thompson is not the best fighter in the world, but he has been around and he has been in with the best - and he showed his nous by getting up off the floor and then turning the fight in his favour.
Now though, not only has Price's confidence gone, but all of a sudden he is getting criticised left, right and centre. People used to talk about him and how far he will go, but straight away they are more worried about whether he will fight again. Well he will, but he will have to eat plenty of humble pie.
He has to go back to basics and he has to show - and prove - that he is commitment is still there, that boxing is still his life. He has to give it his all.
This not going to be easy. In fact, this is going to be very, very tough. There are going to be some dark times for Price to deal with. This is about his character.
He needs to ignore the barrage of criticism and abuse that will come his way, because it can be overcome. Being successful and becoming a world champion is never straightforward and without the bad times.
Look at Lennox himself, he went through it; David Haye has had it recently and the reason this is so important for me, it is what I had to go through to succeed.
It brought out the animal instinct, that nasty streak that you need. As soon as the dark side arrives, you immediately want to hit back.
People are giving him grief so he should fight back and if he is wound up by someone like Tony Thompson, you want to do knock them out, show them who is the boss.
David Price needs to sort out what is going on with his training, he needs to make sure he is committed to the cause but above all, he needs to have that edge.
Only one man can sort that out: David Price. If he can't then he has to walk away...
Comments (10)
Nick Wadsworth says...
price nice guy but never going to be a world beater
Posted 12:40 15th July 2013
Jabz Punchsinbunchs says...
listen, at the end of the day this is just my opinion.that performance was shambolic he deserves all the stick he gets. what was he doing with his guard up just stepping into range for thompson to land the uppercuts followed by hooks to the head and body whenever he felt like? Imagine if he was fighting somebody with devastating power? he could of got seriously hurt. i dont think the ring is where price belongs. he got absolutely beasted by an old man who's nearing the end, he didnt have a clue he embarassed himself. A lot of people believed they hype but not me. i said from day 1, lets see how he reacts when somebody starts putting it on him? yes, he gassed out very early i thought he was breathing quite heavy at the end of the first round never mind the 3rd surely he can't of cut corners in his preparation while all along thinking his power shots would see him through? after he floored him in the 2nd his power shots were getting soaked up by thompson i thought? when ive seen him interviewed he was saying he hits harder than the klitschos an hes going all the way so we better get used to these nights after hes just blew another bum away and a lot of other nonsense, instead of keeping his mouth shut and working his way up quitely. hes got no right to even mention their name! he's not fit enough to lace there gloves never mind share a ring with them. FACT whoever fights price in the future is going to come in to the fight full of confidence with the knowledge that hes got no heart. It's sad it turned out that way for him as he was probably thinking big fights in vegas long term millions in the bank set for life . has he got whats needed to come back from this and go all the way? i dont think so.
Posted 05:15 15th July 2013
David Watson says...
I found it interesting that David Price doesn't go off to boot camp, especially against a guy he lost too. Boxing history is littered with stories of boxers who appear to have the ability, but something was missing. They lacked something in their mentality. Maybe this is David Price, maybe he just doesn't have that mental ingredient that the world champions have.
Posted 10:57 12th July 2013
Craig Groves says...
Honest as usual Johnny.Spot on mate.
Posted 08:25 11th July 2013
Craig Davidson says...
I was astounded at his lack of fitness, he was gassing by the end of round 3. Was it nervous energy wasted in the build up? I don't think so, he has nothing left by round 5. Nothing. He needs a major shakeup and I agree with Johnny, he needs to move away during training camp, like the Klitschko's in Austria, or when Oscar De La Hoya used to go up to Big Bear mountains. He can come back, but needs to build some major confidence back up and change his routines.
Posted 14:33 10th July 2013
Nick Hough says...
David Price needs Lewis to actually get in the ring and fight instead of Price. That will make the difference, because being shattered by round 3 against a man in his 40's is embarrassing.
Posted 01:46 10th July 2013
Matt Bevino says...
Good article Johnny - spot on! I agree, it will be super, super hard for Price to come back - imagine the nerves for the next fight. I I cant understand why Price let Thompson recover for the 10 seconds left after he has knocked him down - schoolboy - imagine Benn or Hatton doing that - never, they would have gone straight in for the coupe de grace!!! I hope Price gets back on track though. Imagine if Maloney puts all his eggs in one basket and brings over Wilder for Price to prove it was all psychological - a win would put many a ghost to bed for Price. However, i have to say - love him or loathe him - Tyson Fury is a fighter through and through and has shown his durability over 12 rounds. Fury has HUGE self belief and this is such an important trait for a boxer to have / to need. I am behind Fury and would like to see him beat Haye if they get it on as i think hes exciting, big strong and might surprise a few people if he gets in the ring with Wlad. Big up British boxing and lets get behind the guys laying it all on the line for our 'entertainment'.
Posted 13:48 9th July 2013
Chris James says...
Excellent column, spot on with everything you said. Being from Liverpool myself I have said for a while that with the greatest amount of respect to Franny Smith, Price needs to move on if he wants to evolve as a fighter.
Posted 11:34 9th July 2013
Darren Gofton says...
What I want to know is - why was he blowing out of his arse after 2 rounds? After Thompson got up I said if he doesn't finish him off here he'll lose...and he did! He looked absolutely drained. Surely fitness should of been an obvious area to focus on when fighting a 41 year old. All he had to do was fight behind the jab and Thompson would of tired by 6/7 rounds then with Price (with his power) would of took him out shortly after. I was a massive Price fan, I thought he looked the part but a 41 year old has-been made him look like an amateur on Saturday night and it was hugely disappointing...
Posted 20:11 8th July 2013
Wayne A says...
It was a shock and set back but hes still commonwealth and British champion and he still hasnt won the Lonsdale outright yet. Win the Lonsdale then in a couple of fights go to Euro level and in 18-24 months back to world level so still lots to look forward to but I just hope in his mind hes strong enough to do it
Posted 18:28 8th July 2013