Kell Brook's win over Vyacheslav Senchenko on Saturday night was perfect preparation for a world title fight with Devon Alexander.
His fourth round stoppage of the former world champion was extremely impressive - no one had ever done that to Senchenko before - and it couldn't have gone any better. And that's including the fact Senchenko rocked Kell early in the fourth.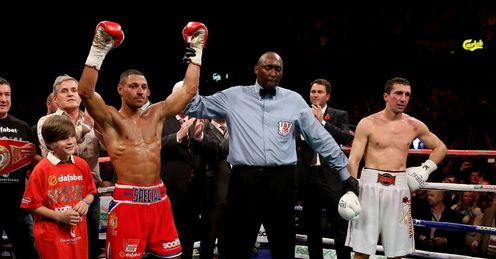 Kell's three call-offs with Alexander in the past 12 months had stalled his career and put him about two fights behind where he should be at this point - but this win puts him back on track.
With the fight going the way it did, he will have learnt a lot, too. With him getting hit, hurt and having to turn the fight around mid-round, was the best possible thing for him.
No one had done to Senchenko what Kell did to him - and it couldn't have worked out better for the hometown hero
Johnny
Quotes of the week
Saturday night has made him aware he is vulnerable. If he had easily knocked Senchenko out straight away he may have gone into the Alexander title fight thinking he'd win comfortably and not pay attention to the dangers the American poses.
The way the fight panned out, though, means Kell will be fully focused. You could see after the bout when Kell was saying to his corner 'did you see that?' he had been shocked by Senchenko's shot. He learnt an important lesson there.
Message
Kell has sent out a real message by stopping Senchenko, though.
Before the fight, Ricky Hatton was supporting Kell and saying he believed he could beat Senchenko. But off camera he said 'if Kell stops this guy then he's the real deal because Senchenko is a hard, tough fighter'.
Ricky knows a fighter when he sees one and he knows just how hard Senchenko is after going into the ring with him last year, so for him to say that means a lot.
Senchenko also arrived in Sheffield believing he would win and secure that world title shot for himself.
I counted 15 people involved in Senchenko's ring walk alone. He brought a crew with him - and they weren't just his friends travelling with him, these were executives, money people who had invested in him, backed him up and thought 'we've got something special on our hands here'.
That's how much of a threat he was. In his previous 35 fights only Paulie Malignaggi had beaten him. But no one had done what Kell did to him - and it couldn't have worked out better for the hometown hero.
After that performance I've got no worries about Kell going in with Alexander for the IBF title.
That win will give Kell the appetite to prepare properly and make sure he brings his A game when those two meet.
But I just wonder whether Alexander will be the next fight for Kell.
Domestic dust-up?
Kell is the number one contender for Alexander's belt - which he defends against Shawn Porter in November - and this is his big chance to secure that world belt he craves.
However, you talk least about the things you want the most and, after the fight on Saturday, Kell's promotor Eddie Hearn briefly mentioned Amir Khan and I thought 'aye, aye'.
He talked about Adrien Broner and described the situation with Alexander but that brief mention of Khan made me think.
Eddie's dad, Barry, is a very clever, shrewd operator and has been in the boxing business a long time. When we had him on Ringside talking about Carl Froch's next opponent, after he beat Mikkel Kessler, everyone was thinking about Andre Ward, but Barry said: 'no, that's not good business. George Groves is good business.'
Barry believed Froch-Groves generates more interest than Froch-Ward and, similarly, Brook-Khan would be even bigger - certainly in Britain - than Kell going for a world title against Alexander.
For Khan it is a big money fight and a chance for him to prove he's number one in Britain - and I just wonder if that is a fight that will pop out of the hat.
Either way, 2014 is going to be a very interesting year for Kell Brook and his fans.
Comments (14)
Mark Haslam says...
Kell impressed me on Saturday night. He is finally turning some heads. i wonder if Khan would dare take him on. personally I dont think Khan would be standing after 4 rounds. Its too much a risk for Khan when hes trying to get a fight with legend Mayweather.
Posted 15:49 30th October 2013
Hit Anand says...
If Khan, takes on Brook, then he will get knocked out. Yes Brook has not fought anyonw of elite level, but thats what they said abou Garcia and the other two who beat Khan. Brook has a combination of slick skills along with speed and power which is a deadly combination and looks a much bigger man than khan. Yes Khan has lightining speed but that will last for four rounds and when brook catches him with a few it will start to gett o Khan and an some point will get knocked out. Stay away Khan, your best bet is to get a big pay day against Mayweather!
Posted 14:04 30th October 2013
Kevin Stuart says...
In relation to the domestic dust-up point; I thought the main reason Froch vs Groves is happening is because Groves is Froch's mandatory challenger for the IBF belt. For Froch it was either fight Groves, or be stripped of his belt. I'm pretty sure Froch has said that if it weren't for this fact, he wouldn't want to fight Groves. He says it's because Groves doesn't deserve the fight, but in reality - I believe it's because Froch has far more to loose by fighting Groves now than he has to gain. I believe that the loss vs gain situation in terms of Amir Khan fighting Kell Brook at this stage will prevent Khan from taking the fight. If he loses to Brook now - who is still an unknown to the majority of the US boxing community - then that 'L' on his record to an 'unknown' damages his marketability state side. I'm not trying to slate Khan here - if I were him I'd wait to fight Brook too, until Brook's beaten a big US name (i.e. Alexanda) and won a title. That would help diminish the impact upon Khan's career going forward from a loss to Brook - should that be the result of an eventual fight.
Posted 12:26 30th October 2013
Lj Dunn says...
Please Amir Khan.....Please!
Posted 19:40 29th October 2013
George Smith says...
I have watched Kell's last few fights and i have been extremely impressed. His jab is so destructive and the bloke always steps into the ring fit as a fiddle. I am hoping he gets the big breaks he deserves especially after a year plagues with injury and missed opportunites regarding his no fights with Alexander. I would love to see Brook KO Khan and then go on to Alexander. 2014 could be a huge year for him
Posted 12:53 29th October 2013
Al Mandan says...
I think Kell Brook is a top fighter but is he an elite fighter? He's had 31 fights and not once against opposition who I would deam world class at this stage in his career. It feels like he has been matched carefully. Another thing I find funny aswell, a true worldclass athlete doesn't always need to fight in his hometown. I only remember him once in America against a D level fighter. Why isn't kell fighting in London, Atlantic City, New York, Vegas or even Germany. When Paulie beat Senchenko, he went to eastern europe and did it. I like him but I hope he doesn't get found out when the time comes. If his next fight isn't against the winner of alexander and porter or a top 147 fighter (bradley, marquez, broner, maidana, khan or even thurman) I fear losing interest.
Posted 10:42 29th October 2013
Paul Grewal says...
Forget about Khan and focus on Alexander, this is the fight that Kell has earned a shot at for a long time and now he has to do the business on him. Khan now is only targeting a big payday against Mayweather.
Posted 10:12 29th October 2013
Santiago Ramirez says...
padded records dont get you nowhere, i like kell and hope he does well but he has to step up big time, yes senchenko was a former world champion but a paper champion in all respect, is resume is poor for a 35 fight career and that is kells biggest test... alexander has alot more experience and is no pushover as much as i dislike his style and clinching habits. so kell has to up his game big time, imagine him in with the maidanas, provodnikovs, bradleys and marquezs of this world.
Posted 20:51 28th October 2013
Wayne Lloyd says...
I would love to see Kell finally shut Amir Khan up but I don't think he'll get Amir into the ring without a title to challenge for. Without the belt Amir has an excuse why he won't face him and if the Mayweather fight is on the cards then the title shot for Kell surely has to be his next fight. Whatever happens I'm a big believer in Kell and think he'll give most of his weight division huge problems. Adrien Broner will be a tough tough figher but why can't Kell beat all these and get a fight again Floyd himself.... Kells got an exciting future and I can't wait to see his unfold and Amir's hit the wall!!
Posted 19:14 28th October 2013
Adam Adam says...
I personally think that alexander khan and broner are a big step up from Vyacheslav Senchenko. He should have fought someone like madana, thurman which would have made a a even bigger statement and open up the american viewers eyes.
Posted 17:31 28th October 2013
Pep Peppard says...
This is so right Johnny Nelson ! For years i have been siging Kell's praises , for me one of the most natuarally gifted boxers ever to come out of britain . With that fight being shown in America, he has now let everyone know exactly what he is about . I think he beats Alexander over 12 , and if he faces Khan he takes him out with power early. As you stated nobody had done what Kell did at the weekend, so if Brook can connect with Khan in the same manner , there is only ever one winner . Kell Brook will go on to be a boxing legend
Posted 16:46 28th October 2013
Simon Murphy says...
Fantastic performance from Kell Brook, As has been said no one has done that to Senchenko and he should be given a lot of credit for the way he went about it saturday night. Hopefully the Kahn fight can be made it is genuinely the fight everyone domestically & further afield wants to see, I think both fighters need it probably more so Kahn as atleast in my eyes he lacks some credibility when throwing out Mayweathers name as a potential opponent a win over someone like Brook would give him claim to being atleast the best in Britain at the weight and possibly a credible challenger to Floyd. However on that evidence i think Kell is more so the future of the devision domestically and the more likely to contend with the best 147 pounders in the world. Its great to see after such a long time out and quite a few setbacks.
Posted 16:32 28th October 2013
Fraser Irving says...
Khan would make for fantastic match-up, and by the looks of the comments, a popular fight for the fans. The odds on Kell should be pretty generous, as Khan seems to have the bigger and more deluded fanclub.
Posted 16:11 28th October 2013
Jason Horne says...
couple of points 1. ricky would say he was tough as he beat him, and he wouldn't want to admit he got beaten by an average fighter who in his heyday he would have hammered. 2. senchenko may not have been beaten that bad before but he also hadn't fought anyone any decent except a past it malignaggi who still beat him and a very past it hatton. 3. khan is still a level ahead of kell, its only people in this country who don't realise that, khan has several big names on his record a two time world champ and a huge money draw, kell is completely unknown outside Britain that is why it wouldn't be worthwhile for khan.
Posted 15:41 28th October 2013