I said before the fight that David Haye might do something totally sensational... and he almost did.
The speed and the power of Haye caught John Ruiz totally by surprise in the opening round and he was so close to something truly outstanding.
But in some ways I was pleased that it wasn't all over after round one. We got a very fit, focused and determined Ruiz who had come to win and he managed to get up and hang on when many heavyweights wouldn't have been able to.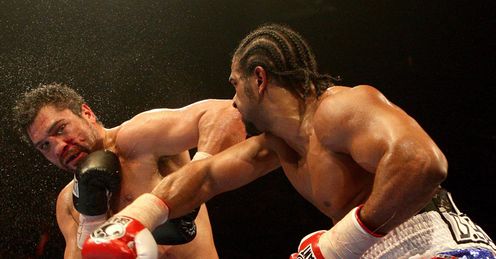 He managed to make a really entertaining fight and it gave us so much more. Crucially, it let us see so much more from Haye. It let us see that he has the pace, the temperament and the workload required to be heavyweight champion of the world.
We also saw the heart of Haye on Saturday night. Ruiz kept getting up and coming back at him and that would have broken the heart of a lot of fighters. A lot of people would have gone into their shell or waited for the points decision, but Haye came through all of that.
The challenge now for David is, of course, the Klitschkos and (if you'll pardon the pun), I'm sure he'll want to make hay while the sun shines.
Glenn McCrory
Quotes of the week
So in many ways we got the best of both worlds. We saw in that first round that he could be sensational; we saw that he is a hard puncher who can hurt the toughest of Jims.
But we also saw there was a lot more to him. We saw more of the fighter that Haye has become and in a way that pleased me more.
The win against Nikolai Valuev was a great performance, but it was a very calculated one and didn't tell us a lot about him. We learned a lot more on Saturday night.
Like Adam Booth, I thought his defence was a little slack, but he explained afterwards that he hadn't had the sparring - and that showed.
He got his punches off well, but you can practise that sort of stuff on the bag and on the pads, but defence is something you need sparring for. You need that to get your timing and your movement and it showed that he hadn't had that.
That was the only concern, but he still took plenty of shots. A late stoppage proved that his stamina was good and overall there was a lot to be very encouraged by.
There's no fear about him being in the heavyweight division any more
Challenge
The challenge now for David is, of course, the Klitschkos and (if you'll pardon the pun), I'm sure he'll want to make hay while the sun shines
There's no harm in making voluntary defences. We all want to see him keep the title for a while and he doesn't have to fight the very best every time. He's allowed to make money from easier defences.
He has plenty of time on his side, but David Haye has always been a guy in a hurry so why wait for the big-money fights?
And fighting the Klitschkos will make massive, massive money.
I think he has the beating of both Klitschkos, but I'd maybe look at Vladimir first. He's the younger of the two and is much more susceptible but I think Haye could beat either of them.
Beating
As for Ruiz, he was always going to be Haye's toughest fight to date, but I didn't expect the American to give as much as he did; it was the best I've seen of him for a long, long time.
He saw this as a chance to become a three-time world champion, he worked very hard and he rejuvenated himself - but it still wasn't enough.
He took one heck of a beating - he didn't make much sense in the press conference afterwards - and it's going to be tough for him to come back from this. He obviously showed he has a lot to offer the heavyweight division, but at 38-years-old it will be hard for him to pick himself up again.
There are definitely fights for him and he can definitely compete in the division if he wants to, but how much will a long, sustained beating take out of a fighter?
Crop
So we've got the heavyweight champion of the world, but the great news for British boxing is that there is a crop of up-and-coming fighters behind him.
George Groves gave us a great example of that on Saturday night. We know he's a very confident guy and we also saw some great foot speed and some quick hands, but what really surprised me was the power of his punch.
Charles Adamu literally seemed to be cowering at times and seemed scared to take his punches. Remember, this was a tough, fit fighter who was expecting a comfortable defence of his title and was battered from the opening bell.
Groves is in a good place now. He can defend the Commonwealth title quite comfortably and he seems quite keen on getting the British title from Paul Smith.
He can try to clean up domestically while James DeGale builds himself up and that rivalry could turn into something as big as Benn v Eubank. We want to see those two guys get to that stage in that division.
Rule
Overall I felt it was a terrific night for British boxing. Often we have some world-class fighters at one or two weights, but at the moment we have several world champions and plenty more excellent fighters besides.
We've got Carl Froch, Amir Khan and David Haye at the top of the game and then so many very good prospects. When the likes of DeGale, Groves and Kevin Mitchell come to fruition things are only going to get even more exciting.
As far as the boxing world goes, it's rule Britannia. Great Britain is ruling the boxing waves and the Americans must be wondering what's going on.
That's fabulous to see... and it's only going to get better.
Comments (21)
Dan Akister says...
Just been going over the recent fights all these guys have had, Vitali, Wlad and Haye, and they're poles apart. Haye would annihilate both of these guys. If you look at youtube, you'll see Wlad is very succeptible when punched, he staggers and loses his defense straight off. The likelyhood of Haye not doing this at least once in the opening round, is very very slim, because smaller guys have done it. Its not about the size, its about their style, and both Klitchkos are left jab, left jab, right cross. Every. Time. I rarely see them go for the body, and thats what Haye will do, he'll tear into them quite literally. They've only fought guys that look big, and/or are out of shape. The only test Vitali had was against Lewis, and that was because Lewis wasn't staying still. Yes, Vitali would have probably won that fight on points, but even still, you have to consider that he was tested by a heavyweight who actually knew what he was doing. Haye fights like he's a cruiserweight still, and maintains his speed. I have no doubt Wlad has a devastating right, and to be hit with it would end Hayes night, but seriously, can you honestly see someone with Hayes speed, desire and ability just letting that happen?
Posted 21:04 7th April 2010
Brian Hamill says...
The thing that worries me about Haye in a fight vs Vitali is David's stamina. Haye has never had good cardio IMO, and it would take enormous reserves of energy for someone his size to beat Vitali Klitschko, because in all likelihood Vitali will not be knocked out. Haye lasted 12 rounds OK against Valuev, but there was no pressure or intensity or punishment for Haye to contend with. He was allowed to move and box at a leisurely pace by a thoroughly inept opponent. Vitali would not permit this. He will be walking forward faster than Valuev was, he will be firing out that ramrod jab that Haye will have to work hard to avoid, it would take a superhuman effort from Haye to last the pace in that fight. I give David a much better chance vs Wlad because Wlad can be knocked out if he gets hit with the right punch, no doubt about it. However, Wlad also has one-punch KO power......
Posted 18:28 7th April 2010
Alex Mcclelland says...
I think there are good arguments for all 3 fighters here, arguments which should look beyond the obvious facts. I personally think each fighter has attributes to take out the other ( obviously excluding wlad and vitali, as they will never fight each other....) I think there is fair point to make that the Klitschko's dominate their fights due to their size and strength, effectively bullying the fight, however in their more recent fights they come across quite one dimensional, you could say they do what is required of them to get the job done. Haye however is growing into this weight, he knew himself after the Ruiz fight he hadn't performed to the best of his ability, he certainly wasn't as sharp defensively as he was in the Valuev fight, blame it on lack of sparring, or just on the fact Ruiz was better than he anticipated. One thing I will say is Hayes reflexes are damn sight faster than any of the Klitschko's recent opponents, you wont see Haye just stand there and take the "range finding" jabs from the Klits before the inevitable straight right plows in, He'd be out of there and countering from angles that would be unexpected. It seems the Klitschko's are less effective when punching on the move. Haye would definitely have to sharpen up his defense against the Klits for sure, all it would take is a flush punch and he'd be in trouble and due to his nature, he does leave himself open. Saying that, I dont think in recent years either of the brothers have encountered someone of Hayes calibre, natural Heavyweight or not. He can definitely punch with enough power and speed to certainly send wlad to the canvas for sure, vitali..well, he might have his first chicken dance. I hope these fights happen, I think it would be more of an even contest than some might think.
Posted 15:48 7th April 2010
Adam Whiteley says...
Mark Wood, the facts are, niether vitali or wladimir have faught someone with the movement and speed of haye, my previouse comment about your last comment was based on you saying david hayes opponants arnt of any worth to even mention, wich is a little bit silly because niether klitscko have fought anyone with any kind of pedigree of late themself, and that is simply beacause no one is around that is big like a holyfeild or tyson, niether of them even faught valuev, and how long was he in possesion of the WBA belt? it is only now valuev has lost his belt that them fights might happen, thats all im saying, arreola is grossly out of shape for someone who is supposed to be an elite athlete, though not a big fan of vitali or wlad you cannot say the same about both of them or haye, all 3 of them look amazingly in shape when they hit the ring on fight night, arreola and fast eddie on the other hand, do not
Posted 14:25 7th April 2010
Brendan Sweeney says...
Im with Mark Wood on this one. Totally agree with his comments. People say they are boring but its only because nobody can test them. In much the same way people say Mayweather is boring. Getting around the jab is easier said that done - and Haye took a LOT of jabs from Ruiz. The Klits jab far harder and far faster. Lets not forget that Vitali was outpointing Lewis (imo) before the cut stopped the fight. Lewis refused a rematch and I dont blame him.
Posted 14:04 7th April 2010
Mark Wood says...
Adam Whiteley, actually, if you actually read my comments you'd see that I believe Haye to be very talented and would like him to win, I just feel that he gives up far too much physically and he is still too inexperienced in the heavyweight division. regardless of what you think of Chris Arreola, he would flatten John Ruiz and Monte Barrett and don't get me started on those Cruiserweights. In fact, you're basing your opinion of these fighters based on what you have seen against the Klitschkos which is grossly unfair. These guys make fighters look pathetic because of their boring style. Try hitting someone at 6 foot 6 with a wingspan equivalent to an eagle who is leaning away from you while planting an 18 stone jab in your kisser. Anyway, the proof of the pudding is in the eating, the fight is bound to happen so we shall see......
Posted 12:23 7th April 2010
Adam Whiteley says...
to Mark Wood, obviously not a fan of haye then, mind you, care to name the fighters who the brothers have been fighting of late? keving johnson = a big mouth and too scared, fast eddie = hugely out of shape, chris arreola = big and fat, ruslan chagaev = overrated massivly, can you see the pattern hear? all 3 of them who hold the heavyweight belts have no one in there division to fight of any worth, so banging on about hayes opposition is just an insult, because niether vitali or wladimir have faught anyone with the speed, power or movement that david haye has, thats why Andy Bailey is perfectly correct to belive haye has what it takes to beat both the klitchkos, and beat them well
Posted 10:31 7th April 2010
Mark Wood says...
Andy Bailey - Haye will be jabbed into the canvas before being stopped. For reference, Haye's resume isn't exactly padded with world class talent....a faded Mormeck. Welsh Macca. A guy who Roy Jones schooled 7 years ago. A useless giant. Monte Barrett. Which one of these tells you that Haye will 'demolish' the brothers? He's a work in progress and is very talented but he gives up far too much physically to stand a chance against either of the Klitschkos. Oh BTW, Ruiz caught Haye flush several times and I'm telling you now that Vlad's punches are far far quicker.
Posted 00:05 7th April 2010
Darren Aston says...
vitali will knock david haye out am i the only person who thinks his chin is suspect he aint been hit by a genuine heavyweight. An marchin round the ring with his right arm dropped wont help him.
Posted 16:18 6th April 2010
James Wilson says...
Anyone who thinks either of the big slow Klitschkos will get anywhere near David Haye's chin is an idiot. Haye is too fast, he has the best heavyweight speed since Tyson and one of the biggest right hand punches ever. Force goes up with the square of velocity so speed is way more important than size. To Omar - Eddie Chambers? Are you for real? He's got zero footwork. Haye will destroy both Klitschkos. They can't hide behind that boring jab forever. Here's to the heavyweight division getting interesting again.
Posted 15:43 6th April 2010
Guy Bailey says...
I said this fight would not be close and I was correct. It was a one sided affair that was always going to be, as I said before Haye is to fast, to young, to hungry, and has too much power in his arsenal for Ruiz to cope with. A nice warm up with Adamek if he beats arirolla would set up a Christmas banger with one of the klits later this year. Hopefully vlad who is this he will be to fast and strong for in the earlier rnds.!!!
Posted 14:48 6th April 2010
Omar S says...
Haye is very ordinary, he beat an ordinary fighter in Ruiz. David Tua would ko Haye inside a round. Povetkin would grind him down. Solis would ko Haye within a few rounds. Klitschco's...they are very under rated. Haye needs to stick to the Chambers, Areola and even Harrissons.
Posted 14:03 6th April 2010
Mike Wilson says...
Haye finally won me over to him as a legit heavyweight on saturday night - he is exactly what the flagship division has been crying out for , speed,power , looks and tv crossover appeal - the full monty for a PPV champion . But lets put his win in perspective - Ruiz was beyond brave on saturday night , he took that beating like an old champion and showed massive heart and courage - but it was still John Ruiz , considered one of the poorest heavyweights to ever claim a share of the title - and that was 8 years ago when Roy Jones totally dominated him , Ruiz has 1 ko to his name in the last decade so lets keep it real . Haye can KO Wlad Klitschko in less time than it took to stop Ruiz , who is way more durable than Klitschko the younger, But its Vitalli who I think might be too tough too durable - and also he has real KO power unlike Ruiz and Valuev . The last fight haye needs is Bernard Popkins - he stank ou the arena trying to get RJJ disqualified in a fight he was winning anyway - Bhop wants Haye , but theres no glory in haye destroying a 45 year old cheat , Hayes the man now - he can pick his fights and write his own ticket - them other pretenders have to wait online .
Posted 23:22 5th April 2010
Luke Hills says...
David Haye had a good fight on the weekend but still no one really expect anything else agaist ruiz who fought a good fight but was never goner be in better shape. The fight is still on with the Klitchkos brother and for me i feel either one of the brothers will be too strong for Haye to hadle with his chin look as it has been in past fights, the best move for his would be to take the Valuev re-match and prove he deserved the win then go for the top two. He chats the talk lets see if he can back it.
Posted 23:21 5th April 2010
Andy Bailey says...
To Mark Wood :- Neither of the Klitschkos have fought anyone with the speed and technical ability of David Haye. Not even the great Lennox Lewis was that quick. As for Haye taking a right hand from Wladimir, do you really think Haye would get caught by someone that slow????? Haye will demolish both the Klitschkos inside the distance, then rule the division for years to come.
Posted 21:48 5th April 2010
Richard Alston says...
I thought this was an exciting fight and haye got the job done, however it seems like his head and foot movement have been abandoned, he was far too easy to hit. Wlad would destroy him with his jab alone if he thought like this. Also he was not as sharp and coposed as usual. Fingers crossed he knocks both the Klitchko brothers out but i now have my doubts.
Posted 18:24 5th April 2010
Brian Hamill says...
I'd love to see David face the Adamek-Arreola winner next. WHAT A FIGHT that would be for the fans. It would yet again be so, so much more exciting than any fight involving the Klitschkos, and I'd back David to win - whereas I'm not sure he could v a Klit.
Posted 17:51 5th April 2010
John Swallow says...
Hi Glenn, I cant remember the last time that I sat on the edge of my chair watching a heavyweight fight. David is is very fast heavy handed, charismatic and very exciting with an improving defense. He also gives you those moments when he gets caught and you think for a split second "is he vulnerable?"He seems to get better with every fight and has a great trainer in Adam Booth. Just to add to the excitement his legendary cut man was required at an early stage and his sparring had been limited. I also did not realise how good George Groves was. It was a great evening !
Posted 16:28 5th April 2010
Gavin Thomason says...
Haye says he's the best thing to happen to the heavyweight division in ages but then talk of only 4 more fights. What a state he will leave the heavyweight scene in if he unifies and then retires! He need to stay with it and dominate for years to come.
Posted 16:14 5th April 2010
Mark Wood says...
Sorry but I've not seen anything from the Klitschkos that makes me think that they are ponderous. They are so scared of getting hit that noone can get near them; they use their considerable size advantage and very underrated footwork to keep their heads well out of the way of smaller guys like Haye while working away with the jab (a very hard jab aswell I might add). I would love David to go and beat them but come on, can you see Haye taking one of Vladimir's rights (hardest punch in boxing) on the chin? Nope. Any fight against the Klitschkos is boring because that's the way they like it. Best heavyweight fight for me is Haye - Arreola. That would be a tear-up worth watching!
Posted 15:06 5th April 2010