The fight is not until next weekend, but I wanted to get this out there first: Shane Mosley beats Floyd Mayweather.
There you go, I've said it. You can quote me on it. Tune into Sky Sports in the early hours of May 2nd and you will see the end of Mayweather, I'm telling you.
Like most people, I've been thinking about this fight a lot. And the more I think about, the more I analyse it, the more I look at the fighters involved, the more I think Mosley is going to win.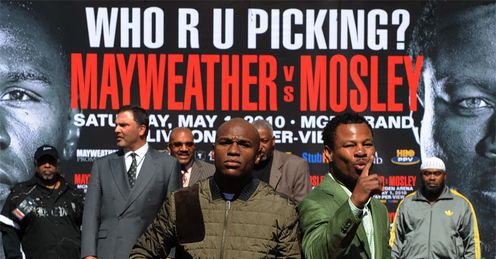 When this fight was first made, I'll admit I was siding with Mayweather. But then I started to think. I started to think back to after that comeback win over Juan Manuel Marquez, when Mosley jumped in the ring, interrupted his interview and started calling him out.
We were all sat there rightly reflecting on a great performance from Mayweather, then all of a sudden, Mosley came tearing into view shouting his mouth off. I have never been one to jump on the Mayweather bandwagon, but at the time, I had plenty of sympathy for him because it was his moment.
For the first time in 14 years and 41 fights as a professional, Floyd Mayweather is going to be taken out of his comfort zone.
Glenn McCrory
Quotes of the week
LIVE ON SKY SPORTS
WBA Super World Welterweight title
Floyd Mayweather Jr v Shane Mosley
2am, Sun, May 2, Sky Sports 1
Watch online with
Sky Player
How to
remote record
The first thing I thought back then was 'pick on someone your own size, stop bullying him'. And the more I think about it, that is the crucial factor here: Mosley is just too big. And fast. And probably too strong. In fact, compared to Floyd he is massive.
Reputations
That means, for the first time in 14 years and 41 fights as a professional, Mayweather is going to be taken out of his comfort zone. Never mind the greatest boxer in history, he should go down as the greatest match-maker in history because he books the best fights for himself; the right fighters at the right time. But for some reason, I think he's blown it this time, I really do.
I know Emanuel Steward shares the same view - that Floyd loves the comfort zone. I was also talking to HBO's Larry Merchant out in Florida the other weekend and he agrees.
He made the point that Mayweather is considered a great fighter but has never really been in a fight, never mind a great fight. Now I know dear old Larry might take an eternity to say something, but he knows his boxing inside out and doesn't pander to people's egos or reputations. And I think he's right.
That is what makes this fight so exciting for us all. Because he is bigger, and at least as quick, Mosley will make Floyd fight. And none of us, not even the man himself, know what is going to happen then. What happens when it all falls down, when he's got nothing else in there? What have you got Floyd? What have you got?
Yes, he has great skills and he is a master of defensive boxing, but what will happen when the call to arms comes? I think he will be found wanting, I really do.
Rejuvenated
Mayweather is considered a great, but I am starting to have second thoughts as to whether he can be considered a true great. I remember covering his fights in places like Portland, Fresno and Grand Rapids at a time when none of the casinos in Las Vegas wanted to touch him.
He was president of the 'Who Wants Him? Club' and I can't recall one boxer down the years who has managed to re-invent himself so dramatically to go from being grossly unpopular to an all-time great.
I actually think Ricky Hatton had a lot to do with where Floyd is now. Ricky's draw and his fan-base raised Mayweather's profile because until then, what he had showed us, wasn't exactly box office, was it?
Shane Mosley though, is a rejuvenated fighter. I am not sure he will ever be as good as he was when he beat Oscar de la Hoya but certainly last time out against Antonio Margarito, he looked sharp, he looked slick and he looked like he was back in love with fighting.
And that is one thing we have never been able to say about Floyd Mayweather. When it comes down to it, I am not sure he has the heart to go to war...
Do you agree with Glenn? Will Mosley make history and beat Mayweather? Let us know by filling in the form below...
Comments (64)
Charlie Facey says...
Glenn some valid points that i completely agree with but the main factor is Mayweather is the greatest counter puncher around in boxing he made a great counter puncher like Marquez look like an average fighter and looking back on fights against Winky Wright both fights and Cotto when he counter punched Mosley couldnt handle it and had no Plan B against fighters in that mould and struggled to adapt and ended up losing all 3 on decisions, i do agree though that Mosley will force a fight on Mayweather but i think he will be able to handle it just as they way De La Hoya forced it on him, but still is a very close fight to call but my prediction Mayweather on points.
Posted 11:50 24th April 2010
Andrew Tupper says...
Hi Glen, I live in Las Vegas and go to all the fights at the MGM. I am sorry, but it seems everyone who has commented and myself included agree that you are wrong on this one. Floyd will win by points.
Posted 22:35 23rd April 2010
Brian Hamill says...
There are some truly crazy comments being made on this page. To summarize: No way is Floyd Mayweather capable of stopping Shane Mosley anyway anyhow, no way can the Mayweather-De La Hoya fight have been scored 10-2 Floyd by any knowledgable boxing fan, and no way is Floyd Mayweather anywhere remotely close to Ray Leonard class. Ray Leonard did 15 rounds of infighting with the greatest swarmer in history Roberto Duran, he outboxed Wilfred Benitez, he outgunned Thomas Hearns, and he sneaked a decision vs Marvin Hagler. SRL proved his skills at the highest possible level again and again. All Floyd has proved in his career is that he looks good against a mixture of decent and thoroughly mediocre opposition. Would Ray Leonard have been outfought by a Jose Luis Castillo calibre fighter while in his prime? Don't make me laugh lads!!
Posted 16:23 23rd April 2010
Floyd Sinclair says...
Sorry Glenn never let you heart rule your head. Shane Mosley is not on Floyds level in terms of skills and talent and for those people expecting Floyd to buckle under Shanes power are in for a big surprise. Floyd is a deceptive puncher and can mix it with anyone in the division. If it turns into a fight (which it wont cos Floyd is to skillful for that) but if it does Floyd stops Shane with his superior speed, defence, movement, reflexes, counter punching skills and high accuracy. Floyd wins 117 - 111 or 116-112. Skills win fights just look at Martinez v Pavlik last weekend Mertinez was too slick for the slugger. Ali v Foreman is the perfect example that skills win boxing matches. Love or hate Mayweather he is Ray Leonard class and that is 2 levels above Shane Mosley.
Posted 14:49 23rd April 2010
Brendan Sweeney says...
I actually cannot believe that people think Mayweather lost the fight against de la Hoya! It wasnt even close! I'd be amazed if anyone could tell me where de la Hoya scored more than about 2 or 3 decent shots the whole fight. I scored that fight 10-2 Mayweather and I could maybe understand some people giving a round or 2 more to de la Hoya but any more than 4 rounds and Im afraid you need to go and check out how boxing is scored! On to this fight, I really cant see how Mosley is going to beat Mayweather. He will come out swinging early and will probably win a few of the early rounds due to output but Mayweather will be dodging and blocking most of the shots and throwing counter hooks to the head and body and plenty of lead jabs to the body. As the fight wears on and Mayweather gets his timing and reads Mosleys attacks he will begin to throw that lead straight right which I can see him having huge success with. Mosleys defence has never been great but has been even worse in his last few fights. His footwork has slowed, his head movement is virtually non-existant and he doesnt even hold his hands up a lot of the time! Look at the Margarito fight....anytime Margarito attacks look at Mosleys defence. He paws with his left hand and even looks away some of the time! He doesnt even have a decent jab its more of a paw and a rangefinder to tee up the overhand right. Mayweather will never get caught with that shot he will roll his shoulder all night and hit mosley with counter rights. Mosley may have a punchers chance but so did many against Floyd. Even when he has been caught he has shown that both his chin is good and he has the defensive instinct not to panic when he gets wobbled. Look at the Judah fight, when Zab hits him with his best punch of the fight and then unloads when Floyd is on the ropes. Floyd covers up well and if you look closely hes actually smiling! PBF by wide UD, maybe even late stoppage!
Posted 14:01 23rd April 2010
Scott Wyllie says...
Sorry Glen I think you will be eating your words come breakfast time Sunday morning. I respect your opinion and knowledge of the sport but I just cant see Mosley beating Mayweather. Mayweather is too good a tactician. He will have studied Mosley's tactics and will know what to expect. Ricky Hatton put Mayweather under a lot of pressure in the early rounds but Mayweather adjusted and figured out how to win as the fight went on. Granted he had some help from the ref but he is a very clever boxer and I dont think he would have taken this fight if he wasnt confident in his game plan.
Posted 21:48 22nd April 2010
Gary Forbes says...
I actually think Ricky Hatton had a lot to do with where Floyd is now. Ricky's draw and his fan-base raised Mayweather's profile because until then, what he had showed us, wasn't exactly box office, was it? Are you serious Glenn? Did Mayweather not break all ppv records on the back of his fight against the 'Golden Boy'. Was mayweather not considered the best pound for pound fighter in the world, on almost every respected boxing publication? Agreed Mosley does have a chance against Mayweather, probably better than any opponent who has faced Floyd. However you are showing blatent disregard for a man who has won more titles than Mosely, has defeated better opponents that Mosely, and who doesn't understand what it means to lose! Moselys trainer himself has stated that Mosely will bring Floyd out of his comfort zone, and this will result in Floyd becoming a 'dragon'. This fight will define Mayweathers career as he is going to put a show stopping performance on, and i wouldnt be suprised if he produced something more special than his Gatti (RIP) or Corrales performance. Come May 2nd 41-0, the $$$ will keep coming for the best boxer of our generation! Look Forward to your post fight article, humble pie on the menu?
Posted 19:18 22nd April 2010
Brian Hamill says...
And also, Glenn is highly overrating the size disparity between Floyd and Shane. Has anyone here seen Mosley's fights at lightmiddleweight? He was clearly too small for that division, a fish out of water. Shane is a welterweight and Floyd is now comfortable at welterweight too, he was unable to slim down to meet the lower weight limit for the Marquez fight. Look at the physical stats - Shane has only very slight advantages in all areas. These are not advantages big enough to make any real difference, just standard size differences between any two fighters in the same division. The differences are like those between Ricky Hatton and Manny Pacquiao - one guy was perceived to be bigger but in reality the small size difference made no difference in the fight. Floyd coped very well with Oscar at lightmiddle, he will cope fine with Shane at welter. Unfortunately.
Posted 16:59 22nd April 2010
Aaran Dehal says...
It's an intresting blog here and I must admit I cannot decide who will win this fight. But that is not what I'm responding to. Raza Khan I believe, said Mayweather can run and hide as he has done previously and that he never really beat De La Hoya and that he picks and chooses his opponent. No offence but do you know anything about that De La Hoya fight? De La Hoya was the bigger man, chose the gloves, even had the smaller ring that he wanted and guess what, he deservedly lost. Check the boxing stats. Mayweather landed 43% of his punches compared to De La Hoya's 21%. Mayweather landed 57% of his power punches compared to De La Hoya's 24%. So how can you say Mayweather didn't deserve to win that fight? He is a precision puncher, that's how you win fights.
Posted 16:43 22nd April 2010
Brian Hamill says...
I agree with Glenn about Floyd's career and legacy, but I don't agree with his big fight prediction. Floyd is the all-time Grand Master of cold calculating career-strategizing (perhaps an greater exponent of this art than our own Joe Calzaghe), of weighing risks and cherrypicking opponents and skilfully avoiding danger men. For those who have been brainwashed by Floyd's self-propaganda and believe I am talking nonsense when I say that - look at who Floyd has fought at light-welter and welter, and then consider that in the five years at those weights, he could have been fighting Kostya Tszyu, Paul Williams, Antonio Margarito, Miguel Cotto and (before he was 38) Shane Mosley. However, even though I love Shane Mosley and will be praying for him on the night, I don't see how he can win this fight. Just watch Shane Mosley vs Miguel Cotto, and see the difficulty that Shane had with someone who jabbed and boxed. And also note how exhausted Shane looked by the late rounds. And Floyd Mayweather is infinitely fitter and faster than Cotto is, and a far far better boxer. Sorry, as much as I would love Shane to win, he won't. Floyd will use his legs and backpedal and run and flick out punches en route to a dull UD. See Mayweather vs Castillo II, that's the only way Floyd knows how to deal with dangerous opponents.
Posted 16:38 22nd April 2010
Chiraag Suchak says...
I disagree. I predictFloyd Mayweather will win via points. You are underestimating a great great fighter.
Posted 15:00 22nd April 2010
Stuart Griffiths says...
And don't forget how poor Moseley was against Mayorga. He was lucky to win that fight and although he fought brilliantly against Margarito his recent performances have n't been good. Mayweather is a defensive genuis and will not get hit. Mayweather on points.
Posted 11:07 22nd April 2010
Dipan Shah says...
Mayweather to date has showed no chinks in the armour, for somebody who lives clean, and trains all year round regardless of there being a fight or not. He will simply prove too quick even for Sugar Shane, and make that age gap count believe me.
Posted 09:29 22nd April 2010
Adrian Power says...
Floyd beats mosely ....fact! way too tactical for mosely`s brute style,a lot of people expecting floyd to counter and make mosely do the work,even if mosely controls the centre of the ring that will still benefit floyd! i predict he will pick his punches for first four rounds then when mosely gets frustrated ( remember the 2 vern forrest fights) he will get reckless,then floyd will actually step into mosely`s range but will not be hit and with his accuracy will hit mosely all night long,dont think there wil be knockout but think mosely could retire on the stool or towel could be thrown in,glenn always respect your opinion but you have this one wrong,why the sudden character assination of floyd glenn?you have always had a high opinion of floyd!
Posted 09:14 22nd April 2010
Michael Morris says...
Boxing is all about opinions and I'd have to disagree with you on this one Glenn. Firstly Mosley was and is a hall of fame fighter in my view. But at no stage in his career, even against De La Hoya has he ever dismantled a top quality opponent. He's never been punch perfect which is why he has been beaten by Cotto and Winky Wright (twice), who incidently is the best boxer he's faced. Mosley will have to be punch perfect in this fight, if he misses badly he'll get hit and the more solid counters he takes the more his age and time out of the ring will show. But enough about Mosley lets get onto Mayweather. His record isn't nearly as bad as people make out. Until he beat Gatti and Hatton people thought they'd be the ideal pressure fighters to find him out. He schooled two boxers with significant legacies of their own. Then look at his fights against De La Hoya and Judah, his closest to date. At the final bell did you really believe either Oscar or Zab had won? You can't get a clean shot on Mayweather and he lands plenty on you. Thats the crux of it and the only way I see Mosley winning is on work rate but I said that about Hatton and Marquez and look where those two fights ended up. Great blog Glenn. Religious reader just don't see it quite the same on this one.
Posted 09:08 22nd April 2010
Gari Jones says...
Your thoughts are similar to mine Glenn, Mayweather is fighting someone bigger than himself for once. After the break down of the Pacquiao fight I truly wondered who could Mayweather face and Mosley was a great second choice. While you think Mosley can win I have my doubts, Mosley is 38 now and hasn't fought in a year and 4 months which would suggest that maybe the rubber is wearing a little thin on the tyres. Mayweather will use his defensive strategy and allow Mosley to be the busier of the two and in the later rounds if Mosley hasn't hurt Mayweather by then, this fight will go in Pretty Boys favour.
Posted 00:24 22nd April 2010
James Saxton says...
The Margarito fight was big in improving Shane's legacy, but not in judging the outcome of this fight. Maragrito was tailormade for Mosley, Margo's main attribute was his power, but Shane could land shots equally as powerful before Antonio could land his. Floyd will be hard to hit, also I do believe he has heart, he can't have beaten Arturo Gatti without it! Besides Larry Merchant doesn't like Floyd, he asked him why he was boring!
Posted 23:09 21st April 2010
Raza Khan says...
Glenn I have been saying this since the fight was made. 1st of May 2010 is the night all real boxing fans have been waiting for a very long time. Floyd can run and hide all he likes, try rolling his shoulder, stay on the ropes all night long but he will get found out. How can Floyd compare himself to Ali let alone say that he is better. Ali never avoided anyone, Floyd has the luxury of picking and choosing fights that¿s why he has his record, no doubt he is one the greatest defensive boxers in modern era but he is not a fighter that¿s why he has avoided the like of Paul Williams, Antonio Margarito, Miguel Cotto, Manny Pacquiao and he was trying to avoid Shane Mosley but after he was made to look like a fool straight after the Marquez fight by Shane and Bernard Hopkins he had no choice. Many comments refer to Floyd beating Oscar and also the late great Deigo Corrales. The truth is Floyd didn¿t beat Oscar on that night and Diego Corrales was not at his natural weight on that night either it looked like a drained and starved version of Diego Corrales. Who else has Floyd beat of world class pedigree Ricky Hatton great English fighter and have a lot of love for him but Ricky really wasn¿t all that special, Zab Judah is in the same category and Castilo actually troubled Floyd in their first fight and some fight fans actually say he beat Floyd in that controversial first fight. Shane wills KO Floyd in ninth round mark my words.
Posted 22:41 21st April 2010
Nathan Sanders says...
Glenn, I can't believe that you don't consider Mayweather great! The man is a genius of the ring, why would he want to go to war in his fights when he can just relax and do what he does best, and that is give his opponents a boxing lesson. He will analyse Mosley in the early rounds and then adapt his style to pick him apart. No way is Shane as fast as Floyd, and because he will be concentrating on chasing and catching, he will be eating glove from about the fourth round on! If you don't like Floyd then fair enough, but if you like boxing then you have to admire him - the man truly is a great!
Posted 20:26 21st April 2010
Andy Rush says...
Glenn, I generally love reading your commentary but I really think you've got this one wrong. For my money Mayweather outpoints an ageing Shane in a technical and slightly boring contest where Mosley isn't able to use his size / strength advantages and is picked off and pot shotted by Mayweather's superior defence and movement. I'm also not really sure you can credit Ricky for raising Mayweather's profile in any meaningful way. Their fight may have brought him to the attention of some UK fans who'd not heard of him before, but he already had a massive 'presence' (if not fan base) stateside well before he ever met Ricky. In any case, I'm really looking forward to the fight, whoever wins! Keep up the great work.
Posted 17:05 21st April 2010