If you were in the LG Arena in Birmingham on Saturday night you'd have experienced a wonderful atmosphere.
I hope it came across to those of you watching at home, because there was a real buzz about the place. It's been a while since I've felt that, but as soon as I walked in - even though it was early evening - there was a big-fight feel about the place.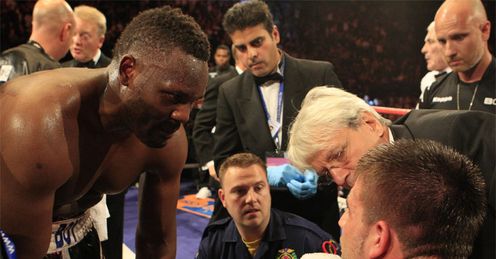 The air of excitement was there right from the start and the crowd were treated to what I thought turned out to be some very, very good matches.
They were all tough, tough fights. Fighters do get protected too much these days, but if you look down that card, I don't think you can say any of Frank Warren's Magnificent Seven were handed an easy task.
There was a real sense of competition between the fighters, too. You could see that each one of them wanted to put on a show, be the one the crowd were talking about at the end of the night.
Glenn McCrory
Quotes of the week
That was refreshing to see because down the years, when you go to Las Vegas or any big show, the home fighters rarely lose. Those days though are, thankfully, long gone. And now we are back on Saturday nights, you definitely sense the crowd and the boxers appreciate the sense of occasion.
Of course, no-one wanted to see Matthew Hall and poor old Enzo Maccarinelli come up short, but the fact that they did shows you just how competitive the card was. All seven fights were well-matched with an element of danger.
And there was a real sense of competition between the fighters, too. You could see that each one of them wanted to put on a show, be the one the crowd were talking about at the end of the night.
The fact that there was no real main event meant, at the same time, no-one was there just to make up the numbers. It was an opportunity for them to be the big star and I think several of them stepped up their game because of that.
Here, in no particular order, is my take on the five fighters who emerged victorious...
James DeGale
Read full fight report

THE VERDICT: I don't think anybody expected him to do that, did they? People might think the stoppage was a little early, but Carl Dilks didn't complain one bit. He was getting hit with very hard shots from all angles and was just out of his depth. Dilks probably should've beaten Charles Adamu for the Commonwealth title, so this was supposed to be DeGale's biggest test to date - but he just strolled through it. I think the needle and bad blood between them helped though, because there was none of the showmanship we have seen from James in the past; he just got straight down to business. When he does that, you can see how good the kid is.
NEXT MOVE: Whether or not the offer that is supposed to be heading George Groves' way is enough to tempt him to fight his old amateur rival remains to be seen; but if not now, it will happen one day. DeGale is clearly at title level and British champion Paul Smith or European champion Brian Magee would do nicely next, because both are decent fighters and would be another step up - with a belt on the line.
Kell Brook
Read full fight report

THE VERDICT: It was a shame we didn't see more of Kell Brook, but Brian Hughes did what he has always done and looked after his fighter. Brian knew Michael Jennings was going to get beat and although he could've lasted a few more rounds, it was always going to happen. We did see flashes of what we know Brook can do, but he just didn't get the chance to shine properly and that was a shame because of his curfew and electronic tag, he had really knuckled down for this one - maybe he should keep the tag on! He can be what he wants to be, but I don't think he is in the same bracket as Prince Naseem Hamed yet, by any means. He is one of the Wincobank boys who can punch and is very good. But Herol Graham was very good, Johnny Nelson was very good (sometimes!)... Naz was great. I've yet to see that in Kell yet and sadly Saturday didn't really tell us more.
NEXT MOVE: I would get him back in as soon as I could. You don't want him to go off the boil and I would stick him straight in at world class right away. It was an eliminator for the WBO welterweight title which is held by none other than Manny Pacquiao, but I wouldn't go near the same continent as Manny yet, never mind the same ring! But Brook needs to be in with better fighters, so maybe someone like WBC champion Andre Berto - who is not as good as we though he was going to be - should be next.
Derek Chisora
Read full fight report

THE VERDICT: What a breath of fresh air! We've had very little to rave about in the heavyweight division but here were two young guys, dancing on their toes, boxing well, moving nicely and jabbing well. It reminded me of those American heavyweights of the 80's like Michael Dokes, who could box, had a bit of rhythm and put punches together well. Sexton put up a really good fight as well but when the finish came, Chisora didn't disappoint and seized his chance wonderfully well. The heavyweights will always be my benchmark and I have to say this was my favourite fight of the night. I started the evening not to convinced about Derek Chisora and wondering if he was all mouth, but now I have to say, I'm a believer.
NEXT MOVE: I would go for the European title that was vacated by Audley Harrison. It now belongs to Alexander Dimitrenko, who got beat by Eddie Chambers and I would say that Chisora is already better than Chambers. Derek wants a world title as quickly as possible but the beautiful thing about him is, he is only 26, a mere baby in heavyweight terms, so time is on his side. And in a couple of years, at least one of the Klitshcko's won't be around, so that division will open up even more.
Nathan Cleverly
Read full fight report

THE VERDICT: I was impressed by the way he got past Karo Murat, but it wouldn't have been the way I'd have chosen, that's for sure. You have to admire the fact that Nathan had the belief to keep doing what he was doing and the stamina and energy levels to see him off the end. But I am concerned about his corner; much as I have nothing against his dad, I do think that perhaps now he needs to get someone new in because it was a little bit amateurish. If he is going to go on and be a world champion and go on and dominate at light-heavy, he will come across plenty of people like Murat, and he will need someone in his corner who can really come up with an alternative gameplan if things aren't going his way. The kid might be good enough to do it with his dad there, I suppose, but that is just my opinion. On Saturday he was all about machismo and it was great to watch because he does have fast hands and great fitness. You have to say he's destined for bigger and better things.
NEXT MOVE: He's clearly world-class, but I just feel it might be time for them to be a little more careful with Cleverly. I don't think he's the full package quite yet, or ready to go in with the big, big names; he still has plenty to learn and can do that at European level. People will mention Tarvoris Cloud, Jean Pascal and Jurgen Brähmer, the WBO champ, but I wouldn't throw him in with there just yet. He will win a world title one day, just not right away.
Matthew Macklin
Read full fight report

THE VERDICT: He did what he had to do and it wasn't easy to look good against Jomardashivili. It must have been hard for Matthew as well because he was the home fighter, on last, the one the crowd had come to see, so there was plenty of pressure for him to deal with. Also, when a big, big fight falls through, as his with Darren Barker did, it does have an affect - before you've even started preparing for a new opponent. All he needed to do here was get the win and he did, but I am yet to be convinced. I think a truly world-class fighter would've done a much better job, even if there was only going to be one winner. A hard night that he will be glad he came through.
NEXT MOVE: I think Matthew is good, but I am not sure he is world-class. I would get him back out within two months because he needs to be active and he is going to need a bit of a run before a world title. People are talking about Kelly Pavlik and that would be a great fight, because Pavlik is a little past his best, but really there's only one fight out there for Macklin - Darren Barker. Surely he has to prove he's the best in Britain before taking on the world?
Which fighter do YOU think stole the show? Let us know by filling in the feedback form below...
Comments (9)
Darren Pritchard says...
enzo mac fight - one of the worst peices of refereeing i have ever seen. a chilling k o.
Posted 21:51 21st September 2010
Asa Whyte says...
Great night on Saturday! Meet Junior Witter and later on in town enjoyed a drink with Michael Jennings who I felt was unlucky. He was a top bloke and really made the weekend for me and my mate who travelled up.
Posted 14:06 21st September 2010
Barry Horne says...
the best fight of the night was nathen cleverly all the way but i do think we should give some credit to kalo murat his chin was fantastic. cleverly murat fight of the year.
Posted 13:56 21st September 2010
Vince Cleverly says...
In reply to Glen i think the only one to be concerned about his corner his Nathan himself !! If Nathan was not happy i would not be there let me tell you.. We had a game plan and decided not to fight off the jab like the other 22 defeated opponents of Murat.. in those fights Murat was allowed to dictate his pace so we decided on a different angle and nobody can argue with the result ..Nath has got stamina in abundance and we used it to great effect in this fight !!! and we also know that Nath has got one hell of a chin as the sparring with Joe Calzaghe proved !! and we did have a plan b an c but did not need it and as i said i would not be in Nathan''s corner or be his trainer if he thought i couldn''t do the buisness and he will tell you he does not need to go anywhere else!!! and for a 23 year old lightheavy weight in his last 8 fights he cannot be faulted.
Posted 13:11 21st September 2010
Adam Drewery says...
Chisora was fun to watch - skipping around on his toes - was good to see a heavyweight move more instead of chin down and jab their way to victory a la Klitchsko! Would love to see him fight Tyson Fury, and after all Fury has been saying about people avoiding him I do not think he would want to fight Chisora! Can I just say what a joke the referee was for letting Enzo carry on - an 8 count an his eyes were still all over the place - the guy could have seriously got hurt. Looking forward to Khan and the haye vs audley showdown next!!
Posted 12:15 21st September 2010
Marcus Bellinger says...
I thought Chisora was superb, he boxed better than I''ve ever seen him box and maybe boxed better than I thought he could. Great bill all round I thought Brittish boxing is in a terrific state.
Posted 10:54 21st September 2010
Adam Whiteley says...
i think chisora has a big future, if he stays clean and keeps improving then who knows where the lad can go, yeh he has a bit of a childish past, but he seems to have grown up a bit now, the guys stamina is awesome, the rate in witch he throws bombs all the time is just brilliant and exciting to watch, i never reallt gave sexton a chance against him, sexton just talks rubbish, hes beaten an old irish man, and the first fight was a belter between them, rogan only lost on a swolen eye, other than that sexton was getting beaten up by him, but now chisora for me can have a big future in heavyweight.
Posted 10:05 21st September 2010
Joe Mitchell says...
Chisora stole the show for me aswell. Really unexpected performance didnt realise he had such great talent and ability. He is a breath of fresh air and I agree he is better than Eddie Chambers and most others in the top 15. I still think he needs to tone up a bit, cut the weight so he can go the full 12 well. Tyson Fury next would clean the domestic scene up, maybe even Sosnowski UK based who just lost a brave challenge against Vitali Klitschko.
Posted 21:20 20th September 2010
Dave Dear says...
Nathan Cleverly was by far the best of the magnificent 7. He could of sat back and boxed his way to victory quite easily but he chose to go all out and give the crowd what they wanted. I hope he gets his wish and gets a world title shot and then goe''s on to unify to division.
Posted 20:47 20th September 2010