So Derek Chisora has been offered a shot at Wladimir Klitschko. I've only got one thing to say on the subject: take it Del Boy!
Opportunity only knocks once and sometimes, in boxing and in life, you only get one shot. And when you get that shot, you have to make sure you are bang on target.
Timing is everything in this sport and it might just be the right time for Del Boy. Wladimir and Vitali Klitschko have been beating up on everyone in the heavyweight division, but that has to come to an end sooner or later.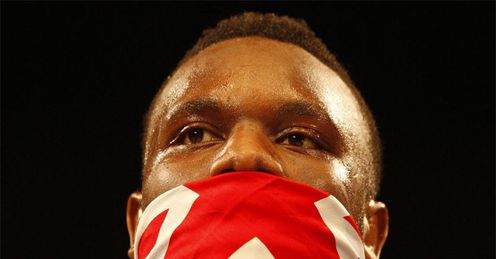 People will say Chisora is too young, too inexperienced, but so what? He's on a roll right now and although 26 is a baby in heavyweight terms, I still believe the old adage: if you're good enough, you're old enough.
Ok, he has only had three 12-rounders but it's not as if he, like the rest of us, doesn't know what Wladimir is all about. He only has one plan - keep it at long range - and there is never a Plan B.
Derek Chisora has done what he has had to do domestically and until David Haye sorts something out, there is no-one left for the Klitschkos to face. Three months ago I was sat here wondering if Audley Harrison was worthy of a world-title shot but, like it or not, he has his now. So why not Del Boy?
Glenn McCrory
Quotes of the week
Wlad knows he's chinny as well and you do wonder what would happen if a young, hungry fighter, with decent footwork and a decent dig gets in there and starts buzzing around him.
Samuel Peter was supposed to be the man to do that, but turned in a plodding performance with little movement and even less speed. If that fight in Frankfurt three weeks ago was a 400m race, he would still be running!
I'm not saying for a minute Chisora wins this, but why not take the chance? The worst think that can happen is that he gets a one-sided pasting, like Danny Williams did against Vitali, but at such a young age, Derek can always rebuild from that.
Wladimir lost to Corrie Sanders and Lamon Brewster in his twenties and Vitali was beaten by Lennox Lewis, but both have gone on to rule the heavyweight division.
Chisora has done what he has had to do domestically and until David Haye sorts something out, there is no-one left for the Klitschkos to face. Three months ago I was sat here wondering if Audley Harrison was worthy of a world-title shot but, like it or not, he has his now. So why not Del Boy?
People will also say that the whole experience of a Klitschko fight will be too much for him as well. I disagree.
Impressive
I was sat ringside for the Peter fight and while yes, Klitschko shows in Germany are massive, massive occasions, they are actually quite sterile when you get there.
They are in huge football stadiums, so the crowd are not right on top of you as they would be at the York Hall, the ringside areas are very staid, with bar and eating areas, and there is no real clamour or hostile atmosphere to contend with. Impressive yes, but intimidating? No. We are not talking about a bear-pit here.
The one thing that will catch Chisora by surprise is the sheer size of Klitschko, but I don't think there is anything he can do in the ring that none of us have seen before.
Chisora really, really impressed in Magnificent Seven and certainly has that star-quality, that twinkle in his eye, that tells me he could be the next star of British boxing.
We just don't know how good he is. We know how good - and bad - Wladimir can be, so what better way for Chisora to find out just what he's got? After all, boxing is littered with stories of people who never got their big chance, that could've been contenders.
Can Del Boy actually beat Wlad? Has it come too early for him? Tell us what you think by filling in the feedback form below...
Comments (13)
Mark Hubbard says...
I really rate Chisora.He''s getting better with every fight and I would take him to beat either Albert Sosnoski and Audley Harrison right now, so why not. If Vitali and Vladmir were about in the days of a peak Tyson, Lewis, Holyfield and Bowe, then they would both have been retired by now. Is it too early for Chisora? Probably, but why not try now and take the chance of maybe never getting the chance again.
Posted 20:58 6th October 2010
Darren Silk says...
I bet haye and wlad are seeing who the bigger draw is, if wlad pulls the bigger draw with chisora and beats him, he gets more purse. Chisora is not known as world class so should be hard to sell. if haye fights audley and doesnt get the bigger draw with a well known british opponent, he can kiss his fair share of the purse goodbye.
Posted 18:44 6th October 2010
Shaun Campbell says...
While I can understand some people saying to him "just go for it", didn''t Alex Arthur make a similar mistake against Michael Gomez...and no body was even giving Gomez a chance. What I mean is that taking a heavy beating early in a fighters career can ruin their potential. Yes Arthur became a world champion, but has hardly lived up to the hype. I dont doubt that Chisora would make this competitive, but able to win it? who knows. Im in two minds.
Posted 17:57 6th October 2010
Chris Lomas says...
Easy to say go for it but from what I heard he is going to have to take very very short money and if he takes a pasting where does he go. His prime, his confidence and his marketability can literally get beaten out of him. If he gets pasted and word goes out he''s damaged goods........or he gets beaten badly and thus when he does mature in the future where does he go, having already lost to a champ.
Posted 21:44 5th October 2010
Grant Barker says...
Bit of a shock! Hope Chisora does alright though, i think it possibly could be to early to fight a champion like Wladimir Klitschko! Im a massive David Haye fan myself, i was at the Ruiz fight in march and ive got my ticket for the execution of Audley in november, but i think if Chisora does beat Klitschko, Haye might see his reputaion fall because he has yet to fight one of the brothers for various reasons! Haye V Chisora to unify the titles at wembley or the M.E.N? Wouldnt mind that!!
Posted 21:15 5th October 2010
Russell Thomas says...
Yes it is a great opportunity at such an early stage in his career but objectively there can only be one outcome... another jab/straight right handed victory for Wladimir! Although it would be fantastic if he could pull it off.
Posted 19:51 5th October 2010
Jamie Wilson says...
I couldnt agree more with Denis Simpson, its a joke. You have to earn your right for a world title shot, and chisora is a complete novice. Also i think its about time David Haye came public about whether he really wants to fight a klitchko, because i think he is scared.
Posted 19:33 5th October 2010
C M says...
Chisora will knock Klitschko out in middle rounds.
Posted 18:41 5th October 2010
Dai Thomas says...
I agree with Glenn in that this is an opportunity that would be extremely difficult to turn down. But also share the same views as Denis in what he has summed up as an extremely poor weight division now, which is sad. I think Sam Peter would be too much for Chisora, and he got destroyed. But Derek isn''t Peter, must like his unbeaten record, but this is a few steps too far. But all the best to him!
Posted 18:26 5th October 2010
Ryan Emery says...
i actually think its a good fight, if someone is doing well in the heavyweight ranks, has knocked out a few people, then why shouldnt he get a fight with a klit? haye and harrison both said they wanted a shot, and every other guy gets a shot (mostly american) so why shouldnt chirosa! the heavyweight devision is on the rise, what with haye, adamek, chirosa, tyson fury all interesting to watch -the klits are taking on anyone to secure there legacy, and the more fights they have the better for the division i say. haye wont fight them at the moment. why? cus he knows what would happen! and hes got a big mouth. but it could be a good fight..
Posted 17:19 5th October 2010
Ali Tinsley says...
I wouldn''t put my house on Chisora winning or anything like that, but looking at the division on a whole, Wlad and Vitali might aswell take on who ever they please as they aren''t going to fight each other and the Haye fight hasn''t come off for whatever reason. There is nobody in the division really that can add or define the Klit Bros legacy right now. There are a few names in there that could be ones for the future but I''ve seen nothing from any heavyweight in recent memory that makes me think there the ones to stop the rot. Haye has the speed and the footwork, but i''m not sure how he''d cope with a piston like jab of either Klit, and if he can''t get past those i can see how he''d win. Jab jab hold and a win on points I would reckon. As for Del Boy, i would try stepping to the left and throwing a few looping hooks at Wlads head, and hopefully landing a a good shot to take it off. Unfortunately, Wlad is better defensively than he gets credit for, he''s learnt alot from being stopped early, and although that usually means a boring fight, it generally works. If you take it, good luck Del Boy - if I were in your shoes i''d jump at the chance, unfortunately i cannot fight my way out of a paper bag myself!!!
Posted 16:54 5th October 2010
Joe Mitchell says...
He can beat Wlad but it will be one of the biggest upsets in boxing history though. It is early but he wants it, Wlad wants it, so take the fight he can recover from it if he happens to lose. I think Chisora is something Wlad hasnt had to deal with in recent fights. But the key for Chisora is to not get hit by one of the best jabs in boxing.
Posted 16:12 5th October 2010
Denis Simpson says...
This fight will be a nonsense. It is a sad state of affairs when the Heavyweight Champion of the World is having to fight a 14-0 fighter who has beaten no-one of note at world level. Is there really no heavyweights more deserving of a shot?
Posted 15:03 5th October 2010