Saturday night in Dallas has to go down as one of the greatest night's in my boxing life. I have won a world title, I have been ringside as a commentator for some great fights down the years, but to be part of that will live in the memory forever.
The whole occasion was quite simply magnificent. In terms of entertainment, the whole night was worthy of what has to be the best stadium in the world.
And to go with the best stage in the world, we had an absolute masterclass from the best fighter in the world right now. Manny Pacquaio was simply magnificent.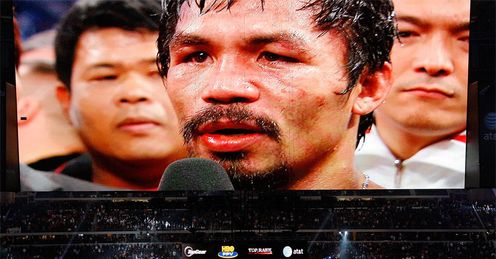 In some ways Antonio Margarito was the perfect opponent because we knew he has a massive heart, would keep coming forward and was much slower than Pacquiao so would give him the chance to get his shots off. But what shots he got off. What shots.
In every round there was at least one flash of brilliance from the Filipino. The combinations and footwork were a joy to behold and being at ringside, this was the first time I'd really got a true appreciation of his speed and power.
It was just one of those occasions that you had to lap up, you had to take in. There were times when I was just stood up at my commentary position looking around at the stadium, at the crowd, and at ringside where the famous faces were gathered. It shows the standing of Manny Pacquiao in the sport today.
Glenn McCrory
Quotes of the week
You were also aware of how much bigger Margarito was as well. He was something like 17lbs heavier on the night, had a big reach advantage and the fact that he had done so well against the world's best welterweights, meant he really had a chance of winning this.
But Pacquiao blew that right out of the water. Even though Margarito's guard was good, his arms high, how many times did he just smash that right straight through the middle, or whip either hand round the side? That is how quick this guy is.
And you didn't need to be ringside to see the damage he caused - Margarito's face was testament to the fact that there is still power there even with this being his sixth recognised world title at a different weight.
There were one or two occasions when Manny was hurt, as you might expect against a much bigger man, but when he was trapped on the ropes and just turned his man, slipped out of danger and then fired off another furious combination, you could hear the crowd gasping in admiration.
Standing
There was, according to the release sent out at ringside, only 41,000 in the Cowboys Stadium, which I find hard to believe. I regularly go to St James' Park to watch Newcastle where there are 52,000 and it dwarfed that.
I could only see two small sections that weren't full - and that's in a stadium that has 110,000 seats, never mind the pitch we were sat. It took us 90 minutes just to get out afterwards as well, so everyone must have brought their own car!
Still, the whole event was something to behold. The giant TV screen above us meant even the people in the very back row of the upper sections must have felt like they were watching a 56" plasma in their living room. And the noise generated by the stadium sound system made the floor shake beneath your feet.
It was just one of those occasions that you had to lap up, you had to take in. There were times when I was just stood up at my commentary position looking around at the stadium, at the crowd, and at ringside where the famous faces were gathered. It shows the standing of Manny Pacquiao in the sport today.
There is no doubt in my mind that we are talking about one of the greats. The fact that he has got those six recognised world titles at different weights already separates him from Floyd Mayweather, from Thomas Hearns, from Sugar Ray Leonard - and he even skipped a couple of divisions on the way up.
Respect
It's not just those achievements or the performances that put Manny right up there either; it's his persona. He is such a nice, humble man, he brings a smile to the ring, he never bad-mouths people and he is always full of respect for his opponent and the sport.
You wouldn't put it past him to go on and add title number seven at middleweight either, because that's all there is left for him really. Unless of course, that fight with Floyd Mayweather happens! I said 18 months ago on these pages that it was too early for that fight to be signed, but surely now it has to come about.
I have said all along that I would give Floyd the edge and I think he will win. But now, having seen Pacquiao do what he did in the flesh, I am not so sure. Yes, Mayweather is a brilliant defensive boxer, but has he ever dealt with someone with as much speed as Manny and above all else, the workrate. Can Floyd work every second of every round? All of a sudden I am not so sure.
Like all of you, I hope that fight is announced and we are talking about it again, very soon. But even if doesn't, it should not take away from the legacy of Manny Pacquiao because he should still go down as one of the very best the sport has seen.
Comments (22)
Richard Sumner says...
pacman greatest ever?..........without a doubt and he has class. Mayweather wont fight anybody dangerous until they have got their bus pass, why does he not look for Berto or Cotto whilst waiting for Manny, then he uses the excuse of drug tests to cast a shadow over a true legend. If Moseley had had more belief he could have knocked Mayweather cold but he let the defensive one cling on and frankly looked shattered after round 2. Manny will be all over him like a wasp for every second of every round. Hope it happens sooner rather than later and I would bet on Manny doing the business and tiring Mayweather for a unanimous points win.
Posted 04:14 28th November 2010
Christian Lyons says...
I'm amazed at how many people actually think Margarito is a puncher, take off his dodgy wraps and he's a pitter patter puncher. Margarito has very slow feet, so anyone seeing this fight and concluding that Mayweather would follow a similar fate clearly doesn't know much about boxing. I am not saying Mayweather would win, but those who know boxing simply can't pick between the two. Look at the problems Marquez posed Manny, he was very lucky to get both of those decisions, Floyd brings a lot to the table and Manny's fans should really acknowledge that he poses a real threat to the Pac-Man.
Posted 16:15 24th November 2010
Roger Ababao says...
Pacquiao's performance against Margarito was awsome. Despite having a huge disadvantage in size but still came out victorious which i would consider him to be one or even the greatest boxer of all time. Money spent was all worth it, thanks Pacman you're such a joy to watch.
Posted 16:48 18th November 2010
David Hudson says...
I think we should all be able to agree that Pacquaio has the beating of Mayweather Jnr. now. Work rate is the fundamental issue here alongside stamina, speed, accuracy, timing and above all power. I see Manny heaping a world of hurt on Floyd who will struggle to settle into a rhythm, dominate, then win on points the way he usually does. The man has made a living out of shut outs. Manny will disorganize him then dismantle him. Mayweather is going to have a nosebleed dealing with all those shots there is no way he can fight negatively with Manny and get away with it. There's no way Mayweather hits harder than Cotto, Clottey or Margarito so Manny is will be able to mix it up with him, take a few shots, and then overwhelm him with shots of his own.
Posted 12:31 18th November 2010
Tommy Mccormack says...
@Harold T i dont agree with your outlook on everyone saying the same about mayweather if he beats someone, simply because he is too defensive, yes his skills are amazing but he is not an exciting fighter like manny. I don't think floyd will take this fight as it will be a severe threat to his 0. I do hope this fight can be sorted out, firstly to see who is the best pound 4 pound guy and secondly to end all the debates we see endlessly on the internet. Win, lose or draw this fight should only serve to cement both fighters into the history books and the hall of fame.
Posted 11:04 18th November 2010
2to 1 says...
some of these guys have clearly no knowlegde of boxing i have watched mayweather for almost ten years and i have seen him evade flurries of punches at once their has only been several fighters in history that could do that , the difference with pacquaio is that he is the only person quick enough to give mayweather real problems . note mosley did catch him with some good punches in round 2 of their fight but that's the first ti me he has been hit clean in his career . either way they need to fight to prove how is the star of this decade ?
Posted 23:29 17th November 2010
Tom Scott says...
Gul.... im afraid it's the other way round. Mayweather in all his years of unbeaten boxing would never faced a speed and explosive fighter like paquio, Mosley was probably the closest and Pretty boy flloyd had problems with him untill he changed his tactics to negative to see out the entire fight... the reason for askin manny for a drug test... is purley because camp mayweather know manny fears needles like no other fear, he is happy to provide a urine sample or any other form of evidance... i bet you if manny was to have some form of reality check, fight his true fear of needles mayweather would then come up with another excuse, a 80/20% purse or something, mayweatehr fears manny, pretty boy would be 41-1 after that fight and under the arrogence, even he knows it
Posted 09:55 17th November 2010
Gareth Betteridge says...
although i am a fan of the pacman i do not give him credit for this world title as he didnt even weigh-in in the light middle division and it was at a catch weight closer to welter than light middle. If you fight for a title you should fight at the full weight! why did he need a catchweight against cotto but not de la hoya or clottey? Was it because cotto was seen as a genuine threat?
Posted 07:29 17th November 2010
Lee Sharpe says...
Well said Glen! After I also personally witnessed the fight in Dallas, unlike you, I am very sure that Manny Pacquiao will prevail against Floyd Mayweather, if the fight will happen.
Posted 06:05 17th November 2010
Gul Raja says...
I agree that was a wonderful performance by Manny, and he will go down as one of the greatest fighters ever, but if he does step in the ring with the ''pretty boy'' mayweather will come out victorious. Manny knows that deep down and so does Freddy Roach that is why they don't agree the terms that will make this mega fight happen, which is that Mayweather want's Manny to take a drug test before that Manny and his camp refuse to undertake.
Posted 00:28 17th November 2010
Hammy Lad says...
u say floyd has never fought anyone like manny but it works both ways. many has the perfect style for floyd coming forward i just think many has all the power and brute force but floyd is the better boxer and will pick pacman apart as he comes in. floyd by late stoppage or points win.
Posted 23:28 16th November 2010
John Gardner says...
Glen - totally agree with all you say re Pac. I can't think of 1 bad thing anyone can say for him as a fighter or indeed a person. You wouldn't put it past him challenging the winner of Williams/Martinez if the Floyd fight can't be made. The guy is an absolute legend the way he's gone up and fought up as far as light middle. To me that's the equivalent of Floyd - who has a much bigger frame - challenging at light heavy. The other thing i like about Pac is that he'll trade with men who are so much bigger than him so he doesn't just get in and out again. I'm actually thinking Floyd is reluctant to fight Pac as he said about the drug samples which Pac then agreed to and then went quiet. Mosley - the hard puncher he is - is pedestrian compared to Pac. I just feel that the big difference between the pair is that Pac will step up to the plate and fight anyone regardless of risk whereas Floyd won't fight anyone he's not 100% confident of beating. When was the last time Floyd fought anyone with Pac's speed? In fact has he ever?
Posted 21:21 16th November 2010
Ste Stafford says...
Great article I have to agree with you about Manny he is looking close to being in the same bracket of fighters like Sugar Ray Robinson, Joe Louis, Ali and Duran. Its not often in Boxing active fighters get appreciated but Manny as excelled the more he as moved up in class and in weight. Its incredible to think that in the past 5 years Manny as literally destroyed every challenge put in front of him in a clinical and impressive fashion. His resume will stand the test of time and if he can face and beat Mayweather Jr he is looking as one of the best that ever laced them up.
Posted 20:48 16th November 2010
Zalay Shah says...
Pacquiao can literally do no more than he has. He's won world titles in 8 weight divisions, he's always fought the best he could find, he's come through some brutal fights and he's done it in all in an entertaining style and with incredible modesty and grace. If he's not among the greatest of all time then I have no idea what the standard is, or can be. On Saturday night he fought a guy who was two and a half weight divisions heavier than him on the night and destroyed him. Margarito may not be the very best at that weight, but he's not too far off and when you factor in the difference in size it's just phenomenal stuff.
Posted 18:52 16th November 2010
Danny Sy says...
absolutely awesome pacquiao is. his persona is even the greatest
Posted 17:15 16th November 2010
Alan Vargas says...
Pacman is truly amazing and i wished all boxers are like him. In the 11th or 12 th round, he could have knocked Margarito out if he tried to but he didn't, what a hell of a fighter and a person he is.
Posted 17:11 16th November 2010
Steve Nieve says...
Forget the over-hyped, ill-matched Haye-Harrison bout, the Pacquaio-Maragirto fight is what boxing is aall bout. The fight was an amazing spectacle and a true masterclass from Pacquaio and the Mayweather fight must happen next year. If Haye fights and beats Vitali Klitschko then thats an achivement!
Posted 16:55 16th November 2010
Craig H says...
Glen, I totally agree with you comments. I too was astounded by how good pac man was, I thought Magarito would be too big and strong for him but he demolished him with his speed. I also though Maywhether would win if the fight happened but now am not so sure, I was in Manchester to watch the diabolical display by Audley Harrison and if he had 0.5% of the heart that Pacquio has he would have stood half a chance. 2011 is going to be an exciting year and I think the big fights we need are going to happen, Haye Vs the Brothers, Pac Man Vs Floyd and George Groves Vs James De Gale (not so exciting after Groves performance). Not forgetting Amir Khan who I think will beat Maidana and go on to bigger and better things. Looking forward to all of sky's coverage for next year and also December 11th 2010!!
Posted 16:40 16th November 2010
Harold T says...
A great performance on Saturday night by Pacquiao, made greater by the fact he had to take a bit of punishment during the fight. He caused Margarito problems problems that he had no answer to. He is one of the best fighters of the modern era, no doubt. However, to put him amongst the all time greats- the likes of Sugar Ray Leonard/ Robinson, Ali, Hearns, etc., is open to debate. The difference between Pacquiao and the others is that the above mentioned had other truly great fighters in their era that they fought and beat. As good and courageous as Margarito is, you cannot count him as a great fighter. Pacquiao was more than likely going to win this fight as he is better in every technical department than Margarito. His last fight against Clottey was again so one sided it was like a bag session. For me, in order to class Manny with the true greats of boxing, he has to fight Mayweather, pure and simple. It is the only fight out there that will provide him with a true test. The same for Mayweather. As great fighter as he is, he needs to face Pacquiao to solidify his place. I may be wrong but until they fight each other, neither can legitimately say that they are the best. Reason being that if Mayweather in his next fight turns out against someone who isn't Pacquiao and wins, the things you are saying about Pacquiao now you will be saying about Mayweather.
Posted 16:14 16th November 2010
Adam Whiteley says...
completely agree glen, what a fighter, what speed and skill, and what a chin!!! margs is a tough hitter and a great fighter, and he took the lot, he truly has the beating of mayweather hands down. what mayweather does is dodge 1 punch and counter very well, thats what he's done and what has worked for him all his life, but when 6 punch combos come in, then out he goes and in for another 4 or 5, mayweather in no shape or form has the reflex speed to get out of the way of them, not a chance! pacquiao will find out mayweather like no one els before him, GET IT ON!!!!
Posted 15:40 16th November 2010