I was probably as surprised as any of you when I read that George Groves has signed a promotional deal with Frank Warren.
But, while plenty of people have questioned why given their recent history, I think it is a great decision. When I found out that Adam Booth is staying as George's trainer and manager, then it looked like an even better move.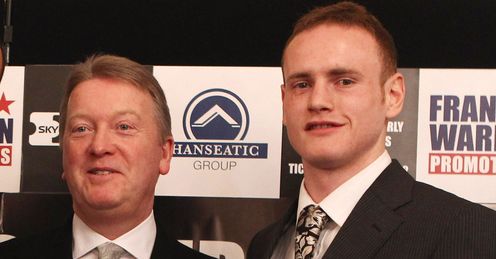 We've all seen what Frank Warren does. The one thing you can't take away from him is the success he has had in making fighters who they are. Just about every big name in British boxing you can think of over the last 30 years has worked with him at some point.
He builds big names, he puts on big shows and more often than not, he gets fighters world titles. Some of them may have chosen to go their own way after that, but even they cannot deny what he can do along the way.
As sure as night follows day, you know DeGale-Groves will happen again. It was always going to, even before this news. But I will say this here and now: I hope Frank doesn't rush through with it.
Glenn McCrory
Quotes of the week
Groves only has to look at his old rival James DeGale. This is a man he beat yet this is the man who is fighting for the European super-middleweight title before he does.
Well Groves is the one on a roll, he is the one that produced a great performance and a great win when they met back in May, but he is now the one who needs to get back in the ring with a big fight. I am sure Frank will sort that and he looks to have plenty of big shows coming up, so the opportunity should arise sooner rather than later.
As sure as night follows day, you know DeGale-Groves will happen again. It was always going to, even before this news. But I will say this here and now: I hope Frank doesn't rush through with it.
I know DeGale will be desperate to get it on because he still thinks he won their fight - as do I - but from a fans' perspective, I don't think we need to see it again just yet.
It wasn't as if it was an absolute cracker was it? Yes, it was a great calculated boxing performance from Groves and the build-up got everybody talking, but the pair knew each other so well it was never going to turn into the slugfest everyone was hoping.
I think it would be the same if it happened again so soon.
No-one knows that better than Groves and Adam Booth and I do think signing up with another promoter means we should be able to see an improvement, some real progress from George as a fighter first.
It's very hard to train a bunch of fighters, never mind promote and manage them. Whatever you say David Haye was always the number one for Booth and seeing as they often fought on the same cards, there must have been times when George had to take a back seat.
Redemption
Even for all his skills and standing in the sport, Freddie Roach has Manny Pacquiao as his main concern and that will be the case as long as he's fighting.
The likes of Amir Khan are there in the Wild Card and are world champions in their own right, but we know even he has to move aside for Manny. Well now George gets Adam Booth all to himself and strictly as a trainer, not promoter.
The news also suggests to me that we have in fact seen the end of David Haye's fighting days.
I have to be honest and say that while there is always somewhere to go in boxing, I am not exactly sure where David can go next. Redemption is never going to happen because he won't beat Wladimir or Vitali Klitschko and if you look around, what other fights are there?
Yes David's performance against Klitschko was a let-down and he did lose a lot of credibility not only with the way he fought, but the whole big toe thing afterwards.
But you have to remember he was undisputed cruiserweight champion and heavyweight world champion and to be honest, there's no way he can better that. David has nothing to prove to anyone.
Besides he said all along he wants to walk away on October 13th and that's six weeks - and that' no time at all for a camp.
Confident
One man who feels he does have something to prove is Nathan Cleverly. Or at least he fancies he can beat Tony Bellew.
I know Nathan's dad, Vince, thought it might have been a step back in his career, but I admire the lad for taking the fight. Bellew is there, he's winning fights and he's making a hell of a lot of noise and if you are going to call yourself a champion, you have to get rid of these bright boys coming for you.
Bellew is dangerous, there's no two ways about it. But I know Nathan fancied the fight from the moment they had 'that' press conference at the O2 and he is a confident lad anyway.
There is a lot more needle in this than he's used to, but as quiet and as clever as he is, he always strikes me as an emotionally-charged fighter anyway.
And what I love about him is he always going to have a tear-up; trading with a puncher like Bellew is a risk, but you know Cleverly is going to stand there and trade because it's what he does.
It's a bit of local derby between Liverpool and Wales, it's a world-title fight and it's all British. What more can you want?