I really like Darren Barker. He's a lovely kid, he's done everything that's been asked of him to be British, Commonwealth and European champion and you cannot fault him.
My one concern though is that fighting Sergio Martinez in America, is a big, big step.
I just wonder whether Darren's path so far - through no fault of his own - has not been the toughest, a little bit tailor-made. Yes, the step up to a world title is a natural one and the right one for him, but he is going into the lion's den for this. In fact, it might well be a case of leaving the zoo to jump straight into the jungle.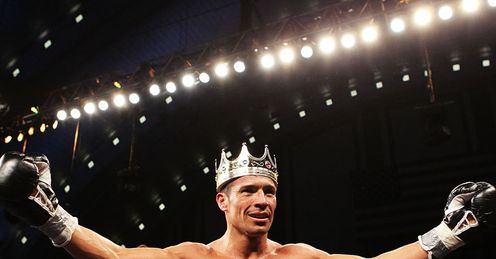 Martinez is a hard man, with some great results under his belt. I do wonder though if he is as good as people are making out.
Yes, he has beaten an old favourite in mine in Kelly Pavlik but we all know he's had his problems and yes, he scored that sensational stoppage over Paul Williams, but Williams has moved up and down the weights and who's to say he was not struggling to make middleweight.
Yes, the step up to a world title is a natural one and the right one for Darren Barker, but he is going into the lion's den for this. In fact, it might well be a case of leaving the zoo to jump straight into the jungle.
Glenn McCrory
Quotes of the week
LIVE ON SKY SPORTS
WBC Middleweight Diamond Belt
Sergio Martinez v Darren Barker
12.30am, Sun, Sky Sports HD1

I don't doubt that Martinez is a hard man and a very, very good fighter but I am not convinced he is the third best fighter on the planet.

I am sure there are plenty of pundits out there who have seen more of him and might be better placed than me, but one thing I do know: if Barker does pull this win off, they won't be sticking him third on the pound-for-pound list behind Floyd Mayweather and Manny Pacquiao!

There is though, no doubting this is a step up in class and I wonder whether Darren has had the hard fights to prepare him for what might lie ahead on Saturday night.
Textbook
It might be though, that this is the sort of fight and fighter that will bring the very best out of him. There is certainly no doubting his skills and I can't think of many boxers better equipped to deal with a southpaw like Martinez.
Barker is very smooth and very textbook, the perfect style for a lefty. He has a nice snappy jap, a very good straight right and a decent left hook as well. The Americans will call him an upright fighter, but he is typically European and has an amateur pedigree to match anyone's.
And what I like about him best is his temperament. He is a really down-to-earth kid and he has been so many hard times in his life. He does not take boxing for granted and will not take this shot for granted either.
In the ring, if he takes a shot he gives one back. That will be crucial against a strong guy like Martinez. He will be the away fighter in the Boardwalk Hall so cannot let the crowd get behind their man; even if it takes a few more seconds, as soon as he takes a shot, he has to fire back with two or three of his own.
Barker does that anyway. I remember that fight with Paul Samuels in 2006, when he was put down by Paul Samuels but as he was standing up, just knocked him out! I love that attitude and I do think it is one he is going to need on Saturday night.
He is of course, not the first British fighter to get what is effectively a shot to nothing in the States. Recently we have seen Matthew Hatton and Ryan Rhodes lose bravely in what were, really, surprise world-title shots.
Barker is better schooled than those two - a much more polished boxer - and that basis will stand him in very good stead. I hope he pulls it off, but even if he can't I can see Darren Barker enhancing his reputation in defeat.
Comments (2)
Chris Strange says...
Barker certainly has a chance. There will only be 3 guys in the ring and only 2 actualy fighting so of course there is always a chance. However, he will need a lot of luck and for Martinez to have an off day. If it goes to plan Martinez will win by stoppage. Martinez is the only man who can beat Mayweather.
Posted 08:39 30th September 2011
Rob Cribb says...
This is a huge task for Barker, but one I think he can pull off. Martinez, I feel, if not 3rd, is in the top 10 pound for pound world rankings at least. He is a hard-hitting southpaw with class and experience. But Barker has definately got the tools to beat him, he's a slick, well-schooled boxer, with power in both hands. He can do it, though I'm not sure if experience will come into play and favour Martinez later in the fight. Still, Barker really has a chance of pulling this off!
Posted 22:57 28th September 2011