How did I view Amir Khan's loss to Lamont Peterson on Saturday night? A tight match that could have gone either way.
The points defeat keeps being described as controversial but I don't think it was an outlandish decision by any means. I would have awarded the victory to Amir but not by a million miles.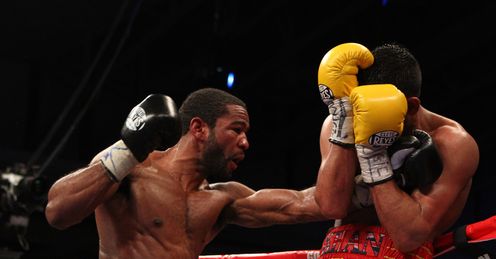 That said, I thought the referee, Joseph Cooper, seemed a little naïve and perhaps a more experienced official would have kept things under greater control.
Amir was bullied by Peterson and pushed around the ring; the American really bore into him with his head down.
That left Amir with very little room for manoeuvre and he couldn't jab him - and I do think Peterson should have been warned.
When you've got somebody who's come from nothing and is given a chance of greatness, for one night only - especially if they are in their home town - they can be unstoppable. Saturday was Peterson's night.
Glenn McCrory
Quotes of the week
But, at the same time, Cooper was right to dock Amir two points because he was leaning on and pushing his opponent. Peterson came running at him like a freight train and he was completely perplexed.
Khan's ploy was to stop Peterson working - Muhammad Ali made a career out of that - but you can only get away with so much.
Hard streets
Peterson put in wonderful performance and perhaps that was to be expected. I'd heard all about his story coming from the hard streets of Washington. I'd heard he was from hell.
When you've got somebody who's come from nothing and is given a chance of greatness, for one night only - especially if they are in their home town - form goes out the window and they can be unstoppable. Saturday was Peterson's night of glory.
There is no disgrace in Khan losing - and I'm 100 per cent sure he would win a rematch.
I'd still like to know how on earth Peterson put on 15 pounds between Friday night's weigh-in and Saturday night's fight. It certainly made a big difference to him as he was pushing Khan about and that's no mean feat because, for a light-welterweight, Khan is huge.
One thing that did disappoint me was Amir's reaction to his loss. He had a right to feel a little aggrieved, but it wasn't daylight robbery and he should have taken it on the chin and been a bit more gracious, not kicked up a stink and questioned everything.
I sent Amir a text telling him as much. Sugar Ray Leonard wouldn't have got so angry, he would have said: 'Well done, I'll knock you out next time'. I wish Amir had done the same.
It was a great fight and it should be a great return. Khan will get his revenge and then, with respect to Peterson, move on to some of the big-name bouts that we've all been hoping for.
A meeting with Floyd Mayweather is not dead in the water - just merely delayed.
Comments (9)
Liam Browne says...
nice article.Why does everyone thing khan has a right to a rematch? any of the close fights that khan was in and won he didn't give a rematch, he just boested that he was moving on to bigger things. Peterson shouldn't give khan a rematch.give him a taste of his own medicine. khan should go fight ortiz and bradley. then think of a rematch. it was a great fight tho
Posted 12:44 13th December 2011
Chris Austin says...
Khan didnt expect to be in a hard fight and when it happened he didnt know how to deal with it. Khan is a good boxer but not a great one and is totally over rated. Put Khan in front of any of the big names and he will almost certainly get well beaten.
Posted 11:48 13th December 2011
Paul C says...
Khan had no respect for Peterson before, during or after the fight. He paid the price for overlooking the task at hand, something you can't afford to do in boxing. He was such a sore loser afterwards and it seems to be a recurring theme with British boxers lately, which is unfortunate
Posted 10:04 13th December 2011
Lewis Padden says...
I don't hear Amir pointing out the fact that he pushed lamont over in the 1st round to score a knock down, the first one peterson's leg was trapped inbetween the legs and he tripped over him and the second replays clearly show kahn didnt land clean and used the elbow to push over an unbalanced peterson, at the end of the day in all sports in all walks of life you have to play the ref and no matter how much you disagree with how they are officiating if they tell you not to do something you stop doing it, not complex really but when you have been warned 10 times docked a point warned another time and then proceed to push again you have no one to blame but yourself
Posted 07:52 13th December 2011
Charlie Larkin says...
Not a fan of how hyped Kahn is compared to the ability he has shown thus far, but thought he was the clear winner. Peterson put in a great performance, but Kahn clearly won the majority of the rounds, started much the brighter and easily won the last as well (ex point deduction). Peterson put in loads of effort in certain rounds but in other rounds he didn't let his hands go at all and Kahn was much the busier in at least 8 rounds. Even the US commentators on HBO all said it was a clear home decision, and an injustice to the sport of boxing for the ref to deduct 2 points for pushing an opponent who was charging him with his head down. Of these two offences, the latter is clearly the more dangerous. By far the most experienced and non US judge (puerto rican Velazquez) gave it to Kahn by three points (5 rounds ex point deductions) - that is the clearest evidence to me that Khan was winner
Posted 22:11 12th December 2011
Don Datta says...
The ref called on BOTH fighters to stop certain things... Khan with the pushing & Peterson comming in with his head low. Why then deduct TWO points from Khan and not punish Peterson at all? Answer me that and I can then start to understand this decision. Thanks
Posted 20:55 12th December 2011
Scott Cornwell says...
Win like a challenger, lose like a champion.
Posted 16:38 12th December 2011
Billy Killen says...
Nice article Glen, Amir Khan has only himself to blame for what cost him his 2 belts on Saturday , if he had of stayed on the outside and boxed he would have controlled the fight , Peterson just couldn't handle the speed of Khan in the first 2 rounds so he reverted to plan B and began to rough Khan up from the inside, Khan let this happen and began to fight in bursts, which isn't a good idea when your opponent is in your face every second of every round, i personally think the referee shouldn't be allowed to control a big fight again, he was clearly overawed by the occasion and let the home crowd sway his decisions, if he deducted points for Khan pushing his head away then surely he has to at least acknowledge the fact that Peterson was leading with his head, very poor , but that said Khan got what he deserved, the mccloskey fight was a joke as was the barrera fight, they say what goes around comes around, i for one was very pleased.
Posted 16:35 12th December 2011
Bobby Tams says...
100% agreed. I'm an Amir fan but the decision was spot on by the judges and the ref, Khan had no need to get into a brawl with Peterson, just standing there with his hands up was a terrible decision, I have no idea why he does it... yeah you have a chin, but who cares Amir, stop trying to prove something that is irrelevant when you can get out the way of the punches. Pump those jabs and combos and get back out again. Huge respect to Lamont, he gained a fair few british fans that night, I'd pay to see him fight again, a true warrior.
Posted 16:18 12th December 2011