It may not have been the best night for British boxing but it was a great one for world boxing!
It was sad that Carl Froch had to come up against such a spectacular performance from Andre Ward on Saturday. I really like Carl and he is a great fighter. However the world saw how good his opponent really is.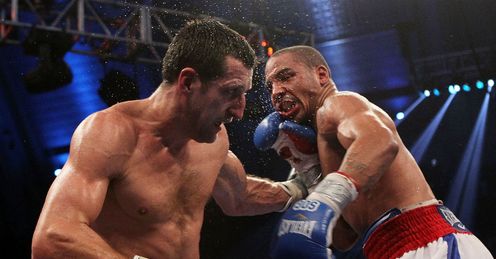 Technically he was brilliant. I know how hard he has worked on that and he was improving all the time through the Super Six tournament.
I took some of my young boxers to King's Gym about a month ago and we worked with Ward for a week. He spent a lot of time with my youngsters - every day he was in the gym doing his own training and then taking some time to show my kids a few techniques. He is such a down-to-earth man and it was a pleasure spending some time with him.
Mental toughness
That trip also showed me what Oakland was like and I don't think people realise just how tough it is. There are some tough areas in the UK but I don't think they compare to some areas in America where life is not valuable - in some places it is like the Wild West!
I don't think there was anything that Froch could have done differently. It was a masterclass of getting in and out of range from Ward - his foot movement was superb and his defence was brilliant. What we saw was probably the next best pound-for-pound boxer in the world.
Glenn McCrory
Quotes of the week
The kids are tough, very tough, and I don't think Froch realised just how tough Ward was going to be, especially mentally.
I don't think there was anything that Froch could have done differently. It was a masterclass in getting in and out of range from Ward; his foot movement was superb and his defence was brilliant. What we saw was probably the next best pound-for-pound boxer in the world.
That is great for boxing, especially as Ward is American. That country has led the way in boxing for so many years but over the last few years they have been in the doldrums.
The Americans like to be successful, if they are not then it does not exist. Heavyweight boxing does not exist in America any more because they haven't got anyone!
However in Ward they have got somebody they can really shout about and it is just great for boxing.
Lessons for Khan
I sat with Amir Khan and watched this fight and pointed a few things out to him.
Amir is a lovely kid and I was pointing out a few things that Ward was doing that Amir got wrong in his loss to Peterson. Why was Amir shouting out to his fans about his chin? Everyone knows his chin is fine, so I told him not to do it again.
I also told him to look at Ward's concentration - when did Ward look to the ref, when did he ever showboat? Whenever he engaged in close quarters his hands were by his chin. It was beautiful, just beautiful.
Amir was receptive and was really wowed by Ward - he was amazed how good he was.
Next step for Ward
There are still a lot of fights out there for Ward and I think no matter who he fights people will want to watch him. Froch has said he is not that exciting and a bit boring but that is wrong - he is the most exciting boxer I have seen for a long time.
He boxed a light heavyweight in the amateurs and won the Olympic gold in that division so he could step up and clean that division out. The world is his oyster.
He is a level-headed man and despite coming from the wrong side of the tracks he is a deeply committed family man. He is a great role model and there is just so much good to take from the performance of Andre Ward.
For Froch, well he his still the second or third best super-middleweight in the world and there are definitely some good fights out there for him. Lucien Bute is on the cards and if he wins that he could have another bash at Ward.
Carl is the sort of fighter who bounces back - he came back after his loss to Kessler stronger and tougher than ever. He is an intelligent and smart fighter and even though he lost he can definitely come back.
Comments (4)
Carl Corbin says...
Great comments as usual from Glenn. He IS correct. NOTHING Carl could've done different against Ward. Listening to Froch afterwards, although he WAS dignified in defeat; my mind got to thinking maybe he will change trainers? Rob McCraken is EXCELLENT. But perhaps a bit stretched with training UK Olympic Squad..? Carl has to change SOMETHING. Whether it be defence, balance, trainer. But he got to do it. And QUICK! No disgrace in losing to Ward, who I thought was/is frustratingly good and difficult to fight. He does some very clever things in there defensively and is stronger than people give him credit for. He can probably work on his punch power, but overall a worthy winner of The Super Six. Hope Froch can come again, but needs to improve...
Posted 16:53 22nd December 2011
Danny Mcgeachan says...
Spot on Paul. A certain Mr Khan should certainly take note.
Posted 09:09 20th December 2011
Paul Wright says...
I completely agree that Ward is going to dominate boxing for a long while and is sheer class. There was also something refreshing to come of this super six tournament and that was, both Ward and Froch fought the toughest opponent they could and they were both equally as gracious in victory and defeat. I have huge respect for both fighters! Maybe the rest of the boxing world should sit up and take note!
Posted 18:46 19th December 2011
Scott Ogden says...
As much as i don't agree with Froch that Ward is boring i also cannot agree with you that he is the most exciting for years......Marquez, Pacquiao, Gamboa and Mayweather are every bit as good technically as Ward but fight a more exciting style. You just cannot see Ward taking many chances in fights and it seems if he fights top level fighters he's a sure bet to accept a points decision rather than go for a knockout win. As great as Ward is and possibly the next pound for pound champion.....exciting the jury is out Glen sorry.
Posted 16:47 19th December 2011