A couple of weeks ago on Ringside, historian Bob Mee, Boxing News writer Matt Christie and myself were charged with the difficult task of picking the 10 fighters we considered as the greatest of all time.
After much deliberation, I came up with the following boxers: Sugar Ray Robinson, Joe Louis, Harry Greb, Muhammad Ali, Henry Armstrong, Archie Moore, Jimmy Wilde, Jack Dempsey, Carlos Monzon and Rocky Marciano.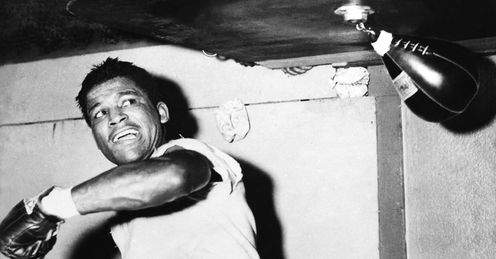 However, I feel that my top five deserve a more in-depth mention so read below to find out why, in reverse order, I chose them as the best boxers the world has ever seen...
5) HENRY ARMSTRONG - 1912-88
Henry Armstrong was a great champion and fought at featherweight, lightweight, welterweight and middleweight, as well as becoming a three-weight world champion. Making the jump up in divisions was so difficult back then because there were thousands more fighters than there are today. He was a whirlwind of a fighter and never stopped throwing punches. I have seen tapes of him and he is one of the greatest ever.
4) MUHAMMAD ALI - 1942-
Muhammad Ali was my hero and the reason I got into this game. He was bigger than the sport and belongs in a list of world greats, not just boxing greats. He will never be forgotten and that's why he figures so highly in my list. He wasn't the greatest out-and-out fighter of all time, he wasn't the greatest technician, he didn't throw hooks that well, he let his hands drop - but he could mesmerise other fighters and make them look silly. Boxing is not about fighting, it's about winning and that's what Ali did. People were overawed by his reputation and scared to death before they set foot in the ring. Ali was a master of winning the mental battle and, ultimately, the physical one.
3) HARRY GREB - 1894-1926
Harry Greb is kind of an unknown legend but anyone who knows about the game will have him very close to being the greatest. His legend has been somewhat quashed by an untimely early death, but this a man that fought so many times a year and had over 300 recorded fights before he passed away at the age of 32. He lived for fighting and was the only man ever to beat Gene Tunney. He also defeated Micky Walker, while Jack Dempsey wouldn't fight him. I can't quite put him as the greatest but he is certainly my favourite fighter. He is the epitome of everything I love about boxing; he was a wild, cantankerous, macho, quick-punching man. I fell in love with a book about Greb called Give Him to the Angels when I was 12-years-old and I think it is the greatest movie never made. He was a windmill of a man who was blind in one eye and half-blind in the other, who loved the women. He was a wonderful character and a terrific fighter.
2) JOE LOUIS - 1914-81
Louis was the favourite fighter of my dad and granddad - which means he must have been good! His record was immaculate, spending over 11 years as world heavyweight champion. In the last conversation I had with my granddad, he asked me who the best in the world was. I said Ali and he said Louis would have kicked Ali's butt! They don't seem to make heavyweights like they used to and in Joe's time, during the war, under the spectre of the Nazi regime, people had a lot more to fight for. He was a hero and his fights with Germany's Max Schmeling have gone down in folklore. He was fighting against oppression, did his county proud and only falls short of my number one spot because of the brilliance of one man.
1) SUGAR RAY ROBINSON - 1921-89
I watched a video of Robinson many times as a kid. It was called Pound for Pound, and I would encourage anyone who has not seen footage from that to check it out. He is head and shoulders above any other fighter that I've seen; he is the god of boxing and showed everybody the way, boxing like a ballet dancer and with pure artistry. He glided around the ring with his good looks and slicked back hair and looked a million dollars, but he could also rip it up with all these hard guys and tear them to bits; he was a fully-fledged tiger. I used to look at the tapes of him and think they had been sped up. As a boxing trainer you try to get your guys to throw two or three punches, he would throw combinations of 20! He was unbelievable and without doubt the greatest of all time.
Modern icons
The guys listed above are all from past generations, but I have been fortunate to witness some great fighters since I have been working for Sky Sports, from Oscar de la Hoya to Julio César Chávez.
I also respect Floyd Mayweather's achievements, even though he is not my kind of fighter; he is very gifted defensively but not super aggressive.
But my favourite fighter from more recent times would have to be Roberto Duran. He had terrific technique and a ferocious streak.
One of the most memorable fights I have ever seen, though, is Ricky Hatton's coming-of-age bout with Kostya Tszyu. Ricky was very popular and very well managed by Frank Warren, but that match was his greatest night.
He was never quite the same after that fight but on that evening everything clicked and he was sensational. That was his Everest.
Who do you think are the greatest fighters of all time, and why? Let us know using the feedback form below...
Comments (6)
Daniel Dwyer says...
Can't name one in my opinion. Too may things have changed through the years. Weights, new weight classes, frequency of fights, nutrition, science, the length of fights, rules etc etc the list goes on. I think it is really only possible to discuss the best of each era and have a sensible debate based on realistic comparisons of fighters fighting with the same rules under the same conditions of the time. Having said that I would have loved to have seen Ray Leonard vs Mayweather, Prime Tyson vs Prime Ali, Aaron Pryor vs Pacquaio at 140lbs, Ray Robinson vs Young Roy Jones at Middleweight. Who would have one is another story altogether! Fighters I have enjoyed watching the most in my following of the last 25 years would be Tyson, De La Hoya, Chavez, Jones and Nigel Benn. Now I admire Broner, Mayweather and Kell Brook.
Posted 01:00 2nd July 2012
Elliot Sutton says...
Always baffles me to see the likes of Harry Greb and Jack Dempsey mentioned in such lists and never Gene Tunney who beat both on more than one occasion. People appear to favour style over substance.
Posted 19:56 28th June 2012
Ben Regan says...
What about Charley Burley? A fighter everyone avoided from the infamous 'Black Murders Row'. Oh and Archie Moore.
Posted 19:19 28th June 2012
Harry Rana says...
Elias? You've watched all of Robinson's fights? There isn't much if any footage of his reign at Welterweight, where he fought many of his fights. He was in his prime at that weight too. There is some matches of his at middleweight, go watch it.
Posted 13:21 27th June 2012
Harry Rana says...
Not a bad shout for the top 5, but Greb, Sam Langford and Robinson should dominate any top 3. Then its usually a pick from Benny Leonard, Homicide Hank, Gans, Ali, Wille Pep, Fitzsimmons etc. Personally, Sam Langford should be no.1, for a boxer in any age to defeat Joe Gans at lightweight and then go on to beat legendary heavyweights such as Willis is unheard of, unless your going back to the days of Fitzsimmons. However, I do like your list, there is way too many modern day boxing experts that tend to side with modern boxers rather than the old school athletes. Pleasantly surprised that someone actually recognises the greatness of Greb. A deeply stacked resume, shame there isn't any footage of his fights.
Posted 02:18 27th June 2012
Elias Baig says...
Ali is the greatest Have watched all Ali and Robinson fights Ali was faster and had ring craft Better all round Could a So take a punch
Posted 00:34 27th June 2012